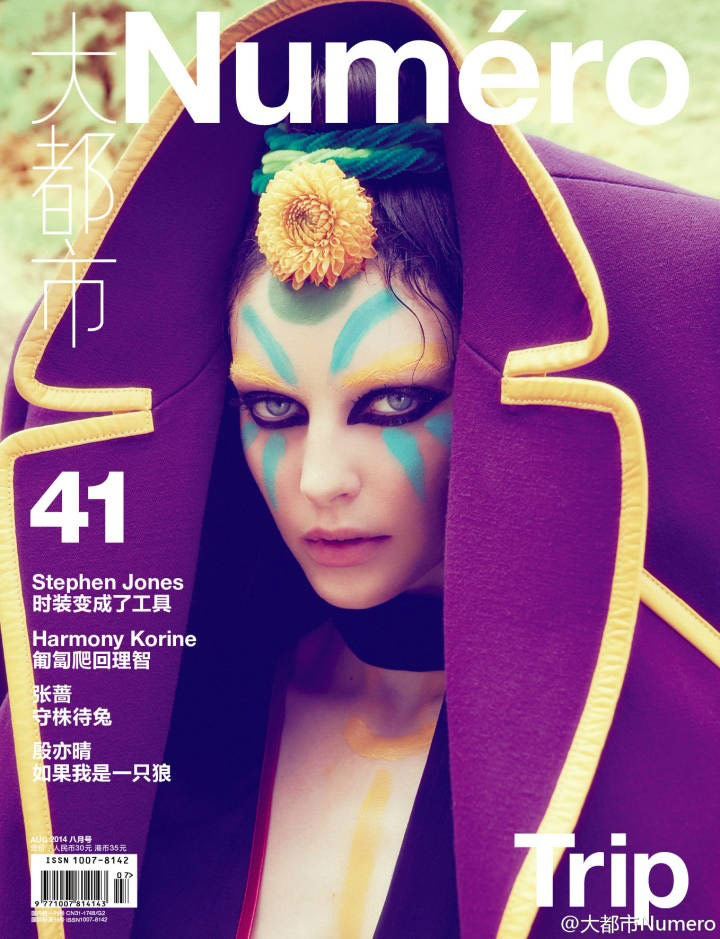 Sofia Sanchez & Mauro Mongiello captures Auguste Abeliunaite for Numéro China August 2014. Surrealism with a splash of ethnic prints, the Lithuanian looker Auguste is framed by the brilliant duo for the cover of the latest Numéro China. Captured through a close up aspect, the photographer duo has let their creative mind flow loose when experimenting with playful colors and unique clothing.
SEE MORE: Auguste Abeliunaite for Numero Magazine Issue 149
Newcomer Abeliunaite is rocking a purple wool jacket graced with yellow edges balanced on top of her hair bun, revealing an almost almighty silhouette. As the chieftain of Sanchez & Mongiello's story, Auguste is beautified with a colorful tribal influenced make consisting of black eyes, yellow eyebrows and turquoise cheeks which is only enhancing her chief status. A yellow flower is gracing her forehead and takes on a crowning effect along with the blue hair decoration. The color scheme of Sofia & Mauro's picture is obvious, it reveals that the duo has followed their imaginative instincts religiously which is the key factor to a successful cover.