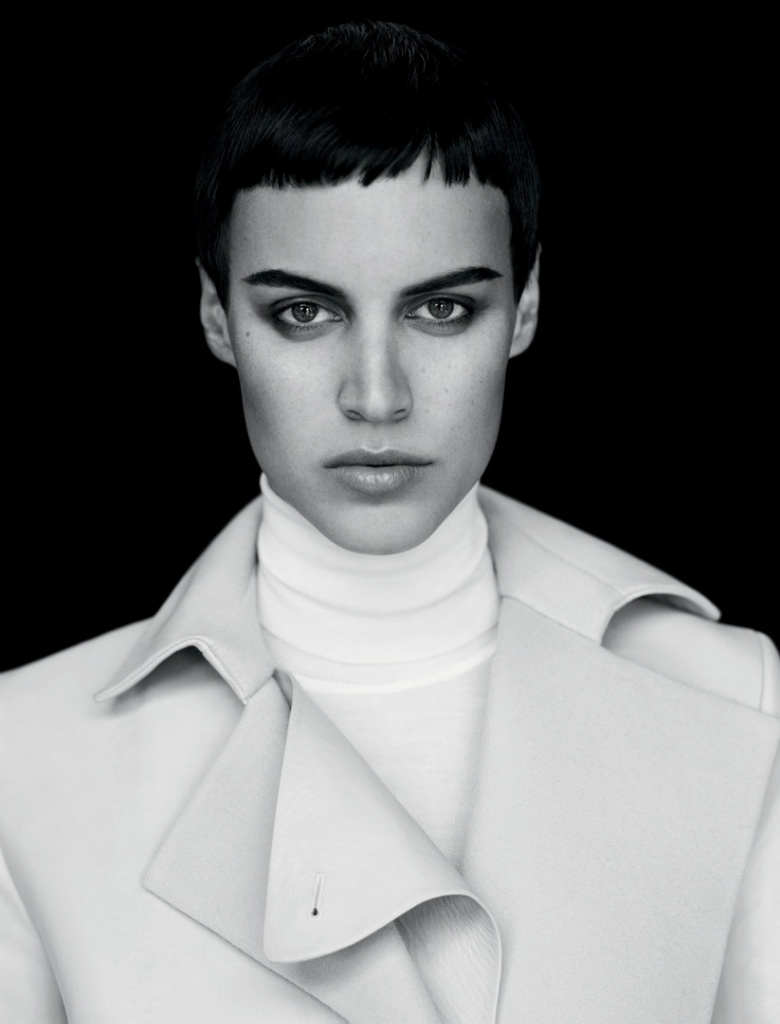 She carries a lineup of several remarkable editorials featured in some of the biggest high fashion publications of the time. Alana can now proudly add Vogue, i-D Magazine, Interview Magazine and Muse Magazine to her résumé.
Bunte's highly noticeable cheekbones, androgynous aesthetic and athletic body are on the roll. Transforming from a young bright-eyed longhaired beauty, Alana has truly embraced her art background into the modeling. Stay poised and ready to see where she will appear next and what personality she will undertake.
Q: How would you describe yourself?
---
California bred Libra.
Q: Tell us something that very few people know about you
---
I've never been on a roller coaster before. I am one written exam away from my pilots license (I started flying in 2008). I used to intern at the LACMA in LA because I thought I wanted to be a curator. My mother is from Colombia and I still have a lot of relatives living there. I wish I could visit them more often.
Q: What's your passion in life?
---
Sharing the love of art and education, which has unfortunately become very underfunded in schools. I work with Art of Elysium when I have spare time, running art workshops in hospitals for children. I'd love to start working with the charity Free Arts, which I only just discovered. It is a program in NYC that provides art classes/mentorships within schools that no longer have the funds. I hate that science and math have always been mandatory, but art an option. There are no mistakes in art!
Q: Best modeling experience so far
---
I value each experience I've had so far,  but working with Katie Grand and Marc Jacobs for a week during my exclusive for Louis Vuitton A/W13 was unforgettable. Watching the step by step process of that collection being brought to life… indescribable. The entire team was so kind and patient. It was like Willy Wonka and the Chocolate Factory, but better. I'm so grateful for that opportunity.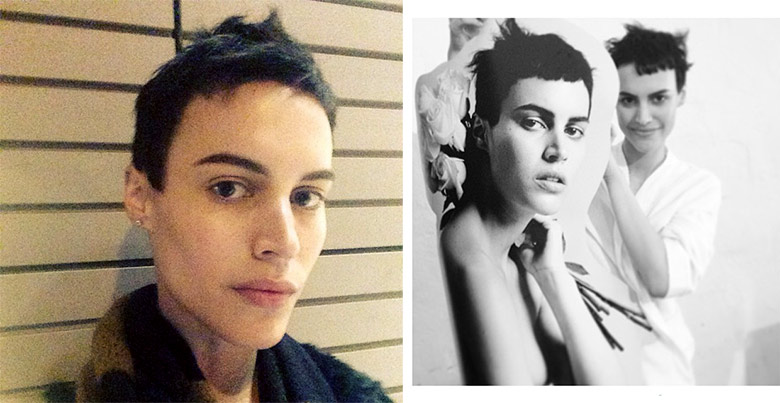 Q: Who or what influences you?
---
I prefer the word inspired… I am inspired by anything that makes me want to create. Wayne McGregor, Chopin, Otis Redding, Martin de Thurah, the ocean at night, California, Dia: Beacon, the scent of Amber and patchouli, beautiful stationary, Nine Stories by J.D. Salinger, The Sheltering Sky, James Bond, Pulp Fiction, Cy Twombly, taxidermy, driving.
Q: What's your signature look?
---
Androgyny. I literally had a cab driver once ask if I was a boy or a girl. A casting director asked me if men or women hit on me. A flight attendant called me "monsieur." I have to laugh at it. I've always dressed quite masculine though, even before I chopped my hair off.
Q: Your favorite fashion designer
---
That question is impossible! I love Margiela, Haider Ackermann, Prada…. I love clean shapes and solid colors but mixed textures. Want a Celine bag badly but can't get myself to fork up all those peanuts. I always travel with a bikini by Solid & Striped. I never know where I might end up next. Bikinis are always a good idea.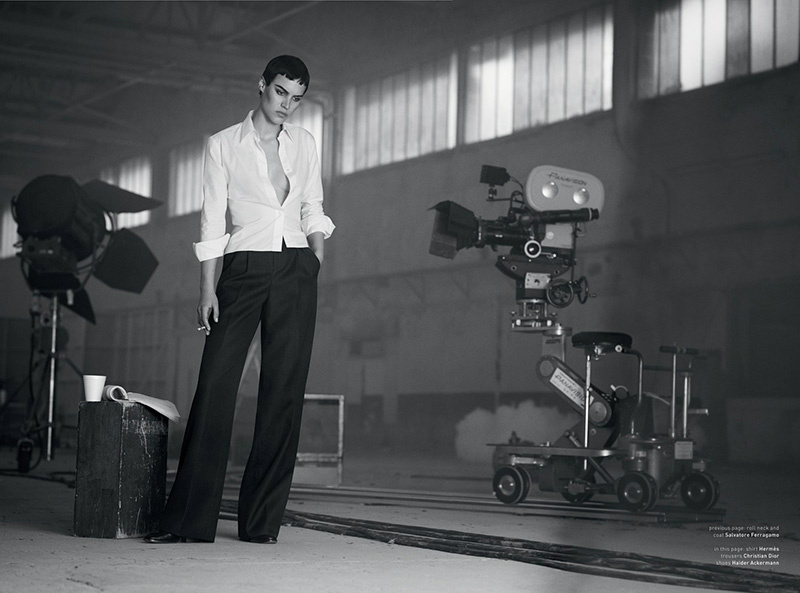 Q: You are obsessed with
---
Mercedes 1962 190SL, peonies and anemones, Michael Heizer, desert space, outer space, my Pentax K1000, winter whites, football (Giants and the Niners…my boyfriend doesn't complain),Great Danes, red wine, Big Sur, polaroids, bike rides, the number 13, vintage maps, wigs, backgammon, anything Japanese, road trips, Halloween (my favorite holiday), the moon, ballet, banana leaf wallpaper, charms for my charm bracelet, tattoos even though I would never dream of getting one, my boyfriend, and my cat hat by House of Flora which is the only one she ever sold. I begged and begged for that hat. It's probably my most prized possession.
Q: What do you hope to achieve in your modeling career?
---
Lasting success so that I may buy my dream ranch and my dream dogs and live happily ever after!
Q: What is the craziest thing you've ever done?
---
Intentionally missed a flight home after a job in Milan without telling anyone. Went to the train station with my bags and bought the next ticket to Venice so I could see the Biennale. A lot of people weren't very happy about it, but it was worth it.
Q: One thing about modeling people may be surprised to learn
---
It is hard work. It is a very rewarding job but it's not glamorous all of the time. I was having this conversation with my youngest brother, he is a football player at Berkeley. We struggle in the same ways even though he is an athlete. We both train hard to stay in shape, we eat right, sleep right. It's not just a job- it's a lifestyle commitment.
Q: People you would love to work with
---
I admire so many people… Peter Lindbergh, Mert and Marcus, Mario Sorrenti, Wes Anderson, Quentin Tarantino, Karl Lagerfeld, Grace Coddington… the list goes on! If there is one person I really wish I could have worked with- Helmut Newton.
Q:  Do you prefer working on shoots or at shows? 
---
I prefer shoots because it really is a special moment where unique talent comes together to create a story that will be caught in an image for a lifetime. It's a performance where I am allowed to create a character. Shows don't allow that same freedom. Shows are a lot of fun but very fleeting. A lot of rushing, which is stressful. I also prefer shoots because  every image I see brings back so many memories. I remember what I wore to the shoot, who brought their dog or baby, I remember the weather, the music played. I live for those little memories.
Q: Best and worst parts of being a model?
---
Best-  The chocolate chip cookies at Pier 59 Studios. Working with creative, talented and inspiring people. Traveling to beautiful places. And of course wearing beautiful clothes.
Worst- Early call times (3:30 am is the record). Shooting fall clothing when it's 100 degrees. Shooting summer clothing when it's 20 degrees.
Q: What would you dare to learn?
---
I would love to learn how to sail. I studied Arabic at NYU for one semester and had to stop once I began modeling again. I'd love to go back and complete my certificate.
Q: What is your dream modeling job?
---
After having been in the industry longer than most, my dream was always to work with Steven Meisel for Italian Vogue. That was truly a dream come true for me. I've always wanted to shoot on a very special or remote location… like Iceland or Africa. For Chanel. You said dream job right?!
Q: 3 things you can't live without
---
Game of Thrones. Alaia heels. My family.
---
Follow Alana on Twitter and Instagram.