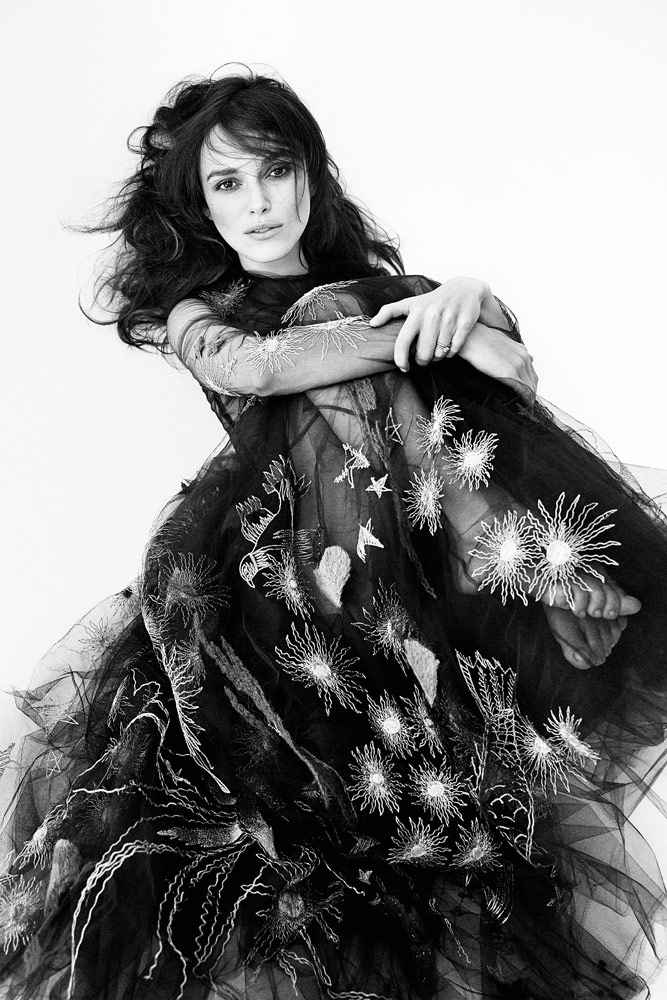 A chiffon dream, Keira Knightley by Patrick Demarchelier for Interview Magazine September 2014. Fashion stylist Elin Svahn reveals the land of chiffon, or as Vogue calls it the 'Shadow Play' trend through out Demarchelier's latest story. Featuring the British movie star who recently challenged her musical talents in the movie 'Begin Again', Patrick's spread reveals another of his striking black & white captions.
Miss Knightley is captured against a white background whilst working a numerous of black chiffon gowns, delivering a charming and timeless story. But that's not all folks, rumor has it that this spread also contains a topless Kiera, a bit of a shocking factor considering her devotion to privacy, but hey, what wouldn't you do for the sake of art, and not any art, Demarchelier art!
Kiera's hair goes from wild Hollywood glam to a fashionable wet-look, gracefully following the lines of the dreamy clothing, all thanks to the gifted hair master Martin Cullen. Make-up artist Petros Petrohilos has enhanced Kiera's effortless femininity with an eye-focused make, which in this case is toned down with a nude lip.