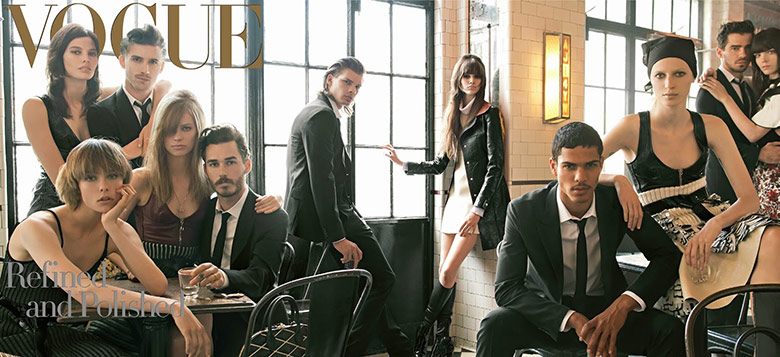 Love stories of all kinds are captured by the legend Steven Meisel in his story 'Each time we meet you make me feel so incomplete' for the July 2014 issue of Vogue Italia. From rocker duos to posh sweetheart couples, Meisel has created a spread where fashion meets truehearted passion.
With an impressive model cast including some of the top and most recent players in fashion such as Anna Ewers, Amanda Murphy, Julia Nobis, Lexi Boling, Edie Campbell, Meghan Collison, Vanessa Moody, Mariana Santana, RJ King, David Axell, David Alexander Flinn, Yuri Pleskun, Geron McKinley, Dorian Reeves, Cameron Keesling and Toby Hayduk, Meisel has delivered a flawless and unique caption of a well-known feeling, love.
Judging by Lexi's mod styled fringe and Ewers' green colored turtleneck, makes it seem like stylist Karl Templer has along with hair stylist Guido Palau and make-up artist Pat McGrath, gone for a modern day twist on the hits of the 60's. With thigh-high boots and slightly backcombed hair makes the girls embody Templer's retro inspired looks whereas the men are working modern suits and rock'n'roll roll groove.