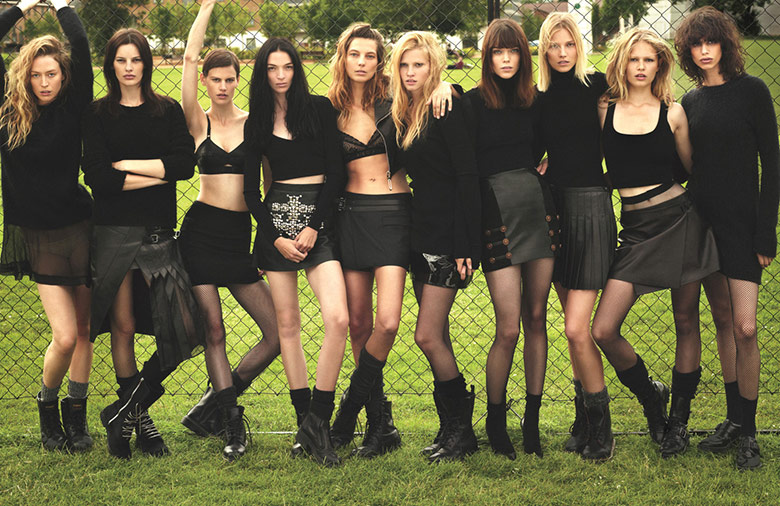 Mert & Marcus frames the greatest names in fashion for the September 2014 issue of W Magazine. These striking faces should be familiar to you by now, if not, you haven't done your model homework, but we're willing to do a recap just for you! First, we have the queen of all queens Miss Kate Moss, then the sexy Lara Stone along with Italian stunner Mariacarla Boscono, newcomer Anna Ewers (who's similarities to Miss Stone are breathtaking!), the androgynous Saskia De Brauw along with Amanda Murphy, Suvi Kuponen, Meghan Collison, Raquel Zimmermann, Mica Arganaraz, Daan Van Der Deen, Filip Hrivnak and last but not least the handsome Steve Milatos. (Yes, there are many of them).
Framed by the coolest duo around, Mert & Marcus in their story 'Supernormal Supermodels' we can only draw the conclusion that the photographers are doing they're best attempts to fool us, making us believe that these ladies are mortals just like the rest of us, even though we know for a fact that they can't be!
The lookers are captured around multiple surroundings, from pavements and green fields to indoor studio shots, whilst revealing a rock'n'rolla inspired clothing. Fashion stylist Edward Enninful has brought forward an exciting and effortless wardrobe where grunge meets pop including flannel shirts, leather skirts, denim cut offs and biker boots. Looks that are paired up with a simple face make created by Karim Rahman and Lynsey Alexander along with natural styled hair signed James Pecis.
One can with no doubt admit that W Magazine has landed a one of a kind spread filled with starlets, fireworks and supermodel mania!