A distinctly effortless sensibility defines the Pre-Fall 2023 Ferragamo wardrobe: minimalist silhouettes, clean cuts and versatile denims, coloured by the spirit of the American Western. Drawing on the history of Salvatore Ferragamo, who created the cowboy boots for the 1923 film The Covered Wagon, Maximilian Davis discreetly adopts the aesthetic tropes of the era – a sentiment seen through the introduction of denim, alongside pocket detailing, gingham prints and belt-wrapped bags and loafers.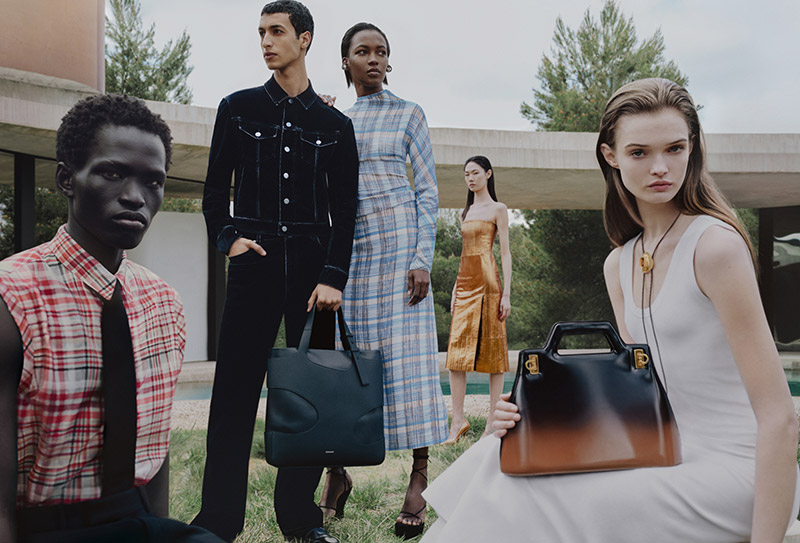 Ferragamo Pre-Fall 2023 Campaign
"I want to explore what contemporary essentials are, from denim to eveningwear," explains Davis. "To take classic pieces in the everyday wardrobe and twist or subvert them with textures and materials that make them feel more modern, more playful and more unexpected." The complete breadth of that sentiment is realised throughout the new Pre-Fall 2023 campaign, where every facet of the new Ferragamo seamlessly co- exists.
Captured by Tyler Mitchell, the images showcase a fresh, immersive reflection of the Ferragamo universe, at once distinctly modern and resolutely timeless. "Tyler is someone who I've grown up with; we're part of the same community and we've always spoken about collaborating," explains Davis. "There's a simplicity and elegance to his work and the way that he captures people; a laid-back clarity which is never forced."
In that spirit, the high-octane glamour of Hollywood is reframed with a relaxed, modern ease: the minimalist silhouette of a bustier dress rendered in gold foiled eelskin, or Ferragamo's iconic Rainbow sandal, first designed for Judy Garland in 1938, reinterpreted by Davis. New iterations of the Ferragamo bag with cut-out details, now with a leather inner, and seasonal variants of the Wanda handbag, appear as timeless totems of this new age of Ferragamo, integrated throughout.