Origins, travel, experience. And the certainty that a suitcase is not just a container. From the culture of travel that forms the history of the brand comes the new Gucci Valigeria campaign, featuring actor, screenwriter, director, and musician Ryan Gosling.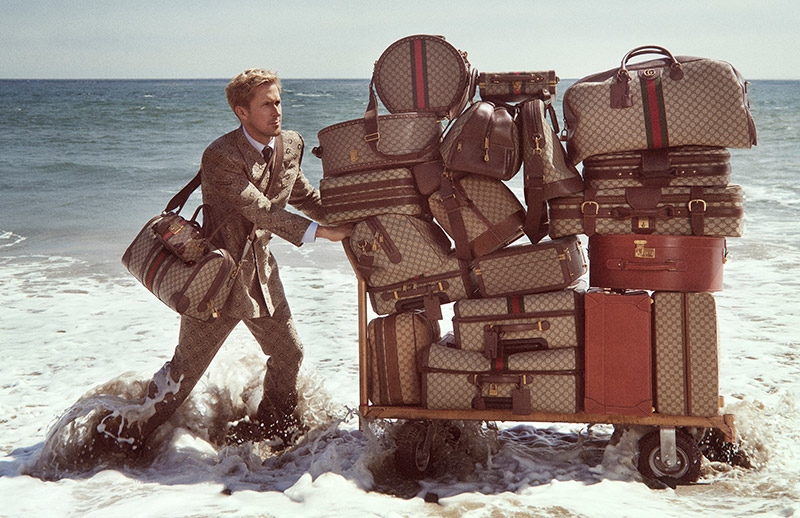 Ryan Gosling for Gucci Valigeria
Creative Director Alessandro Michele, through the lens of photographer Glen Luchford, upends a typical sense of narrative and sets the campaign in a dreamlike dimension that goes beyond the boundaries that separate it from reality to recount a present built on the possibilities of the imagination and of an encounter.
The Gucci Savoy collection is the narrative result of a story that takes flight from the typical splendors of travel to confer the value of memory to the origins of a brand that was created from an intuition and from the observation of potentialities, precisely thanks to travel, developing discoveries of worlds and of diverse cultural manners.
"Travel for Gucci was never purely physical. Gucci is the brand that accompanied the artists, writers, actors, and directors of Hollywood on their journeys… This is why I wanted the advertising campaign to recount a situationist dimension where the protagonist traverses a "non-place" that is first and foremost a mental place, the same as those who, in the past and present, choose Gucci because they grasp the significance of creativity used to build imaginary places. And it is for this reason that a Gucci suitcase appears as a magical suitcase," says Creative Director Alessandro Michele.
It is precisely in travel that the heritage of Gucci finds its origins. Founded in Florence in 1921 by Guccio Gucci, who more than twenty years prior when he was just 17, emigrates to Paris and then to London. The young Florentine works first as a porter at The Savoy in London, the go-to destination for international travelers. The very young Guccio Gucci comes into contact with the magic of travel that, at the time, was synonymous with discovery, discussion, study, and a bridge between diverse cultures. It was a time in which traveling signified experience, displacing the certainties of one's social environment, a pursuit of the unexpected, of a will to encounter and to know. The return to Florence can't but remember that observed and studied reality, assimilated and ready to be transferred into the practice of work. Guccio Gucci will do it with his first suitcases, trunks, bags, hat boxes. All the containers required to bring with oneself, on a journey, those necessities to represent oneself and one's culture in an unknown and often foreign place.
In a narrative inversion that fills a stretch of space-time, the same containers appear as protagonists in the campaign, which presents the Gucci Savoy collection including trolleys, hard and soft suitcases, duffle bags, trunks, hat boxes, and beauty cases. Objects that encapsulate experiences and desires that, in the images and video of the campaign, fill the bed of a polished pick-up truck in which the new collection lives side by side with historical pieces and that, in this plausible story of possibilities, are also repositories of dreams.
And it is this reality-adjacent dream that Ryan Gosling is living. At the end of a journey studded with arrivals and departures, he is introduced to surprising places through a trunk that becomes a gateway to fantastical worlds, which will turn out to be more real than any imagination could conceive. Because it leads to that reality of discovery that has always had the ability to build unexpected worlds.
You May Also Like: Fashion Models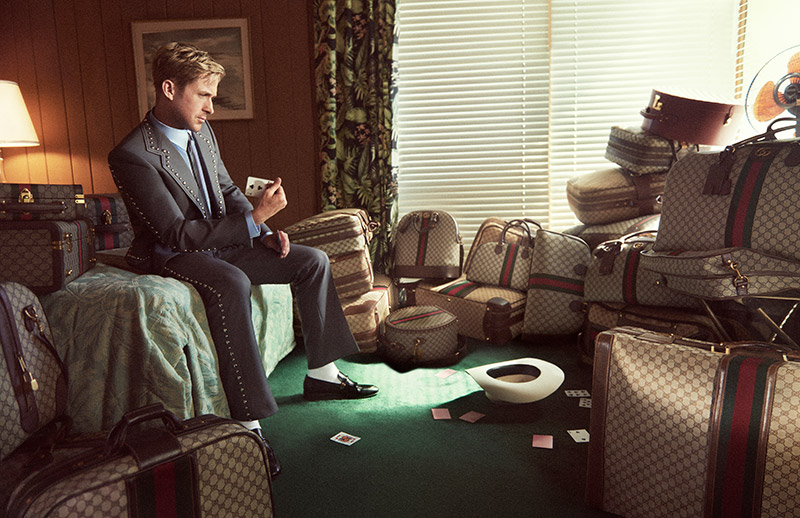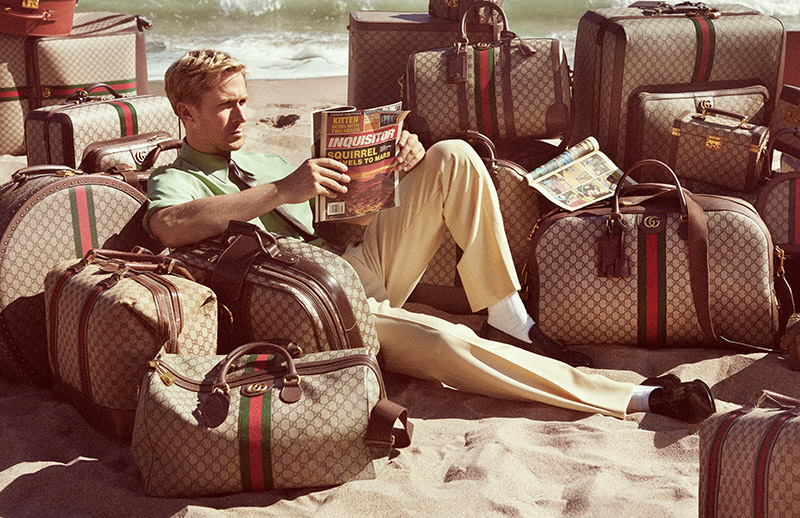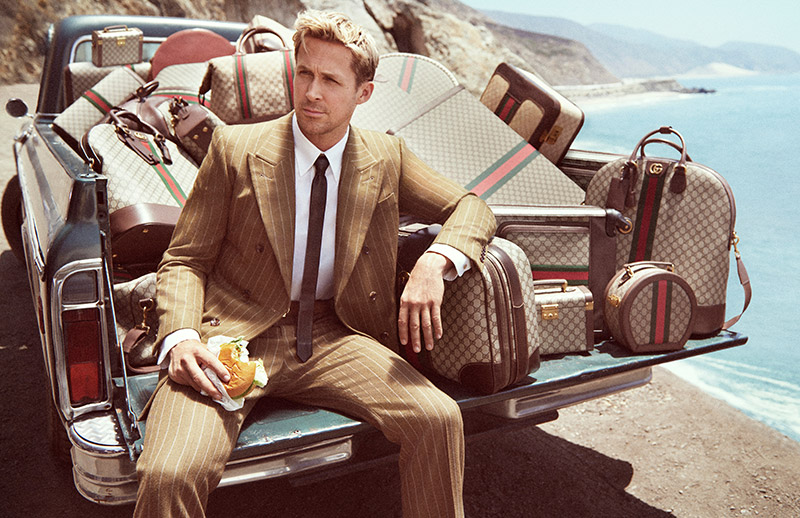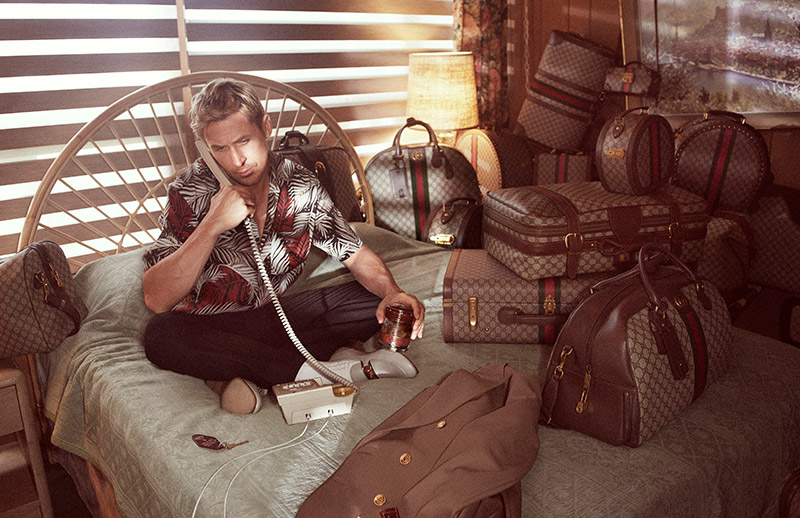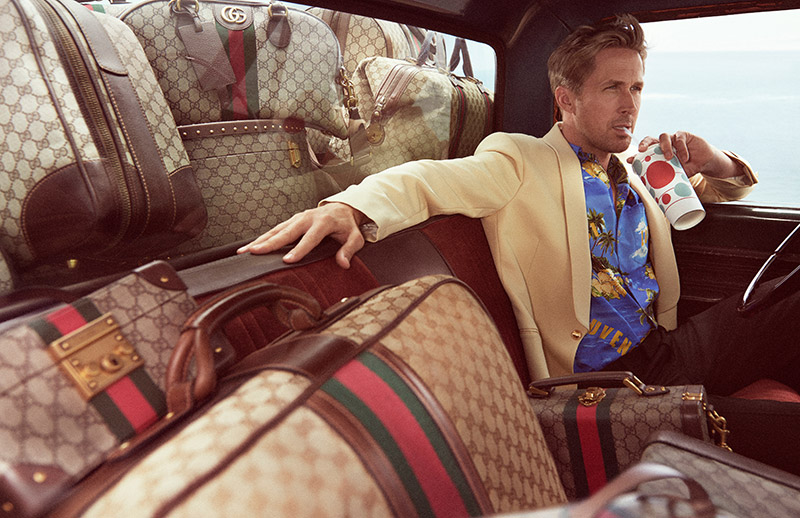 Ryan Gosling for Gucci Valigeria
You May Also Like: Designer Collections
Product Details
The Gucci Savoy collection, which is part of the House's wider Gucci Valigeria travel selection, is distinguished by a combination of heritage-infused design elements including the GG monogram and/or the Web stripe, offered in both soft and hard-sided iterations. The collection comprises items for every travel need, designed to be used now and for many years to come as classic and contemporary elements come together within a timeless aesthetic.
Trolleys, ranging in size from cabin-friendly all the way up to a maxi 90cm version, are offered in GG Supreme in beige/brown, beige/blue, and beige/ivory colorways with the green-red-green or blue-red-blue Web stripe and leather trims. The duffle bag selection is also varied, ranging from smaller versions for daily use to larger ones ideal for weekend trips or as carry-ons. Styles come in various colorways with some featuring distinctive details like leather trims and studs. The lineup also encompasses additional new silhouettes like bowling bags, bowling totes, and box totes. Garment bags, watch cases, and vanity cases round out the soft selection.
Hard-sided items, which further embody Gucci's origins in artisanal luggage, comprise a series of trunks, suitcases, and hat boxes, as well as beauty, watches, and jewelry cases. Each piece is finely crafted and distinguished by either the House's GG monogram and/or the equestrian-inspired Web stripe, with several featuring more contemporary details like studs.