Stella McCartney launches its Summer 2023 campaign, starring next-gen actor and animal lover Madelyn Cline. Shot at The Gentle Barn animal sanctuary in Santa Clarita, California, it is inspired by 'Change the History' – an activist slogan by Japanese artist Yoshitomo Nara, whose iconic illustrations and punk social statements feature in the collection. This serves as a call-to-action to a new generation of changemakers, inviting them to raise their voices for our fellow creatures and Mother Earth.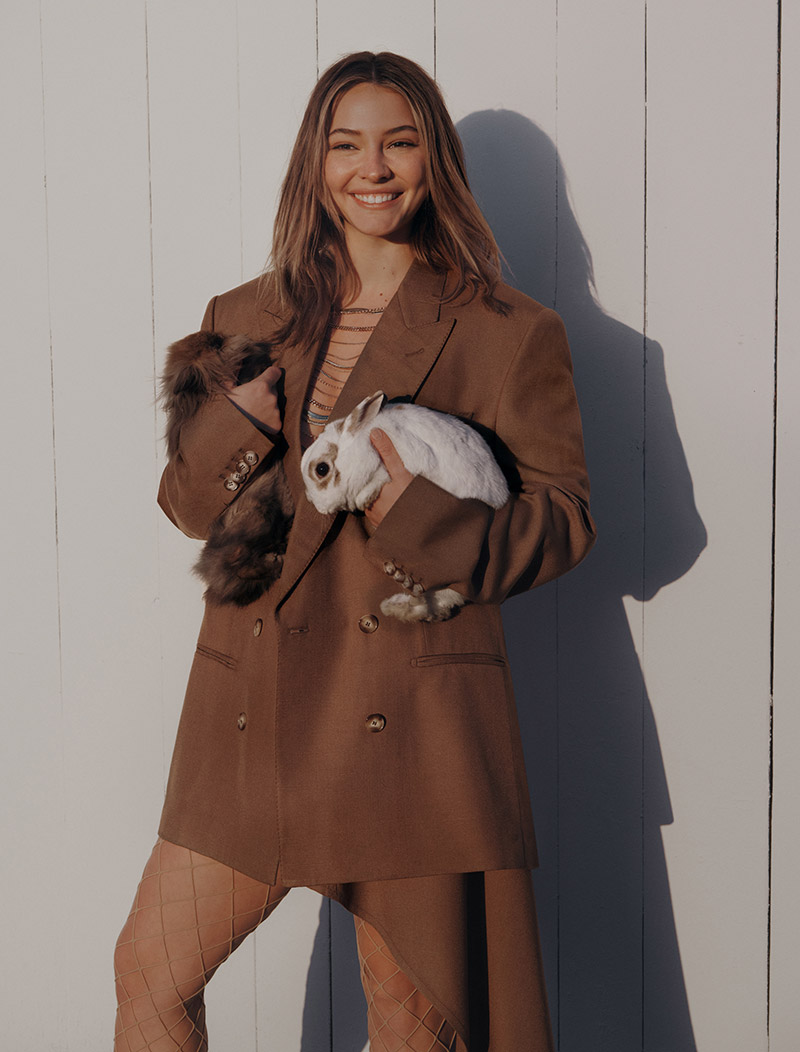 In the United Kingdom alone, there are over 600,000 vegans, more than quadrupling in the last decade (The Vegan Society). As more people reconsider their consumption habits in the kitchen, this should extend to their closets. The same agricultural industrial complex that breeds, rears and slaughters over 92 billion land animals annually for food (Humane Society International) also fuels the fashion industry's hunger for leather – as well as polluting waterways, poisoning tannery workers and driving the destruction of vital ecosystems, including the Amazon rainforest.
"What is more punk than upending the entire food and fashion industrial complex by removing animal​ products from the equation? My mantra right now is: 'We are what we eat, we are what we wear'. Our choices have an interconnected impacts and if we want to change the history and protect Mother Earth for future generations, we must take action – from stopping eating meat, to ending the needless deaths of animal for fashion." – Stella McCartney
The Gentle Barn sets the scene for Stella McCartney's message and mission, with Madelyn Cline and vegan accessories captured amongst the six-acre sanctuary's farmyards, fields and inhabitants. A completely vegan property with a holistic approach to care, it houses over 170 animals including cows, horses, pigs, sheep, chickens, llamas, emus, cats, dogs and birds.
The animals' names and unique stories feature prominently in the shoot's storytelling, reinforcing a message that all creatures should be loved regardless of age or species. This will be supported by activations at Stella McCartney boutiques globally, helping to raise awareness for animal rights causes.
Originally presented at the Centre Pompidou during Paris Fashion Week, the Summer 2023 collection is free from leather, feathers, fur and exotic skins – with the ready-to-wear offering crafted using 91% responsible materials. Minimal pieces blend the nostalgic with the iconic, platforming strong silhouettes redefining​ different eras of the Stella DNA – reaffirming brand codes through utilitarian and seductive staples referencing the 90s and 2000s, advancing desirability, wearability and sustainability.​
The Summer 2023 collection includes the world's first-ever luxury garment made from regenerative cotton, sourced from the Stella McCartney's SOKTAS project in Turkey. Launched in 2019, it is now run in partnership with LVMH and is collaborating with the United Nations Economic Commission for Europe (UNECE) to advance blockchain traceability technology. Regenerative agriculture supports biodiversity, improves soil health and helps to fight climate change, drawing down and sequestering carbon from the atmosphere.