AMBUSH SPRING SUMMER 2023 COLLECTION. Inspired by her love of Tokyo club culture and the diversity of rave scene fashion, designer Yoon Ahn debuts a collection that combines the oversized unisex look that has become the brand's calling card with a new celebration of the body. An investigation of clubbing's various subcultures and the clothes that made them results in an upbeat, unrestrained feeling for the brand, energised by the global unleashing of the past year. "It's like the bass in your stomach when the music's ear-splitting," says Yoon Ahn. "Hopefully, it gives people energy and lets them indulge in the moment."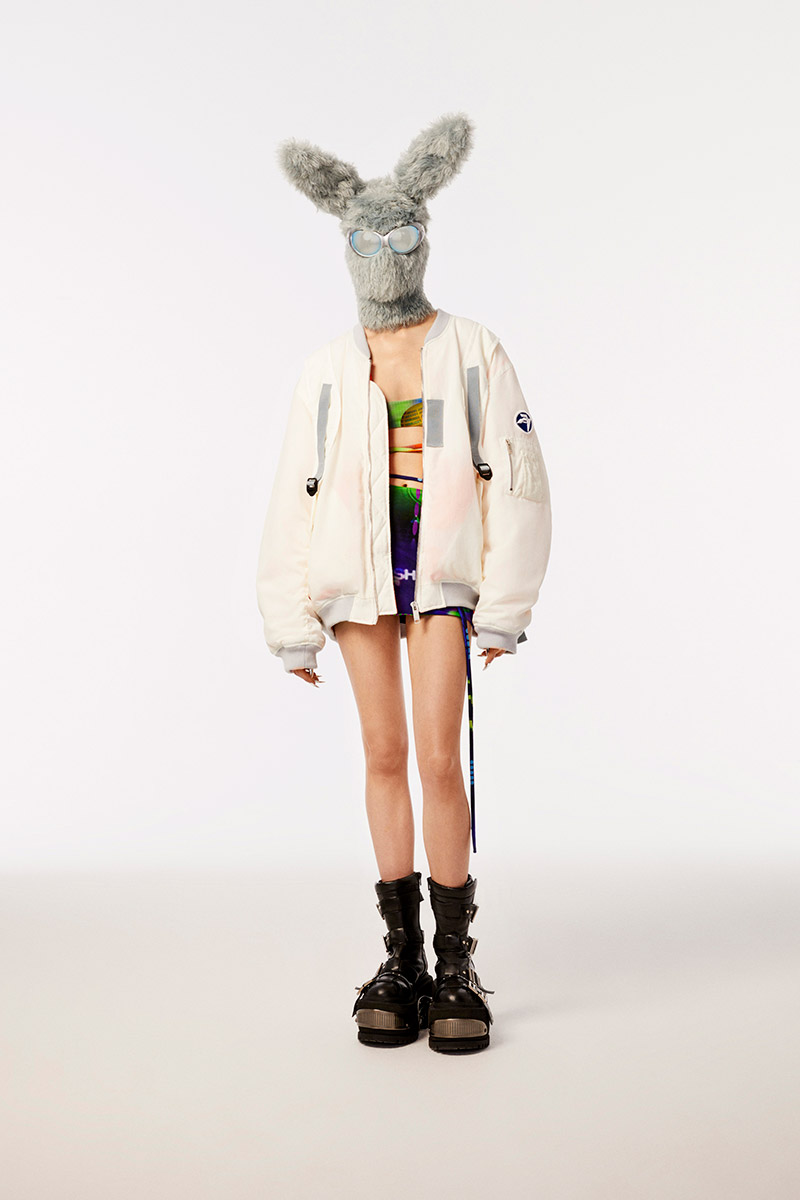 AMBUSH Spring Summer 2023
The futuristic AMBUSH® silhouette is twisted into a surreal look for all genders, combining new micro and cutaway garments with wide and elongated outerwear. Yoon Ahn begins her exploration with corseted crop tops and miniskirts with dangling D-ring straps, worn with platform rave boots and a balaclava with bunny ears. This short look continues with a cropped, faux fur jacket and oversized bomber, the monochrome colour palette interrupted by shocks of pink, neon green and baby blue. Bikini tops in mesh and Lycra come in an array of warm metallic tones and chaotic patterns, fastened with multiple strands and worn with high-waisted culottes. Bug-eyed AMBUSH® DIPTERA shades and leather leg warmers further the extra-terrestrial feeling and give a surreal twist to classic rave shapes.
Accessories have caught this energy too, the whole range configured for ease and movement, from the mini heart-shaped backpacks ready for raves to micro shoulder bags in pastel colours, fastened with wide belts or bondage straps. 'A'-shaped pochettes are meant to be fastened to you with carabiner clips while dancing or moving about the city, while the handles on heart-shaped handbags replicate padlocks, their menacing cuteness a nod to '90s Japanese street style.
AMBUSH® furthers its exploration of leather with sculpted boleros that end just under the chest and oversized mechanic jackets emblazoned with the brand's logo in biker graphics, a splicing of iconic styles. Continuing the exploration of hybrid garments, leather chaps have snap button fastenings up the side like '90s tearaway track pants, and blazers can be worn hanging from the back of nylon sports vests. Wide cargo skirts and pants, raver jeans, and denim shorts layered over track pants, paired with a simple cropped T, speak to Yoon Ahn's obsession with classic shapes and simplifying outfits to their core silhouette. Not that the shape is altogether easy to read – bunny, bear, and mouse-eared balaclavas in neon shades give the models a surreal edge as if wild nightlife animals seen through lasers and a smoke machine.
The rave boot itself comes in three lengths, from knee high to a low, loafer-like style, alongside combat and biker boots, almost all of which are unisex. In black, white, or navy blue, these are a grounding staple and a classic cartoonish pairing for either bikini or blazer and pants. Chunky platform mules in an array of candy tones are softly surreal in their proportion, in contrast to pointy-heeled boots and strappy mules in black, neon orange, purple, and blue. It's a mix and match of heavy and dainty, with bulbous boots contrasted with equally lethal but pink-toned heels.
Oversized garments are a continued exploration for AMBUSH®, this season seeing early 2000s shapes taken to extreme new heights. A silver anorak and track pant are paired with a bunny balaclava, while an oversized printed bowling shirt features archive rave-inspired graphics, also seen on a reversible nylon jacket. These outer shells can be layered over shrunken tanks, silver running shorts, and leather pants for one silhouette or paired with wide jeans or a cargo skirt for another. The AMBUSH® mix is endlessly curatable.
That curation is especially evident in the jewellery this season, which is rich with club iconography. Outsized candy rings, cat ear headphones in silver, and '90s tribal designs linked into bracelets, earrings, and necklaces give a surreal, modern twist to formerly plastic classics. The AMBUSH® ball chain design is updated with pave stones, and the body pierce earrings come in a variety of rainbow finishes. The couture multi-strand choker echoes the belt loops that play across both pants and bags, and the AMBUSH® logo becomes a USB charm necklace. Burnished metal heart padlocks serve as earrings – the everyday, elevated.
Evening wear meets after midnight apparel with tailoring made of spliced sequin and sheared faux fur neon panels, worn with sequined denim shorts. Jackets are slit up the sleeve and have a caped back, worn with leather strapped capris and raver boots, while a trench coat is dramatically oversized in tan or grey and pink. The AMBUSH® digital world seems to come to life with suits made of shimmering silver fabric, cutaway dresses in pink sequins, and chromatic corsets worn with matching belted pants.
The classics subverted, AMBUSH® goes full throttle into futuristic film archetypes, from a biker cropped leather jumpsuit to an ethereal bra and floor-length skirt made of AMBUSH® 'A' chainmail and a moulded metallic leather bodice. Each look is a complete nightlife character, whether in angular printed mesh bikinis, a strappy dress finished with an explosion of feathers, or a chainmail top worn with oversize denim pants. From door person to danceftoor to DJ booth, AMBUSH® and Yoon Ahn embrace chaos and take an instinctive approach to dressing the whole night. An all-night AMBUSH® party.
You May Also Like: Fashion Models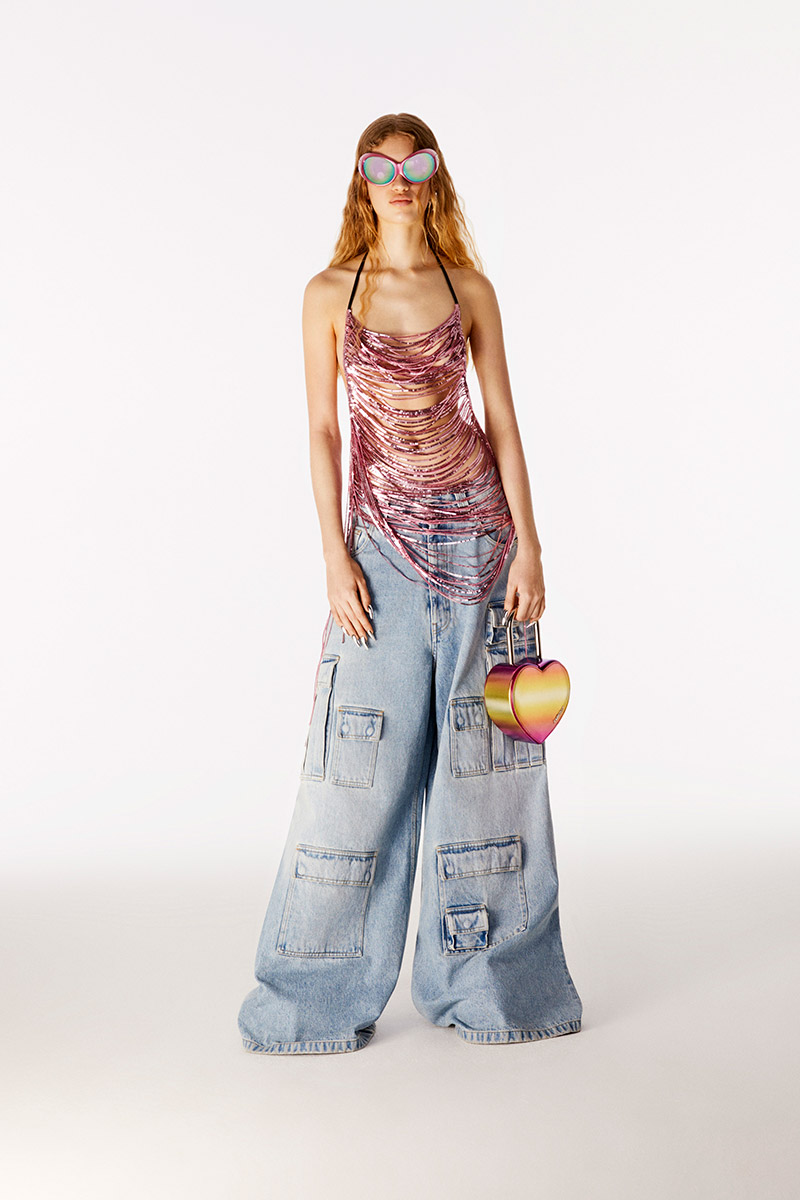 You May Also Like: Designer Collections