Sustainable fashion designer, humanitarian and artist Bethany Williams has exclusively created a capsule collection for Browns Focus Series 2, a platform dedicated for the designers of tomorrow which continues Browns' legacy of supporting new and emerging talent. The collection will launch on Thursday 16th June 2022, with all content and product live by 10am. Product will also be displayed in-store at Browns East from this date.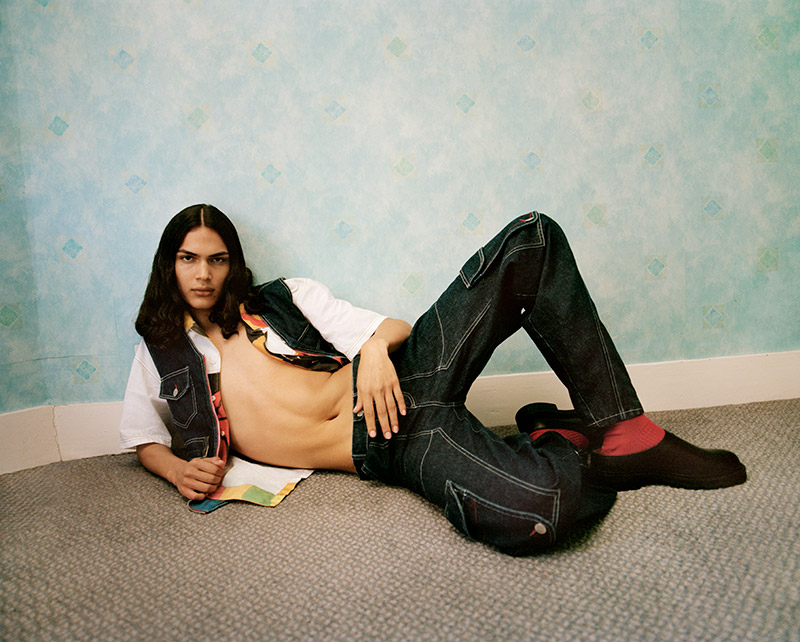 Photographed by Ronan McKenzie
The Browns Focus programme has been brought to life in partnership with HOME by Ronan Mckenzie, and built to celebrate and support the values and ambitions of R.O.T.A (Representation On The Agenda), Browns' internal network celebrating the breadth of communities within the company, and wider industry. As well as Bethany, the programme also includes Ahluwalia, FEBEN, Namacheko, Nicholas Daley, SELASI and Wales Bonner.
Using ISKO Denim for this capsule, this is Bethany Williams' most technical dive into denim to date and represents staple denim styles with a stunning Bethany Williams twist, incorporating eco-friendly denim laundry processes alongside Creative Room. Creative Room have a unique laundering process where they reuse the same water for a month in their laundry process through an on-site water recycling system; all of the garments in the collection were finished using 100% recycled water. Demonstrating an emphasis on locality, this collection was designed, made, laundered, hand finished, packed and launched in London – each element and process of the collection was crafted within a 15 mile radius of the Bethany Williams studio.
Of the collection, Bethany says, "As one of our earliest stockists, Browns have been such a supportive partner for ourselves and other emerging brands in London's fashion industry. We were extremely excited to have been approached by them and selected to work on this campaign amongst such a talented group of creatives.
With everything I do, I try to create new systems of working. To link together different projects and create something completely new is so exciting and I feel so honoured and supported that Browns have let me do this with them."
Focusing on sustainable dark indigo raw denim, together with circular and modular design principles, the team worked closely with denim experts, ROAD and their founders Rosie Ingleby and Amy Roberton on the design and development of this range. The denim for this collection was supplied by ISKO with a main base of organic and recycled cotton and hemp.
The collection comprises jackets, trousers, vest and a pair of dungarees made with local manufacturing partners, with special styles being made by London College of Fashion's Making for Change, a key partner for Bethany Williams across multiple collections throughout the years. A beautiful detail of the collection is the printed details included within the linings, shirt and patch details of this denim, which are made from the flags from the Bethany Williams Coal Drops Yard exhibition last year – a collection of illustrated stories capturing intergenerational narratives, and amplifying the voices of children. The Coals Drop Yard project was a natural and fitting continuation from the Bethany Williams "All Our Stories" collection, and it was important to the team, and part of the mission of the King's Cross commission, to find a circular use to repurpose the flags. The inclusion of the flags means that each denim item is entirely unique and one-of-a-kind.
The capsule is a continuation of the concept behind "The Hands that Heal Us" collection, in which Bethany drew inspiration from her social manufacturing partners and their focus on craftsmanship. This inspired the module features and utility detailing, such as detachable pockets and tool roles which can mix and match across garments. Also included are tool loops, offering additional functionality to the clothes. The inclusion of these details emphasises tools as an integral part of craft and with that, how they are held and stored. Colours have been beautifully muted from the wash, creating a contemporary vintage feel to each piece. The range also features Bethany Williams branded unscrewable eco-finished metal buttons to ensure they are easily removable to continue the life cycle of the garment, as buttons can often be a barrier in the upcycling process.
You May Also Like: Designer Collections