'Salone del Mobile has always been an important creative moment for LOEWE. It allows us to delve into projects that bring my interest in craft towards progressive and unexpected directions, igniting collaborations with artisans of unique flair, inventiveness and technical ability.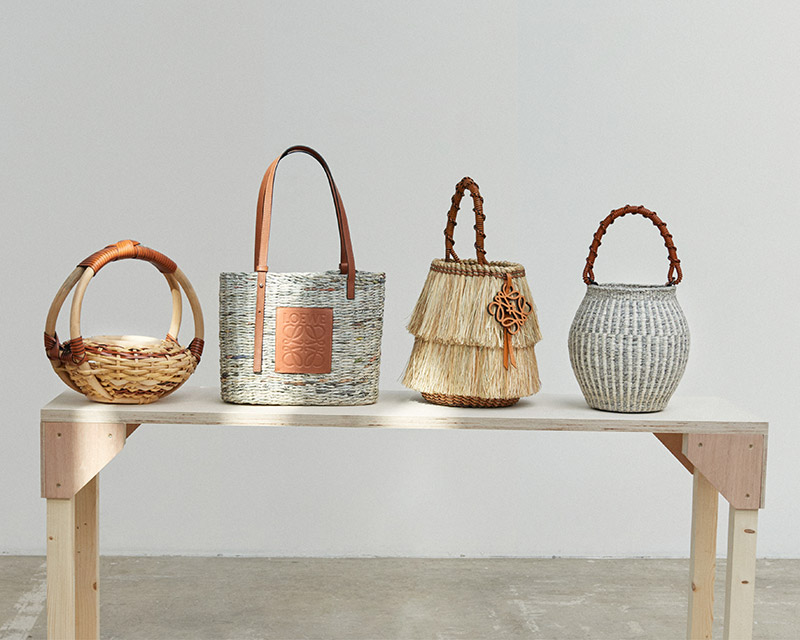 After a two year pause during the pandemic, LOEWE presents a new Salone del Mobile project in real life. This fact alone fills me with energy and anticipation. For our sixth instalment at the annual furniture fair, LOEWE developed Weave, Restore, Renew: a poliform project that revolves around the idea of giving new life to things that might have been forgotten or discarded, and turn them into new, unique pieces by repairing and reviving them through craft interventions. Acts of manual labour give new meaning to each object, honouring the object's history and value and preserving it for the future. Such a way of approaching the artisanal process sits right at the crossroad of respect for the environment and respect for the product. It is the opposite of senseless consumption, and an acknowledgement that things done with love and attention retain a human quality that lasts over time. We looked at traditional crafts both from Spain and abroad, turning ages-old techniques into something unexpected: an expression of the now, with a soul. Weave, Restore, Renew explores leather weaving, the Galician straw-weaving tradition known as Coroza and the Korean technique of paper weaving known as Jiseung.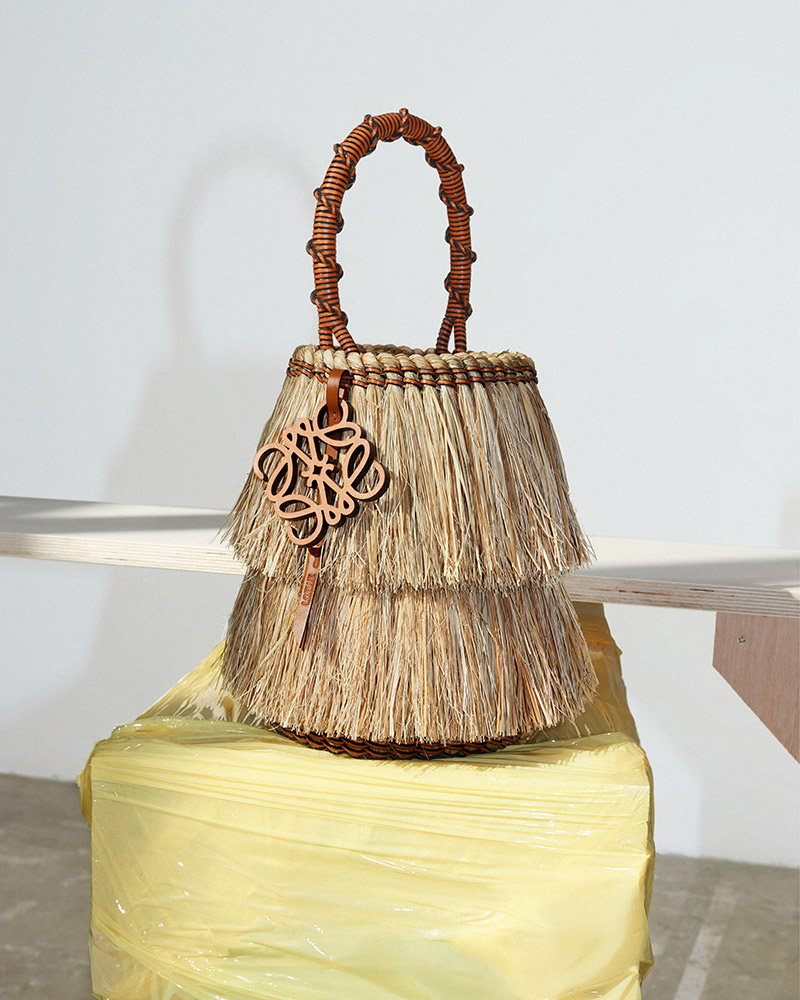 Repaired in Spain is the core section of Weave, Restore, Renew. We gave 240 existing baskets from all over the world —each one with its own peculiar shape, function and level of distress— to artisans Idoia Cuesta, Belén Martínez, Santiago Besteiro, Juan Manuel Marcilla. They then mended and repaired them using leather strings and the result is a series of unique baskets that are a testament to invention, and very playful and surprising for that. Authentic craft, for me, is sustainable: the concept of repair is fundamental in this sense.
Coroza is an ancient Galician technique which consists of weaving straw, reeds, briar and other natural fibres to create raincoats, hats and baskets. The striking fringed capes were used in the region up until a few years ago and the coroza tradition dates back thousands of years. For the Coroza section we created a series of bags and basket bags that retain the distinctive tiers of fringes of the coroza, which look both practical and visually surprising, almost like sculptures.
Then there is paper. Together with Young Soon Lee, a LOEWE FOUNDATION Craft Prize Finalist in 2019, we created a series of jars using the traditional Korean Jiseung technique, which consists of finely weaving strings of paper to create household objects. We extended the same technique to recycled newspaper, with which we made a series of sturdy totes.
Across this whole project, we celebrate the regenerative power of handwork. I am proud we have created a series of items that rewire the relation with time, wear and tear, delivering a message of evolution and transformation which is progressive and uplifting.' Jonathan Anderson
You May Also Like: Designer Collections 2022