Unveiled during Louis Vuitton's Fall-Winter 2021 show by Men's Artistic Director, Virgil Abloh, the Felt Line, features three iconic leather good pieces and reflect the Maison's ground-breaking approach to circular creativity. . Designed using several eco-responsible materials: organic cotton and recycled wool-based jacquard, 100% recycled polyester derived from existing stocks, as well as recycled plastic for the chains.
An innovative textile — the main material of the pieces — was designed using 43% certified organic cotton, the highest standard, and 20% recycled wool. The unpredictable result of this jacquard underscores the uniqueness of each leather good, on which the Monogram pattern appears and disappears thanks to a lurex thread tufting. The global process emerges in every detail of these three light and practical models, as well as in a form of stylistic adaptation. The lining comes from the House's existing stocks of 100% recycled polyester, which have been upcycled, thus maximising the use of existing materials and limiting production. The chains and corners were produced using 70% recycled plastic with a multi-colour effect reflecting the jacquard's chromatic aspects. For the straps and handles, an LWG (Leather Working group)-certified leather was selected, the most exacting environmental label for tanning.
You May Also Like: Louis Vuitton Collections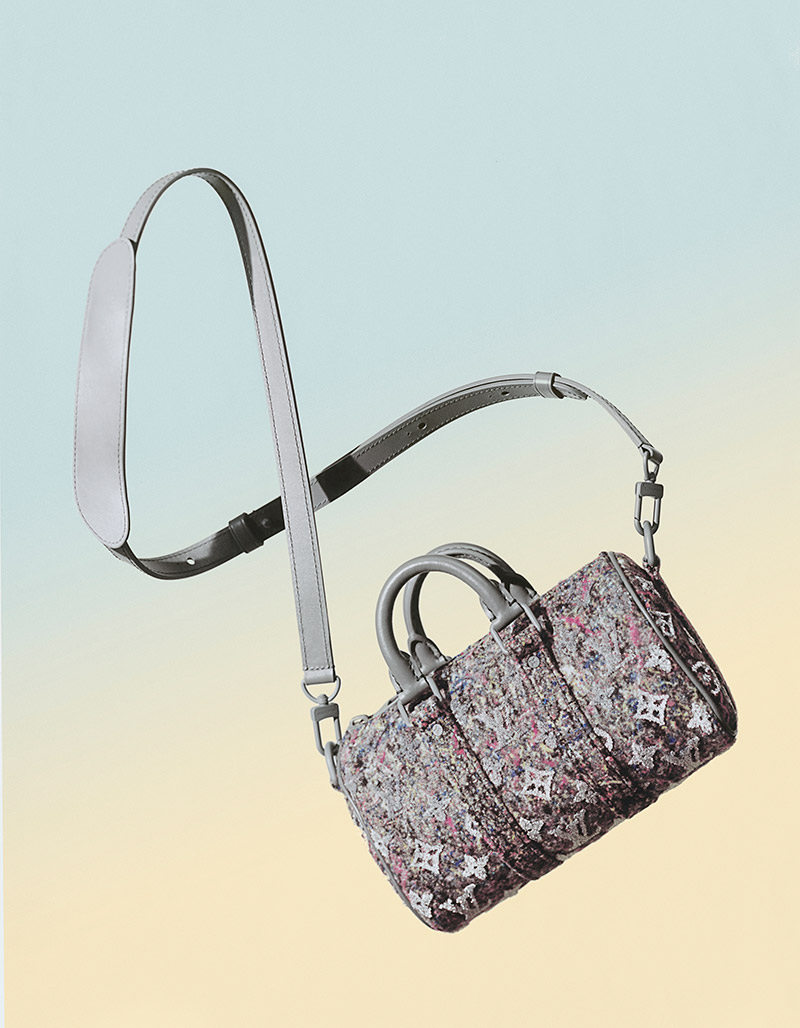 Meeting all the quality and durability criteria cherished by Louis Vuitton, the three models of the Felt Line, as well as one piece of ready-to-wear, a long coat, , express the choice of a responsible and sustainable sophistication.. By celebrating beauty and creativity in everyday life, which is the central theme of the Fall-Winter 2021 fashion show, the Felt Line demonstrates the vivacity of Louis Vuitton's expertise and ingenuity to provide the best response to its clients' needs as well as the challenges of the contemporary world. All products feature the signature initially conceived by Virgil Abloh, placed on a leather patch from existing stocks. This emblem is the symbol of Louis Vuitton's sustainable development policy, as by 2025, 100% of its products will be created through eco-conception.
"Our committed journey" is Louis Vuitton's sustainable development plan, in line with the LIFE360 (LVMH Initiatives For the Environment) plan. Through six lines of action, it aims to preserve natural resources (sustainable supply of materials, contribution to climate protection, circular approach of creativity) and to have a positive impact on society (diversity and inclusion, commitment to local communities, development of know-how).
You May Also Like: Louis Vuitton Spring Summer 2022