Pragmatic and effortless, the Proenza Schouler Pre-Fall 2023 collection does away with the notion of theme altogether to focus instead on a utilitarian wardrobe for the intelligent, adult, urban woman of today. It also marks a liminal state between what came before and the show season ahead. These are clothes made for wearing and that serve the everyday needs of the Proenza Schouler woman without ever sacrificing style, ease, or personal identity.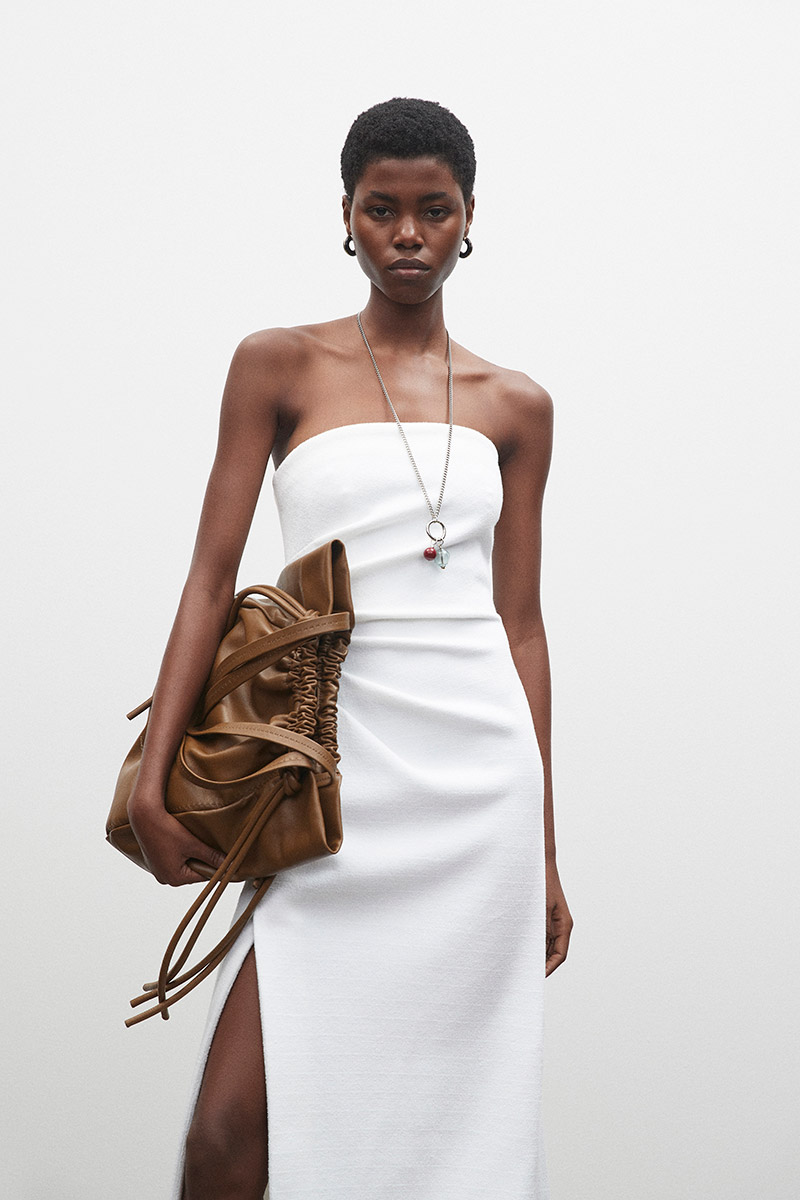 Stretch and texture are key elements found throughout the collection. Spongy, unlined technical gabardine peacoats top off separates that are designed to mix and match. Jersey skirts and dresses with bonded ruffled hems pull down on the garment creating a bias fit that naturally accentuates the wearer's body. The effortlessness of a beach towel wrapped around the body is referenced in a terry jersey dress, constructed with an internal corset. Drawstrings serve not only as a visual interest but replace seaming and darting as a fitting mechanism. Leather is important throughout, especially in dresses, and cut to hug and drape around the body. Suiting continues to be the building block of the daytime wardrobe and cut loose and relaxed in shades of parchment and bone. Soft third piece trench coats have the ease of dresses and serve to balance evening novelty. Bugle beads are hand embroidered into patterns in a three-dimensional fringed technique, and swing and dissolve with movement. Prints are hand drawn in watercolor and allude to the collection's summery undertones. Knitwear plays a key role in the form of long pullover dresses layered with abbreviated polos in soft green, and in pale blue to-the-floor polo-necked dresses. Ease of wearing, effortlessness, and a quiet yet confident sophistication are the collection's key takeaways.
The rubber-soled Stomp boot is worn under pants for a utilitarian feel, while the Glove boot, a Proenza Schouler classic, is worn throughout. Platform sandals have the ease of a flat shoe while adding weight to the silhouette. The Drawstring family sees a new style added with the Shoulder Bag, an everyday style that blends simplicity and functionality. The Drawstring Tote continues to be one of the brand's most important styles, this time wrapped in a cage of hand knotted leather macrame for an element of craft integral to any Proenza Schouler collection.