Photo by Jason Kibbler for Vogue Russia January 2014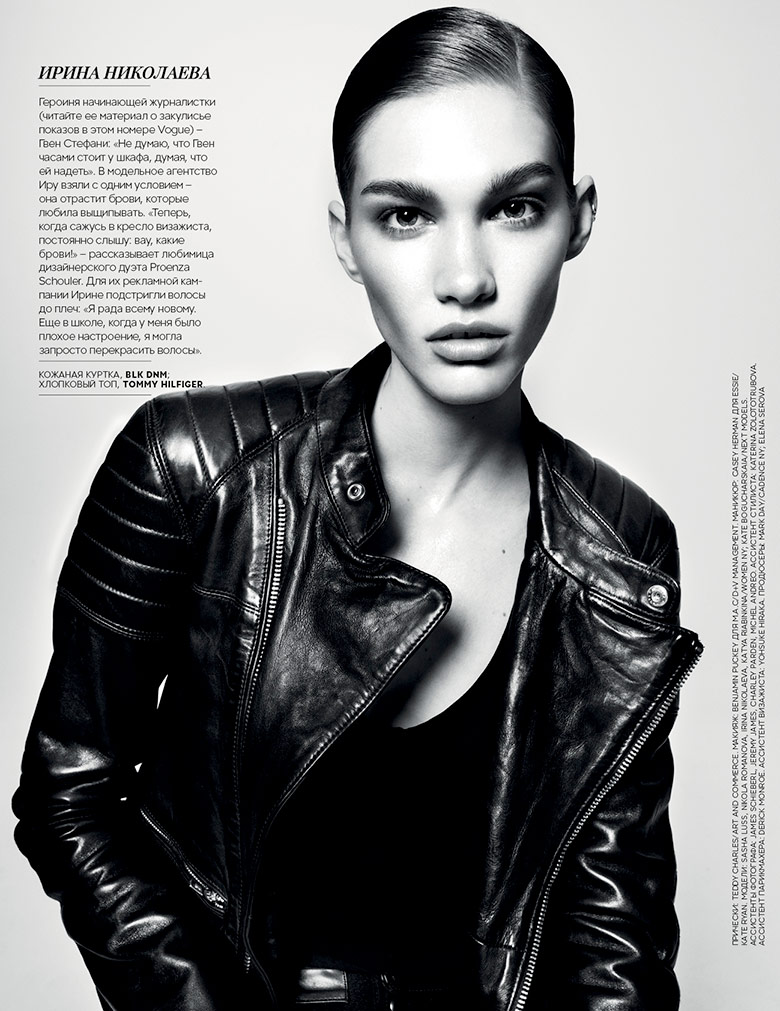 She is the up and coming Moscow born beauty, Irina Nikolaeva and her gorgeous 5'10" figure is sweeping the industry off its feet.
Encouraged by her friends and family to enter the modeling path, Irina found the industry intriguing and made the decision to contact a local Moscow agency that immediately got stunned by her star quality and signed her right away.
Today this Russian charmer is represented by no other than the top-league agencies such as Premier Model Management and Women Management, and has been seen in various high-fashion ads including Love Moschino, Proenza Schouler and her latest, Adidas by Stella McCartney S/S 2013. Not to mention, her multiple appearances in Russian Vogue and her fast paced footprints all over the fashion week proves that Irina is on the industry's hot list.
Q: How would you describe yourself?
---
I would describe myself as a kind and trustworthy person, but sometimes I realise that I have to look at the world in a less naive way. I also enjoy singing songs, especially while I am driving and also like to add some fun dance moves at the same time.
Q: Tell us something that very few people know about you
---
I am quite a sentimental person and I love animals. I think these two things often come together.
Q: What's your passion in life?
---
Definitely discovering new places and food. For me food is perhaps my greatest passion whether it's a crusty French baguette and a rich Brie in Paris or pasta, aperitivo and gelato in Milan. I live for the breakfasts in hotels! I often wake up extra early just to ensure that I'm not missing out on the delicious baked goods, pastries, orange juice and coffee. 
Q: Best modeling experience so far
---
I would say that one of my best modeling experiences has to be being the Proenza Schouler girl for the Spring Summer 2013 campaign and also walking some of the biggest shows such as Prada, Versace and Chanel.
 Photo by Jens Langkjaer for Exit Magazine Spring/Summer 2014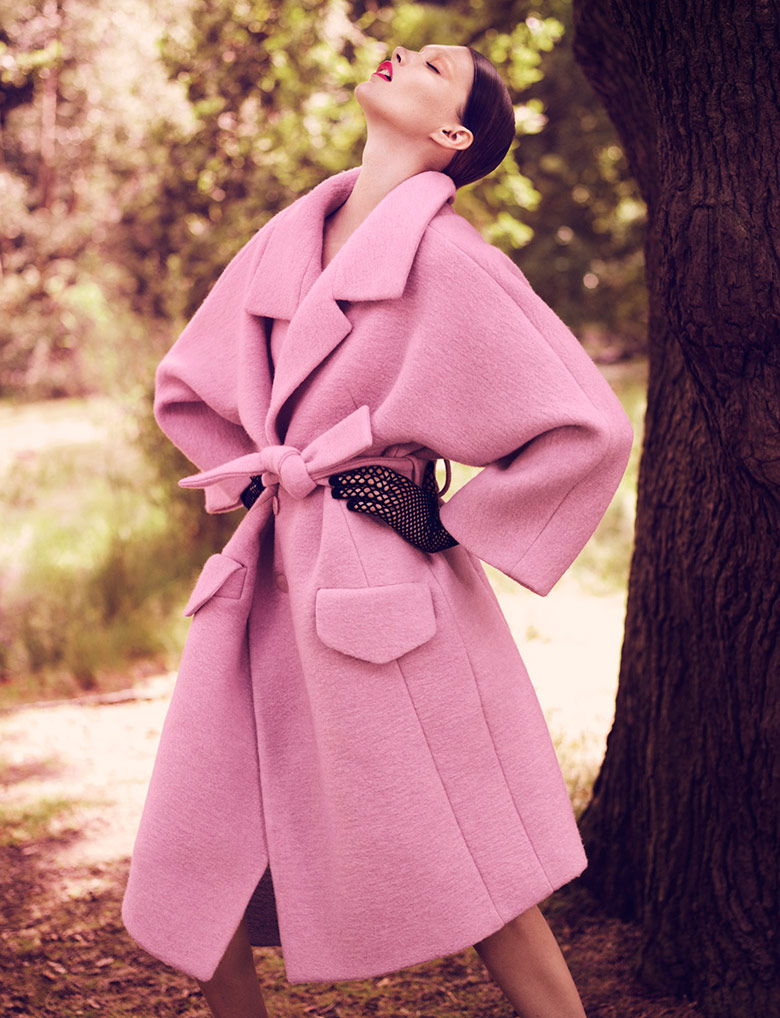 Q: Who or what influences you?
---
I really value my mum and my boyfriend's opinion and they are definitely a huge influence on my life. Also sometimes a certain piece of music or a movie can really guide me and change the way I feel. When I'm angry I like to listen to Linkin Park or Pink, because I love how aggressive and wild they can be. There are also some movies which makes you realize just how small your 'problems' are and help you to revaluate your life. As a girl, from time to time I do love to cry over the movies like 'The Notebook'. I'm a huge Sherlock fan too.
Q: What's your signature look?
---
People love me for my big eyebrows and the gap between my teeth.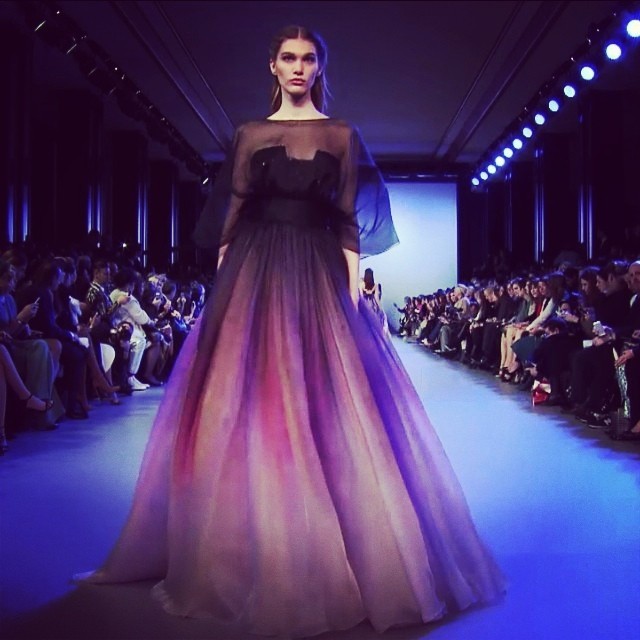 Q: You are obsessed with
---
Food. You see, I am already answering 'food' for the second time, that's truly an obsession!
Q: What do you hope to achieve in your modeling career?
---
I'm looking forward to experience whatever happened to me, live a happy life with no regrets. I believe everything that I deserve will happen to me, so I prefer not to make predictions.
Q: What is the craziest thing you've ever done?
---
I'm not the craziest or wildest person, but I'll share with you one story. When I was about 14, two friends and I held a competition to see which of us could drink the most tea in the school canteen, I have no idea why we did it. Anyway, I was done after about 3-4 cups, but my friends managed to drink 16 and 18 cups each, which as you can imagine is quite a lot. Pretty crazy story, don't you think?
Q: One thing about modeling people may be surprised to learn
---
That modeling teaches you to be very patient and look at things differently. Don't get nervous or panic for no reason and always try to stay calm when there is actually might be a reason to panic.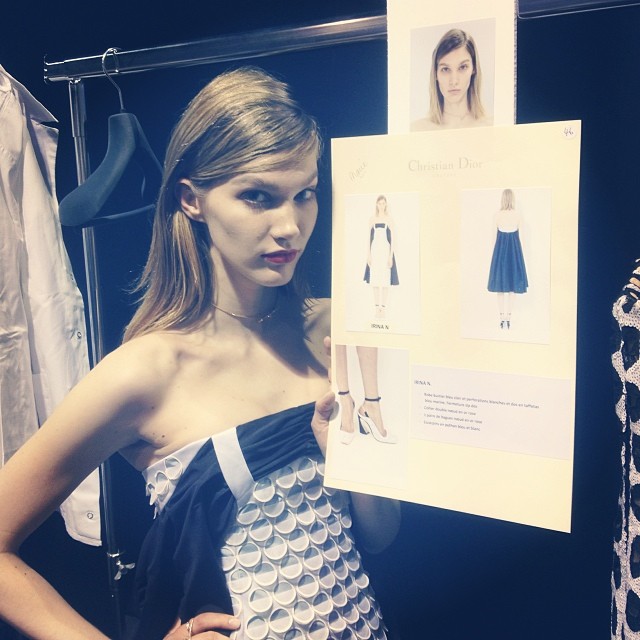 Q: People you would love to work with
---
There are so many of them! However, if I have to point out someone I'd say I would love to work with Mert & Marcus, because what they create are true masterpieces.
Q:  Do you prefer working on shoots or at shows? 
---
I won't surprise you, I like both of them. Shoots are great because they are the result of the photographer, hairdresser, make-up artist, stylist and model working together as a team. As the model there is always responsibility to act as a canvas, as well as adding allure and personality to complete the picture.
Photo by Jason Kibbler for Vogue Russia August 2013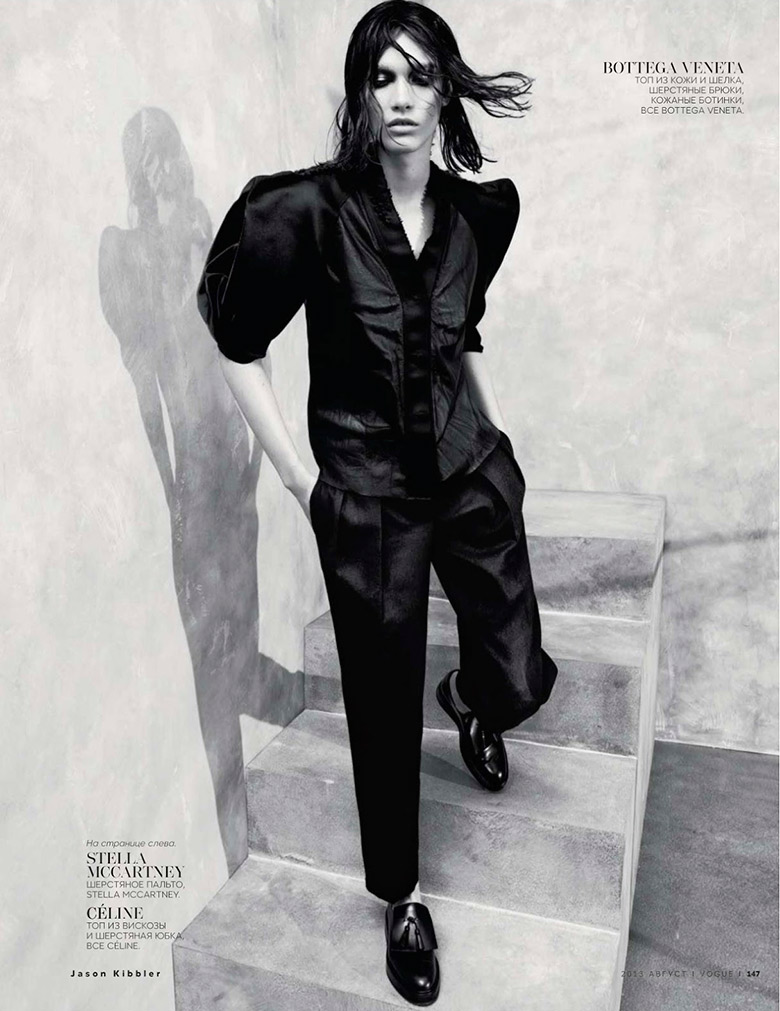 Q: What would you dare to learn?
---
I can say what I won't dare to learn! I will never jump with a parachute, although I do think it's an incredible experience. Just way too frightening for me. I would dare to learn extreme driving, it looks very exciting!
Q: What is your dream modeling job?
---
It will be me lying down in a hot bath eating cake while someone gives me foot massage. There would be no hair and makeup touch ups, and we would only need just one shot. Speaking seriously all of the jobs that I am already doing I can honestly say are the dream once.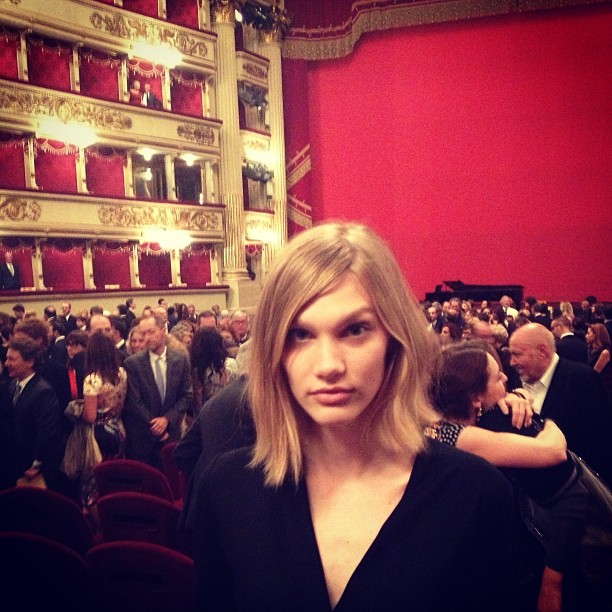 Q: 3 things you can't live without
---
I get cold very easily, so I'd say the need to be warm, whether it's through a warm coat and shoes, or through a heater and hot water in my apartment
My phone. This is unfortunate, but that's how we all live nowadays, I can do nothing about that.
I can't live without happiness and joy, so whatever brings it to me – my friends, boyfriend, a funny story, some great activity or the National Russian volleyball team winning. I appreciate them all!
---
Follow Irina on Instagram