Joan Smalls by Karim Sadli for The Last Magazine F/W 2011 Cover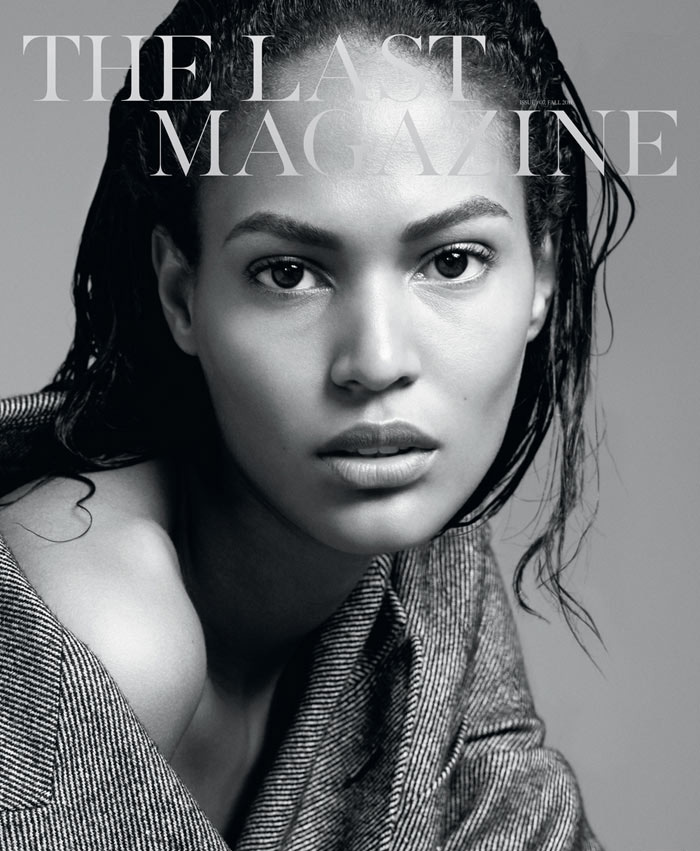 Alastair McKimm, Belfast born stylist is the mastermind behind numerous extravagant editorial outfits. He's contributed his talent to a number of high fashion magazines, such as Harper's Bazaar, i-D Magazine, Vogue and Dazed & Confused. Not to mention the amount of campaigns he's been shaping, including Helmut Lang, DKNY, Calvin Klein and Hugo Boss, to name just a few of many.
After nailing an assisting position for i-D in London, he then established himself as a freelance stylist. Now, based in New York, he's not only a stylist but also a fashion director for the Last Magazine. With his degree in fashion, he has an unbelievable sense of understanding the human body and how to transform it into an art masterpiece.
Q: How did you end up in fashion? What inspired the career choice?
---
It was really a last minute decision when I was 17 to go to fashion school. I was always really interested in photography and that was my hobby so the plan was that I'd go to photo school. The day before I applied I saw an amazing documentary about John Galliano, which really inspired me to pursue fashion design. So when I left home in Ireland it was to England to get a degree in fashion design. It was at university where I first found out about styling and started buying i-D magazine.
Q: Your first styling job
---
I really can't remember what my first job was, it is hard to say as a lot of the work in the beginning was doing test shoots with friends. My first page in i-D was a men's feature on hoodies under blazers. My next one was a double page of tailcoats and jeans. I went from that to 4 pages, then 6, then eventually shooting stories and covers.
Q: Who are your favorite fashion designers?
---
I have a lot of favorites. I really love design more than fashion (the kind of fashion that changes seasonally). I love designers with a personal aesthetic and point of view who aren't trying to follow the trends.
Q: Favorite stylist trick
---
Using good clothes.
Q: Your favorite fashion era
---
I'm enjoying it right now so this is probably my favorite era. Now and the future I suppose. I'm really excited about work these days.
Q: Which element of your job do you most – shoots or shows?
---
I love and hate all if it equally. It all depends on the day, the magazine, the team, the client. What I do love is that every day is different.
Q: Who or what influences you?
---
My wife, my friends and New York.
Nadja Bender by Amy Troost for i-D Magazine June 2013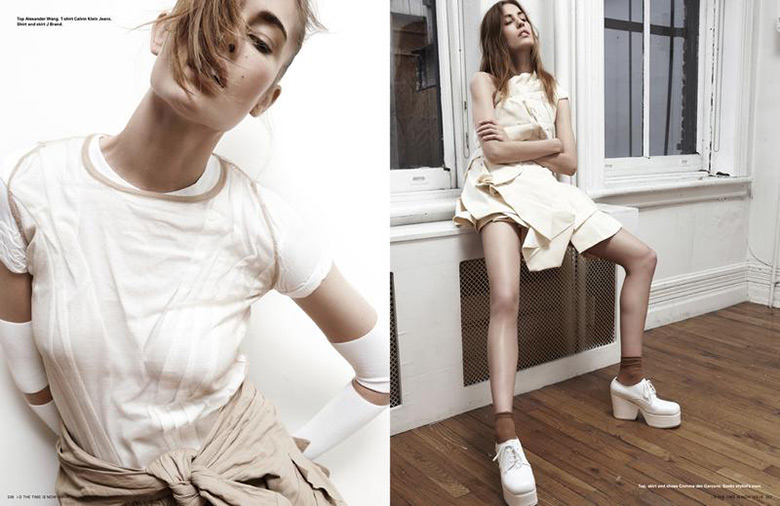 Q: Which trends would you like to disappear?
---
I've never really been interested in trends. Trends are definitely an interesting human study, how designers feel the same inspiration at any one time. The most powerful representation of that was a few seasons ago when everyone did Asian inspired collections as we were all told that the Asian market would be taking over. That seemed like a knee jerk reaction but it was very powerful.
Trend seem to be a necessity for corporate magazines as its an easy way to group collections for editorials. Personally I'm always interested in the designers with their own aesthetic who aren't following the herd.
I would however like to see the floral trend disappear in the London collections.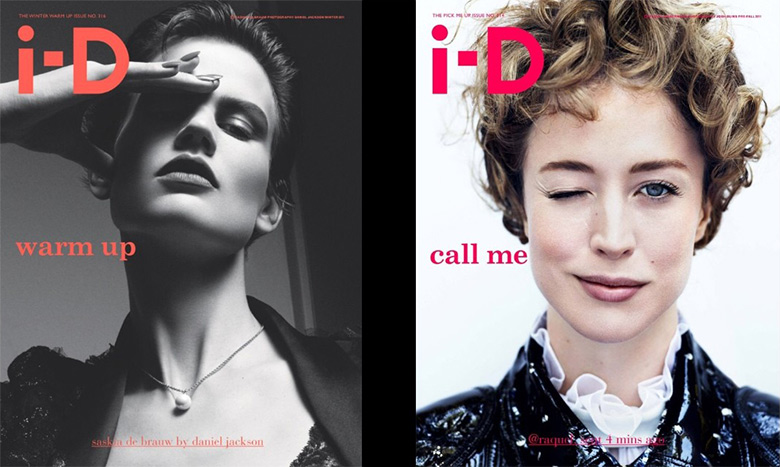 Q: Who is your fashion icons? 
---
Don't have one.
Q: Is there any specific celebrity or model you would really like to style?
---
Not really anyone specific. There are so many incredible people out there.
Q: Your wardrobe must-haves
---
Whatever you want.
Q: What's your philosophy on style?
---
Philosophy wise I suppose I always go back to minimalism. Trying to make people look good or propose something new is the daily task but I enjoy good design with a minimalist approach.
Q: Who do you think of as a muse?
---
My wife, Amy.
Aymeline Valade by Nathaniel Goldberg for Harper's Bazaar April 2013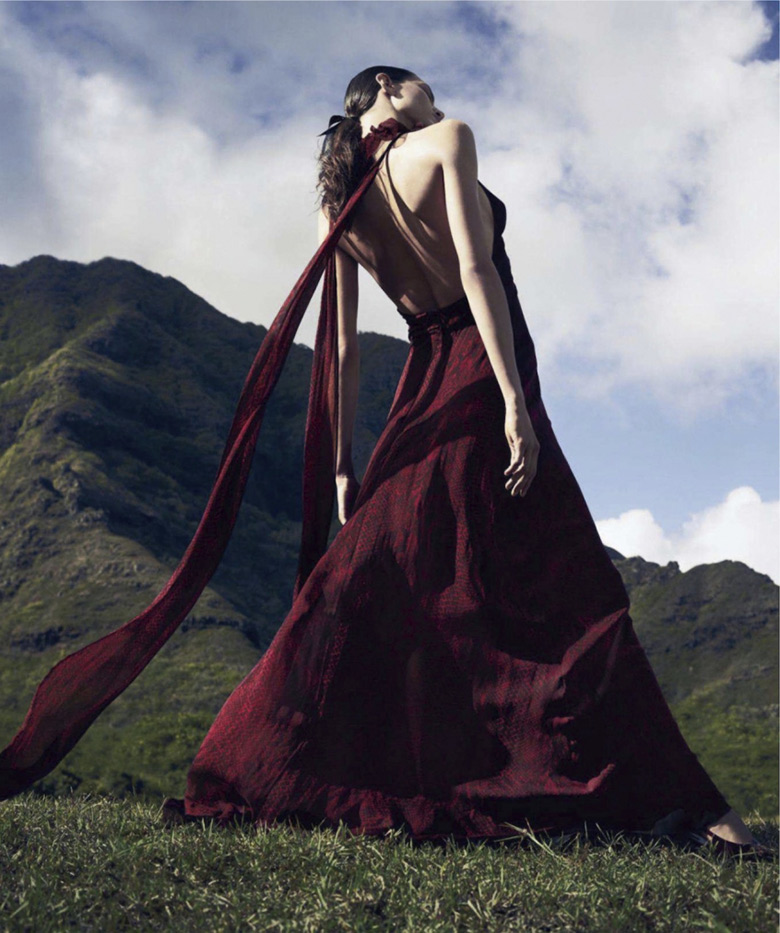 Q:  The best career advice you have ever received
---
'Let them think it was their idea.'
---
Follow Alastair on Twitter and Instagram.
Interview by Alexei Key