Photo by Alexandra Utzmann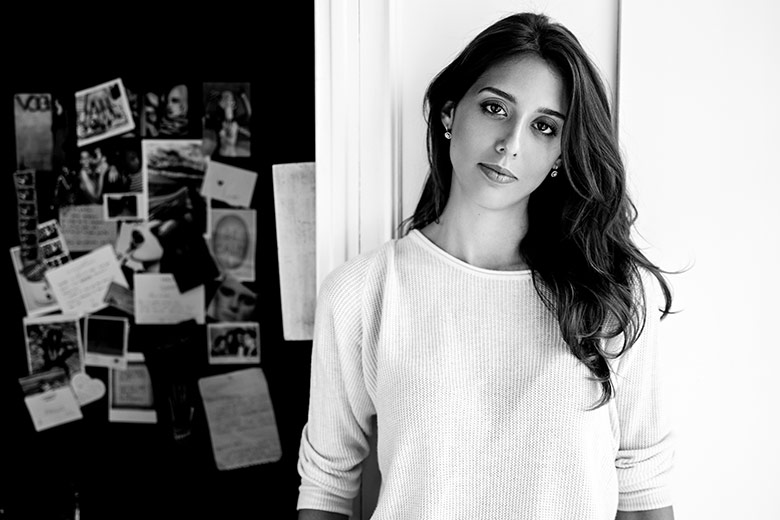 Carine Roitfeld crowned her as 'the face painter', French make-up artist Violette has quickly gained herself a name in the high-flying fashion industry.
Her passion for drawing was discovered at an early age; sketching, playing with different colors and tones became a big part of her life which she would pursue when entering art school. After realizing that painting wasn't satisfying all of her creative needs, Violette tested out make-up and understood this is where her heart truly belonged.
At the humble age of 19, Violette moved from France to New York to follow her dreams. With her new gained experiences from the big apple, she later made the decision to move back to her home country, where she landed herself an agent and her first official job which would be for no other than: American Vogue. Today she has successfully achieved the position as Dior's International make-up designer and will continuously spoil the fashion scene with her colorful face paintings.
Q: How did you end up in fashion? What inspired the career choice?
---
I have always been passionate about art. And for as long as I can remember, I've drawn all the time. So much so, that  at a very young age,  (the age of three), my parents took me to painting classes and sent me to an art school during  my school holidays to paint with hippie artists in workshops where I was free to experiment without any limits. I loved it. Through those very creative artists, I learned to have no limits. To paint on everything and anything. To create my own techniques.They taught me, and I did not know then, the base of what my job is today: building applicable color textures. Today, in makeup, I build most of my products instantly. I have a whole bag of pigments, and I make my lipstick on set, or my eyeshadow. I like to deconstruct the product to better understand and control it.  Dior's lab sends me the pigments that they use to create their products; the quality is amazing. 
I have so much fun with it. (Fyi: I've been a Dior international make-up designer for 2 years now.)
When I was old enough to study, I did my painting classes at the Louvre. This is where I learned techniques on how to draw a body – the forms, the hollows, and the curves … in a more academic way.
During this time I also studied in a prep school for fashion design. Despite the enthusiasm of my teachers, sewing bored me. I just loved doing sketches of fashion looks. Then came the day I had to decide, painter or designer. I could not decide. Then, one day I was applying makeup to a friend, and I realized that this was the link between my two loves: painting and fashion!
I then left everything, I quit my job in Paris and went to NYC alone; I was not even yet 19 years old. It was important for me to start fresh and to be very focused. To be in a place without my usual distractions. I worked hard. Later, when my technique was better, pop art became my artistic guide.
When I felt ready, I went back to France, I immediately found an agent, and my first client was American Vogue. It was for small jobs like stylist portraits, but I already realized how lucky I was!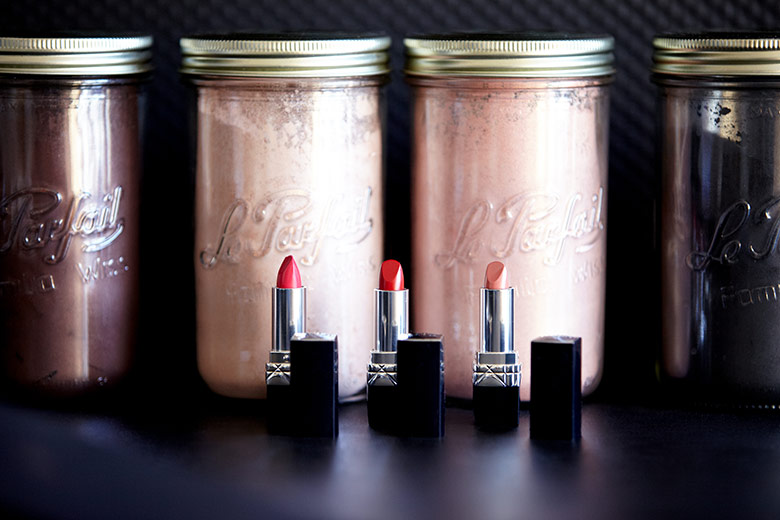 Q: Is there any model or celebrity you would specifically like to work with?
---
I have not yet had the opportunity to work with Lara Stone; she inspires me so much. She is extremely modern and at the same time she reminds me of those Madonnas and muses from the Italian Renaissance and their religious art. A sort of icon. Well, this is what she is to me!
Q: Which current make-up trend would you like to disappear?
---
I do not want anything to disappear. I am a lover of freedom! So every trend has its place! Some inspire me less than others, obviously. For example I have never understood the slim and rounded eyebrows that we have seen in the 20, 30, 70's … So wrong for the face!
Q: Which element of your job do you most enjoy – shoots or shows?
---
I love both ! Shoots and fashion shows! On shoots, I do not go back in the trailer after I've done the model's makeup. I stay on set, in the bubble of the photographer, with its light, its set. Because I'm "in his eye", I see what he sees. Feel what he feels. 
 I have this kind of special relationship with Ben Hassett and Txema Yeste, for example. I also love to collaborate with designers and stylists on shows.
Q: Does everyone look better with makeup?
---
Which is better will change depending on the eye of the other. A woman is more beautiful without makeup in the morning in the eyes of the man who loves her, but maybe not for a stranger on the street. Sometimes some girls arrive on set, and I am unable to put their makeup on. I find them so gorgeous as they are. The last time that this happened to me was with the French actress Léa Seydoux, for Vogue Italy. She arrived, magnetic, with incredible skin. I dressed her lips with a red eyeshadow and that's all. She just had a shimmery moisturizer on the skin. I love this story.
Lea Seydoux by Michelangelo Di Battista for Vogue Italia February 2014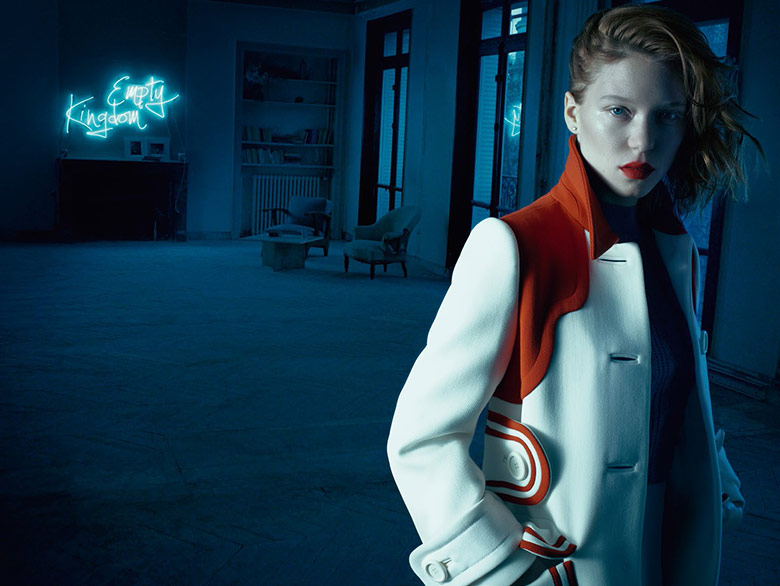 Q: Any on-set quick fixes?
---
Perfectly cleansed skin + a bit of concealer under the eyes, the nose, and around the lips +  curled lashes + a lipstick on the cheeks and tapped lightly on the mouth. In 2 minutes, you'll look fresh and wide-awake. On the set, I always stay close to my hairspray to fix and maintain a beautiful line of eyebrows. I use Dior Pore Minimizer, to neutralize any brightness very quickly, as well as Rosebud, to create a glowy effect on the cheekbones.
Q:  What's the most important lesson you have learned in your career? 
---
To love what you do. Also, stay true towho you are deep inside. No matter what people tell you One of my agents at the beginning of my career told me that I had to be more commercial, less creative. Otherwise I wouldn't get work. I changed my agent, and kept my individuality. Later, I met Carine Roitfled. She pushed me to find my artistic freedom. To be who I am creatively. I will never thank her enough for what she did. 
There is also another important thing I've learned, whatever happens. Even if the makeup is super creative, the woman must be as beautiful as she is naturally. It's important that the model feels good about the look you are giving her.
Q: Do you Consider what you do art?
---
Art is like beauty, it depends on the individual's eyes. So, is it art in my eyes? I don't know. I don't care. I just do my drawings. I put some light and fun on the faces. I don't define what it is. And I don't think it matters anyway. I would rather feel it than trying to name it.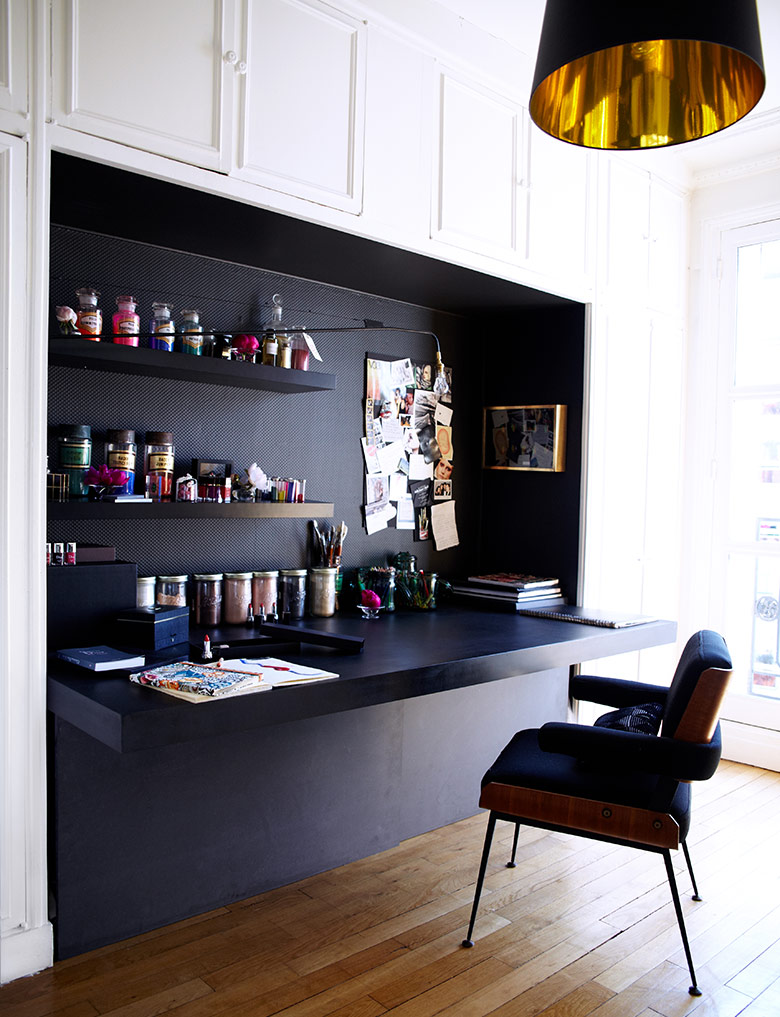 Q: Your favorite fashion era
---
I have 3 ! The 70's, for the women's liberation that created iconic looks on legends such as Jane Birkin, Serge Gainsbourg, Brigitte Bardot, Farrah Fawcett, Patti Smith etc.
The 50's, for the chicness, like Marylin Monroe, Marlon Brando, Audrey Hepburn, Elisabeth Taylor, Rita Hayworth, Grace Kelly, Claudia Cardinale, Ava Gardner etc..
The 80's (but the good parts !) and the "too much look" that I love! It was fun back then ! Not serious … I am in love with David Bowie from the 70's and 80's. His looks are just incredbile.. so inspiring. Madonna, Michael Jackson, Cindy Lauper, Grace Jones etc…
Q: Who are your fashion icons, and why?
---
All women are my icons. Each woman inspires me somehow. If I had to choose my "muse" in fashion, I would say the Saint Laurent's woman.
Q: Who or what influences you?
---
Everything. I'm obsessed with colors. I find most of my inspiration from nature and art. I am fascinated by what nature is capable ofcreating. A simple sunset in Ibiza (my favorite place on earth, when I am not in NYC or Paris) can give us the most beautiful colorful palette ever! It can be so incredible and magic. So many inspirational moments everywhere!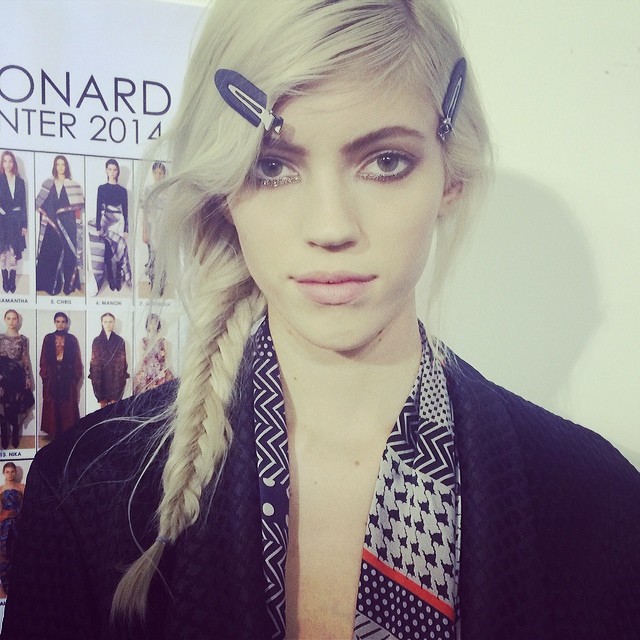 Q: What's your favorite part of the job?
---
First of all,  when my hands are on the colors and I start to apply them on the model. I never know what it's going to look like. I'm never nervous at all, but very quietand peaceful; it's my yoga time !
Also, I love when the face of the model is transformed by the light of the photographer, and the work of the team on set. Then,the picture is taken, and it suddenly becomes real. Our dream vision for the story comes true..
Follow Violette on Instagram.
---
Interview by Alexei Key