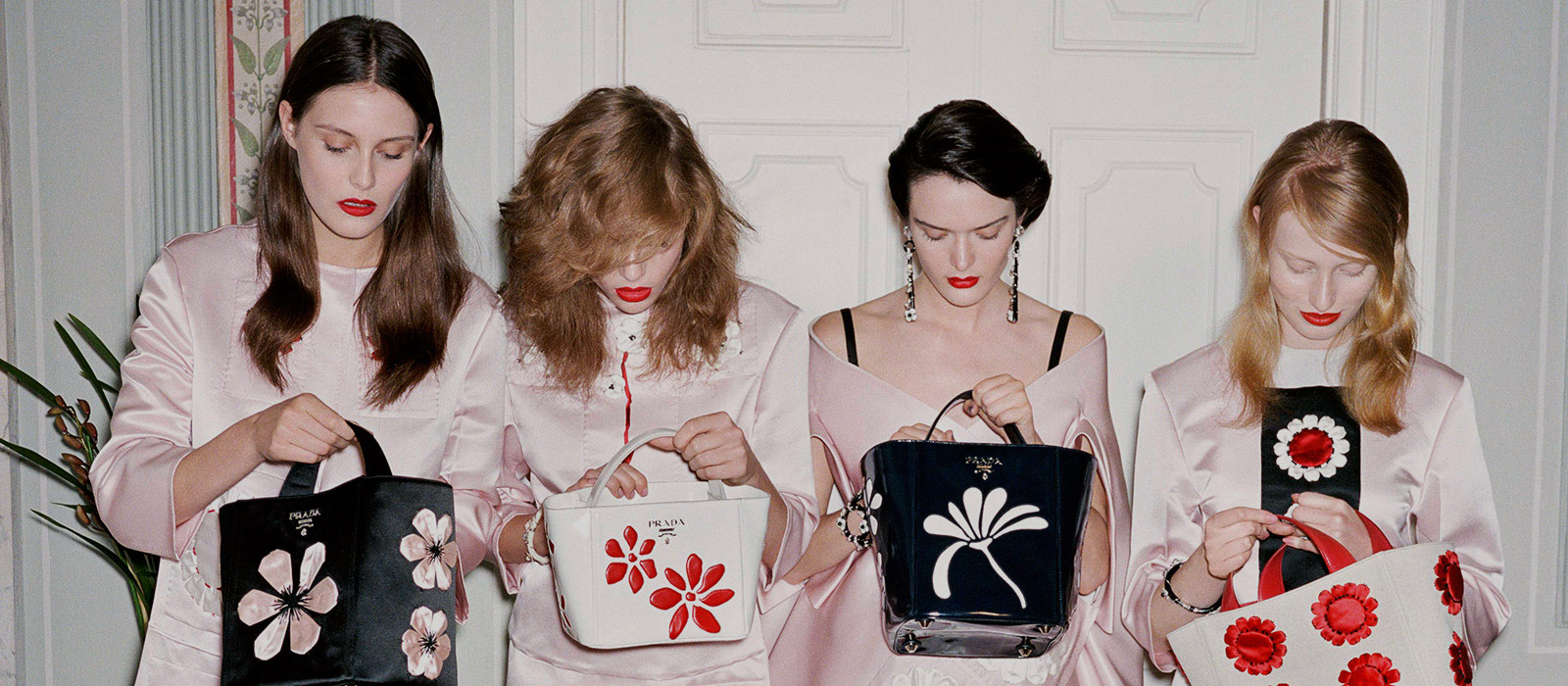 Francesca Burns
Anyone still clinging to the old stereotype that fashion people are always in black hasn't met Francesca Burns. Francesca brings color wherever she goes, whether she's dashing around London or on duty as British Vogue's fashion director.
After beginning her career traveling the world assisting Kyle Minogue's stylist during the "Fever" tour, Francesca went on to work with styling icons including Alex White and Joe McKenna. Quickly noticed for her vivid fashion sense, she joined the legendary Terry and Tricia Jones as an editor at i-D before departing to work with Katie Grand at LOVE. Today she's shaking up British Vogue, bringing her confident, eclectic eye to one of fashion's most storied titles. With every issue, Francesca adds to the evidence that she's one of the most vibrant voices in fashion.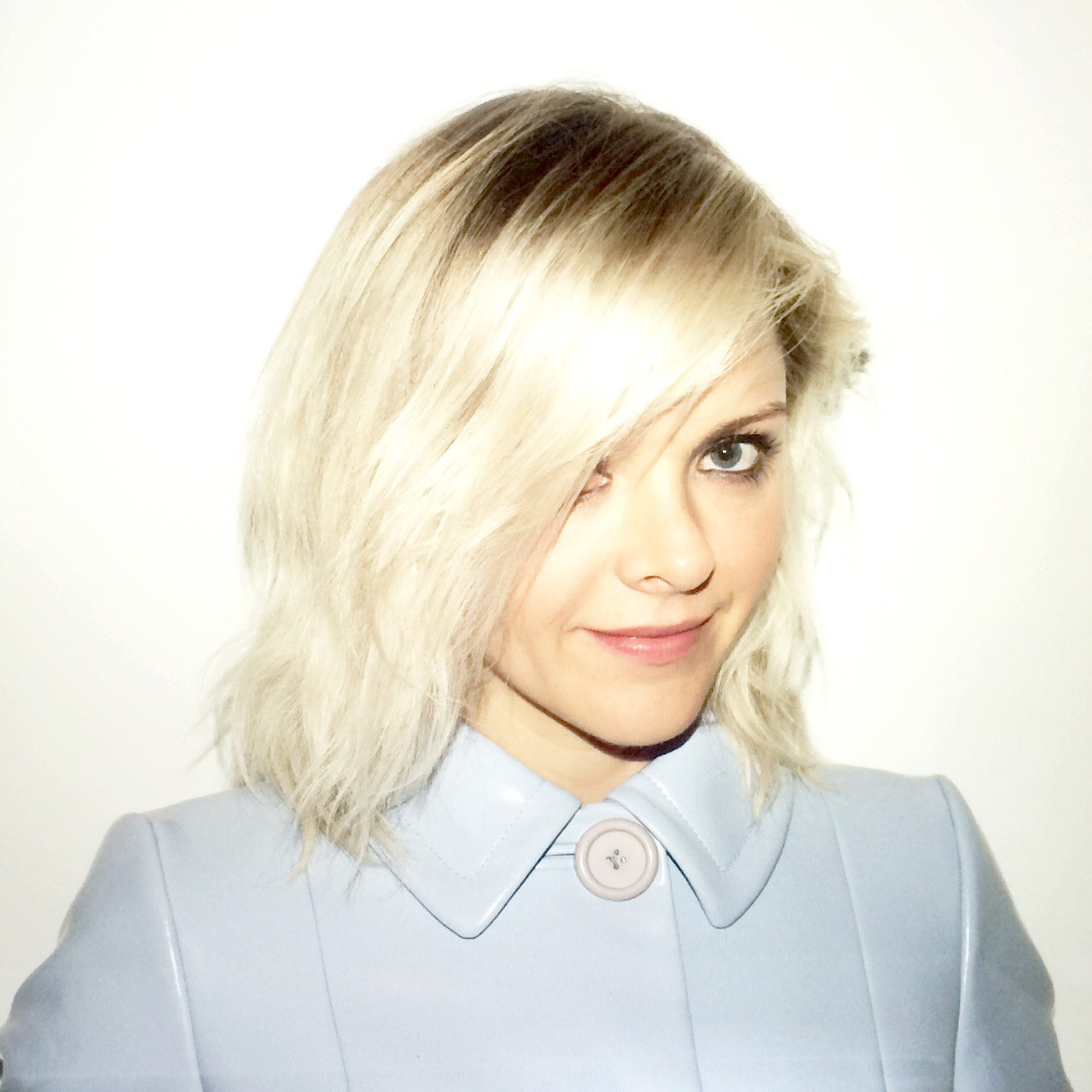 When I started, I was faxing sample requests to designers. That dates me. But seriously, the internet has been the most mindblowingly brilliant thing to happen to the world and of course its implications for the fashion industry have been huge. Also the speed of fashion has changed, and the global community has changed. For example — I remember when you could only buy TopShop in London, and Isabel Marant in Paris, and Supreme in New York (and you would have to send a boy in to shop for you). Now you can get everything everywhere. Plus a picture will travel — I mean, here we are!  The Fashionography is an essential resource for seeing what's happening out there in the world of magazines without leaving my desk. This is modern life!
I became aware at a very young age that you could transform yourself through clothes and I found that very exciting. Clothes could turn you into Kylie Minogue or Debbie Harry. Clothes could get you a boyfriend. Clothes could get you into a night club. Clothes communicated common interests. Clothes made people talk to you. Clothes made you interesting. I always dressed to stand out and get attention. I loved colour, and print and fluff and texture…it was the 90's. A typical outfit would be spray-on pale pink satin trousers from Kookai, a Morgan de Toi boob tube, a pair of buffalo boots or platforms, and some kind of fake fur coat from Kensington market. My school friends used to pre-warn people about my dress sense before they met me – "Fran is really great once you get to know her, but she always wears really weird clothes"…I loved it!
Every time I see my Mum's friend Lise she reminds me of a shopping trip when I was about 7 or 8, where I demanded "anything, as long as it's pink." I never quite got over that.
Clothes could turn you into Kylie Minogue or Debbie Harry. Clothes could get you a boyfriend. Clothes made people talk to you.
I am always excited by new talent and new ideas in design and photography and I am very lucky to be in a position to support new people at British Vogue.  At the moment I love Molly Goddard, Ashley Williams and Ed Marler. They each tap into different ideas about youth culture in London now. Molly did a brilliant presentation this fashion week called The Fun Molly Party – we turned up and she had all of her gorgeous friends wearing her party dress including artist Phoebe Collings James,DJ Lotte Anderson and her sister, editor of Hot and Cool Alice Goddard. She knows her girl and the clothes are great.
I think I am very lucky because my job doesn't feel like a job, this is my life. It takes me to amazing places and I spend my days with amazing people. I see things that teach me and challenge me and give me new ideas all the time.  I like things to always be moving forward. I have always been surprised where this path has taken me, but never disappointed.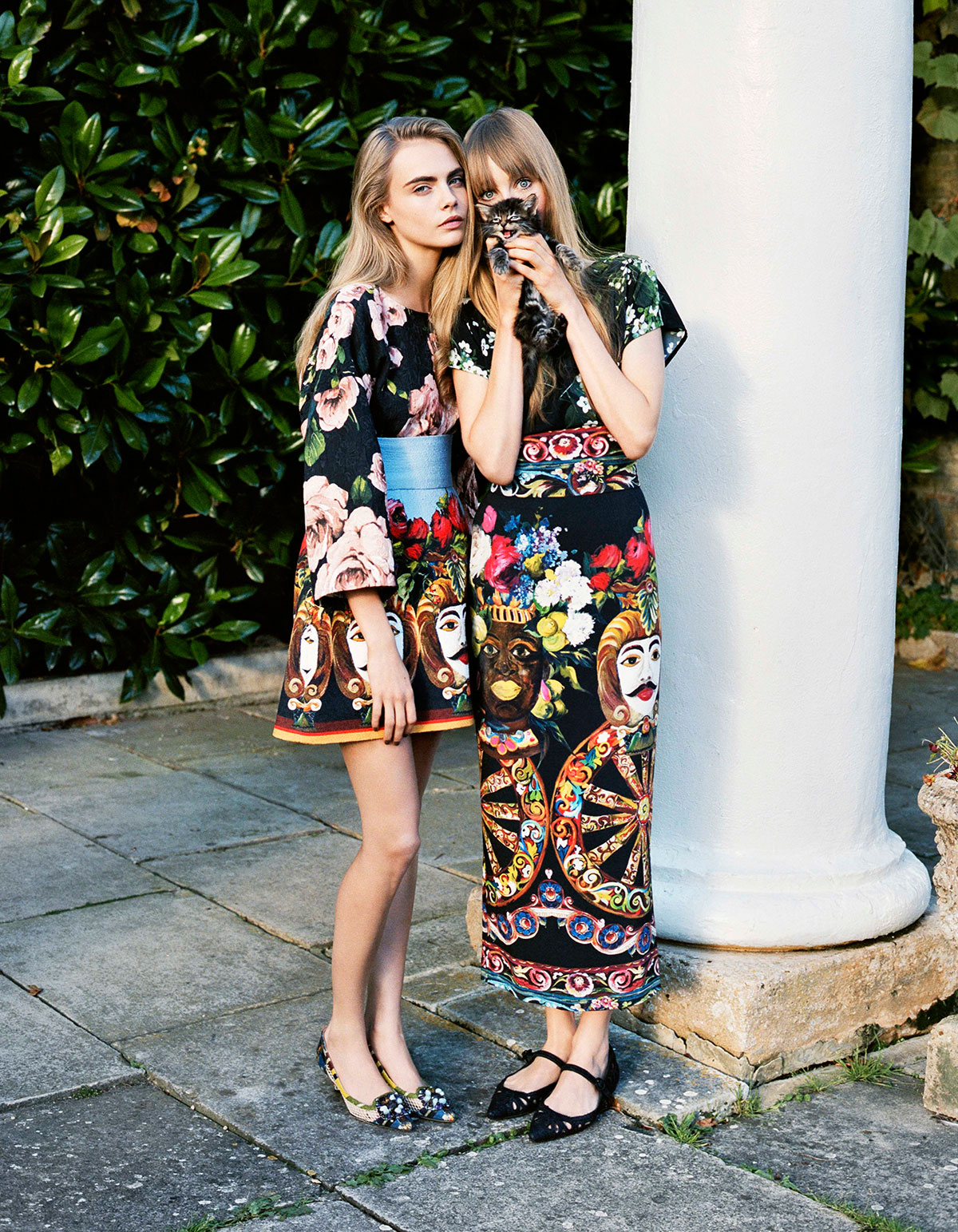 Cara Delevingne & Edie Campbell by Angelo Pennetta for Vogue UK February 2013. Styled by Francesca Burns
I do think we are a long way away from print disappearing, though. If anything, with online the value of print becomes more important. I love Man About Town because it uses different paper stock and has a pull out poster- it feels really collectable. Rookie Mag comes out once a year and again it's a special object. Self Service is always a beautiful book and LOVE just produced LOVE Collections which is brilliant and beautiful and huge: really special. If you're going to buy something you want it to be worth hanging onto. It just means us editors have to work even harder to give people a good reason to buy a magazine.
Ashley Williams is a mini brand in the making. She has a unique sense of graphic cool and makes easy clothes for a fun young London. Ed Marler is coming from a completely different approach – referencing John Galliano and Vivienne Westwood – decadent and camp and beautiful. This is what's so great about London, and I love to see designers bringing this to a wider audience through their collections.
I find inspiration everywhere. I love fashion and I love clothes and I love women. For Vogue a lot of the work we do, certainly for the big issues, is directly inspired by the catwalks. However I need my girl to have a life, she's never just a model in a dress. I like to imagine the life of the girl – what she does, where she goes, what kind of woman would wear this and that, what makes her happy. I find the most inspiration in the people in my life and am very lucky to be surrounded by so many wonderful women.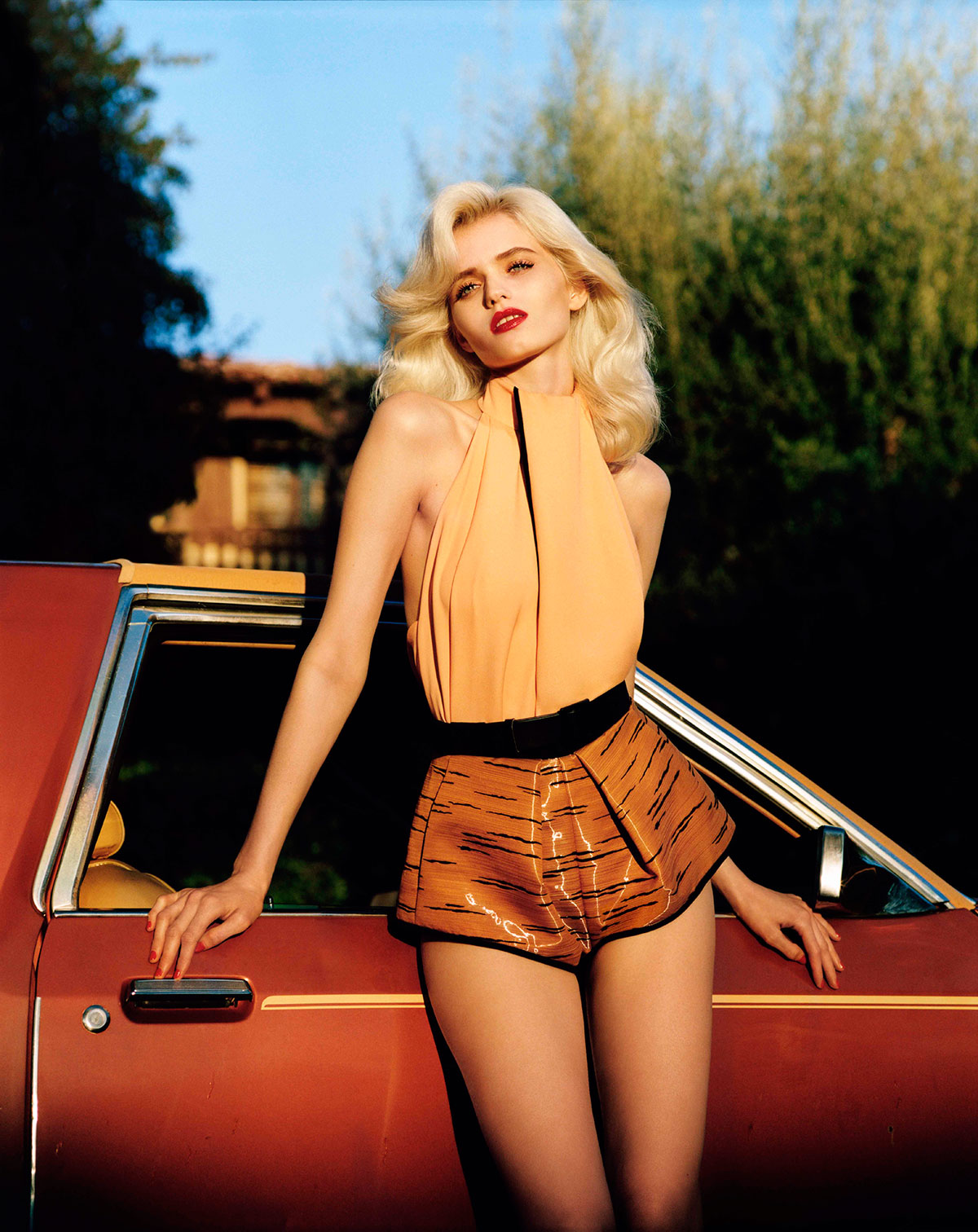 Abbey Lee Kershaw by Alasdair McLellan for Vogue UK March 2014. Styled by Francesca Burns
Last year I did a trip down the West Coast with Dree Hemingway and that was amazing. It was December and there had been these huge fires in Big Sur so there was no one around. It was so beautiful. We saw whales migrating and stayed in these funny motels and B&Bs.  I loved every minute. A few years ago I travelled to Utah to shoot Hannah Holman at her family home there – that was an amazing trip. Her family live on a ranch in the middle of nowhere. We camped out, did a cattle drive, and made s'mores. Her mum is the most incredible cook and made us fish tacos!  We just shot Hannah as Hannah and it was so special. One day I'm going to make a book of all those photos.
In general the best advice I could give would be to wear what makes you feel good. Always trust your instincts. If you feel good, you look good. Wear what makes you happy! Nothing is more important than your own happiness.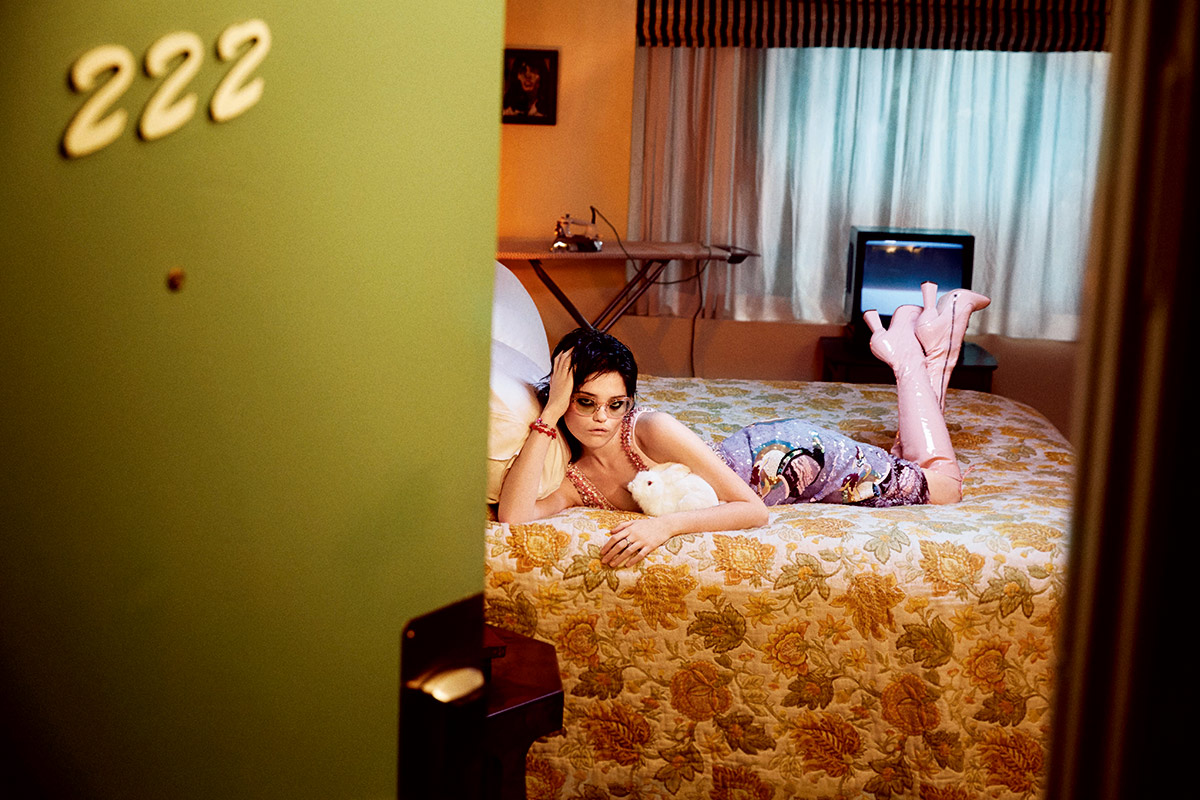 Sky Ferreira by Theo Wenner for Vogue UK May 2014. Styled by Francesca Burns
---
Interview by Alexei Key & Anna Griggs
Text by Anna Griggs
First image: Angelo Pennetta for Vogue UK February 2013