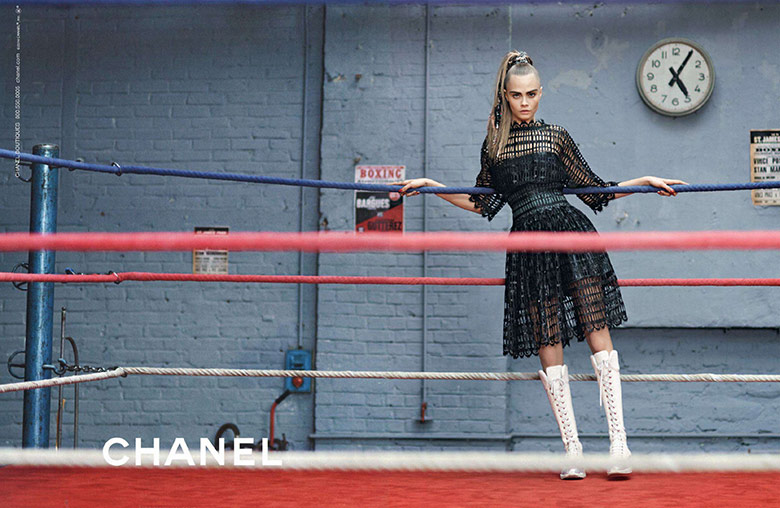 Karl Lagerfeld frames Cara Delevingne and Binx Walton for the Chanel Fall/Winter 2014/2015 campaign. It is no secret that Lagerfeld was quick to take Miss Delevingne under his wings when the Cara mania hit the world, (also knows as the period tweezers was on the down low). After numerous show openings, even casted as the Chanel bride, Cara is now seen in the latest Chanel campaign alongside hotshot Binx looking hotter then ever.
Binx, another starlet Lagerfeld recently fallen for, is making her official debut as the new face of Chanel in a pair of baggy leathers, sneakers and a grey sparkling jumper graced with a small black corset. Whereas Cara is working both an eye-catching black dress along with a pair of white boxing inspired boots and a black tweed jacket along with black leather kicks. Let's just say, they both look ready to take on whatever that ring has in store for them.
Fulfilling Lagerfeld's chic meet sporty vibe is hair stylist Sam McKnight who has created an updated version of the 'Sporty Spice' updo for Cara and a mini Mel B curl do for Walton whilst make-up artist Tom Pecheux has worked with darker brown shades to enhance the models natural features.