Bianca Saunders is proud to present her SS24 collection, inspired by the idiosyncratic world of multi-hyphenate Jamaican musician and producer Lee "Scratch" Perry – a legendary artist whose influence extends far beyond sound, and into the realms of art, fashion and culture.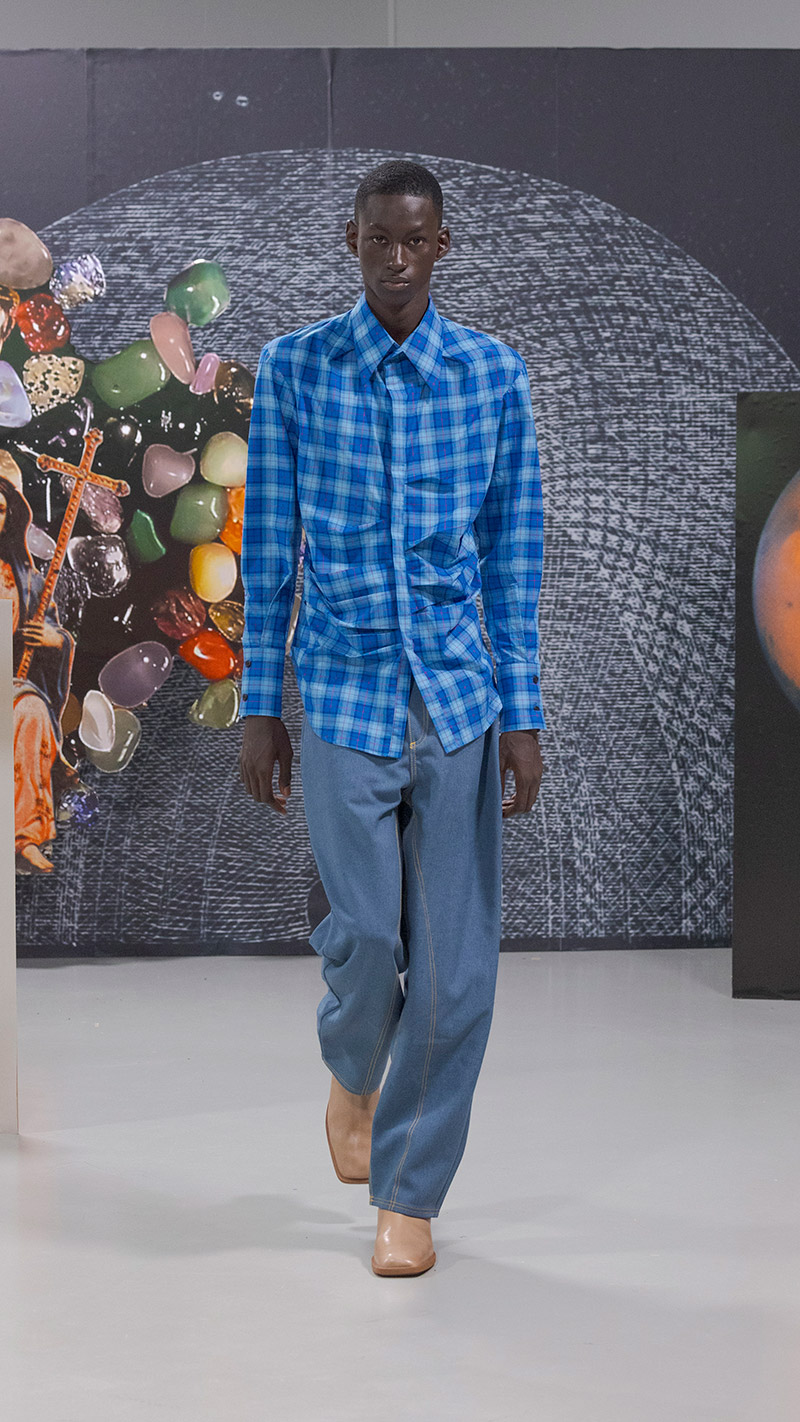 This season Saunders continues to push the limits of traditional menswear codes, evolving the brand's subversive approaches to cut, pattern and precision. Working together with Chris O'Brien, Farah's Global Head of Design, for the second time, this marks the first collection Saunders has produced since her involvement at this year's prestigious MET Gala, where she produced a made-to-measure tailored suit for R&B musician, Usher.
"Perry was a Jamaican producer and music artist, but he also did artwork, and a lot of his work is based around collages and found objects, and him exploring how to place these objects in a way that makes sense to him," Saunders says. "There is a Basquiat approach to his work, but it's different, being steeped in religion and Jamaican iconography, animal motifs and mottos such as 'good over evil'."
Taking in Perry's artwork is a looking glass into his intoxicating mind; one that twisted spiritual concepts, a palpably feel-good attitude and a re-imagining of his home, Jamaica, to create an altogether trippy universe. Saunders' collections have long been inspired by Jamaica, with her cultural heritage planted firmly in the Caribbean island. This season, she explores the vibrancy of Perry's personal, rapturous interpretation and reimagines it as an easy going take on menswear.
Collaborating with Farah for the second time, Saunders explored the brand's rich archive, and was inspired by the casual approach of the brand's pieces from the '70s and '80s: "A lot of the details in the pieces that we worked on this season is based on that: casual denim pieces and fabrics like hopsack, which is very classic for Farah." Traditional menswear pieces have been reinterpreted for the modern wearer by using hopsack – a quintessential Farah weave – on a casual button-up jacket and trousers in light sand. While its appearance looks like denim, the light-weight fabric technique is, rather, made for warm summer nights.
"Working with Bianca on the SS24 collection has been a pleasure. She manages to blend a concept that is close to her and her brand along with references from Farah's rich archive, utilising our hopsack fabrication which is synonymous with our history. We believe in Bianca's vision and wish to continue to work with her on these highly creative projects" – Chris O'Brien, Global Head of Design & Concept, Farah.
Throughout the 26-piece collection, silhouettes are breezy and oversized on a pair of wide-leg trousers featuring an elasticated waistband in calming aqua blue or nutmeg, while a loose-fitted cotton vest is cut asymmetrically at the chest, alluding to a slouchy style. Shirting, too, is oversized, using the brand's signature shoulder seam lines that accentuate the torso.
Saunders pays close attention to the body – a signature code for the brand, with a cotton check shirt adaptinort-sleeved shirt in dark navy. But the body is also concealed this season, with Saunders introducing a calf-length shirt-dress in 100% cotton twill in nutmeg and blue check.
Saunders presents the brand's SS24 collection as a presentation – a change of pace from the runway show of AW23 that harmoniously compliments the serenity of the designer's island influences. "It felt important to show in a presentation format to switch up how I present," she says. "When I first started showing, it was through presentations. It's a great way for people to take a step back and get a balance of how the themes and process can be explored differently through the work."
The Bianca Saunders wardrobe is further developed this season with graphic T-shirts, influenced by Perry's scrapbook-style artworks, as well as mystical imaginings of the solar system and, a constant theme throughout SS24, the "good over evil" statement Saunders was initially drawn in by; a reassuring message of hope amongst the chaos, reflected in the sedative spirit of the collection.
'I would like to thank my Family, the Bianca Saunders team and the federation for the continued support'
– Bianca Saunders.