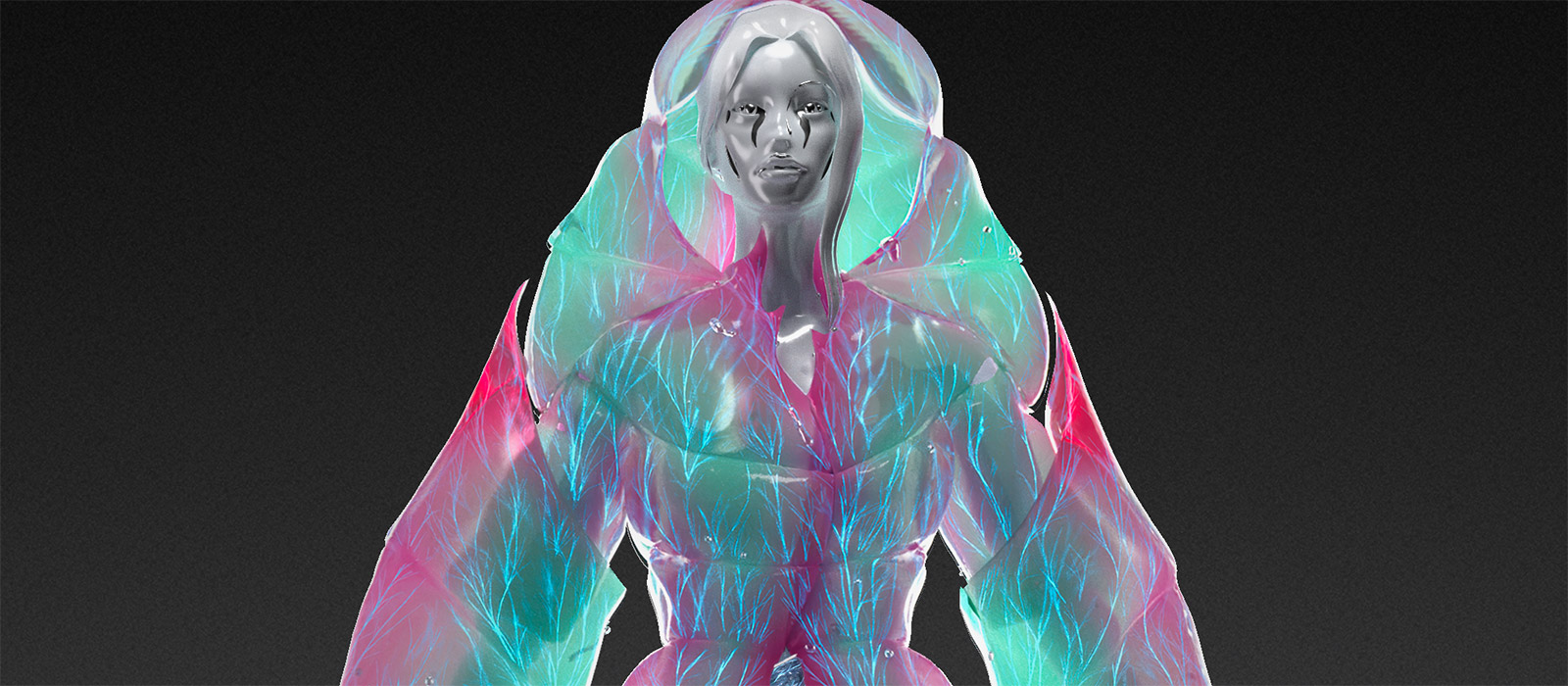 AuroborosScience & Tech Couture House
London, UK. May 6th, 2021
Interviewed by Alexei Key
Alissa Aublekova & Paula Sello merge the realms of digital with the physical to engineer endlessly creative fashion.
---
At Auroboros, we (Alissa Aublekova & Paula Sello) create for both the digital and physical worlds, producing digital ready-to-wear and physical made-to-measure couture. Creatively, we lead the way in terms of embracing technology to innovate within the fashion sector. Drawing inspiration from nature and the incredible advancements of 21st-century technology and science, we conceptualize fashion ideas and designs for a utopian future. We push the boundaries of what is creatively possible, producing a digital clothing line made up of "unreal" materials that would have been impossible to wear previously. Alongside this, we offer physical bespoke couture that grows on the body in real-time through a crystallization process, "blossoming" in the span of six to twelve hours, embodying our creative vision of "nature tech." This is all part of our first collection called Biomimicry.
Science and technology informs and inspires our aesthetics and concepts for Auroboros. We enjoy implementing it within our creative process and final product, as it allows us to be more experimental in the way we innovate. One of our biggest motivators behind Auroboros was our sense that many brands weren't taking advantage of the creative opportunities that science and tech can bring to the world of fashion. To incorporate the full possibilities of science within our work, we collaborate with knowledgeable and skilled individuals to bring our ideas to fruition. We not only draw inspiration from the realities of science, but also the fantasy of science fiction. These influences include Alex Garland films and Ridley Scott's Blade Runner, which inspire our "unreal" materials and utopian fantasy aesthetics.
We believe that the future of digital fashion will transcend beyond the screen and into the real world. Augmented Reality (AR) glasses are currently in development, allowing wearers to perceive virtual garments in real-time before their eyes, merging reality with digital. This gadget, amongst other technologies, will enable us to no longer consider digital clothing as existing exclusively in the virtual landscape, but within real-life settings too. We also predict a future where people will embrace the limitless freedom of identity expression via the possibilities of virtual clothing, such as the opportunity for complete gender fluidity. Undoubtedly, the future will introduce new technological innovations, many of which we cannot even begin to fathom at this early point in digital fashion's history. We'll have to wait to discover the many exciting surprises to come, making sure that Auroboros will be the first to embrace newly released, state-of-the-art technologies.
Sustainability is at the core of our brands ethos at Auroboros; a value which we regard with great importance, being mindful of it when designing, and creating. We employ digital technology in every aspect of the brand, seeing the most significant environmental benefits in using it to create virtual clothing collections. The carbon footprint for producing one digital item is, on average, 97% less than it is for a physical garment. Therefore, we feel emerging digital technologies will trigger a shift in mindset on the standards we hold the fashion industry to, particularly in terms of the environment. As a society, we have previously thought of clothing as exclusively dependent on being physical and material. However, we believe in the dual realm and that virtual fashion completely disrupts this narrative, demonstrating an alternative, non- material, and zero waste way to express yourself through dress. The digitalization of fashion re-imagines a future industry where one can partake in creativity without contributing to materialism and consumption.
As far as the next stage of digital fashion, we expect that real-time body tracking will become widely available across the mainstream fashion industry. This technology will provide consumers with the chance to try on their clothing before purchasing it, and will allow digital fashion to interact with the real world. Most consumers' first introduction to this technology was through the face filters commonly found on social media. We used to perceive the idea of face filters as futuristic and inconceivable, yet many now interact with AR face filters every day, whether wearing or viewing. The impact that this technology had on the beauty industry was momentous. So at Auroboros, we are paving the way with real-time body tracking released with our next collection, which will change the fashion industry.
The challenge to making digital fashion fully realistic is contending with constant evolution. The technology currently available is already visually stunning and very accurate at replicating the look of real-world textures and elements. However, technology is always advancing and upgrading to become more efficient and visually realistic in every aspect. At Auroboros, we create at the highest standard of current technological capabilities, so we will continue to update our systems as technology advances. We believe that only creativity is the limit when you have such exciting tools available.
---
You May Also Like: Fashion Metaverse
---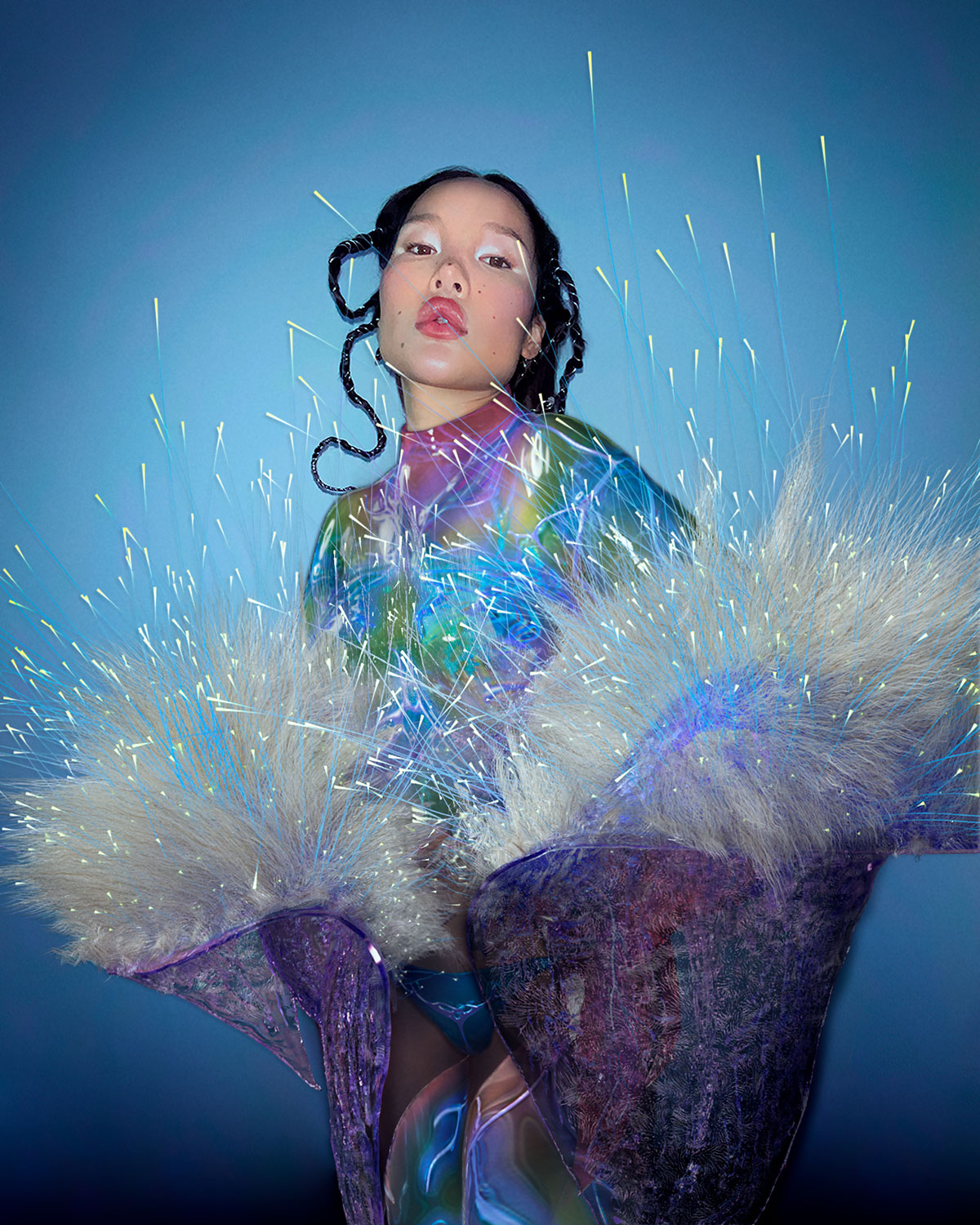 Our Auroboros Biomimicry Collection has been especially meaningful to us due to the impact it's had on education within the creative industries. The dual presence of the Biomimicry Collection in both the physical and digital worlds have caused many professionals and creatives to re-think the traditional criteria of a fashion collection. It's brought attention to the relevance and demand for digital fashion within the design education curriculum. Therefore, we have received invitations to run workshops and talk about our work at several acclaimed educational institutions, including Goldsmiths University of London, Google Arts & Culture, and Harvard University. These organizations have recognized that at Auroboros, we are doing something unique and intriguing that is transforming how we experience fashion.
The pandemic has confirmed there is no time to waste in changing the current systems in place within society and the fashion industry. Since we started Auroboros, we have been creating in alignment with our disruptive innovation ethos, so we are somewhat glad that the pandemic has compelled people to reconsider certain harmful habits and norms from before. It has made many realize the fragility of human life and the planet; that we are not an indestructible, omnipotent species. We need to take urgent action now to ensure our future. Customer priorities have dramatically shifted as a result of the pandemic. Many have had to turn to nature for pleasure and comfort, having had indoor entertainment prohibited. This renewed value for the natural world will hopefully continue long after this has ended. Humanity cannot afford another crisis, and for this reason, we all need to be more mindful of how we create, a standard we embody at Auroboros. We imagine a utopian future, a positive vision full of beauty and transcendence.
Nature has always been a source of valuable inspiration for Auroboros and will continue to be for future collections and concepts. We consider nature to be the best designer, always learning and discovering ideas we can incorporate from observing the natural world, such as the organic forms of a flower or the structure of a lymphatic system. Everything from illustration, literature, movies, games, and our generation. We are inspired by this dream that plays an important role of hope and unity. Humanity is facing such a challenging time, whether related to the environment, social issues, the pandemic, etcetera. The hope and strength shown by communities and individuals will always be influential to us. It sparks us to ensure the Auroboros brand plays a role in combatting these issues and aligns with the values of a utopian world.
We have many muses whom we find influential, one of whom is musician and model Tsunaina. Her sound is very ethereal and hypnotic, mirroring her otherworldly beauty, which ties in perfectly with our aesthetic. We are also deeply inspired by director Alex Garland's vivid sci-fi visuals, from the stunningly designed humanoid AI in Ex Machina to the cosmic, supernatural entities in Annihilation. The fantasy transports you and the creativity liberates. Games such as Final Fantasy, CyberPunk, and Fortnite also have that immersive quality that influences us, particularly on the digital side of Auroboros. Furthermore, the work of VFX studio WetaDigital and the XR company Dimension Studio pushes the creative and technological boundaries within film and events, which we find incredibly motivating and exciting. Most of all, however, we are inspired by our skilled team who work so hard to bring the Auroboros vision into the world, and we cannot wait to welcome more talent to join us as Auroboros continues to grow.
---
You May Also Like: Valentina Sampaio NFT
---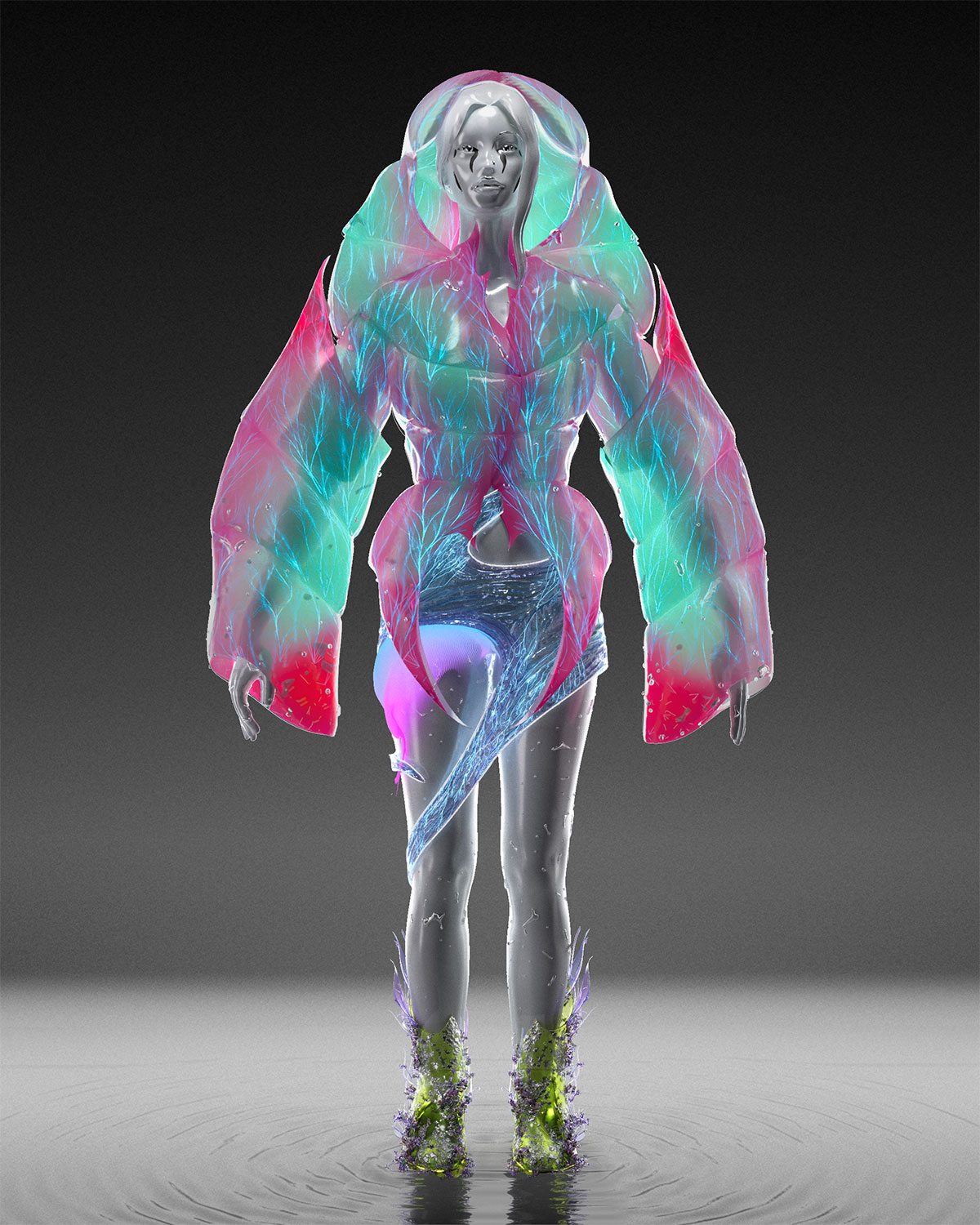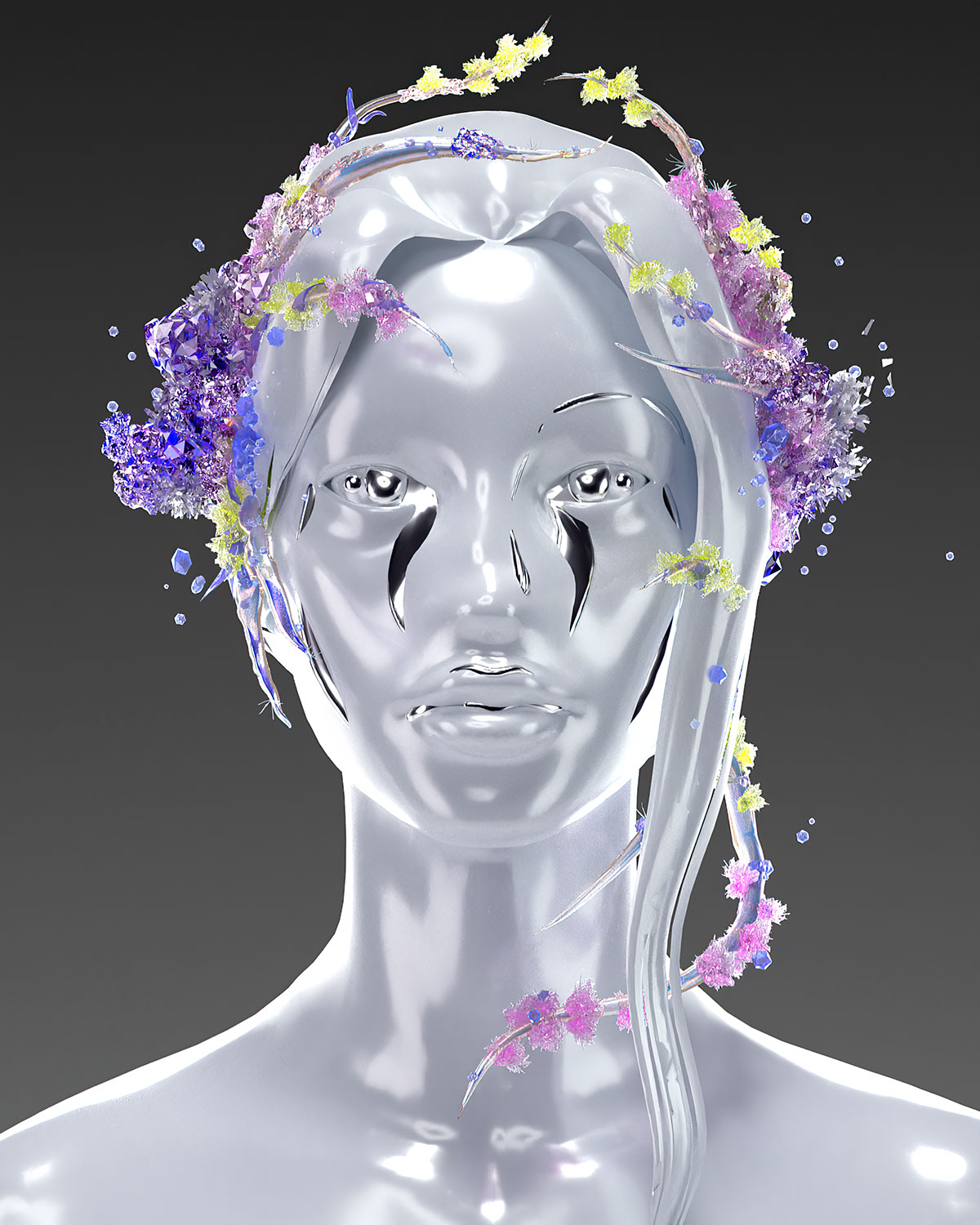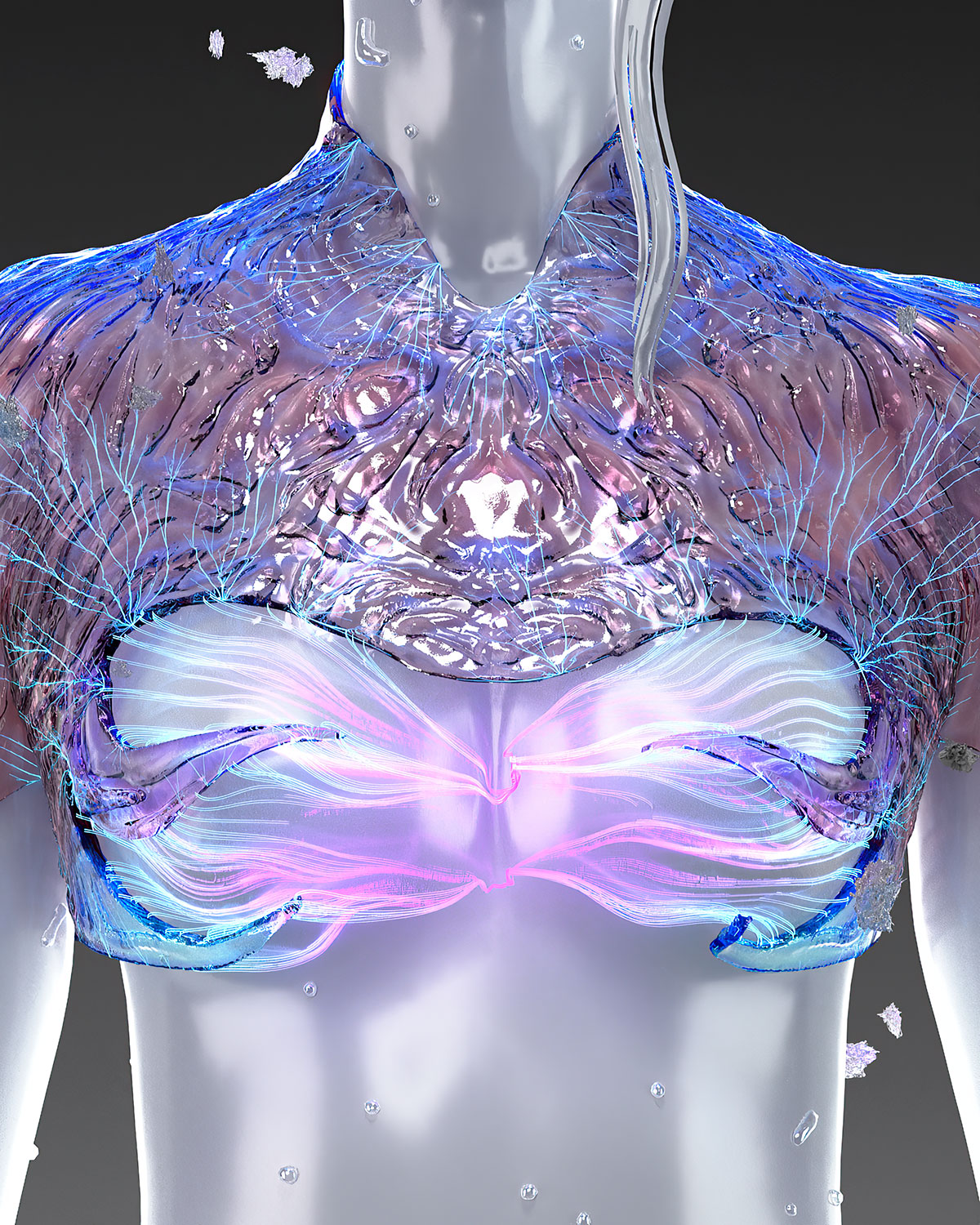 ---
You May Also Like: John Yuyi. The Passionate Bravery of Progressive Visual Artist