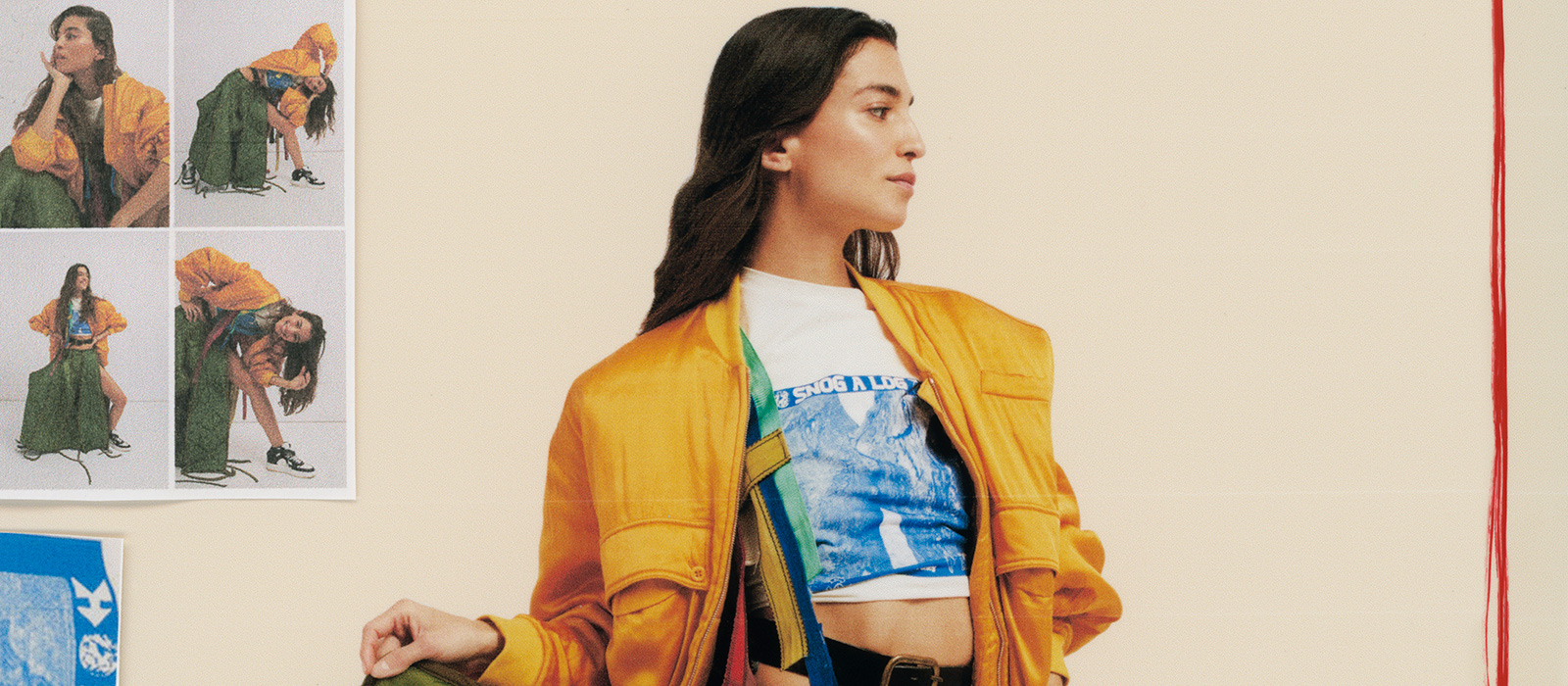 Useful WasteThe NOW of Sustainable Fashion
If you haven't considered wearing sneakers made from grape skin or t-shirts made from milk waste, now's the time. The saying "One man's trash is another man's treasure" never carried so much meaning- especially regarding real solutions that can help lessen the burden we've placed on the planet we call home.
In honor of Earth Day, The Fashionograpghy joined creative forces with the talented Creator and ARTivist for Circular Fashion, Marina Testino, to showcase the forefront of sustainable solutions.
Marina has spent the past 5 years consulting brands, creating content, and partnering with organizations like Greenpeace and the Ellen MacArthur Foundation, to raise awareness of the practical ways in which even the most hardcore fashionista can make more conscious fashion decisions without compromising their creative expression.
By now, you have probably heard that fashion is responsible for a large portion of the world's pollution. Approximately 100 billion garments are produced yearly, with 50 million tons (mostly non-biodegradable) being burned or dumped in landfills.
To solve the problem, designers are doing what they do best- reinventing fashion itself. Brands and supporting businesses are literally changing the fabric of the industry by turning to technology, taking new approaches, and looking in unconventional places to create materials that are more sustainable yet functional and even regenerative in some cases.
Consistently at the forefront of sustainable innovation, Stella McCartney uses viscose composed entirely of wood pulp; the material is incredibly versatile, translating beautifully onto modern silhouettes while supporting our ecosystem. Bulan is creating vibrant, architectural knitwear woven with recyclable yarn. Opting to create one fall collection per year, Bulan is also setting an example in following the pulse of your own process instead of yielding to the fast-paced expectations of the industry, ultimately creating less waste and more intentional garments.
Denim brand DL1961 is taking deadstock, recycled fabrics, as well as literal trash and transforming it into treasure. They start with plastic bottles and old denim, combining the particles with eco-friendly, high-performance materials to create your favorite pair of jeans. Meanwhile, Mara Hoffman is committed to operating within a framework of sustainability, allowing that ethos to touch every aspect of her process. This includes using materials that, during the production process, can be recycled back into the manufacturing system, taking timeless design the extra mile.
The journey to a more circular fashion industry, as Marina says, is about "progress, not perfection." It is also a responsibility that, as citizens of this planet, we can collectively contribute to the daily decisions we make. Now, with these sustainable options at our fingertips, we have the power to evolve our personal style in a way that better supports our singular life source.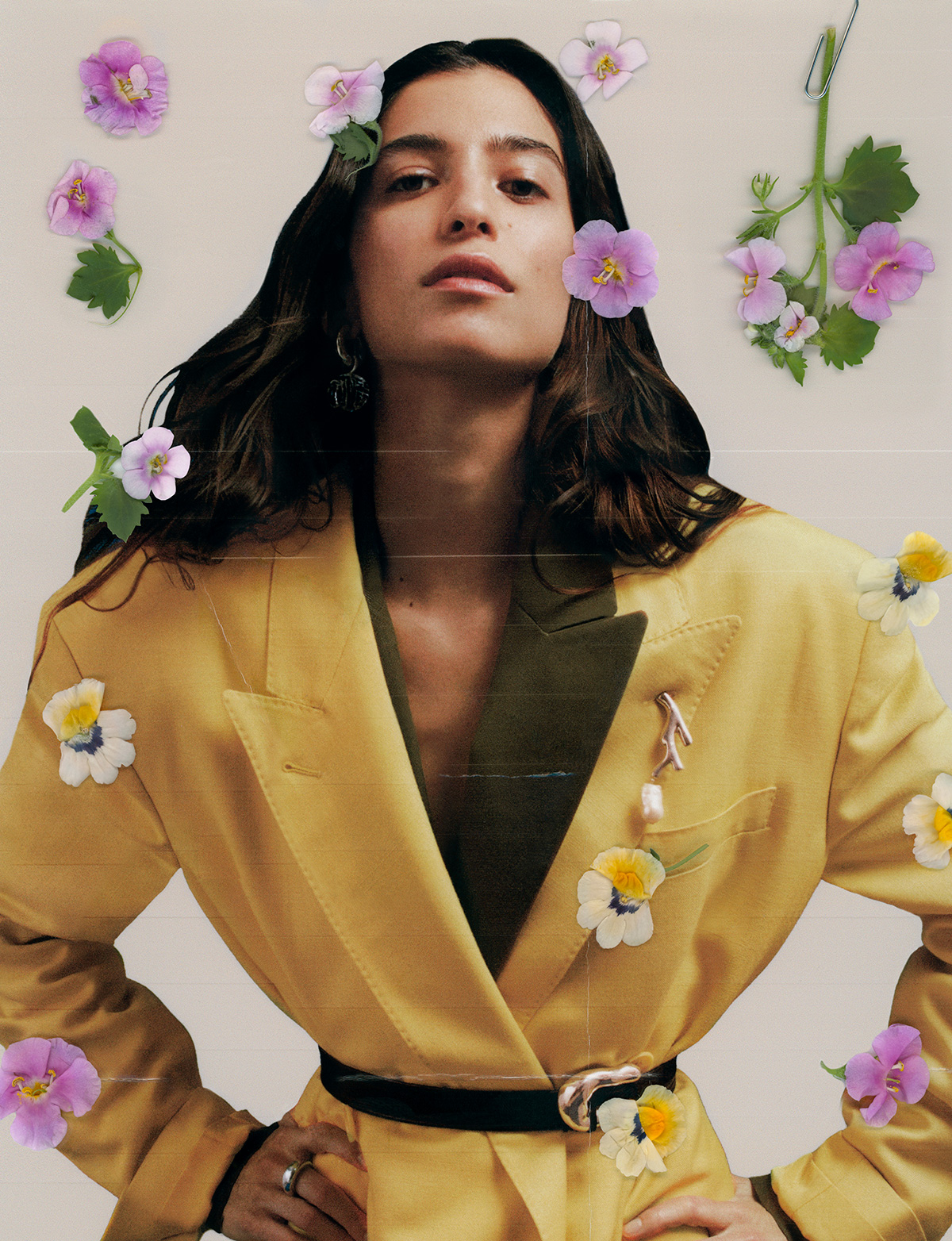 Oversized Double-Breasted Blazer by Stella McCartney [Forest-friendly viscose created from wood pulp]. Double Breasted 6 Button Blazer by Maria McManus [High twist organic cotton]. High Tide Earrings by CLED [Hand-formed Eco Gem repurposed from discarded glass bottles]. Wishbone Pendant, Baroque Coral Pedant, Lena Earrings and Domed Ring by Agmes.
---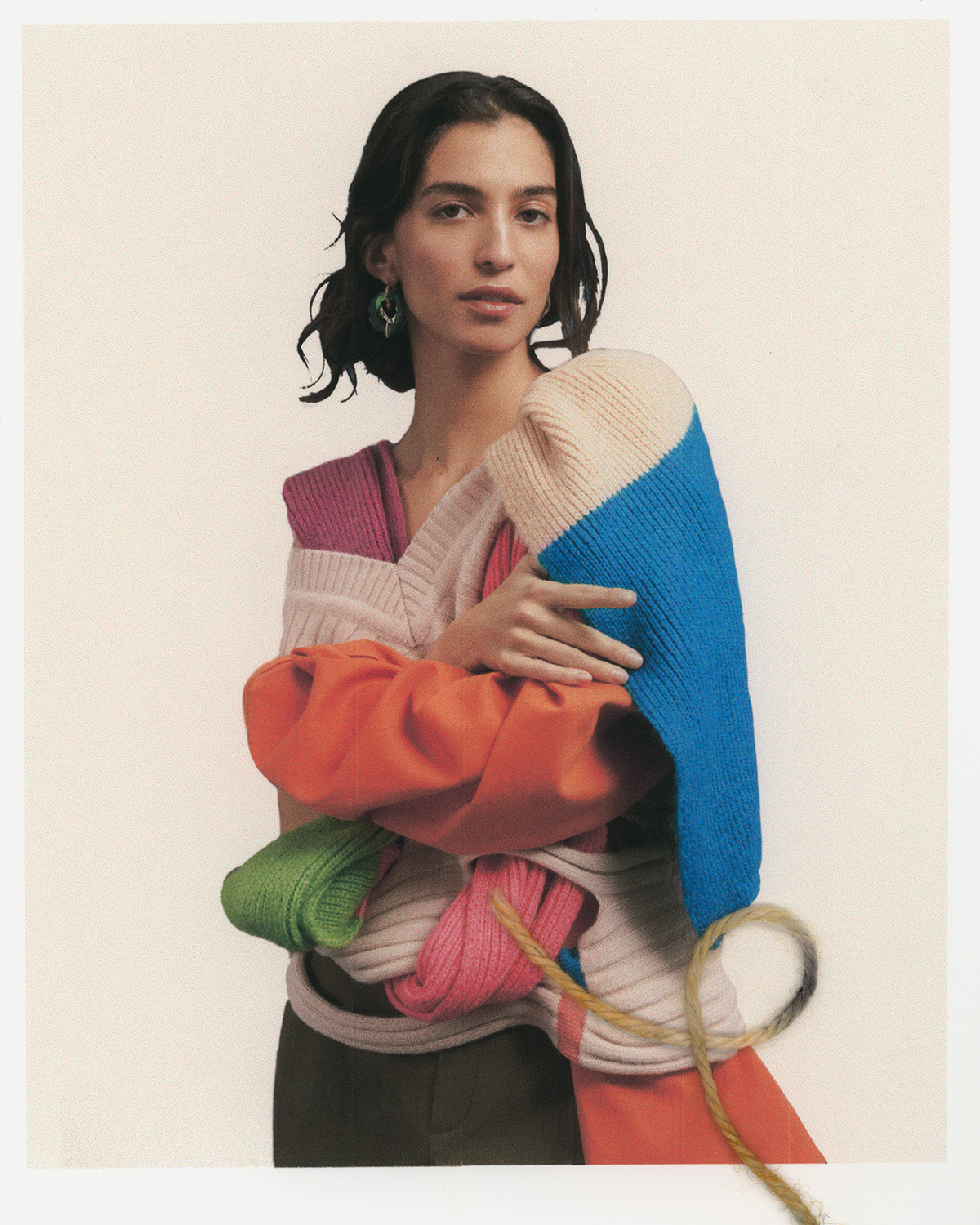 Wool sweater by Bulan [SustainaWOOL]. Orange shirt by Alfie [95% cotton, 5% Spandex; made from Fendi deadstock material]. Mid Rise Pleat Front Pant by Maria McManus [100% high twist organic cotton]. High Tide Earrings by CLED [Hand-formed Eco Gem repurposed from discarded glass bottles]. Mycelial Crest Hoops by Pamela Love.
---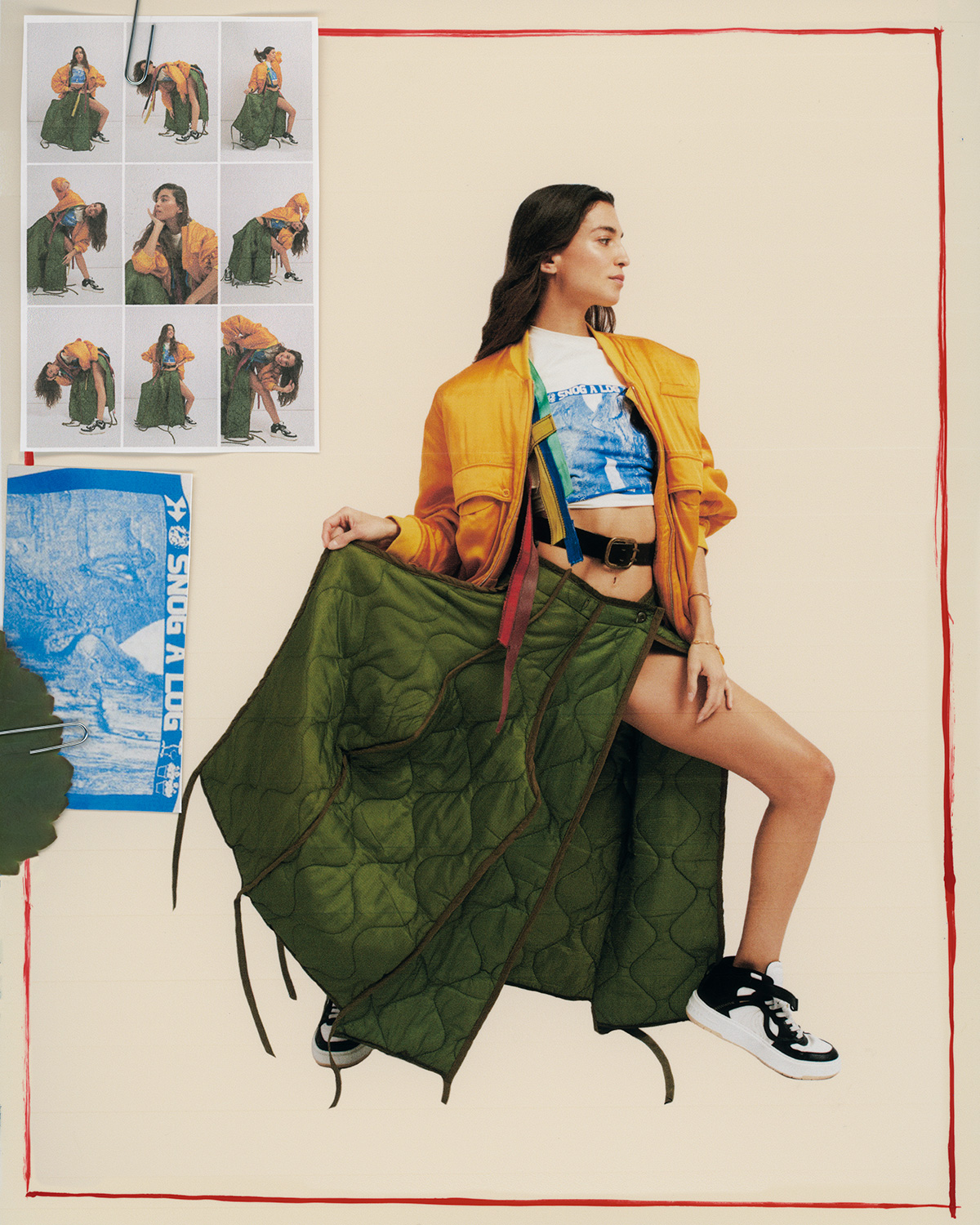 Yellow Bomber Jacket by Katharine Hamnett [Organic Cotton]. Snog-a-Log T-Shirt by Stella McCartney [100% regenerative and organic cotton]. S-Wave 2 Mid-Top Trainers by Stella McCartney [The shoe upper contains plant-based content and ECONYL. The sole contains recycled TPU]. Army Crawler Skirt and Cargo Strap Utility Vest by Cat Pfingst.
---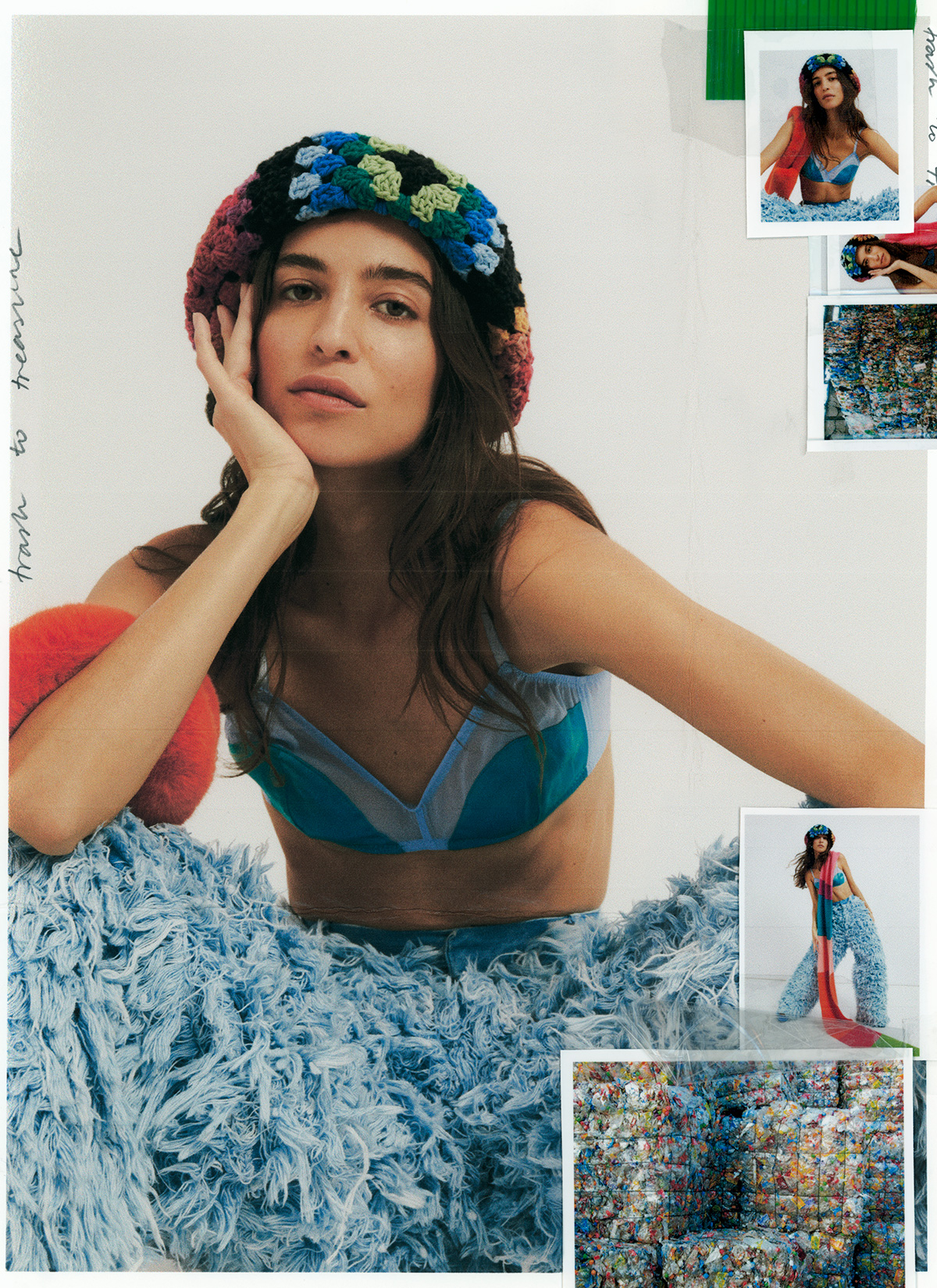 Jeans by DL1961 [Upcycled denim fur]. Scarf by Bulan [SustainaWOOL]. Balaclava by The Series [85% recycled cotton and 15% other recycled fibers]. Fluffy Cloud Shoulder Bag by Bobble Haus [100% deadstock faux fur, 100% recycled cotton lining]. Bra by Araks.
---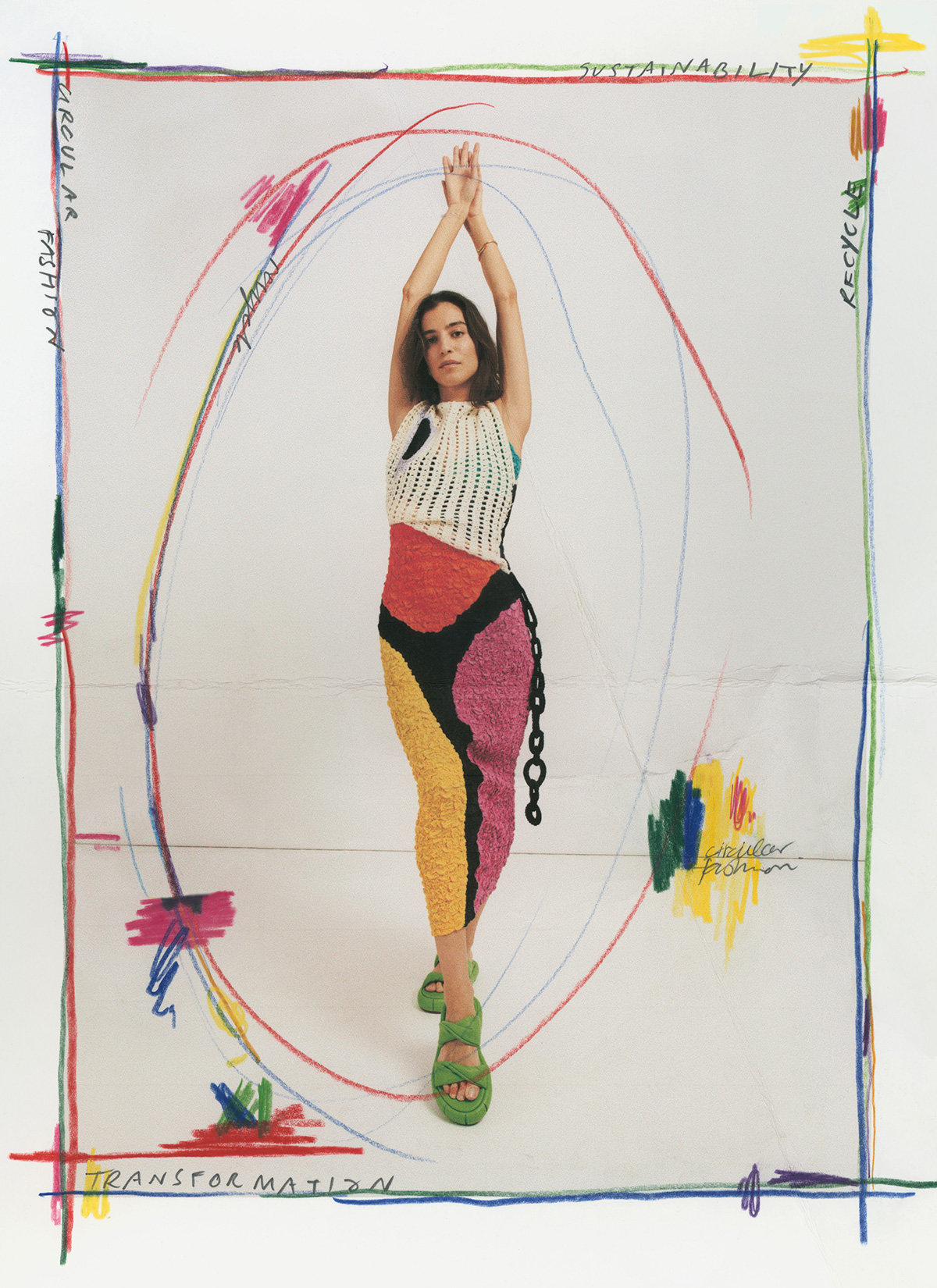 Dress by Mara Hoffman [100% Tencel Modal]. Sandals by THEMOIRè [65% Polyurethane, 20% PL, 15% CO, rubber with cork remains sole]. Knit vest by MAYSHA.
---
Collage Artist Caz Slattery
---
You May Also Like: Women's Equality Day 2022