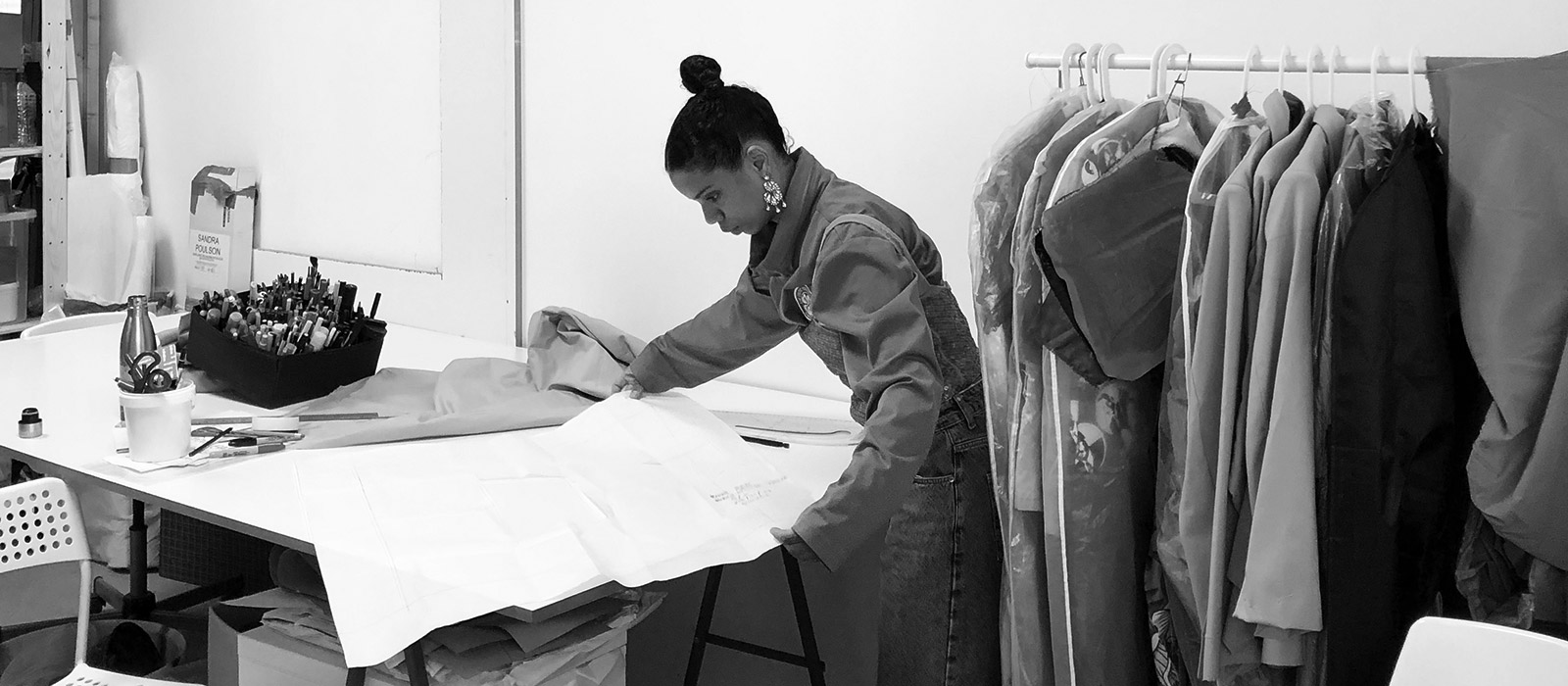 Sandra Poulson
The Angolan artist Sandra Poulson explores fashion that analyses social and political issues.
---
Sandra Poulson: I am an interdisciplinary artist, fashion practitioner and researcher. I respond to my surroundings and have done so since my childhood. In a way this career path was not something I particularly chose, but the most special thing I see myself doing. From a young age I have been incredibly aware of the political and socio-economic reality of Angola, perhaps because every night my family and I watched the national news on TV; many kids my age, and from my socio-economic background, didn't, as they had cable TV and preferred to watch Brazilian soap operas at that time in the evening.
Watching the news and living in Luanda demanded from me the need to create my own languages to express opinions and maintain the hope for a more just society. Responding to lack, either on a personal or societal way was my first contact with creating, occupying space and fuelling cultural progress.
The path to studying fashion, first at the Faculty of Architecture of the University of Lisbon and then at Central Saint Martins in London, was very natural, as my critical relationship with "objects in close proximity with the body"—which can sometimes be garments, sometimes beer, or the city's dust—was constantly developing in my mind for years.
I have always been incredibly passionate about fashion as a discipline, only realizing later that I am actually interested in anything that comes in contact with the body. It has taken me working as though I am having conversations with myself to evolve into understanding the body as a subject and perhaps the garments as a space being activated, a space with agency.
Personally reflecting, I can see how operating mostly off brief both at university and in any project I take on allowed me to develop a harmonious relationship with the conflict I believe my practice entails: partly inherited feelings of conflict from the Angolan civil war, but also the everyday battles of growing up in a society that is healing from it. I still feel that what I do changes every day, and what's most important is that I stay loyal to what the work requires and continue practicing and demanding the task of decoloniality.
---
You May Also Like: Meet the 2021 LVMH Prize Finalist Bianca Saunders
---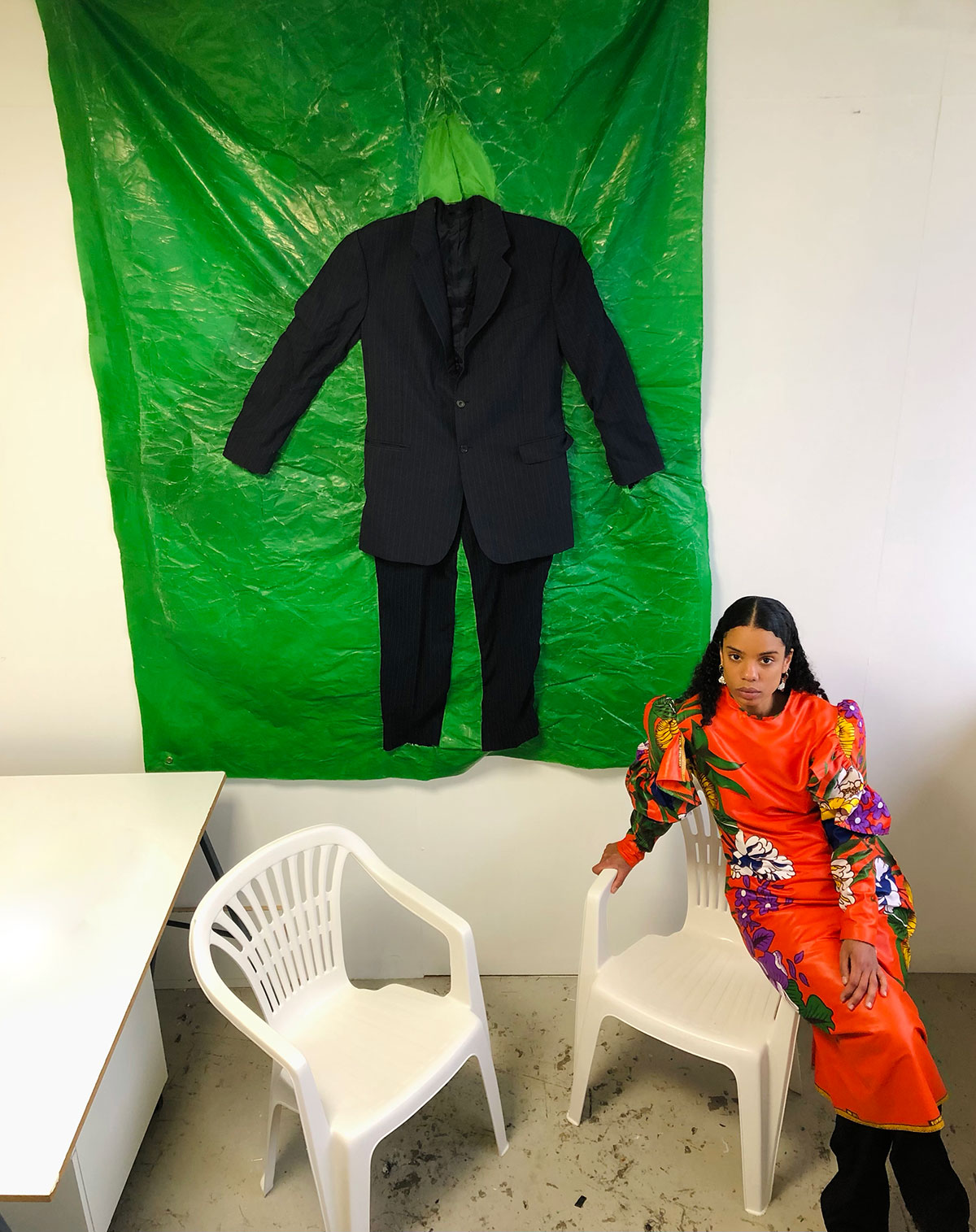 Sandra Poulson
At the beginning of the first lockdown in 2020, it was challenging to even imagine continuing the work without access to workshops, as my work process involved using wood, casting, metal, and screen-printing workshops. It was also particularly difficult due to the large scale of some of the items in "An Angolan Archive," such as the "Colonial Column." Eventually, after a month of debating with myself about a disused roof terrace of the building next to my flat, I decided to occupy it, using it as my studio, medium, and to some extent my subject. The project evolved in ways I could not have imagined outside the circumstances of lockdown.
This process revealed to me the opportunity that lack of resources can be for personal and professional development. It made me feel like I can do anything. I am now glad to be able to share a studio in London, which allows me to separate my living and working spaces, but the world is changing, and the way I operate continues to evolve. At certain points it's been quite difficult to know what to do when I am not working, as the only occupation most of us had in the last year was work. Recently I have spent more time practicing self-care, which for me often means not communicating with many people at once, so my mind can stay clear to test and execute ideas and projects without too much external interference. Conversely, it's been almost two years since I have seen my family; that has been hard, so I am trying to patient with the isolation.
Recently I have been revisiting projects, and re-reading written works and past documentation from my own work. I have also been reading about the removal of landmines in post-conflict territories, while also preparing for shows this and next year.
The pandemic reminded me that we were distracted by the privileges of everyday life. But "we" is still divided, racialized, and unbalanced. It has also highlighted that health, family, friends, and stability are the greatest support system of all. Even in the times we are all going through—a crisis as a society—there must be something we can do for someone else. We carry responsibility for each other.
My practice has always been focused on micro-political moments and tensions and how they reverberate into macro politics. It focuses on analysis and discussions about colonialism, mostly in the relations of coloniality between Africa and the West. Therefore, my work demands the task of decoloniality as a practice, a lifestyle, and a mission to which we all must adhere. This moment in which we are living is now offering an opportunity for this conversation to be "The Conversation," but it always should have been. The fashion industry adhered to the visible online display of acknowledgement of the problem, which is in fact unrelated to being part of the solution.
What is important to reiterate is that this fight is not a trend, and the fashion and art industries should be held accountable at all levels, because the problem systematically affects all stages: employing, designing, producing, polluting, marketing, and profiting. People of color have been subjected to racism and inequality across all levels of the industry—including being a core source for everyone else's "inspiration." To dismantle racism, people in the industry will need to revisit themselves as people in order to take real progressive steps, rather than ticking the boxes once again.
Creatives of color never stopped demanding space—critical space, regardless of whether it was accessible. The industry needs to evolve with the world, while the world needs to evolve for the people. The industry has been performing micro gestures to accommodate urgent societal concerns, but the work needs to be done beyond these gestures. It needs to be a praxis. But realistically, the meaningful change has been generated by people continuously and rigorously demanding and creating space: the creatives of colour.
I aim for my work to be a resource for future generations: a resource of knowledge, hope, and trust on local and personal African experiences that need to continue being documented, shaped, and improved. I hope it will encourage other young people in the future to know the value and strength of themselves and their people, and to tell their stories, even the difficult ones.
The most important thing I've learned is that if the goal only includes personal gain, it is not worth it.
Favorite films: Geração 80's Air Conditioner from 2020.
Favorite music: "Bunker" by Nazar feat. Shannen SP and Bruno M's Já Respeita Né!
Favorite pieces of art: New Currency magazine
Favorite books: In the Name of the People: Angola's Forgotten Massacre, by Lara Pawson, and A Short History of Modern Angola by David Birmingham.
Current and upcoming creatives you're excited by: fashion tech designer Damara Inglês; visual artists Helena Uambembe, Helio Bruno Buite, and Raul Jorge Gourgel; artist and photographer Jebi Labembika; Kazeem Kuteyi, founder of New Currency Magazine; producer and musician Nazarl; architect Moetaz Fathalla.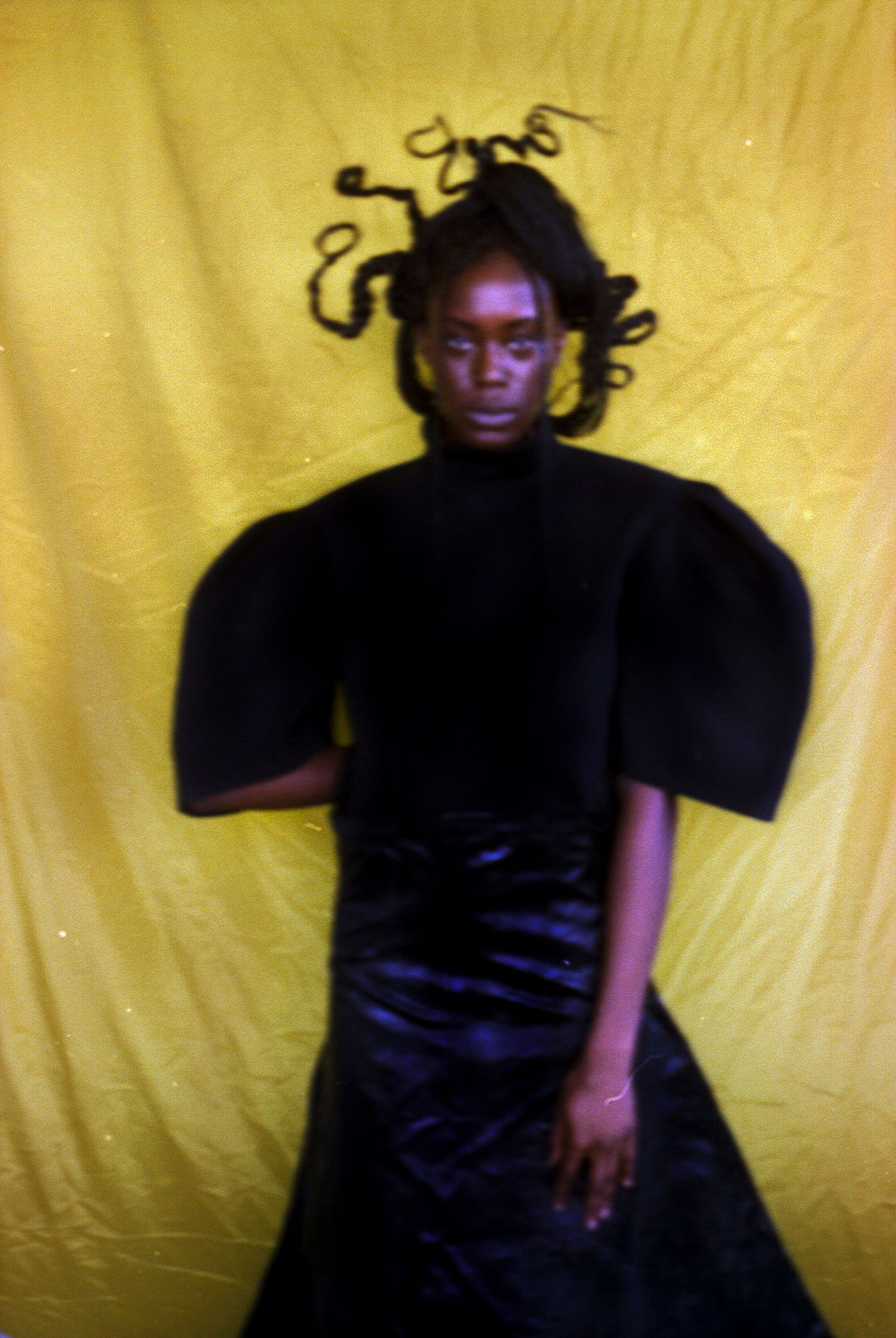 Sandra Poulson's "President Print Series"
---
You May Also Like: Actor and Activist Ilfenesh Hadera on The Importance of Vibrant Diversity in Culture and Community
---
---
You May Also Like: Women's Equality Day