Furthering an ever-evolving narrative, the House presents Gucci Blondie – a line of handbags that draws inspiration from an archival style defined by a rounded rendition of the signature Interlocking G, as seen in patent documents from 1971. The emblem takes center stage on the collection's distinctive silhouette, as Alessandro Michele continues to traverse time, gently drawing out the threads of storylines waiting patiently to be found and given a new voice.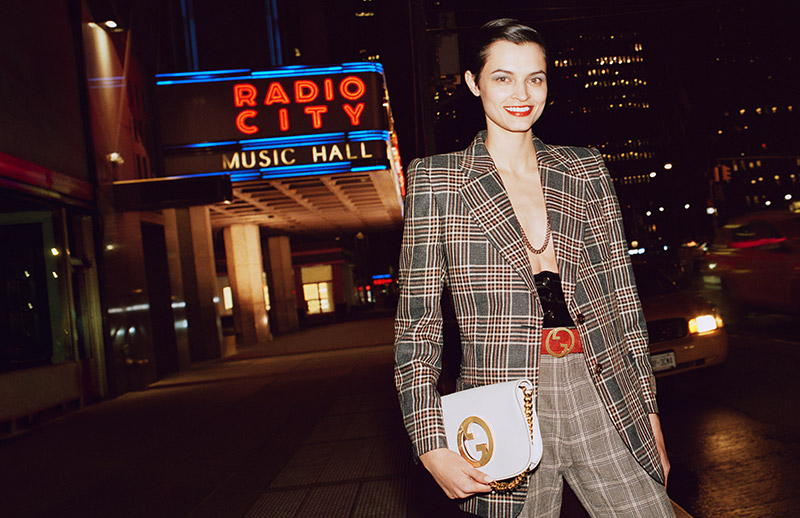 You May Also Like: Fashion Models
TheGucciBlondie, which first debuted within the Love Parade fashion show in Los Angeles, reflects the Creative Director's ability to effortlessly bridge eras through his creations. This temporal resilience is reflective of an essence that is both chameleonic and charismatic, a combination that allows the line, like many others of the House, to remain contemporary, no matter the year. The modern-day iteration is a stylistic progression of the original, infused with striking details that speak to a free-spirited and independent persona.
TheGucciBlondie offering spans sizes, silhouettes, and details, from a versatile messenger that can be worn on the shoulder or across the body with the included Web or leather straps, to a smaller day-to-night style whose included chain strap can be tucked inside to transform it into a clutch. A miniature version, also featuring interchangeable and adjustable leather and Web straps, rounds out the selection. Designs are available in leather, suede, and GG canvas, with a varied palette for both the bags and the Web straps.
The Gucci Blondie is presented through a new campaign, envisioned as a love letter to New York, as a cast of characters are captured against the backdrop of some of the city's most celebrated landmarks. Reportage-style shots evocative of an analog age are filled with candor and spontaneity, portraying impromptu moments of heritage in motion and dynamically converging past, present, and future in every frame.
You May Also Like: Gucci 2022