In its 'Avant-Première' Autumn-Winter 2023 collection, MM6 Maison Margiela continues its study of sartorial mundanity – of the 'ordinary' clothes that likely already live in your wardrobe, tweaking their codes with quietly subversive flair.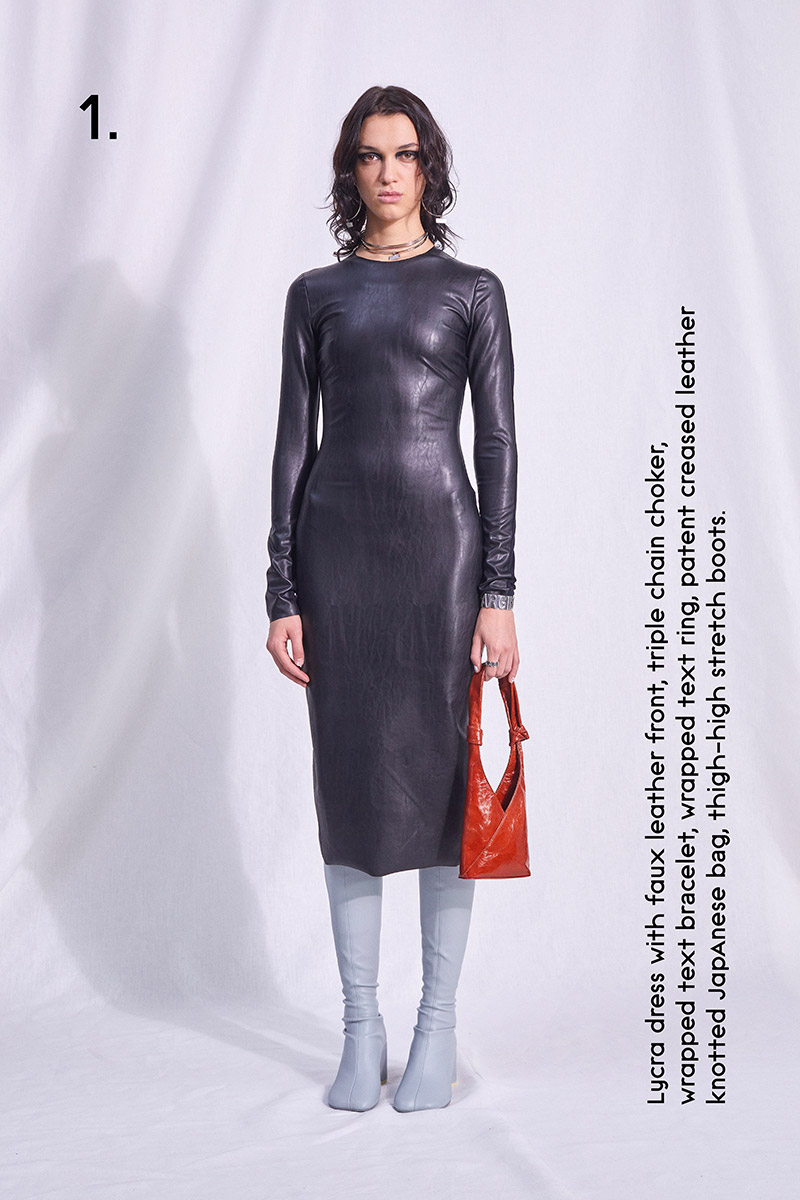 You May Also Like: Fashion Models
Familiar clothing categories are investigated and reappraised. The notion of tailoring is broadened, extending to a padded, notch-lapel pinstripe jacket that flirts at the boundary of outerwear. Bustiers, midi-skirts and wide-legged trousers are cut from iridescent acetate jerseys – fabrics typically associated with sporty tracksuits – in black and champagne. A slouchy black leather shirt could be easily worn as an overcoat, while a hooded velour track top is shrunken, clinging to the body.
This sense of play – of testing the limits and expectations of particular garments – is distilled in the season's trompe l'oeil pieces. The dots and grain lines on this season's poplin shirts mirror the industrial pattern-making paper used in the process of their making, while seemingly layered looks – a shirt, a t–shirt and a pullover; a pair of elegant, tailored trousers and frayed denim shorts; a leather five-zip gilet and a jersey hood – are distilled into single pieces, prompting questions around where one piece begins and another ends. A pleated skirt is hoiked up and folded over, turning it into a spaghetti-strapped baby doll dress. A beige twill workwear twinset is debrided of its functional features – pockets, epaulettes and kneepads are removed, with visual traces of their former presence left behind. A white tube dress is seemingly composed of a coiling, rib knit scarf, and a roll-neck jumper is perforated with large threadbare holes, intentionally baring the midriff and décolleté.
This appreciation for well-worn clothing colours this season's denim offer, replete with faded, vintage-y blue and streaked black washes. Hulking bomber jackets sit next to slim, crinkled car coats; sharp A-line skirts next to extra wide-set jeans. Their casual ease is counterposed by the chic severity of molded leather dresses and bodys – constructed with lycra jersey backs for comfort – and the understated glamour of patent leather interactions of the Japanese Bag and a range of vinyl-finish platform footwear.
This high-shine look carries over into this season's collaboration with Salomon, the third iteration of the partnership between MM6 Maison Margiela and the French outdoor sports brand. A new sneaker derived from Salomon's iconic ACS running shoe comes in white, black and ice blue colorways, and features glossy detailing and metallic eyelets. Elsewhere, a reimagined version of the Cross High sneaker returns with a heightened gaiter and two new colorways – umber brown and denim blue. Rounding out the collaborative offer is a backpack that builds on the running vests debuted in the Maison's Spring/Summer 2023 collection – styled here over a jersey smock and a slim, city-boy suit, it speaks directly to the transitional ethos at the heart of the partnership with Salomon.
Embossed leather crossbody bags, coin purses and cardholders reference the MM6 Maison Margiela visual signature, as does as the clasp of a fold over iteration of the Japanese bag. These accessories are complemented by a new amalgamated bag silhouette, which fuses the proportions of a weekenderwith a messenger-style roll top – a testament to the Maison's penchant for recontextualizing classicallypractical motifs.
While there is certainly a pronounced eclecticism to the collection, its breadth makes it no less distinct. What you see here are quietly particular clothes for quietly particular people, created for them to wear throughout their daily lives.'