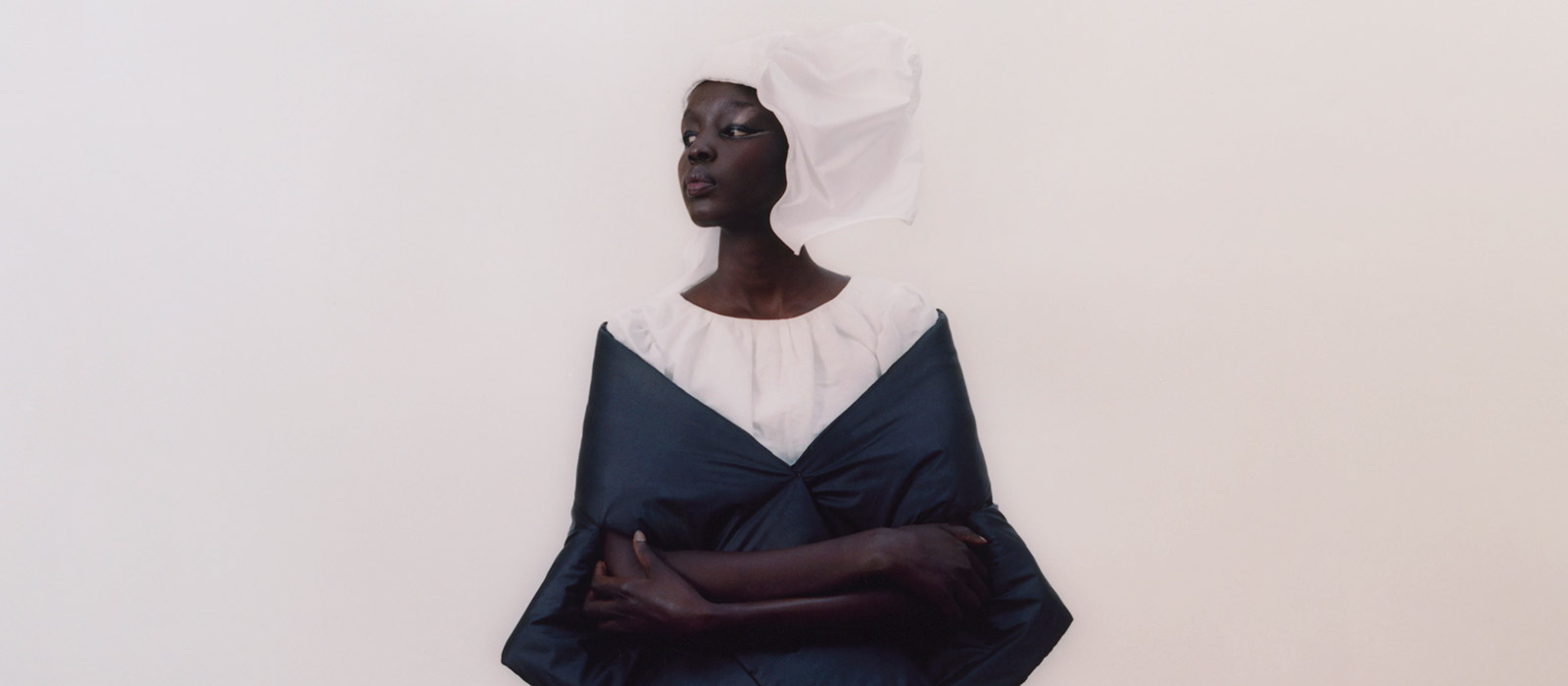 WED
Fashion Designers
London, UK. May 5th, 2021
Interviewed by Alexei Key
London-based designers Amy Trinh and Evan Phillips talk about melding their aesthetic with a focus on sustainability to create clothes that last a lifetime.
---
Evan: We describe WED as being this balance of oddness and reality, which comes from our love of surrealism. We skew traditions of dressmaking by creating pieces with the special feeling you might find in an occasion piece, but then designed in a way that means you can wear it on a day-to-day basis. This is our approach to rethinking the concept of a "dress for a day," which to us feels outdated and wasteful nowadays. We feel it's a relatable thing to want to wear these pieces again, especially at this moment in time.
Amy: WED is multi-occasion and multi-faceted, encompassing ready-to-wear, bridal and bespoke, as well as more extravagant red-carpet pieces. But we imbue it all with the same message of cherishing the garment and wearing it over and over again.
Evan: Our process is very tactile, and this has lent itself really well to the brand, particularly when we are working on bespoke pieces, as we know the clothes inside and out. Even as we grow as a brand, we really hold onto that relationship with each piece.
Amy: We would describe ourselves as makers as well as designers. Because we both had experience before starting the brand, we pride ourselves on the skills we have, particularly in the 3D side of design, and this really informs how we work.
Evan: We often discuss how we are inspired by surrealism, but it manifests in different ways—not just aesthetically, but also through our work processes. We use the "exquisite corpse" method, which is really how our whole process works. This is about a group of artists all contributing to one piece, which enables us to produce something that couldn't be imagined or executed by just one person, and in this way each piece travels between us at different stages until it is ready.
Amy: We also use an automatic creation method. A lot of what we do involves creative draping and cutting, and this allows us to drape in a more spontaneous way without over-thinking in the beginning of the process. It feels like a much more natural way for us to create these styles. We are always placing things together that might not traditionally work, in a spontaneous way and I think this is how we maintain the oddness.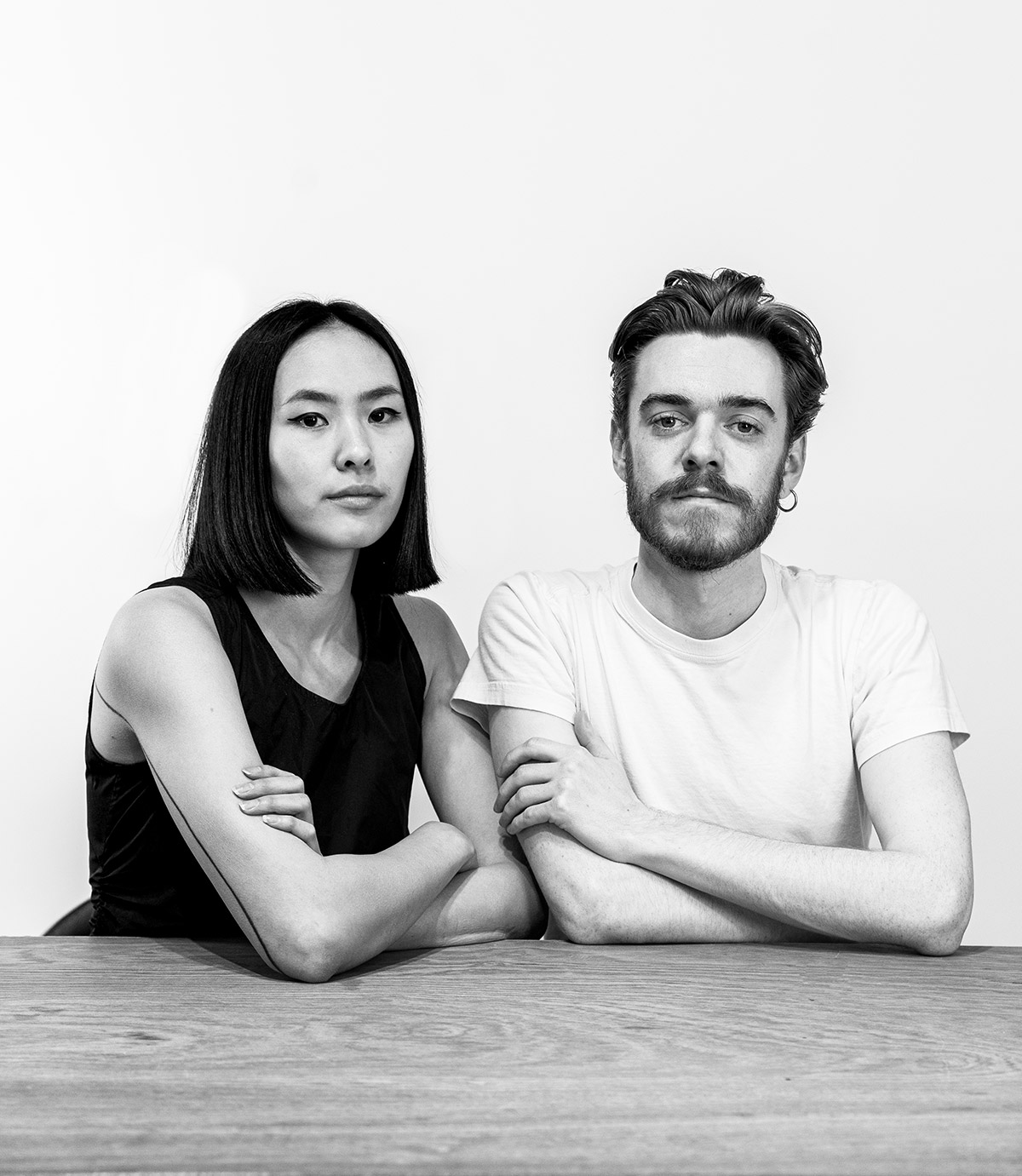 Evan: Running every aspect of a brand makes you incredibly pragmatic. I think it's also made us more agile creatively, particularly navigating the last year. We are also more open as people, because we work with so many other creatives. It's about the whole vision of WED.
Amy: Our AW21 collection was especially meaningful to us, because it came together very naturally, and it feels like the most authentic thing we have done to date. We worked with an amazing creative team, and the outcome of the imagery really reflects the world we are trying to create with WED—it's an ideal balance of fantasy and reality.
Evan: For AW21 we were inspired by two of our favorite artists, Leonor Fini and Leonora Carrington, and their use of automatism, which became a starting point for the collection. We were inspired by the casual juxtaposition of shapes and the chance use of materials, which are principles that underpin this automatic creation. We wanted the process to nod to this kind of spontaneity and optimism without overthinking. They inspired our imagery too, whereby we tried to reflect the vision of the world that you find in their paintings. We did this with the skewing of objects in the background, which looked like they were sliding and slithering across the frame. It feels like something you recognise, but then you notice it is a little bit off.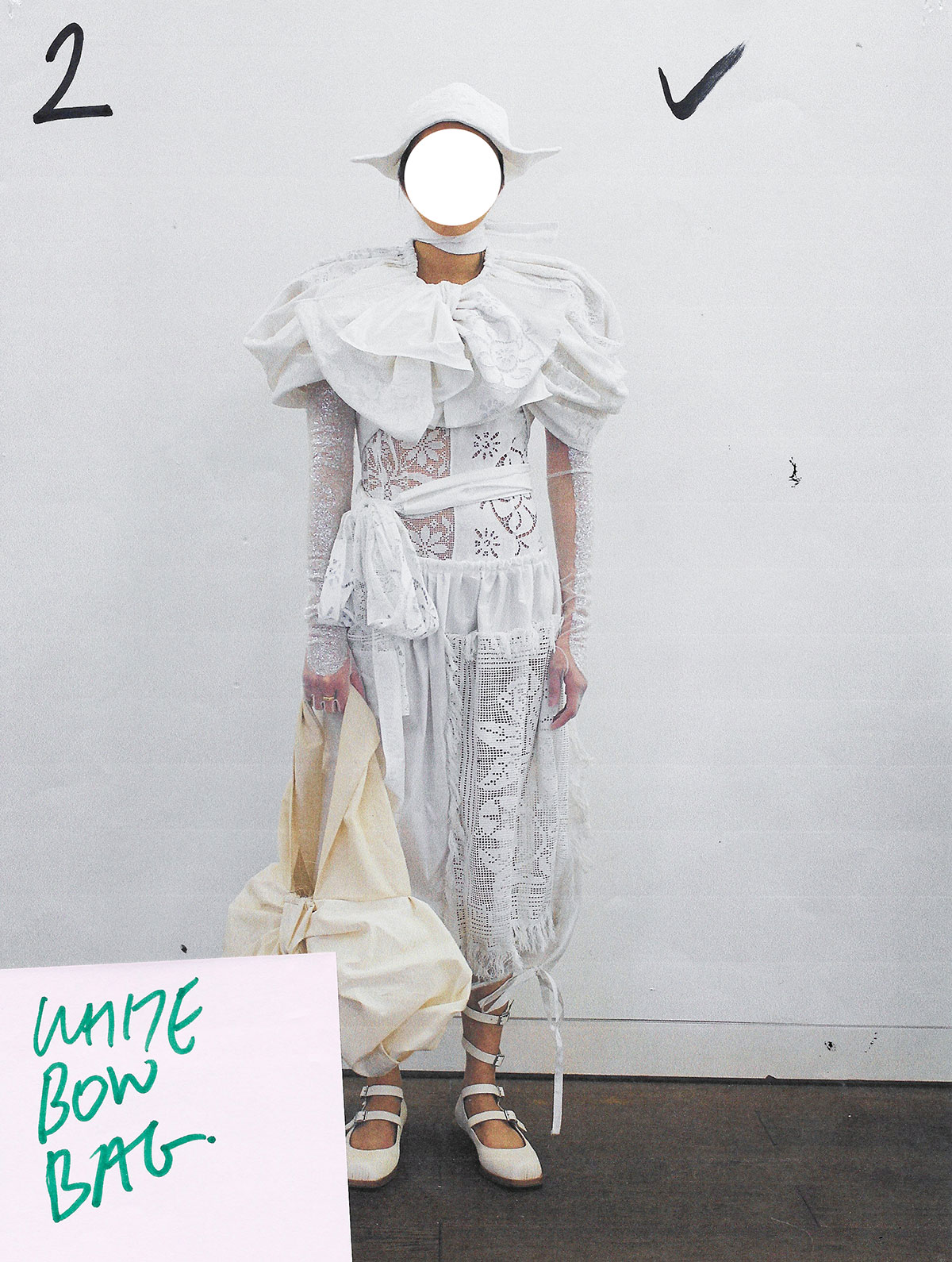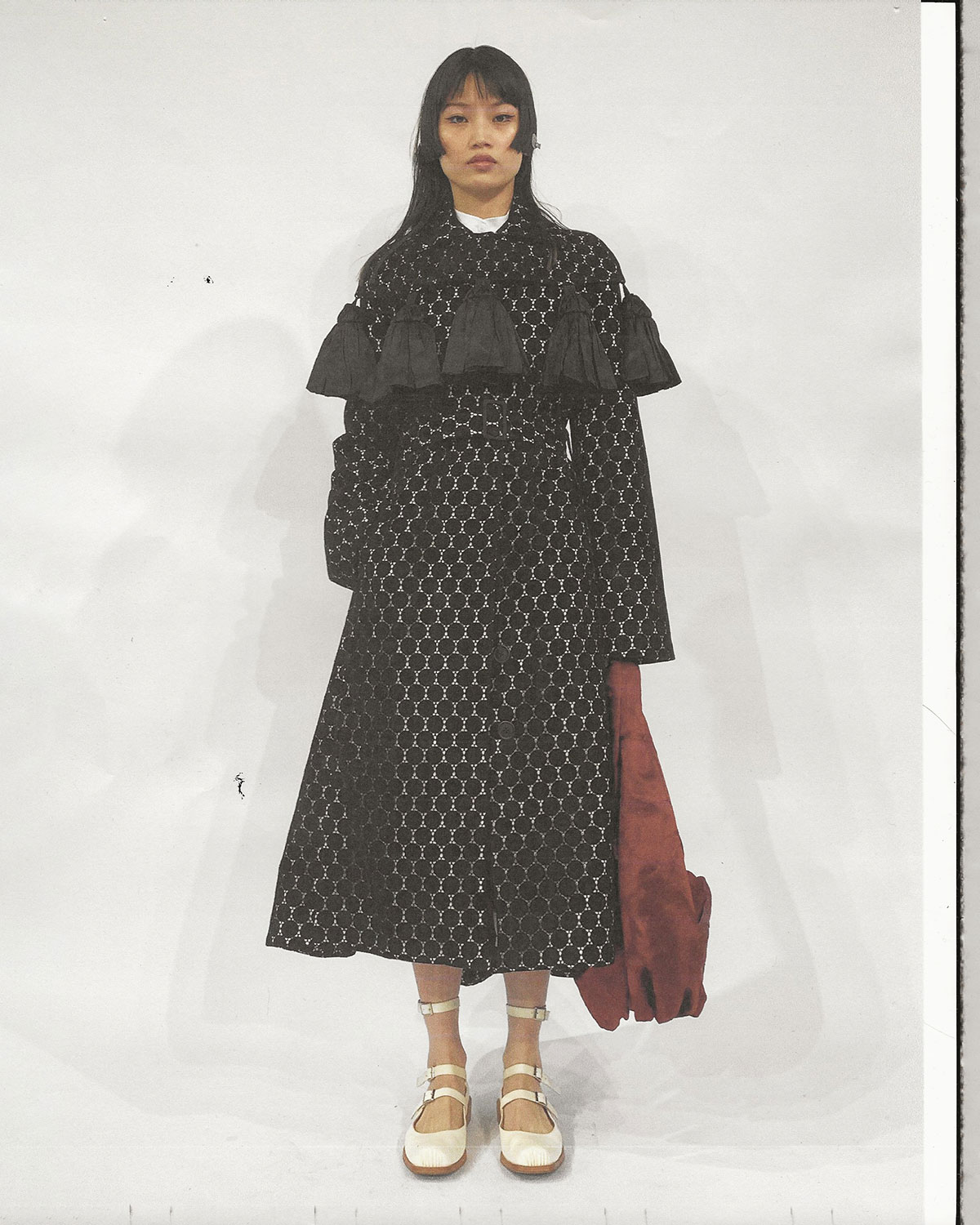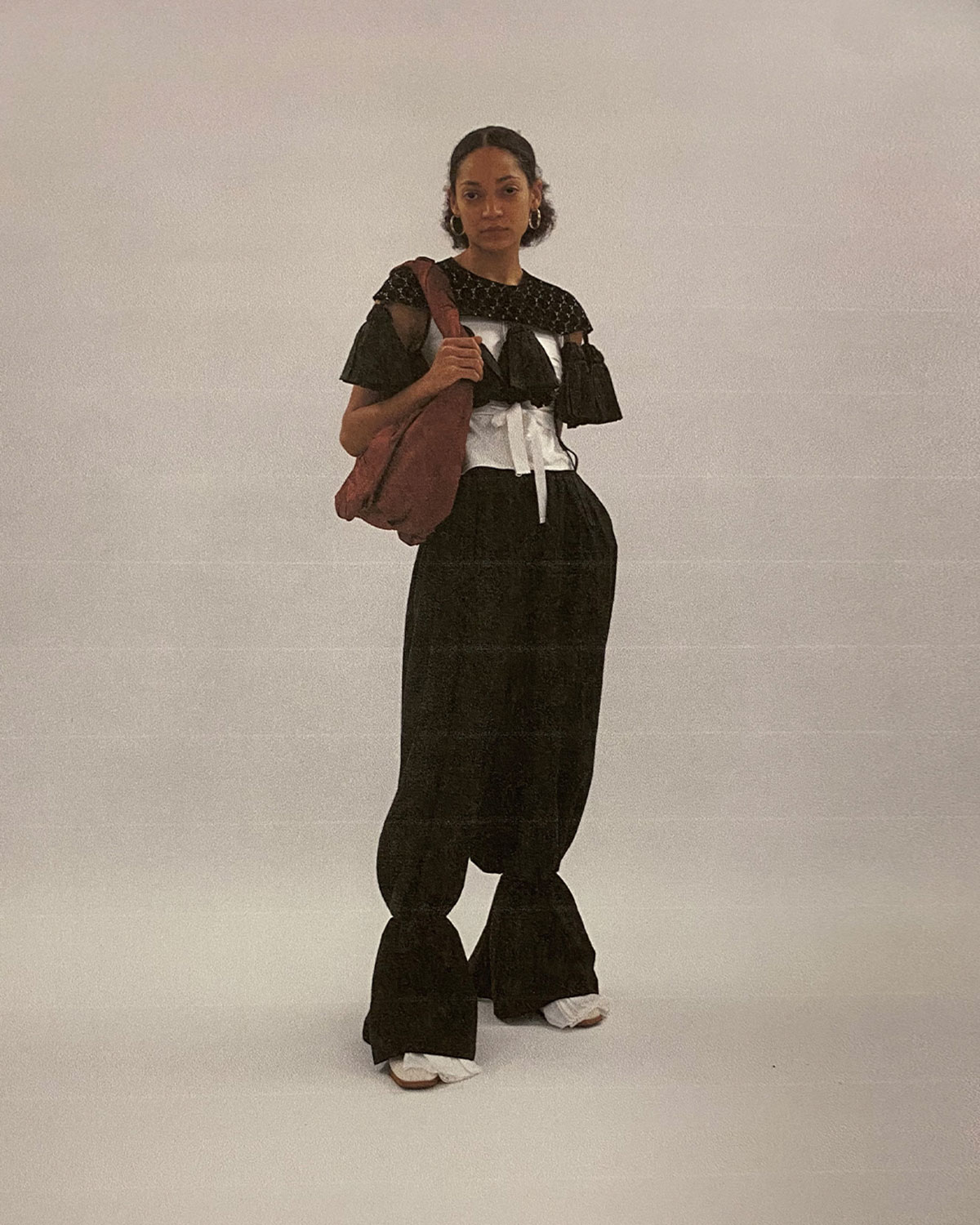 Amy: Usually we do extensive research, for the theme, the drapes, and garment-construction ideas. We always look at vintage and historical drapes. Then we might do some rough sketching but usually with all of the research in mind. We turn that into more abstract fabric manipulations, through the automatic process, which then are taken into a more technical direction. Experiments are turned into garment drapes, which get fine-tuned through technical pattern-cutting, fittings, and further sketching, before the samples are made in their chosen fabrication.
Evan: We would hope the past year has given people time to reflect on their processes, how they produce, and the overall impact of their work, and that everyone will take this knowledge with them as they move forward to make necessary changes. We all know by now that the world has more clothes than it needs, so the path we are following is about building a business that is sustainable for us and accommodates everyone who really loves what we do, while also maintaining our strong ethos, which we believe is relatable and universal. We want to bring as many kinds of people into our brand as possible, people who share our passion for craft and clothes that are worth keeping and using for a lifetime.
Amy: We are the kind of people who want to create pieces you'd find in vintage shops, designs that are 50 years old, yet they also feel weirdly modern. The pieces that make you go, "Wow, how the hell was this made 50 years ago?" These are the designs we cling to when we find them. We want everything we do not only to have a timelessness to its design and a quality that is long-lasting, but it also should create an ability for people to rethink how they interact with, respect, and buy clothes for occasions.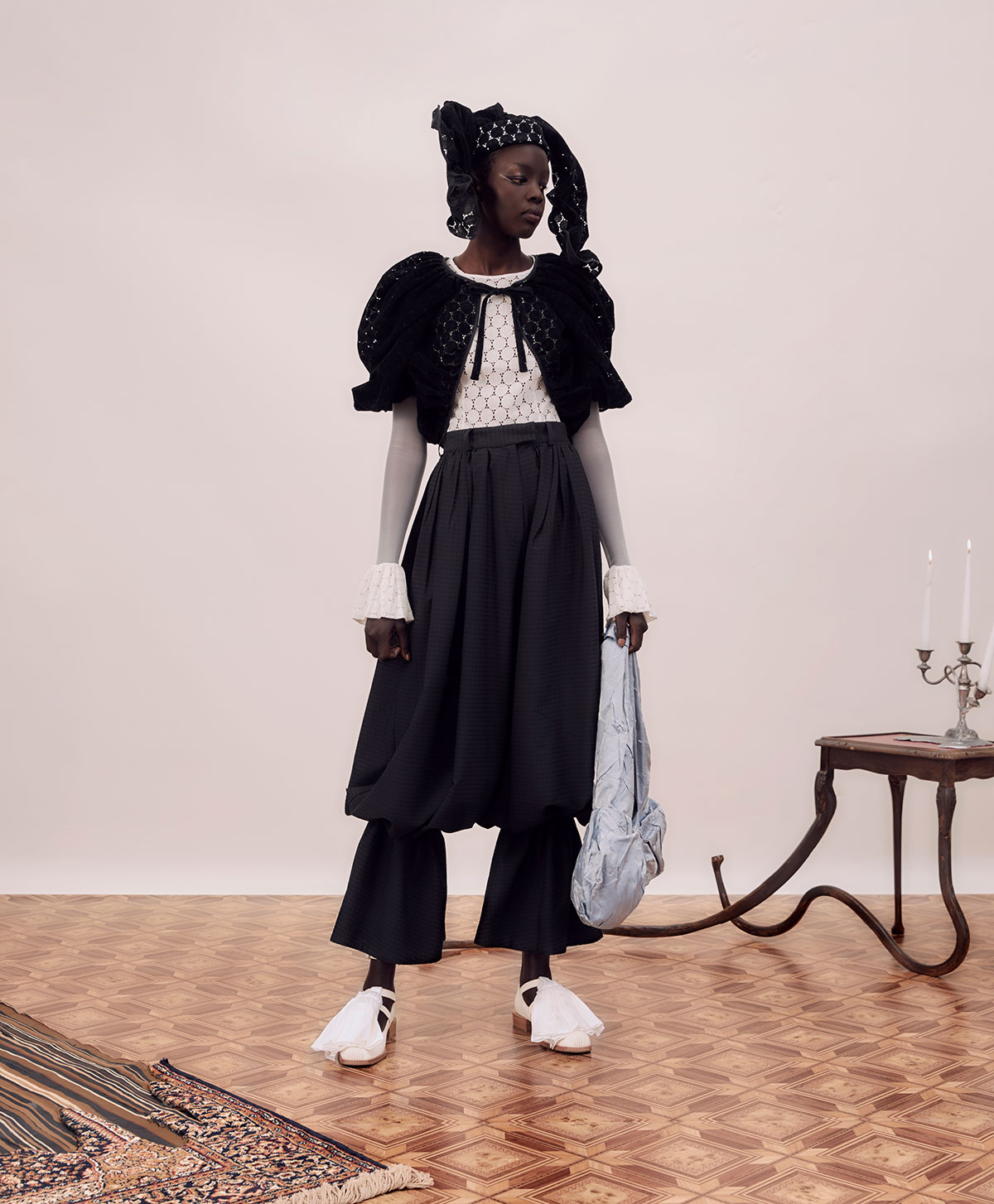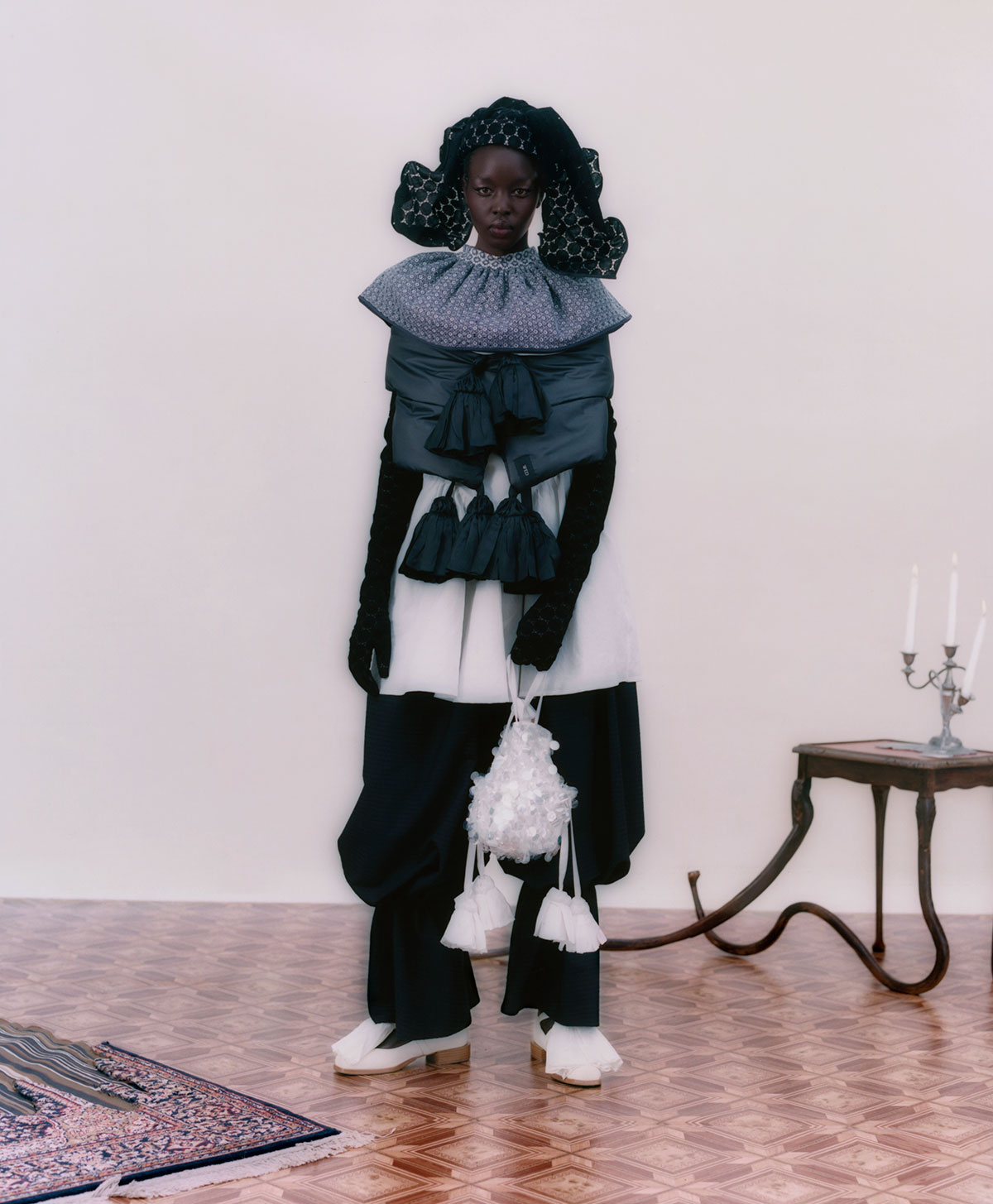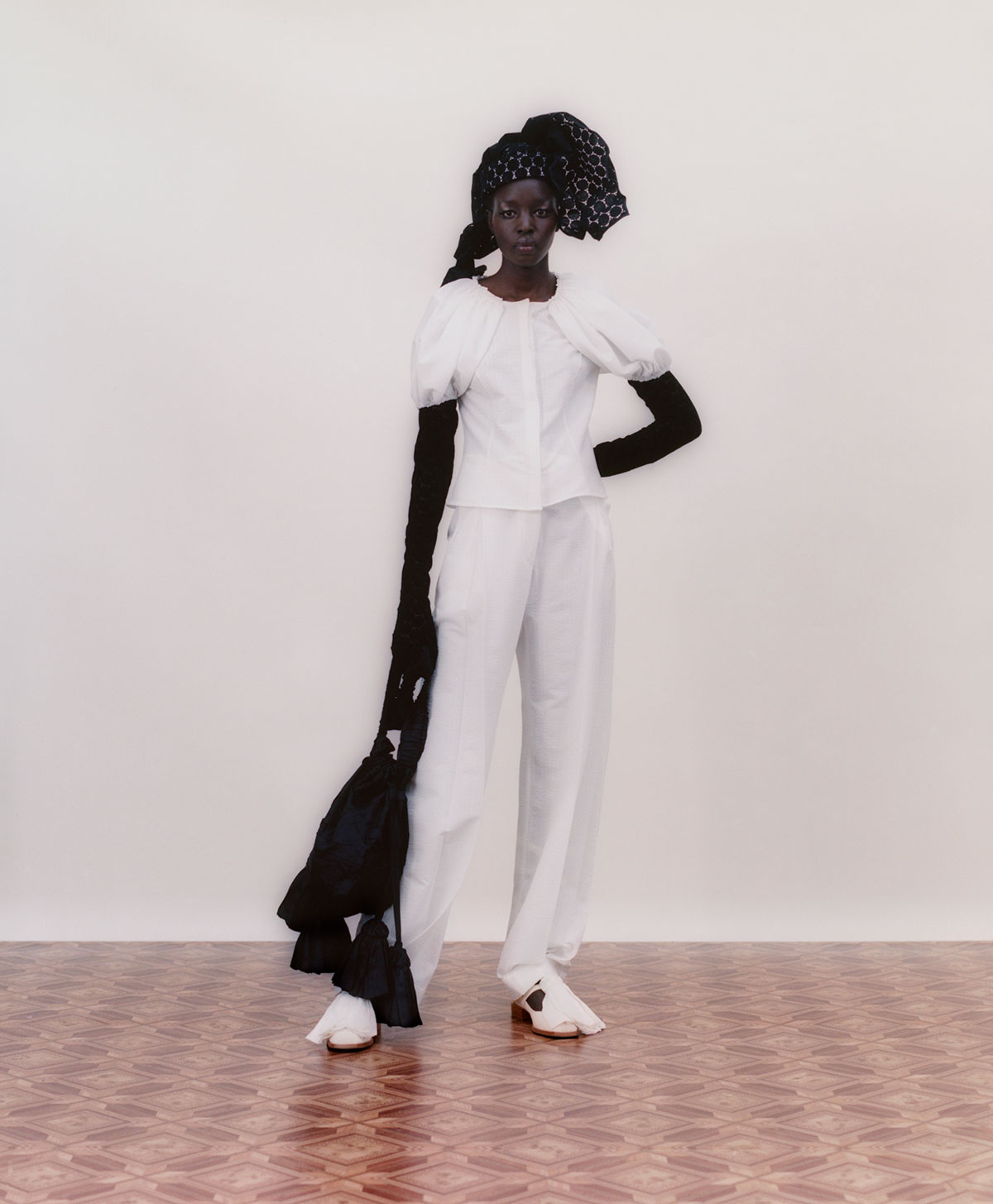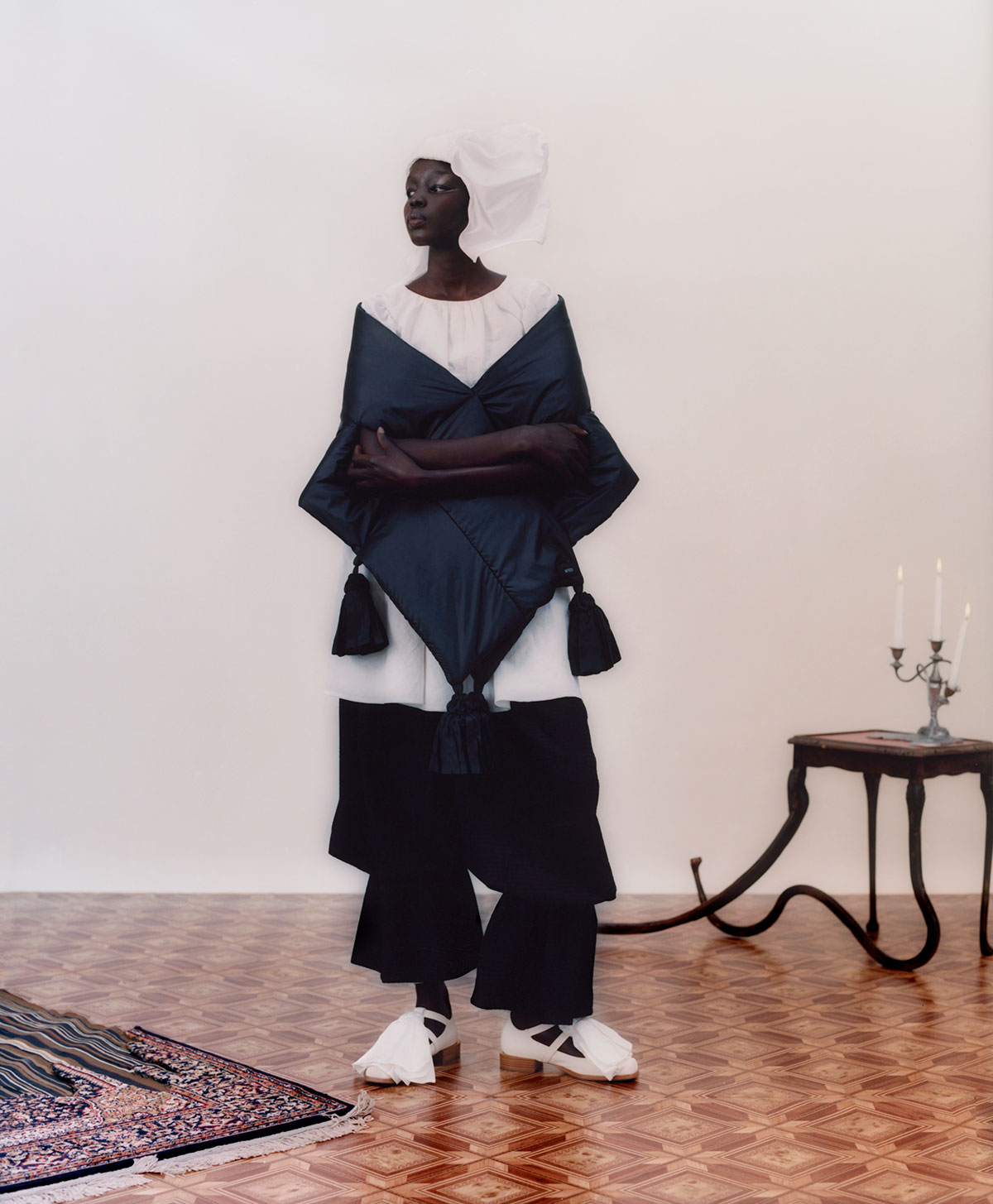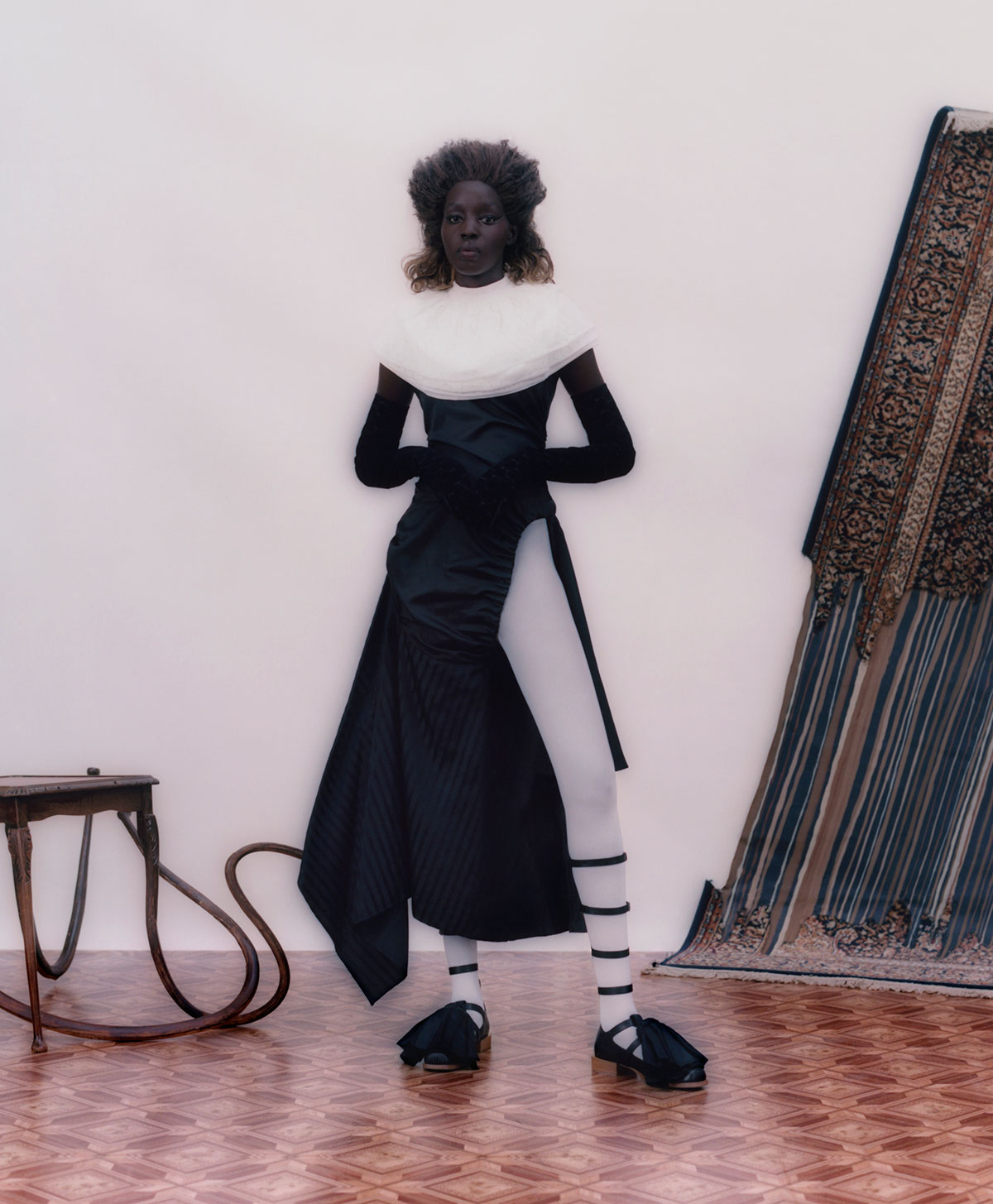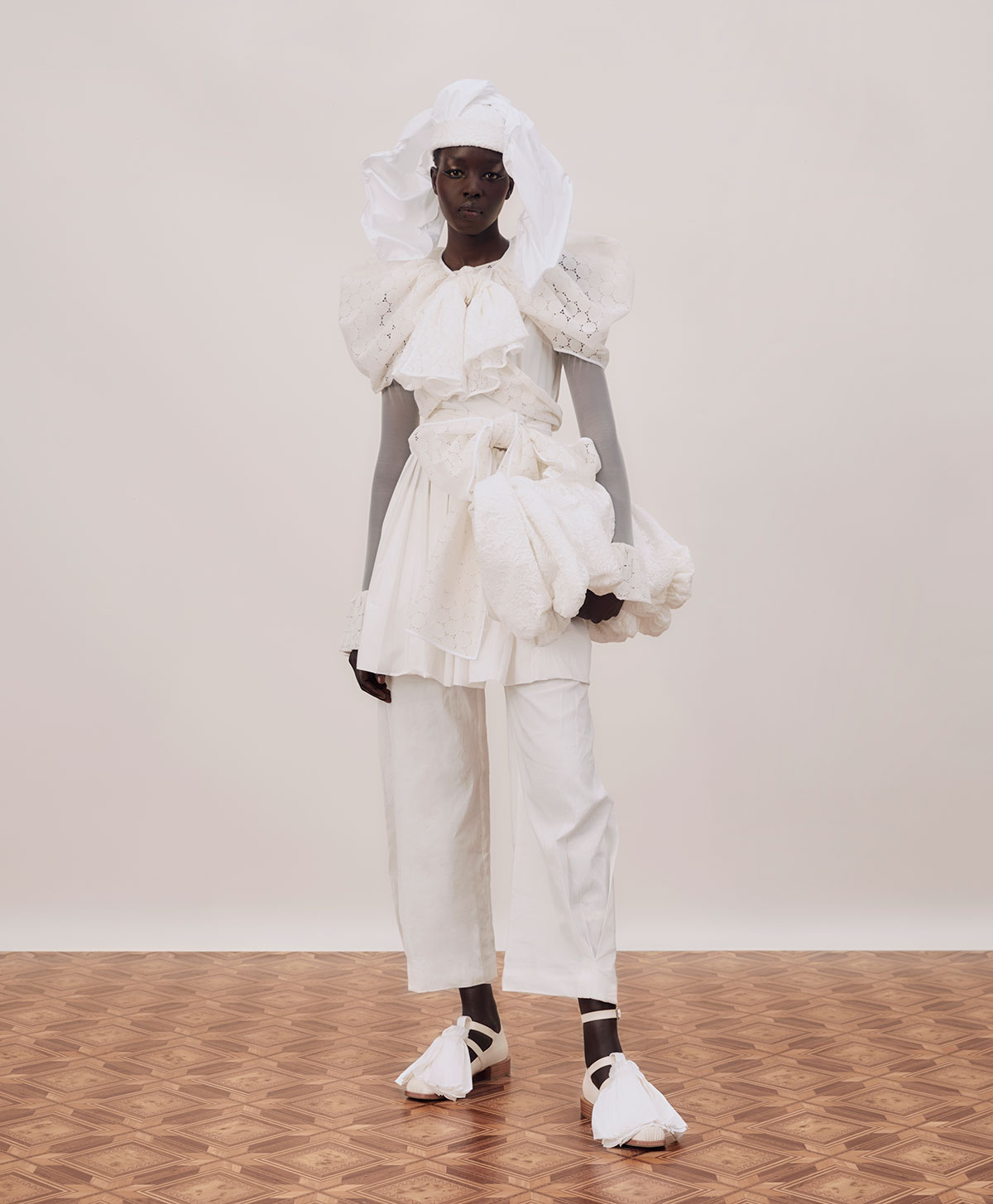 Favorite films:
Evan: Old John Waters movies are a go to for me. We love a superhero disaster movie and we've watched A Star is Born more times than we should probably admit.
Favorite music:
Evan: The biggest melting pot of everything, depending on our mood. We flip from '90s garage to classical to pure pop and then grunge in one playlist. This season we listened to a lot of disco, as we were trying to get into a party mood. We always come back to Tracy Chapman or chanting playlists when we need calm. Our playlists can be a bit erratic.
Favorite pieces of art:
Amy: It's hard to decide, because we often look to art for inspiration. But this season we got a lot of influence from Leonor Fini's Two Women.
Evan: I also love anything by Willem De Kooning.  Similar to our processes, I'm fascinated by the methods of creation he used in Abstract Expressionism.
Favorite books:
Evan: The last physical book I read was The Gentrification of the Mind, by Sarah Schulman, but I really got into audiobooks recently and just finished Raven Smith's Trivial Pursuits, which was very entertaining on my walks to and from the studio. Also, Just Kids by Patti Smith is a book I can read over and over again.
Current and upcoming creatives you're excited by: Our friends Benny Andallo and Ed Curtis, both designers, are both doing amazing things, crossing over fashion and art. Their approach feels new, and Benny's hats are a refreshing take on what millinery is right now. We also started working with stylist Ola Ebiti last season, and he has an incredible eye.
---