The cosmetic illusion expert Mimi Choi discusses transforming her thoughts, emotions and alter egos into wearable art.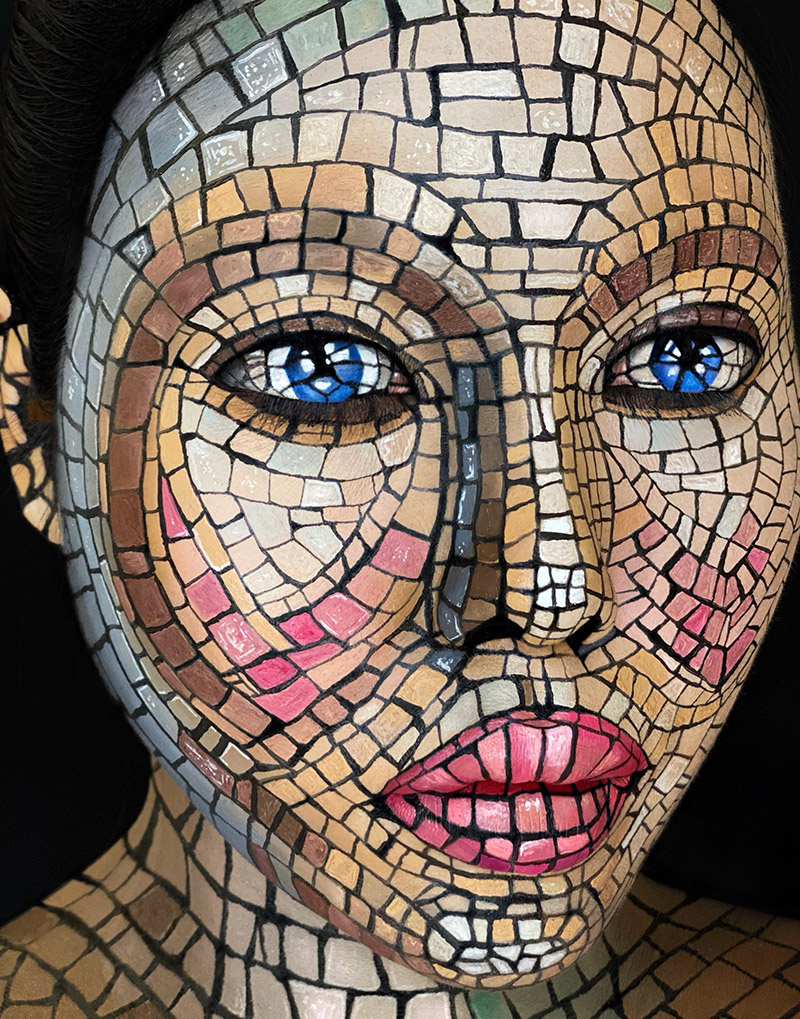 Mimi Choi
______________________
On creative expression:
I'm a professional makeup artist known for my illusion looks. I use faces and bodies as my canvas to express my thoughts, emotions, experiences, and alter egos. Creative makeup is my outlet and imagination is my only limit.
On creative process:
It's typically very spontaneous. I don't sketch out my ideas or use a face chart unless it's required by a client. My best work happens when I'm feeling inspired and motivated, at which point, I paint the concept directly on my face. Allowing myself to be vulnerable will often change my ideas or adjust details as I paint. I let my heart and hand guide me to the finished look, which is often quite different from what I had initially imagined.
On creative inspiration:
Many things outside myself have inspired my aesthetic, including surreal digital art, photography, sculptures, paintings, films, and music; but a big source of my more morbid looks is the sleep paralysis I suffer from. Ever since I was a child, I've experienced times where my mind is awake, but my body is unresponsive right before waking up from sleep. During these periods, I would have vivid and often frightening visions like split bodies, faces with multiple features, and spiders. Around 6 years ago, I started painting my visions and to my surprise, when I did so, I would stop having each particular dream. My condition is a blessing in disguise and makeup is my therapy. To give my creativity a boost, I often indulge in music and films that evoke feelings within me. I also enjoy visiting museums and exploring cities when I travel.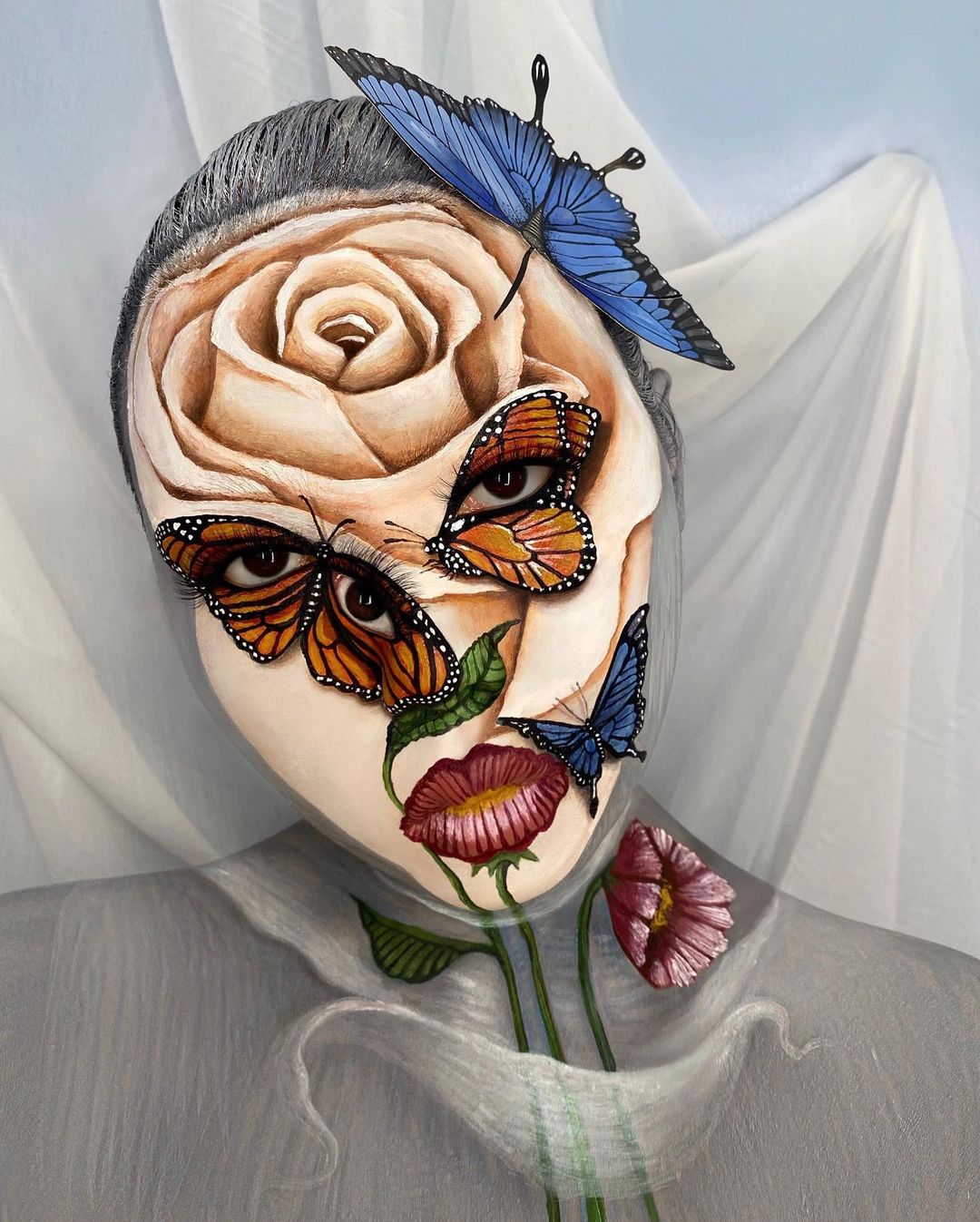 On earliest beauty memories:
Raiding my mother's makeup collection, and applying her mascara and lipstick. It transformed me and gave me a sense of confidence that I'd never felt. When I got the first blemish on my face, I remember taking some of my mom's concealer to disguise it. I blended it out with a Q-tip and I was proud that nobody noticed that I was even wearing makeup. I suppose that was my first makeup illusion!
On the best current makeup products:
1. Mimi Choi Illusion Palette by Mehron includes all the essential shades and products that I use for my illusion art and beauty looks. It has highly pigmented matte eyeshadows that are perfect for painting shadows.
2. NYX Epic Wear Liquid and Ink Liners are my go-to products for precise lines. They have very fine and sharp tips and are highly pigmented and stable.
3. Kryolan Aquacolors are highly pigmented and come in so many different colors, which are great for my illusions. They are water-based and don't smudge when dry.
4. Danessa Myricks ColorFix are stable liquid pigments that work well on any type of skin.
5. NARS Soft Matte Complete Foundation is a great base for everyday or illusion makeup. It creates a smooth, flawless, and airbrushed matte look.
On favorite 2021 makeup trends:
For everyday makeup, I prefer natural glam that promotes a youthful and fresh look. I like the minimal makeup trend that focuses on healthy, glowy, natural skin, and much less on heavy highlighting and contouring, which is in stark contrast to a lot of the creative makeup looks that I do.
On 2022 beauty trends:
I feel like more people will embrace individuality and rock bolder, unique styles. I sense a continued focus on natural skin, but with more graphic and daring eyeliner designs over the eyes. Lip gloss paired with vivid colors for juicy pouts will be popular.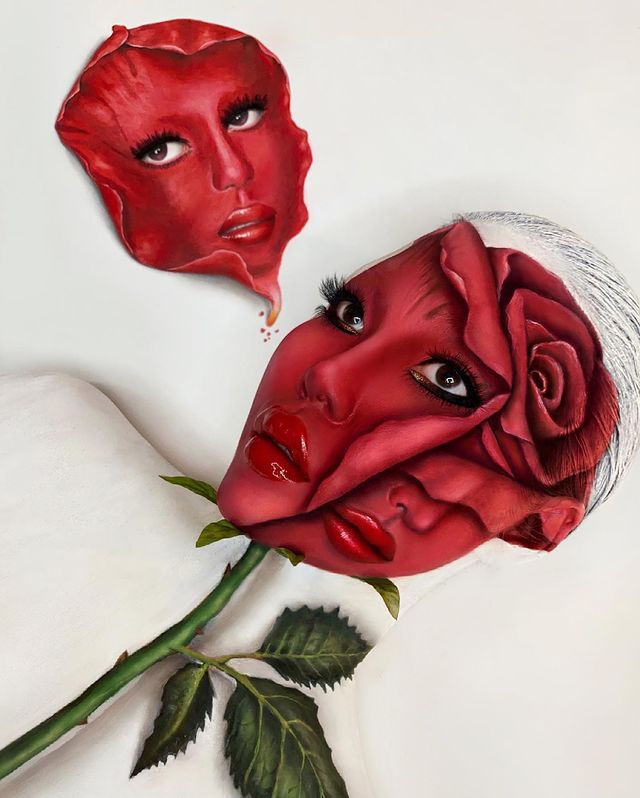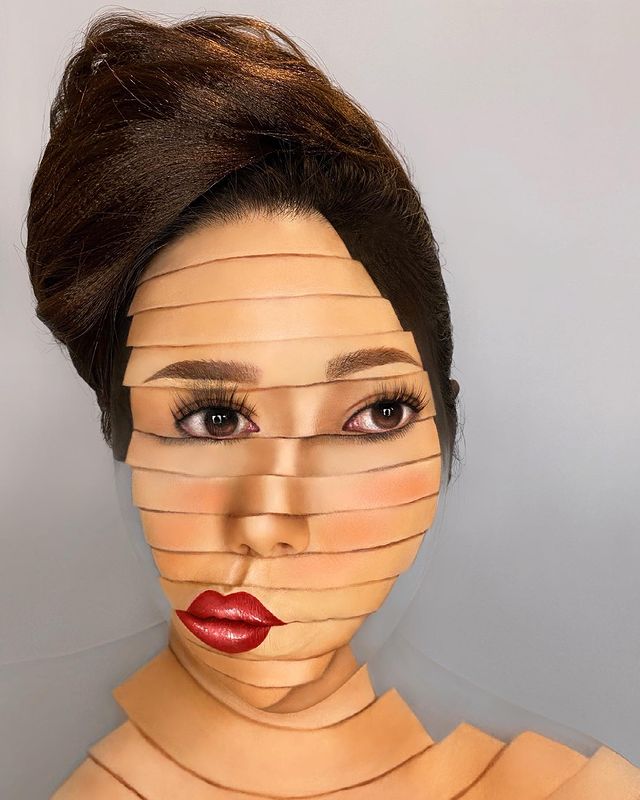 On the transformational power of makeup:
Makeup provides a means for me to bring my visions to life. It empowers me and allows me to transform myself or my model into anything I can imagine. It's like a magic potion that lets me become whomever or whatever I want, and lets me explore my alter egos.
On major aesthetic influences:
Surreal artists like Salvador Dali, MC Escher, and Giuseppe Arcimboldo have impacted my aesthetic in a big way. Their works evoke a visceral feeling within their audience, which is something that I try to achieve with my own looks. I love to view digital artwork as well, as it sparks creativity within me and makes me rethink what is possible to paint on my face.
---
You May Also Like: Makeup Artist Raisa Flowers Takes Us Through Her Inspiration, Vision And Aesthetic