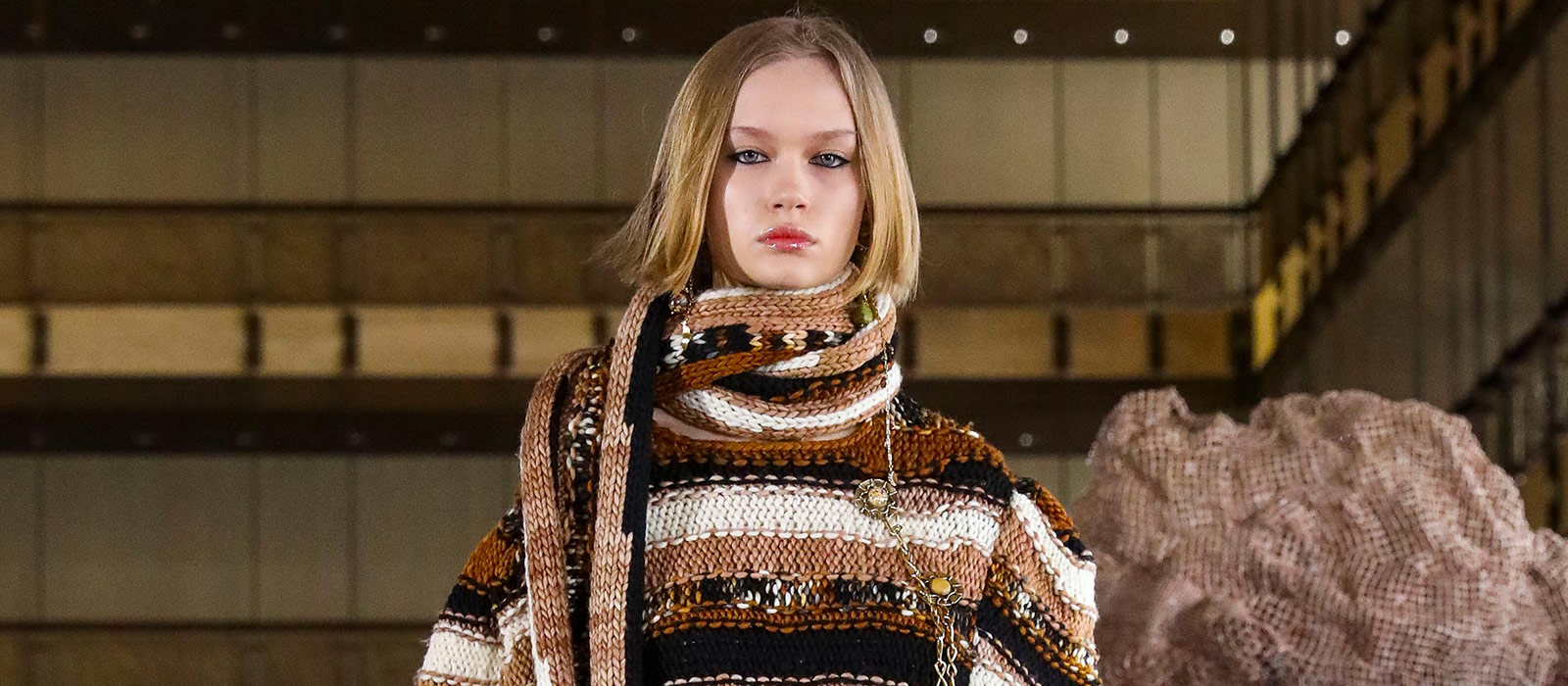 Ulla Johnson
Fall/Winter 2021
Ulla Johnson's Fall 2021 collection seeks an internal sense of freedom. Taking a soulful and intuitive journey, Johnson summons a transcendental means of exploration – anticipating a collective moment of togetherness; a defining, pivotal time of wild abandon and reconnection. Optimism and ebullience shines through, unfettered by the current environment.
Johnson's longing for a return to nature and travel manifests in an alluring scene of mystical flora and fauna, signaling renewal. Lavish with fantasy and escapism, psychedelic cosmic motifs and animals, real and imagined, in hyper- saturated pigments slink throughout this abundant collection that celebrates luxurious materiality and embraces elaborate silhouettes.
Unbuttoning existing female archetypes, Johnson sets out to subvert established representations of ladylike tropes. This exploration uncovers a louche, newfound sultry sexuality paired with a utilitarian cool; she is feminine, self-possessed, and yet moves through the world with great ease. Shapes are closely hewn to the body or exaggerated and voluminous: Seventies Parisian flou meets the sculptural tailoring and power shoulders of Eighties Berlin. There is sensuality in the delicate corsetry and pencil skirts; an undone primness in the slinky pussy-bow blouses and crisp chambray; something of the pioneer in poplins and full skirts; a free-spirited traveler in the embroideries and nostalgic paisley prints. Oversized collars, once sweet and naive, become beguiling.
Johnson's trademark sense of strength through beauty is present in a comprehensive offering of full, flyaway dresses imagined with considered ruffles, tiered flounces and pleating. Her distinctive effortlessness and fluidity underpin this collection that evokes an empowering sense of liberty, movement and grace. Echoing and elevating the ethos of American sportswear; chambray, corduroy and denim are utilized with levity and modernity. Following a theme of duality, billowing paisley silk crepe de Chine blouses signal romance and polish while utility-inspired heavy poplin is crafted into new silhouettes including a barrel-leg pant and belted shirt dress. Luxurious dimensional Italian cloqué and metallic polka dot fil coupé on whispers of gazaar are a counterpoint to tumbled waxed leather and precise twill suiting.
A sense of ebullience is captured through the mellifluous pairing of prints in dynamic fabrications. Delicate body- skimming knits in shadowy tigerseye are layered under ruched and ruffled taffeta. Graphic paisley scarf print surfaces in both psychedelic Crepe de Chine and more subtly, on custom Fogal lace tights worn under much of the collection. This juxtaposition creates a fantasy which harmonizes an earthy world view and the urban sensibility of New York City.
---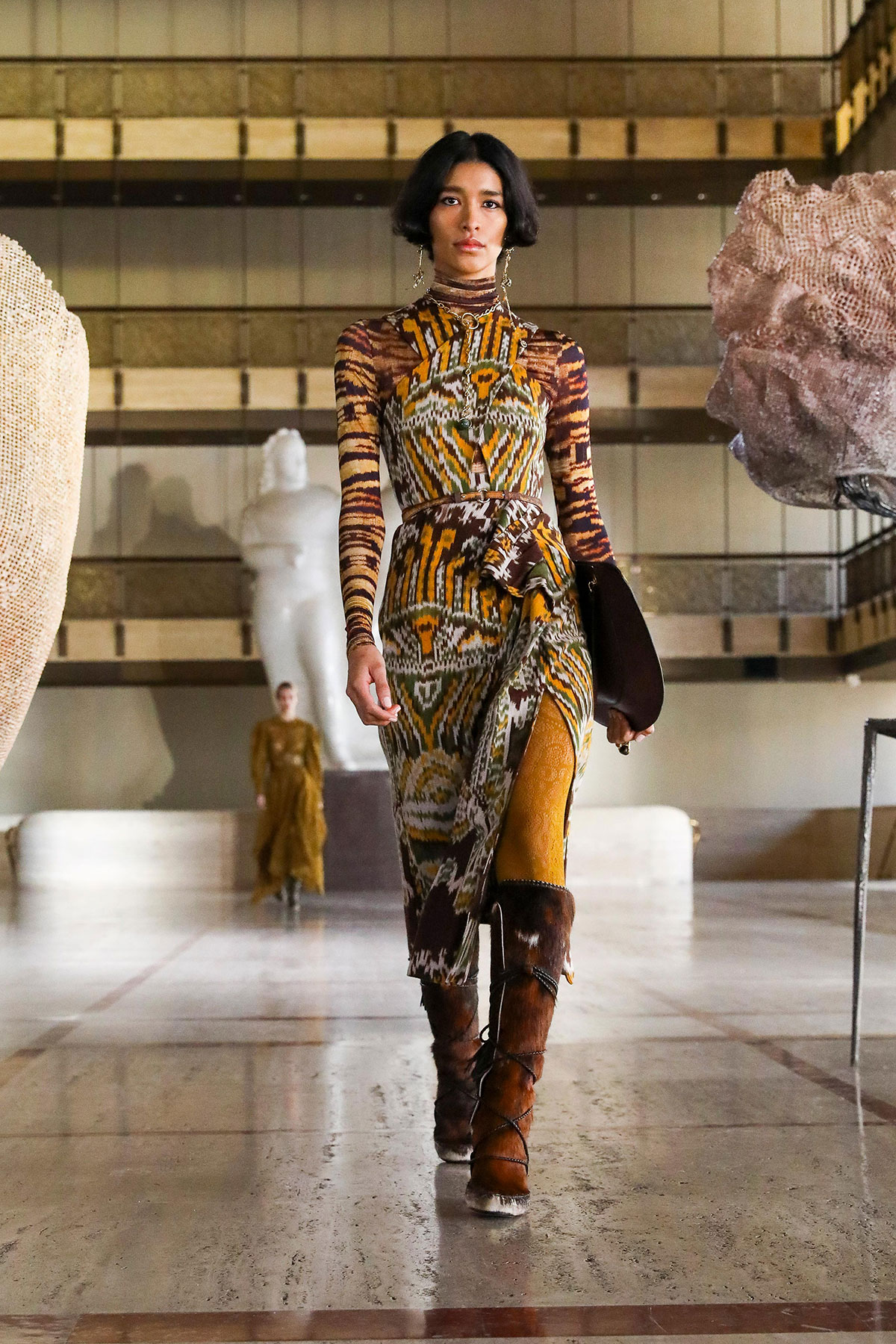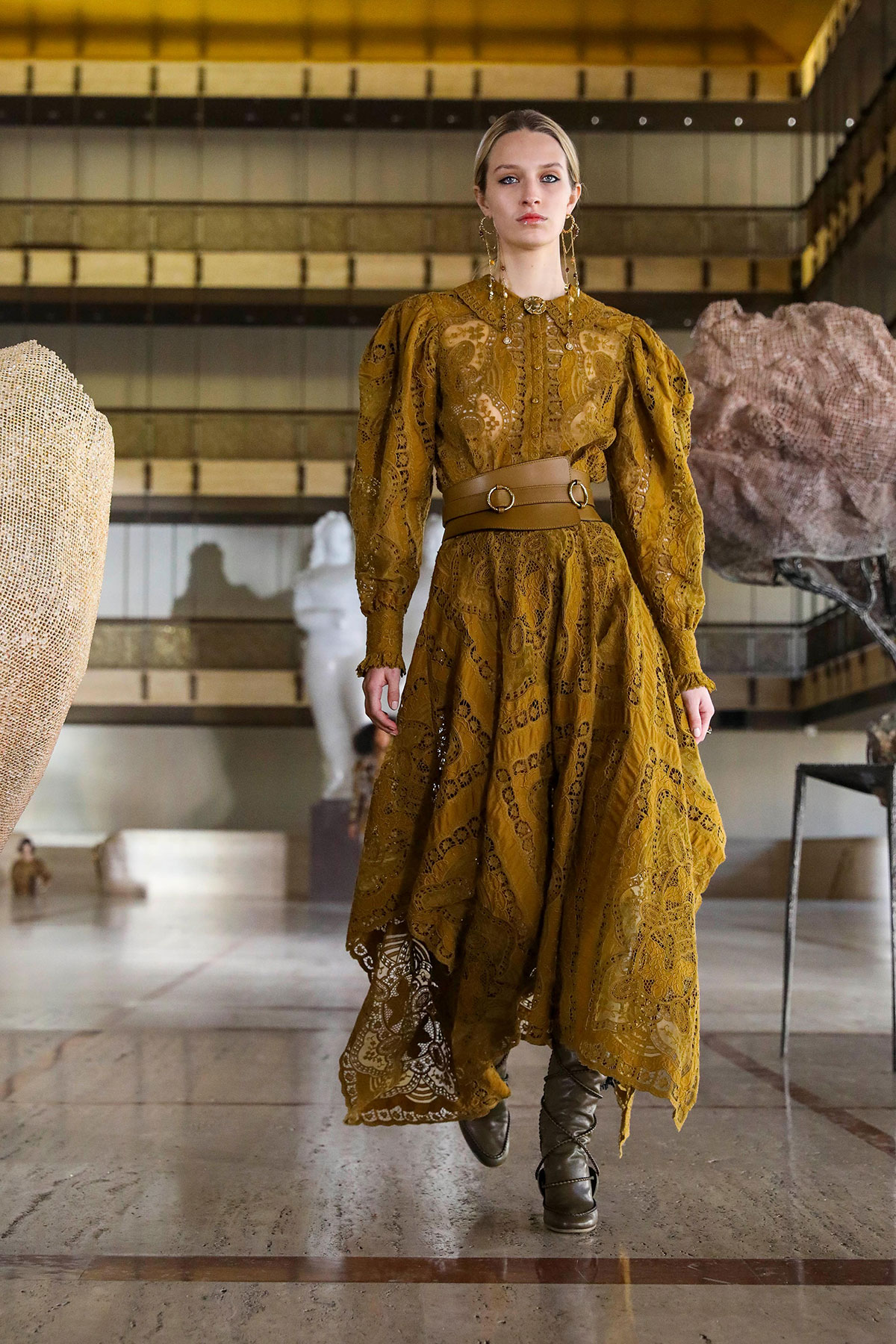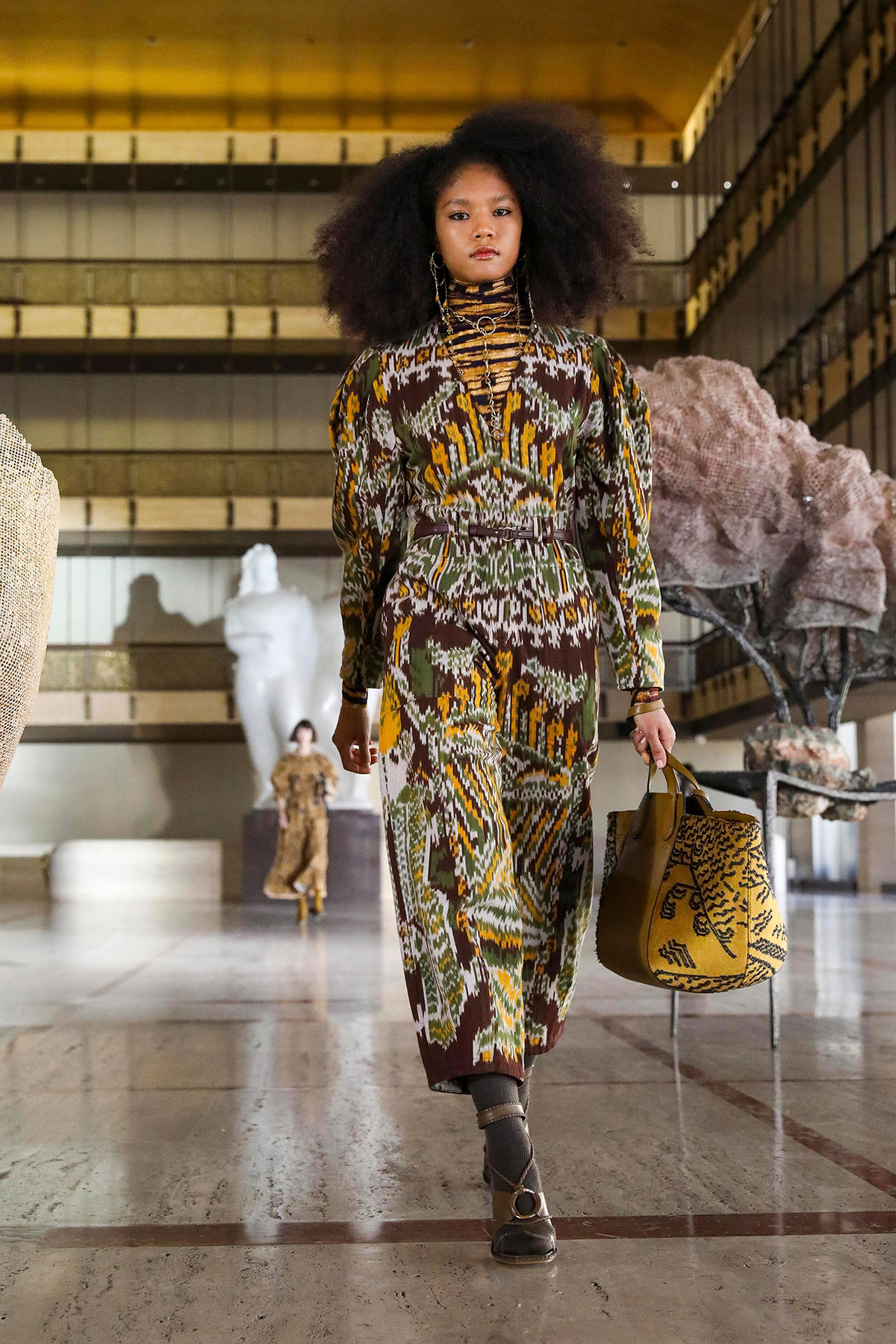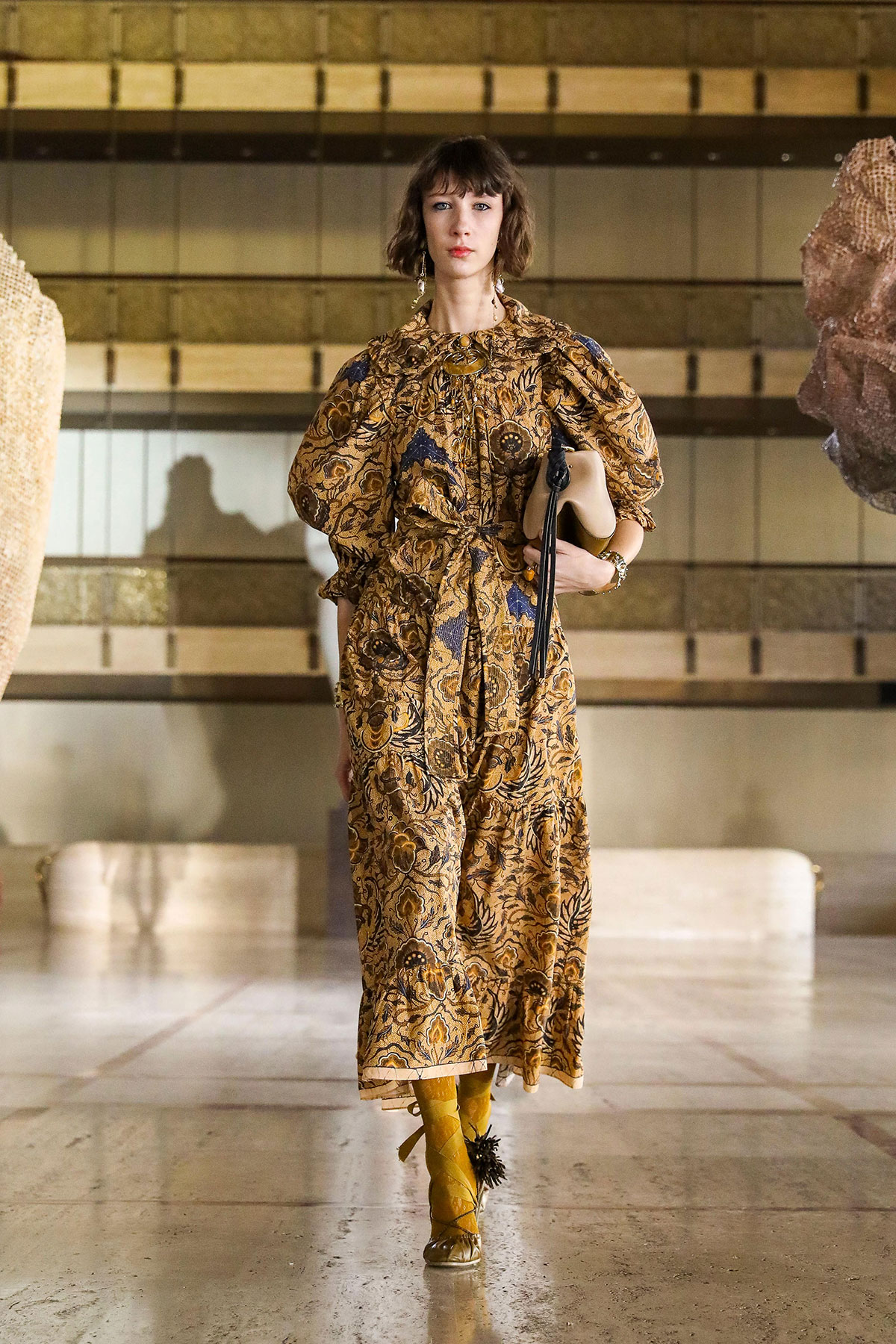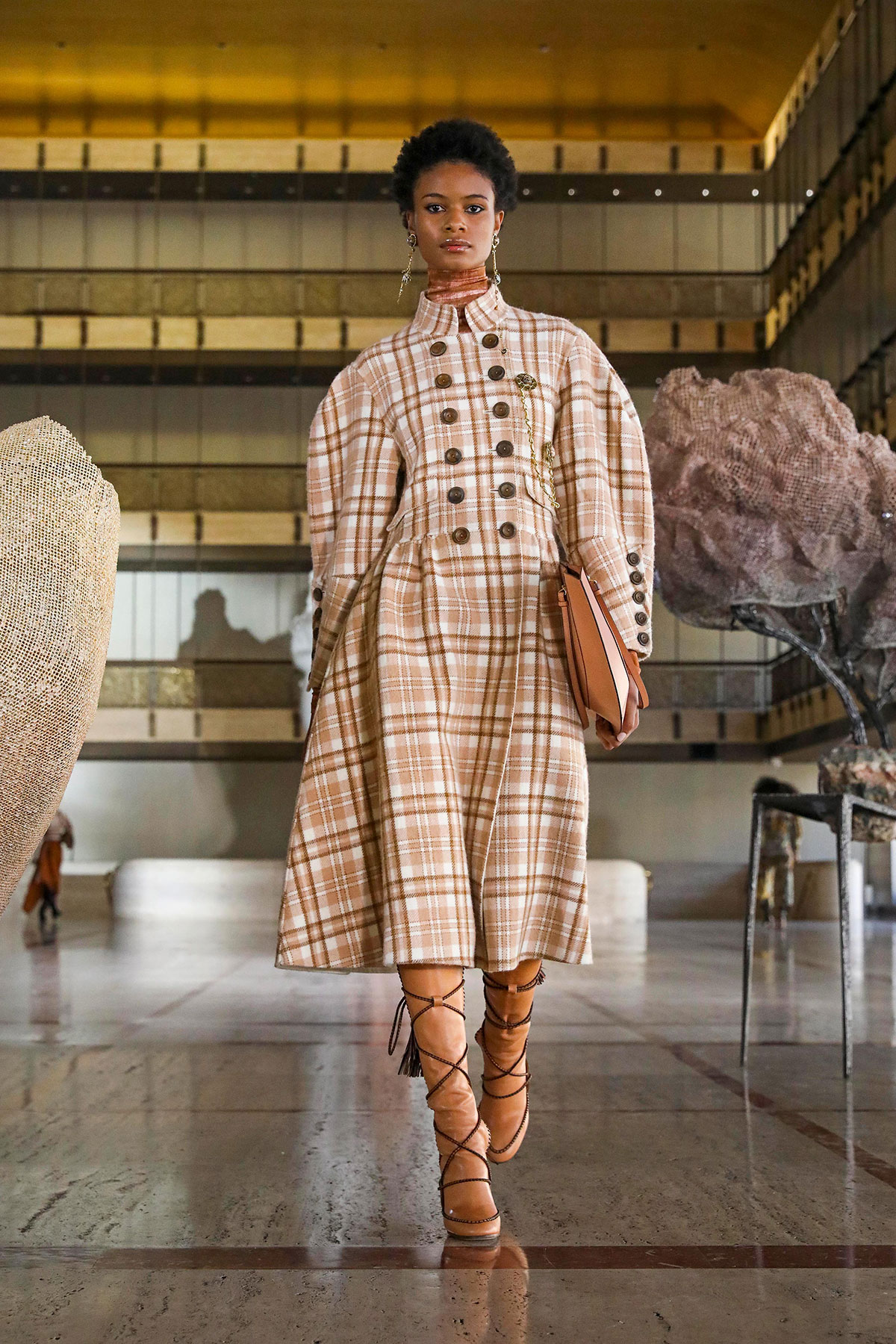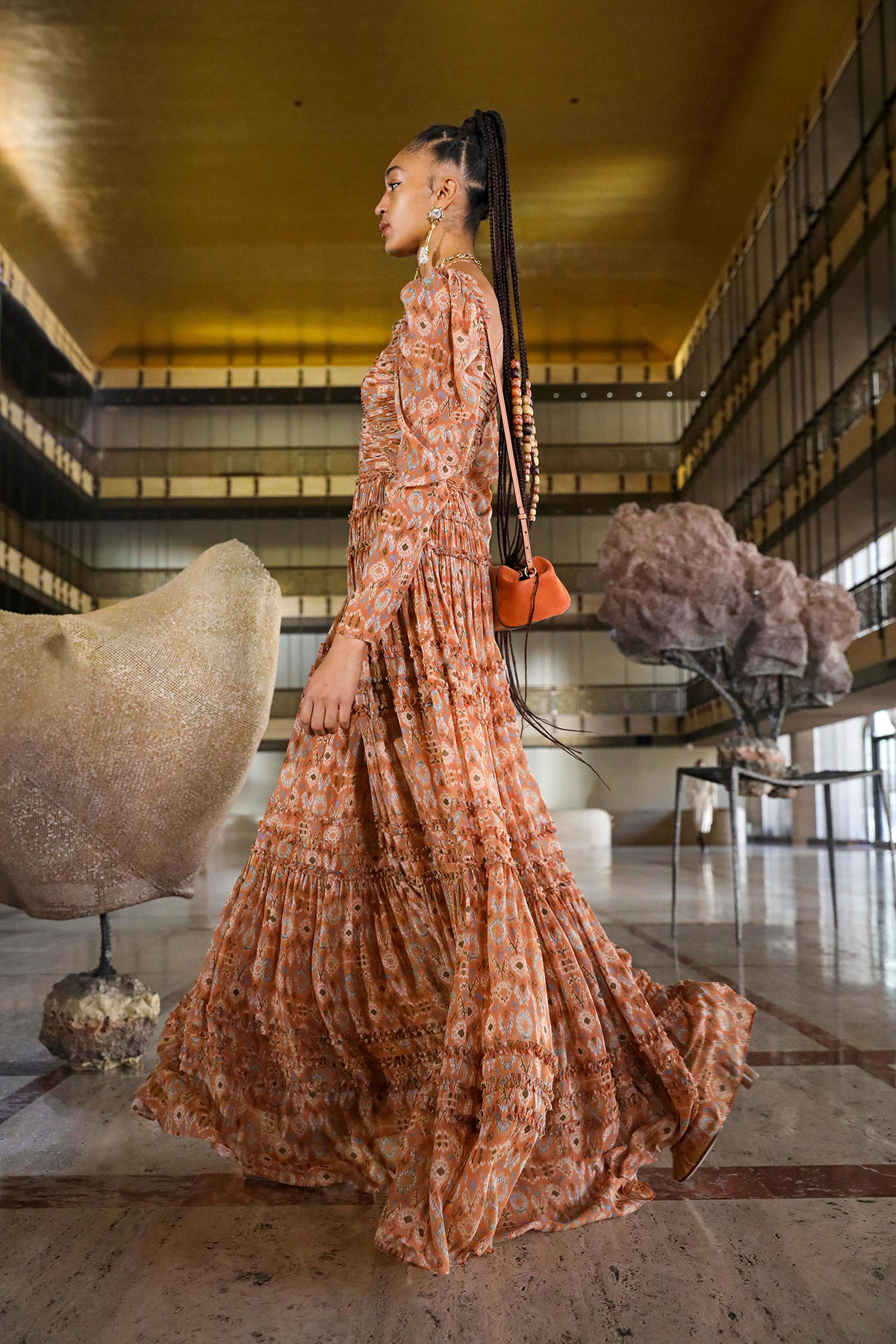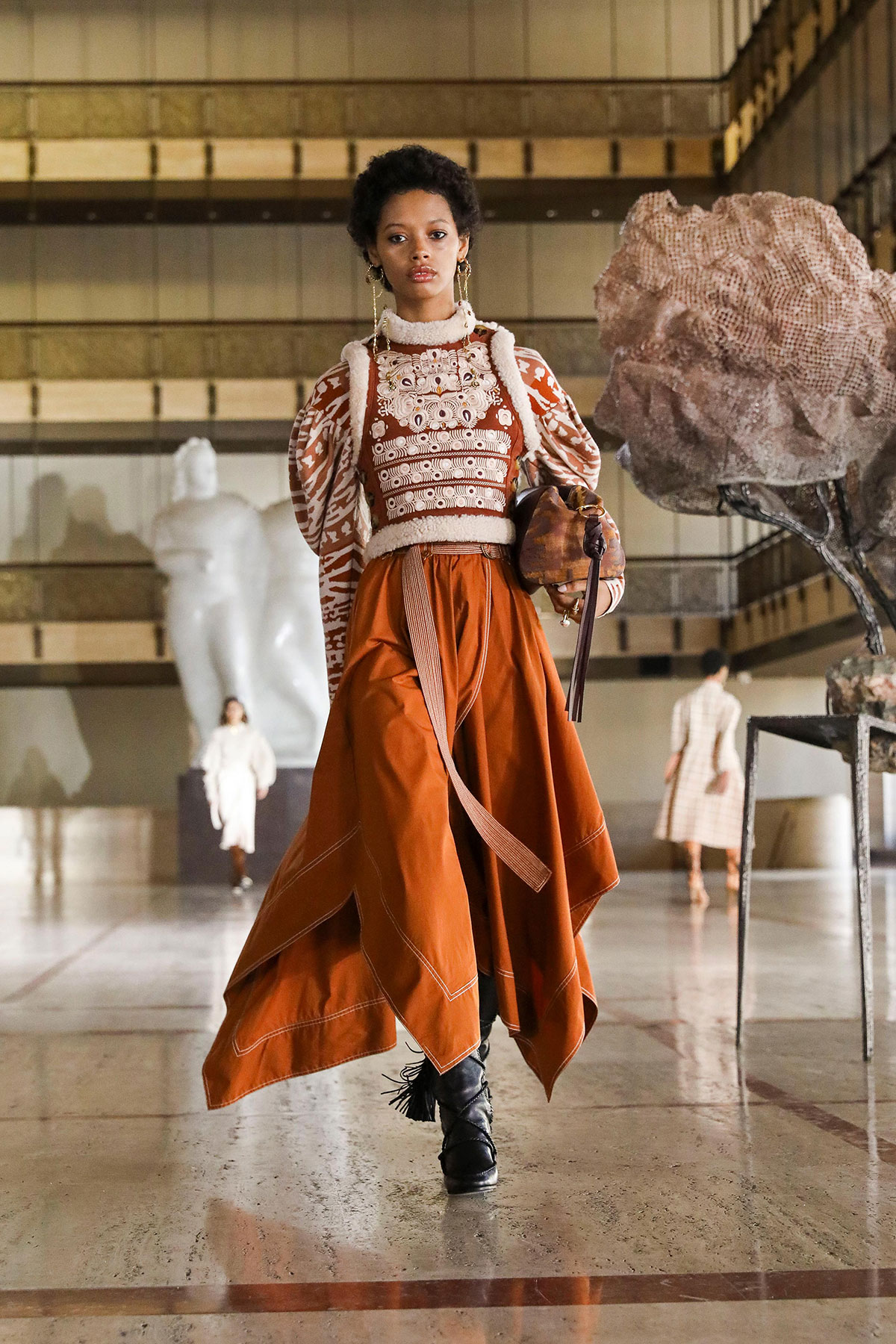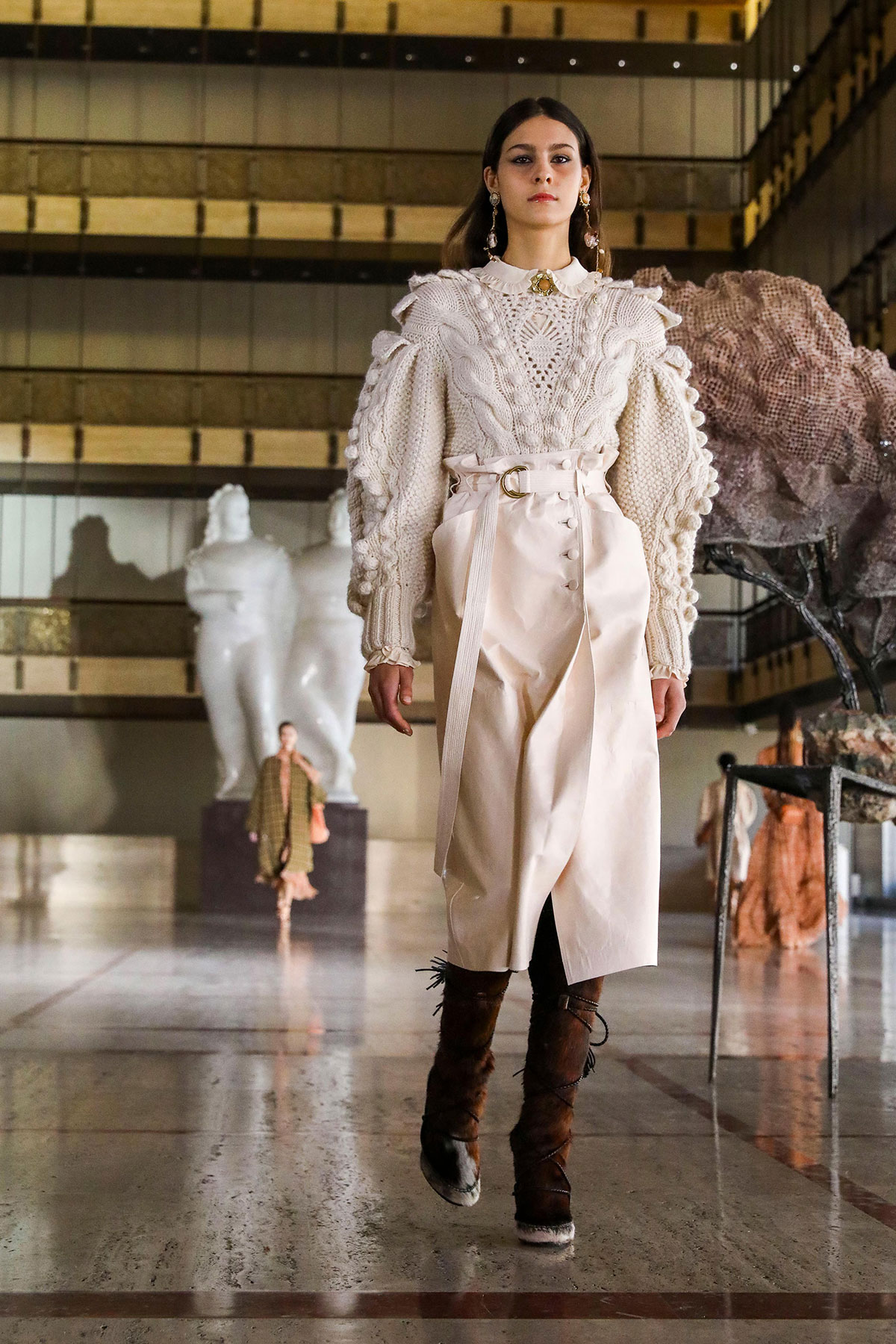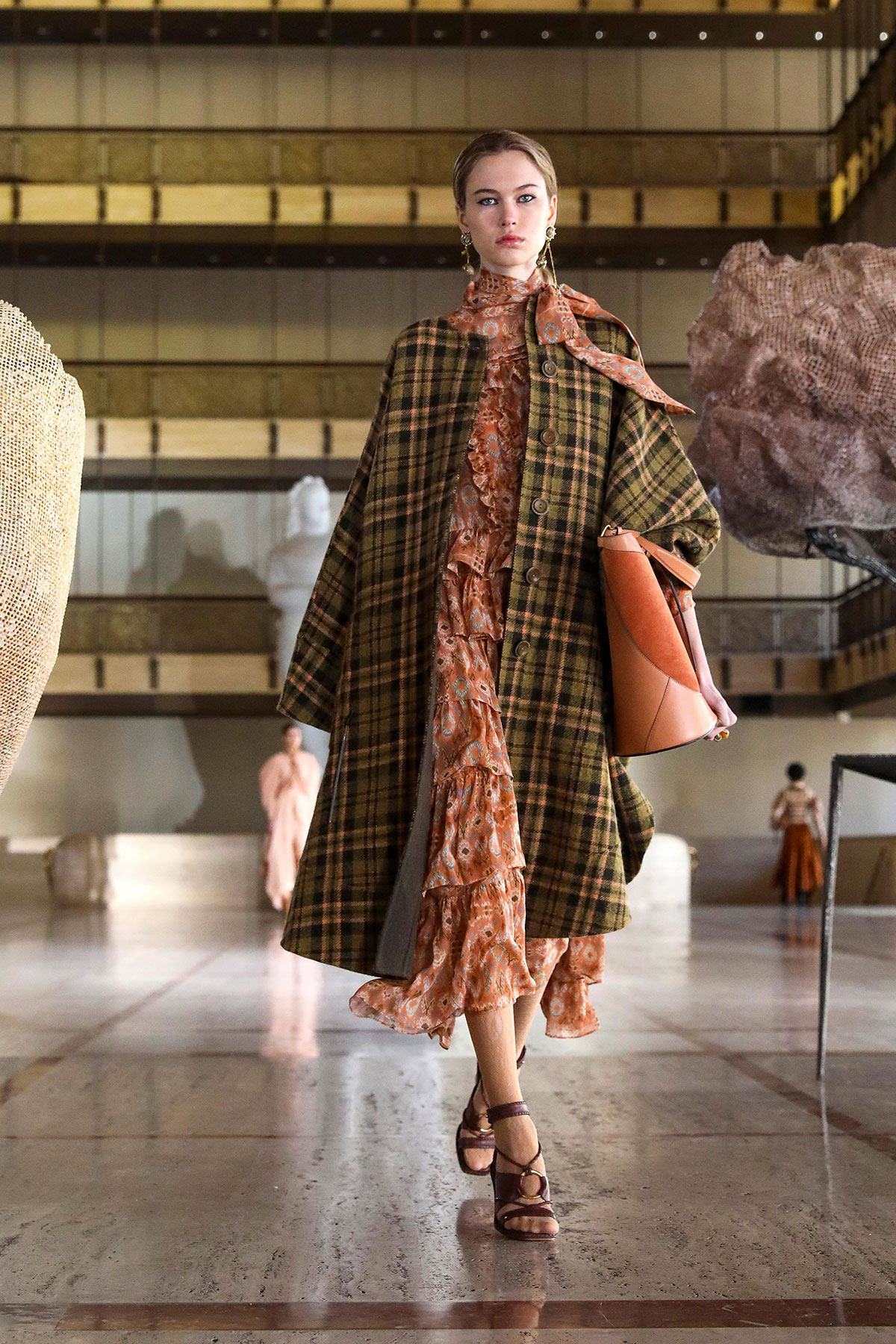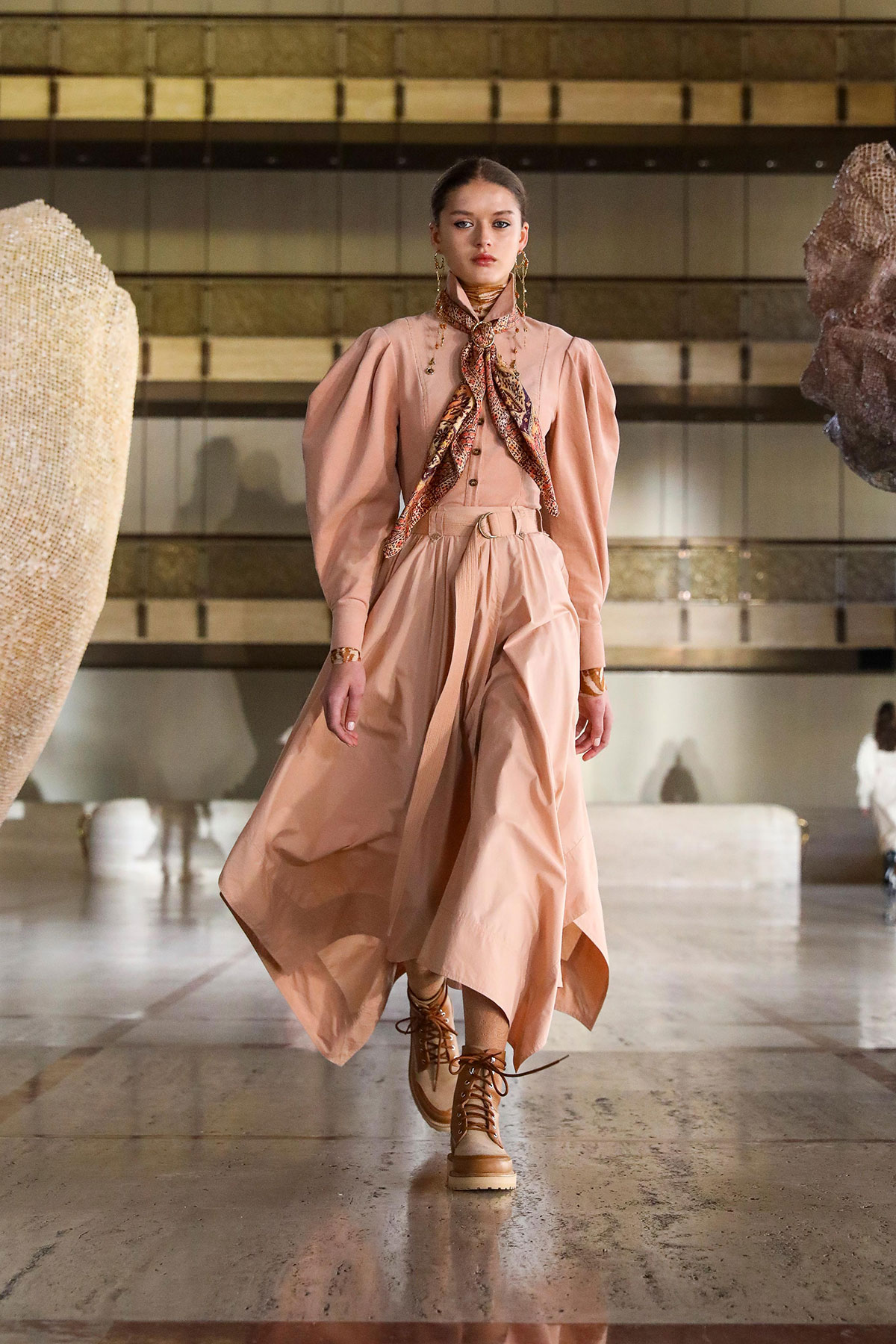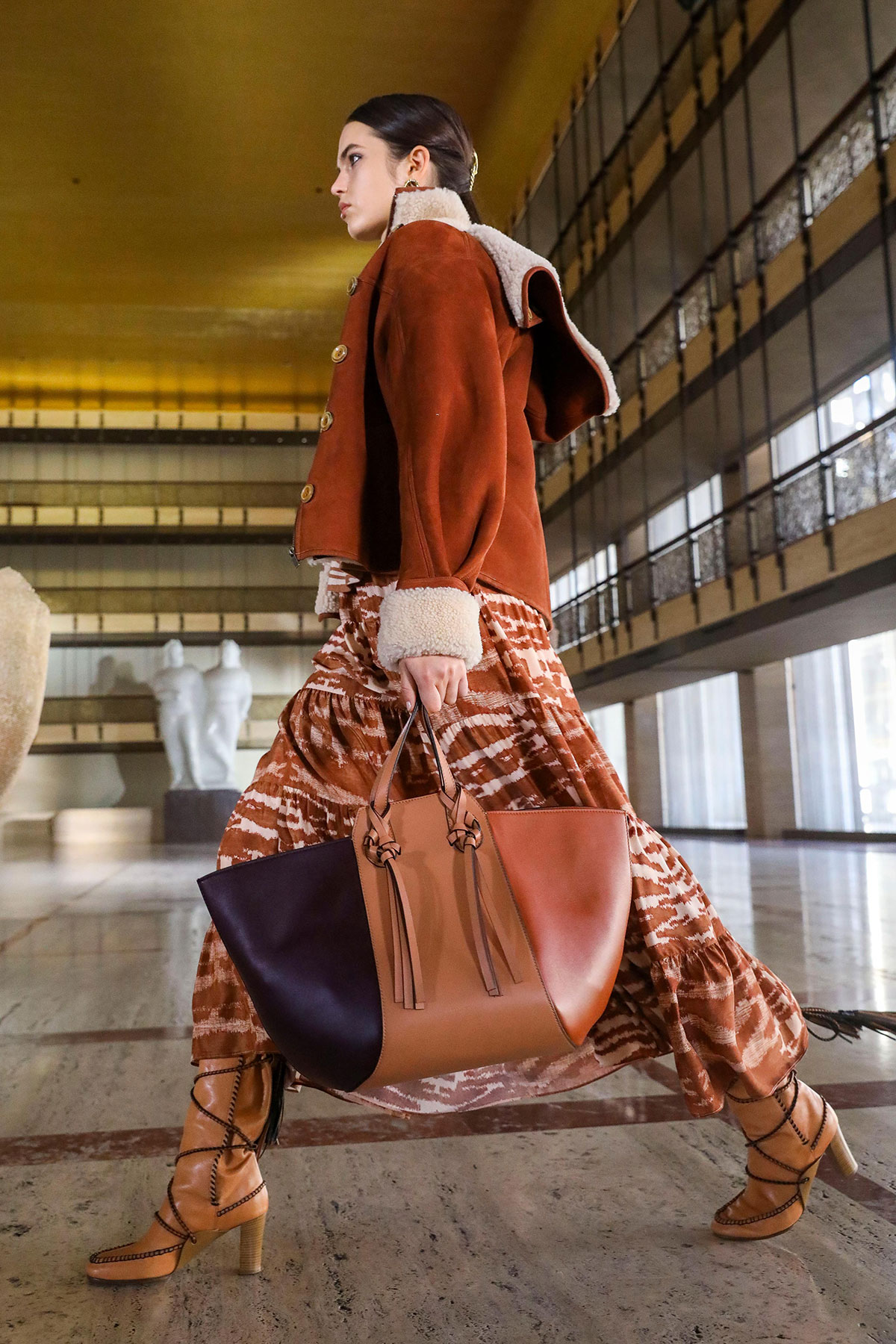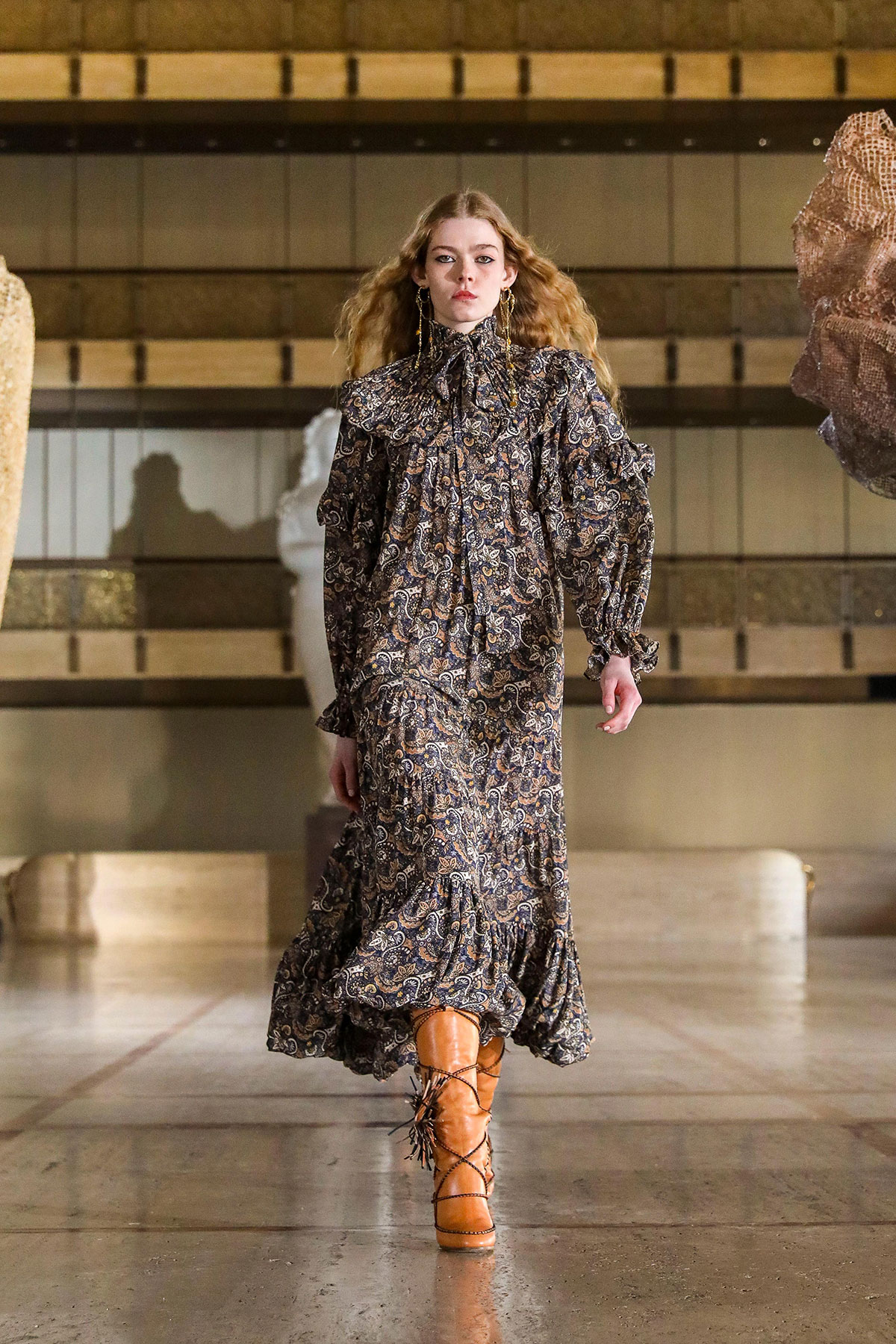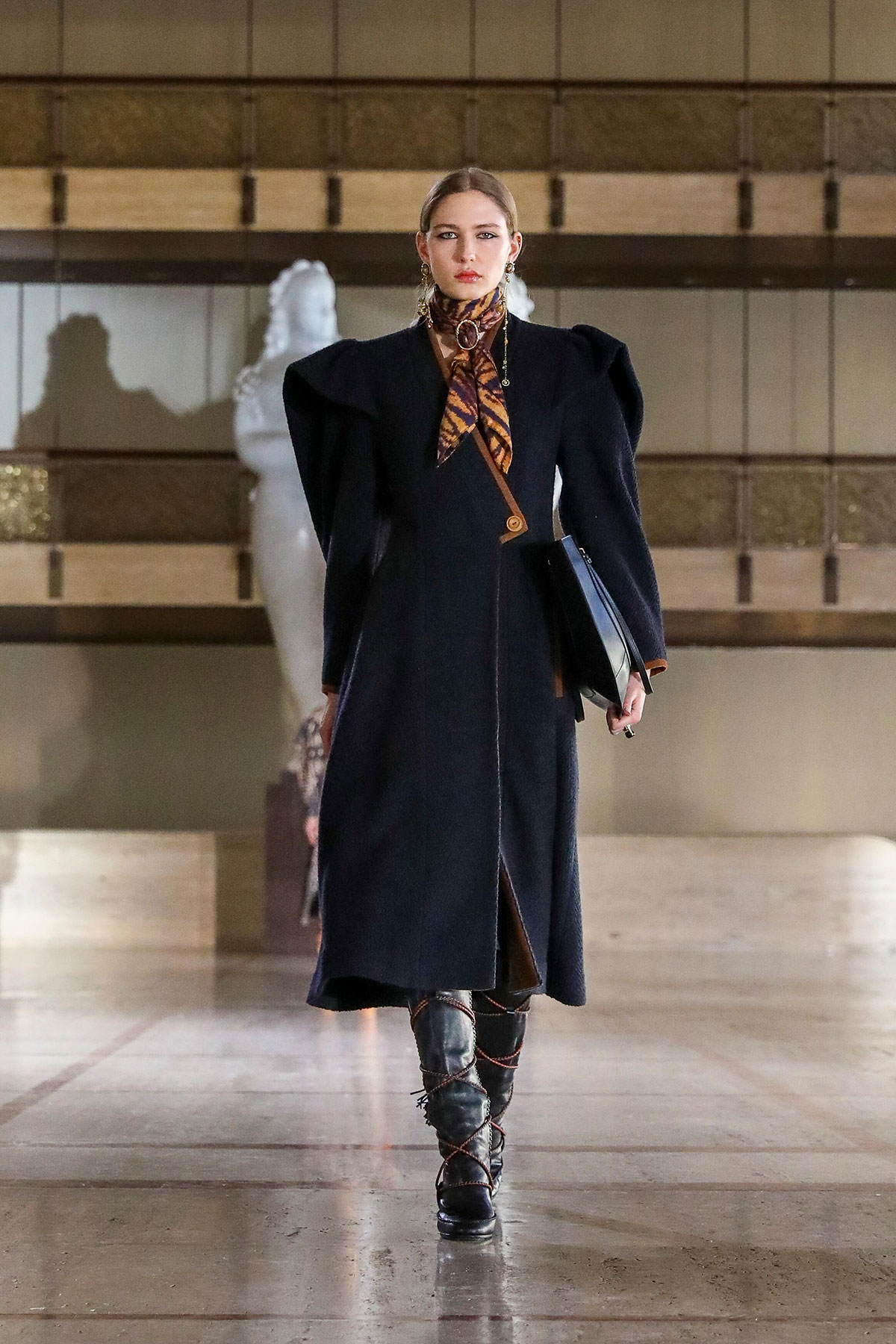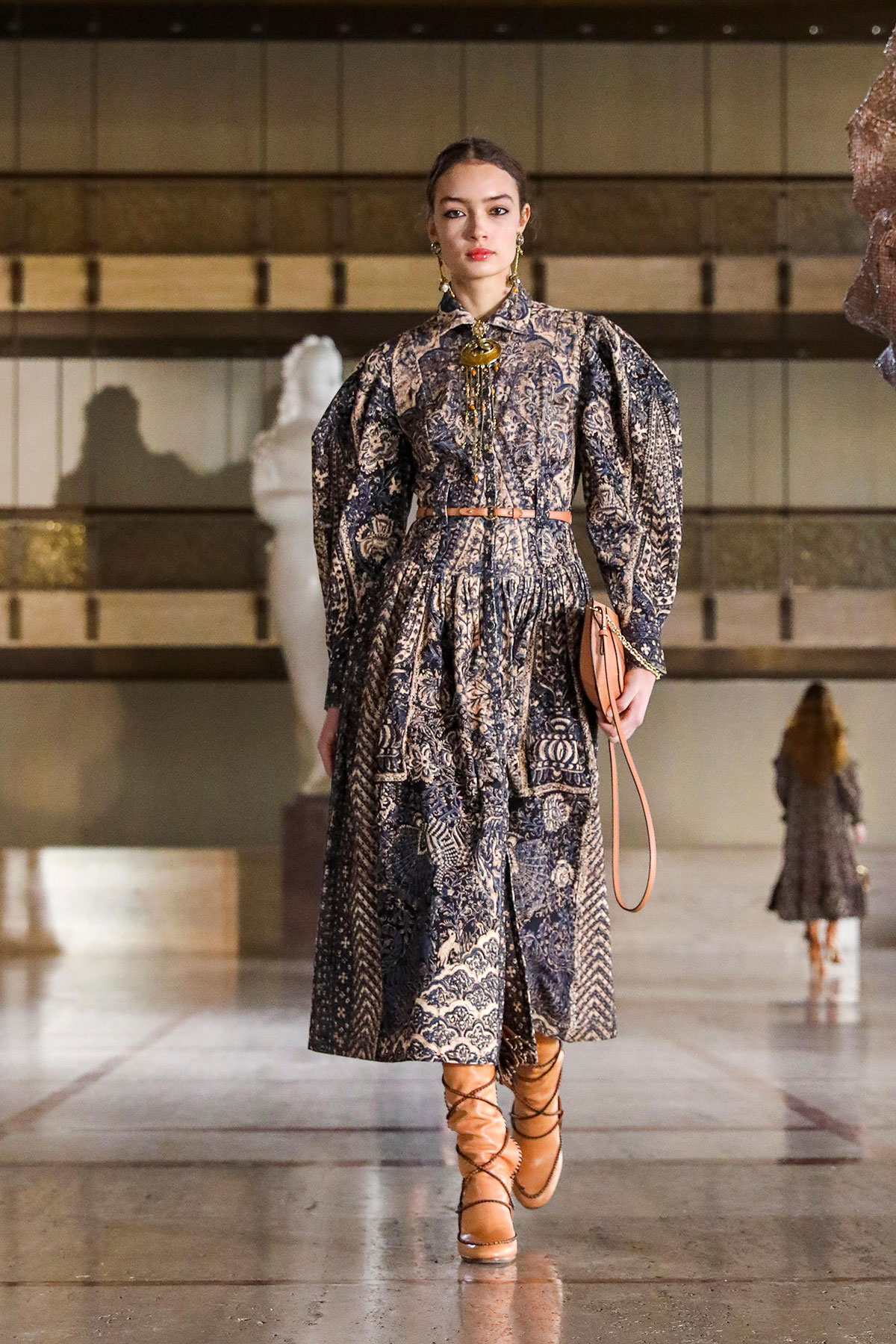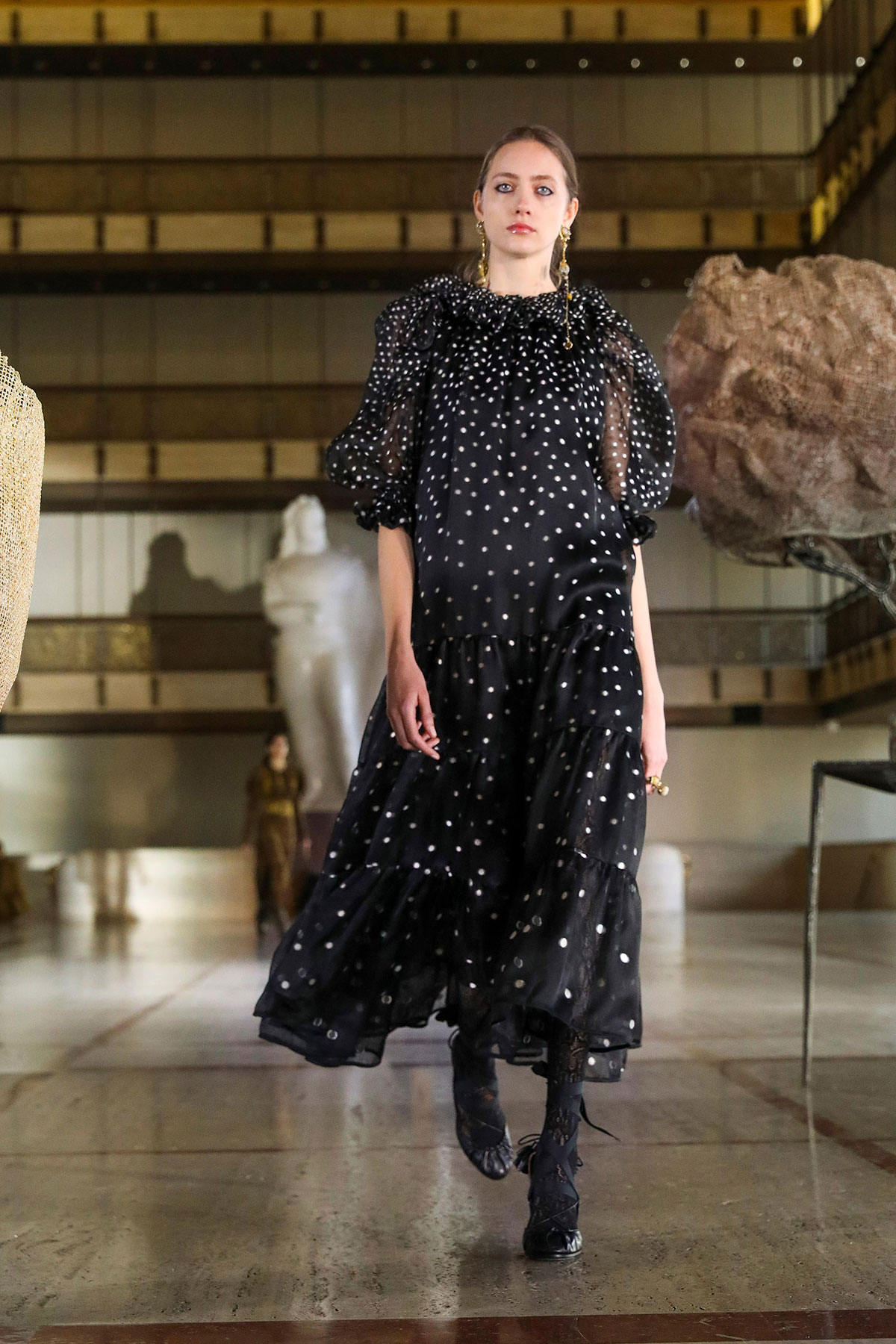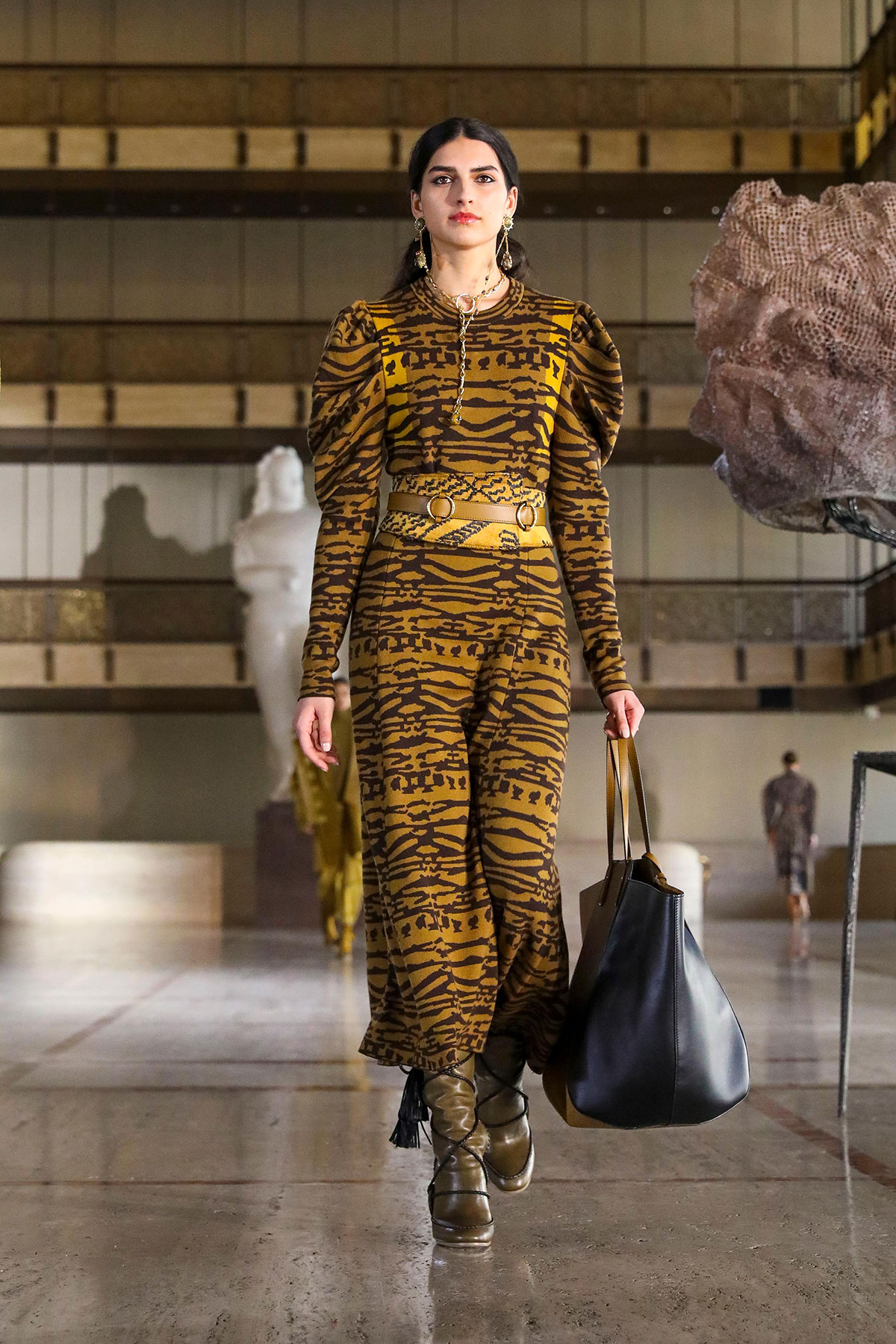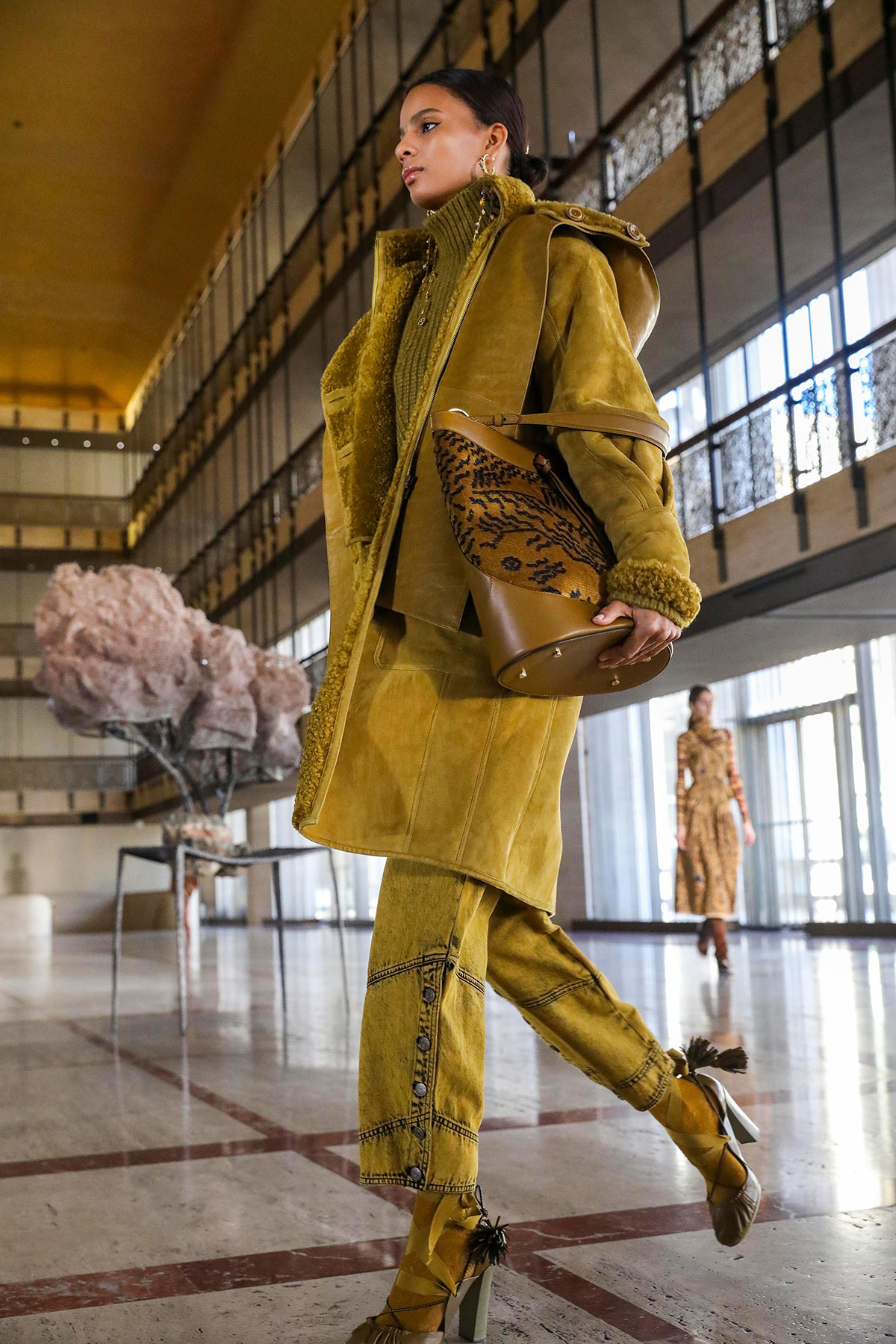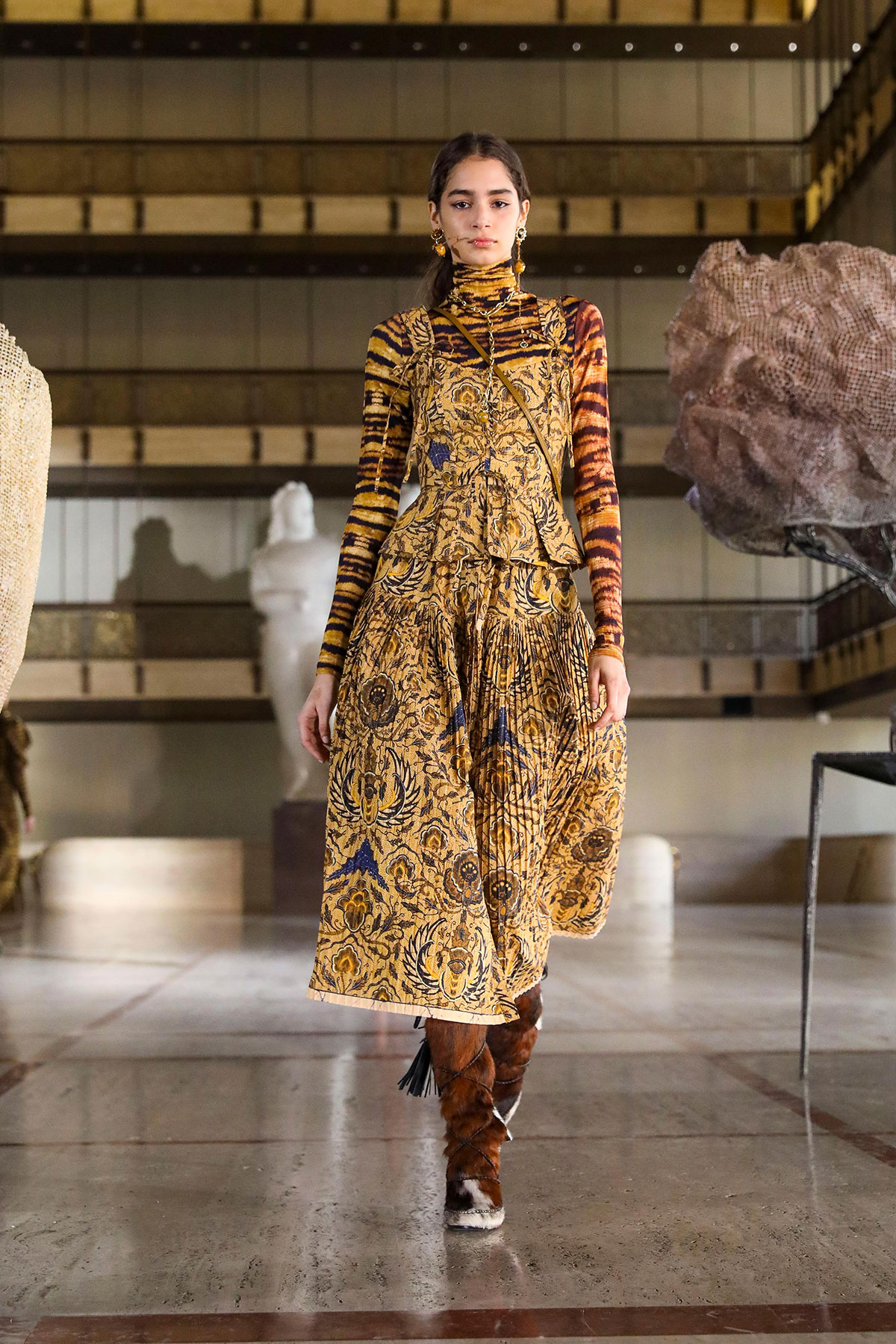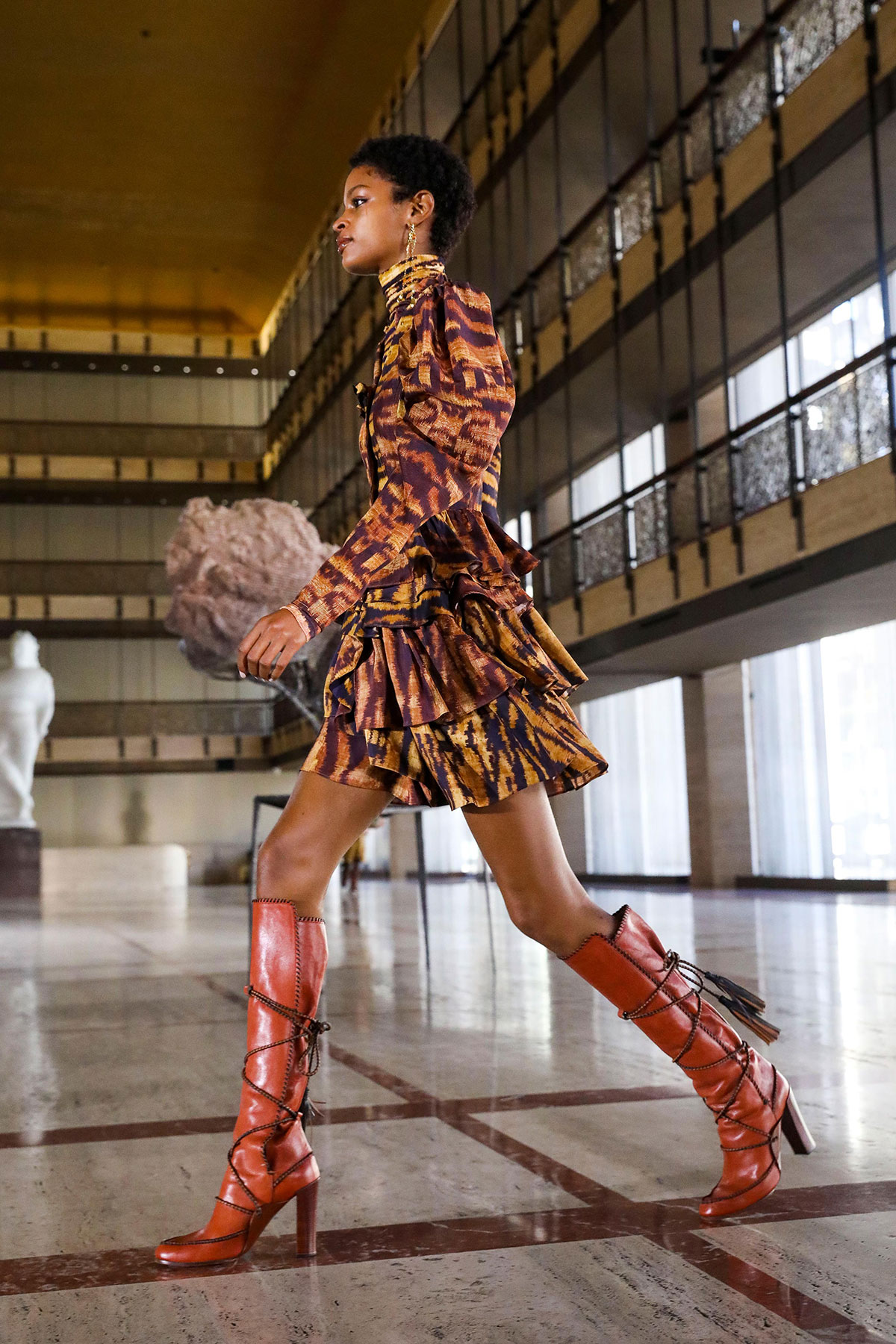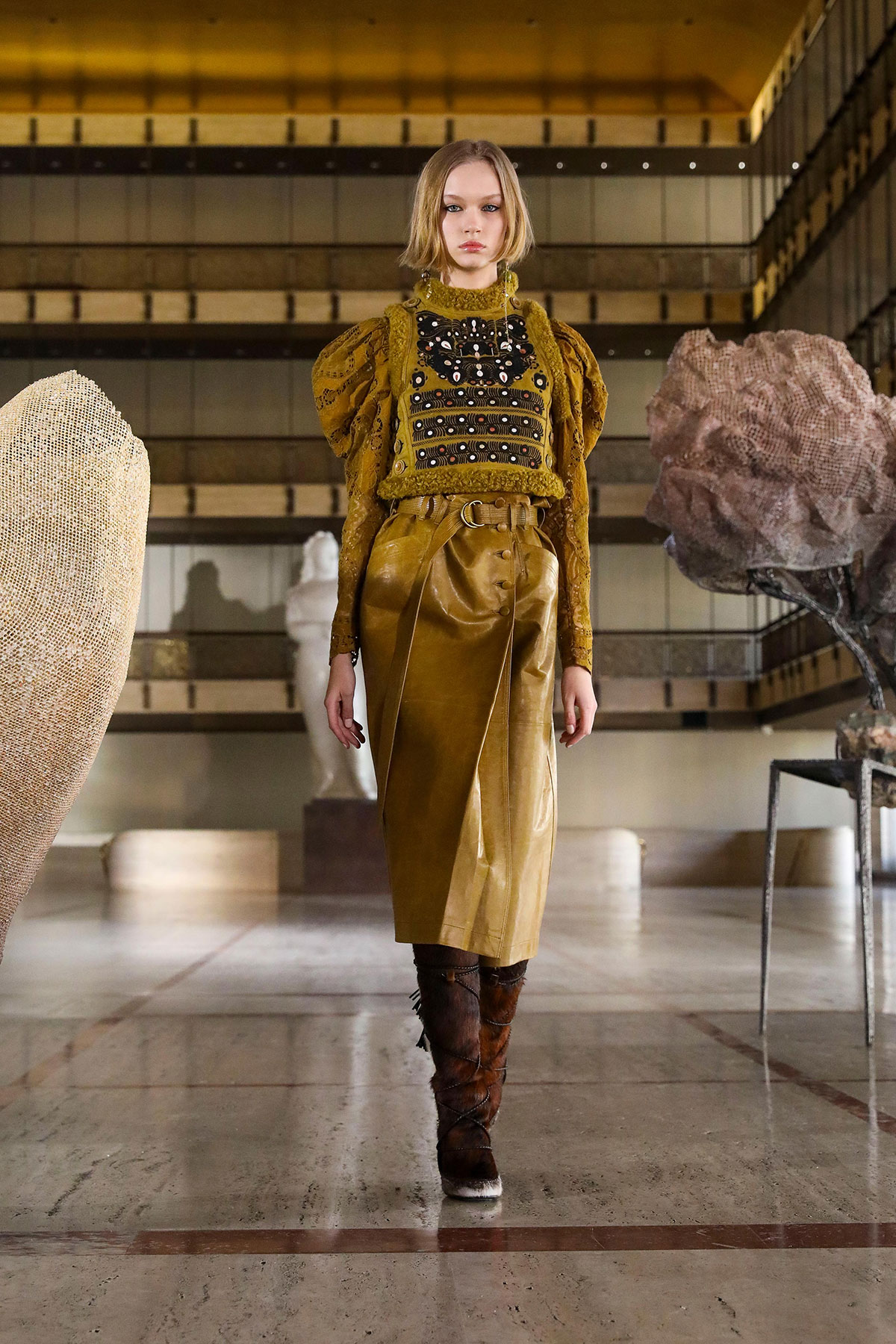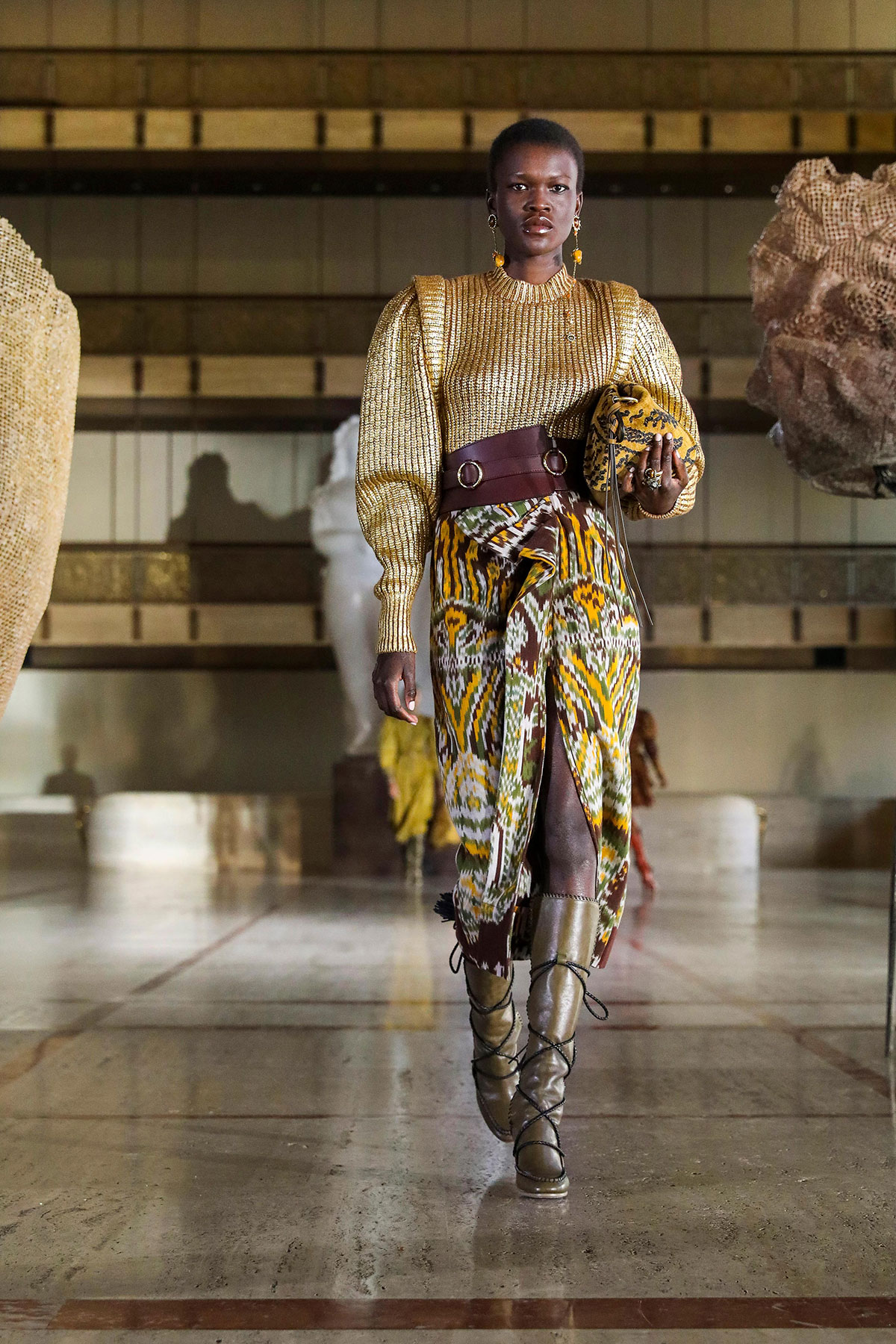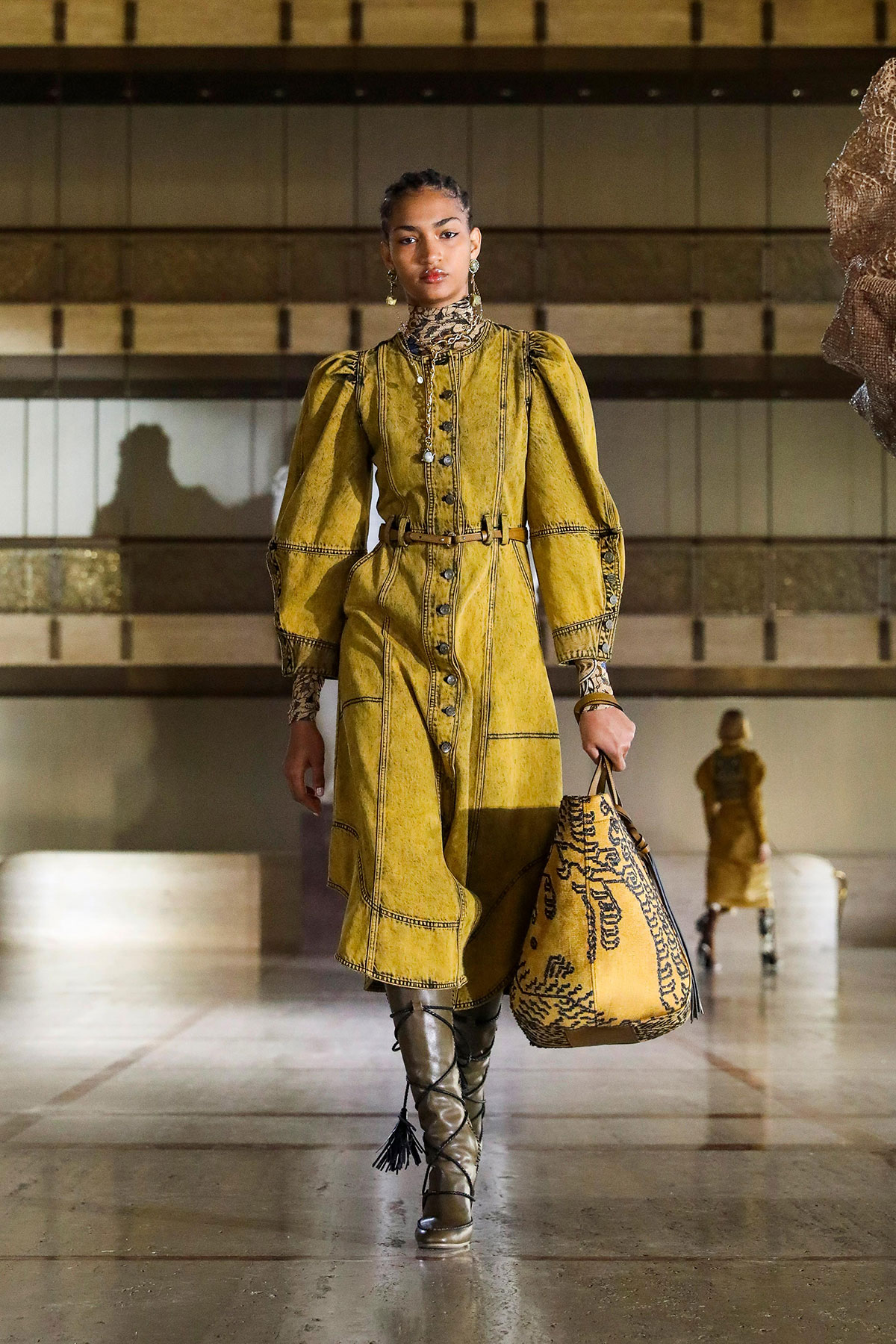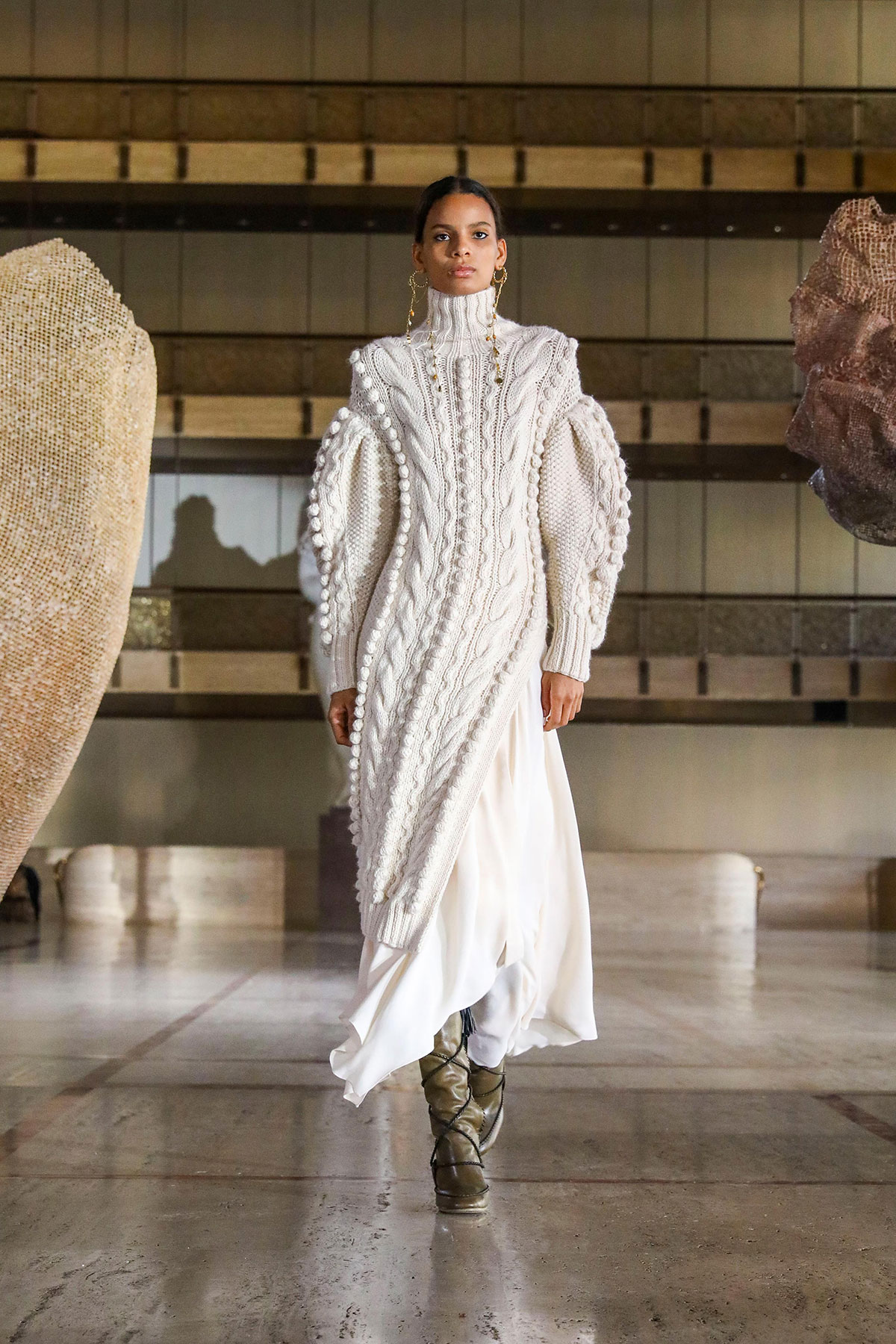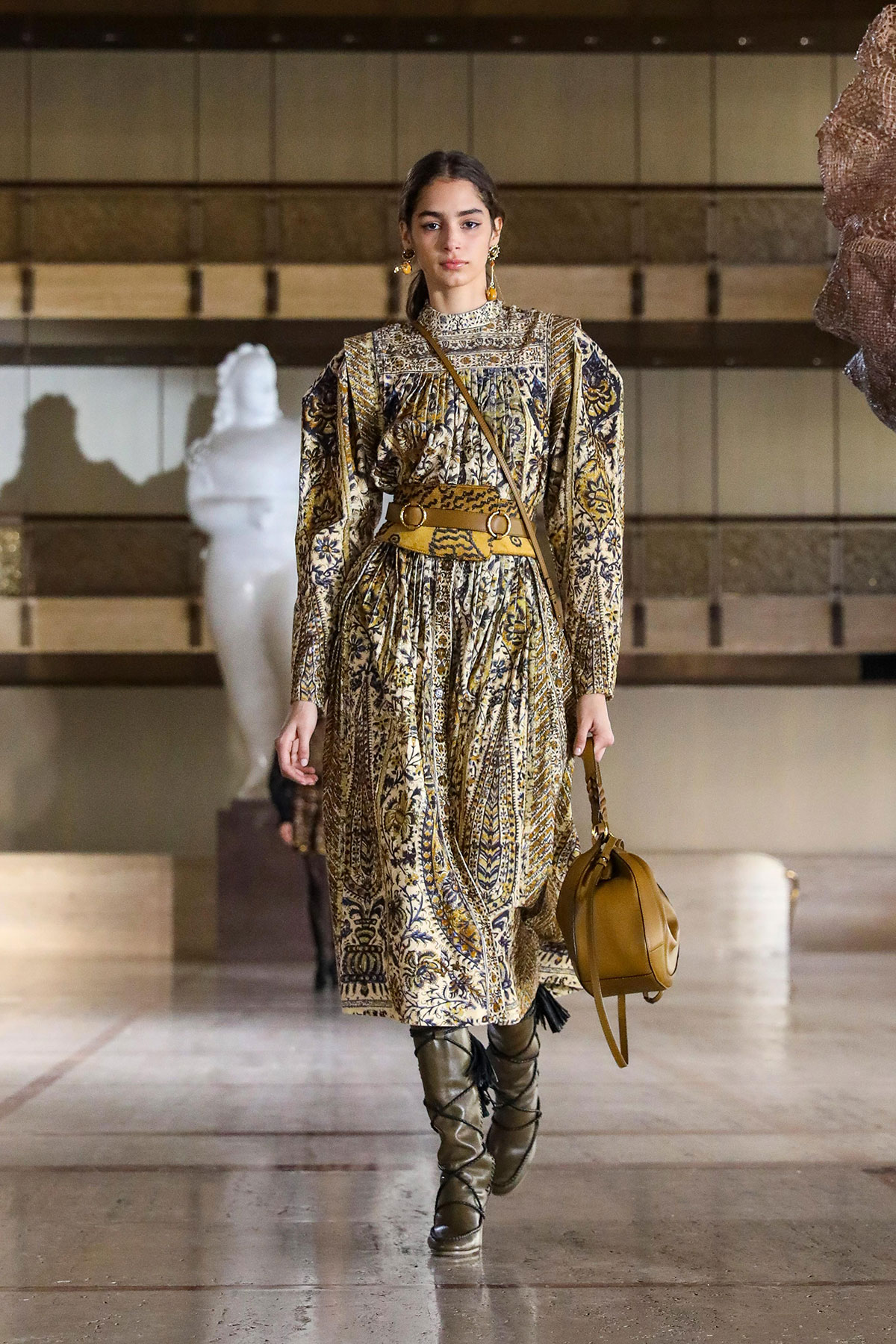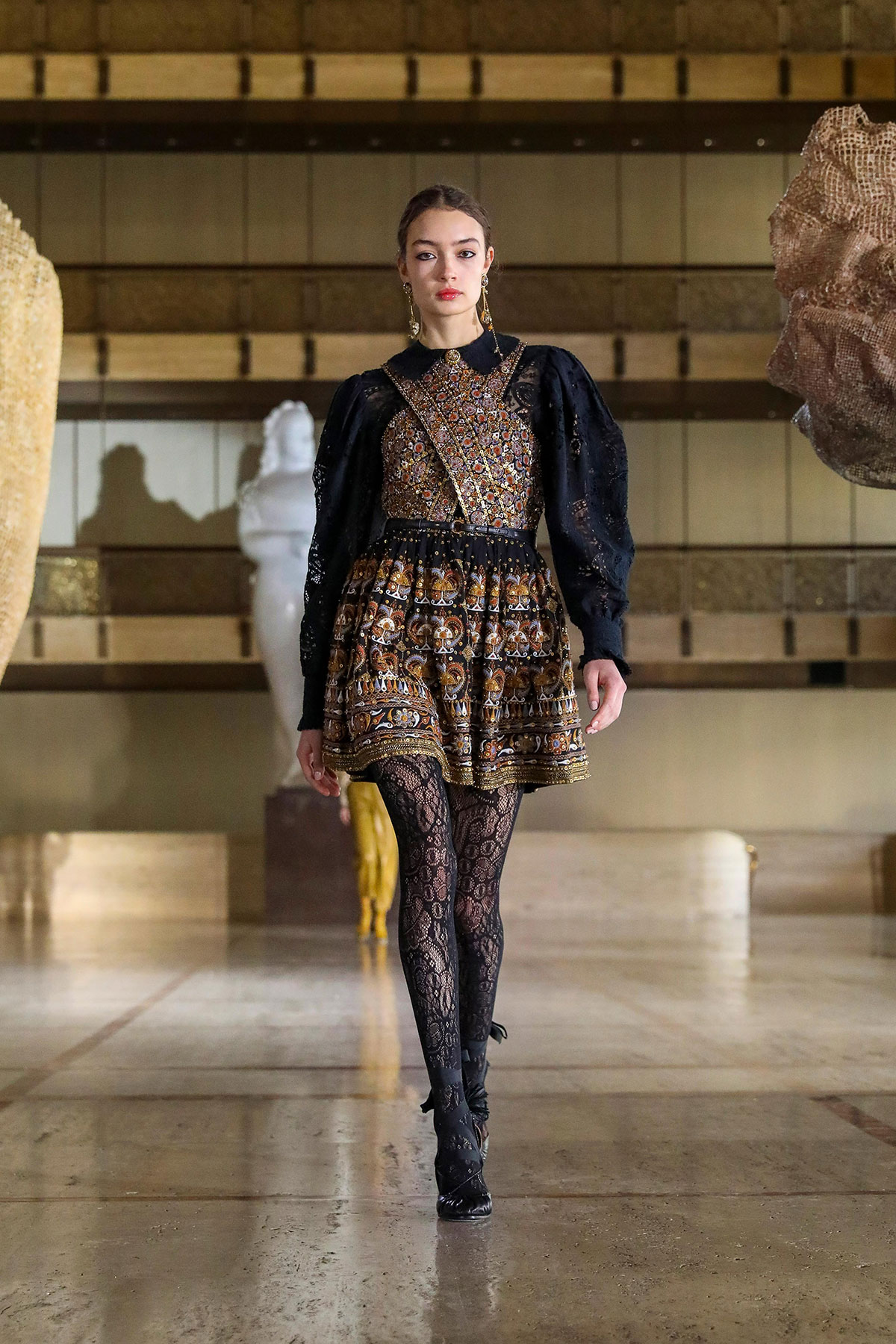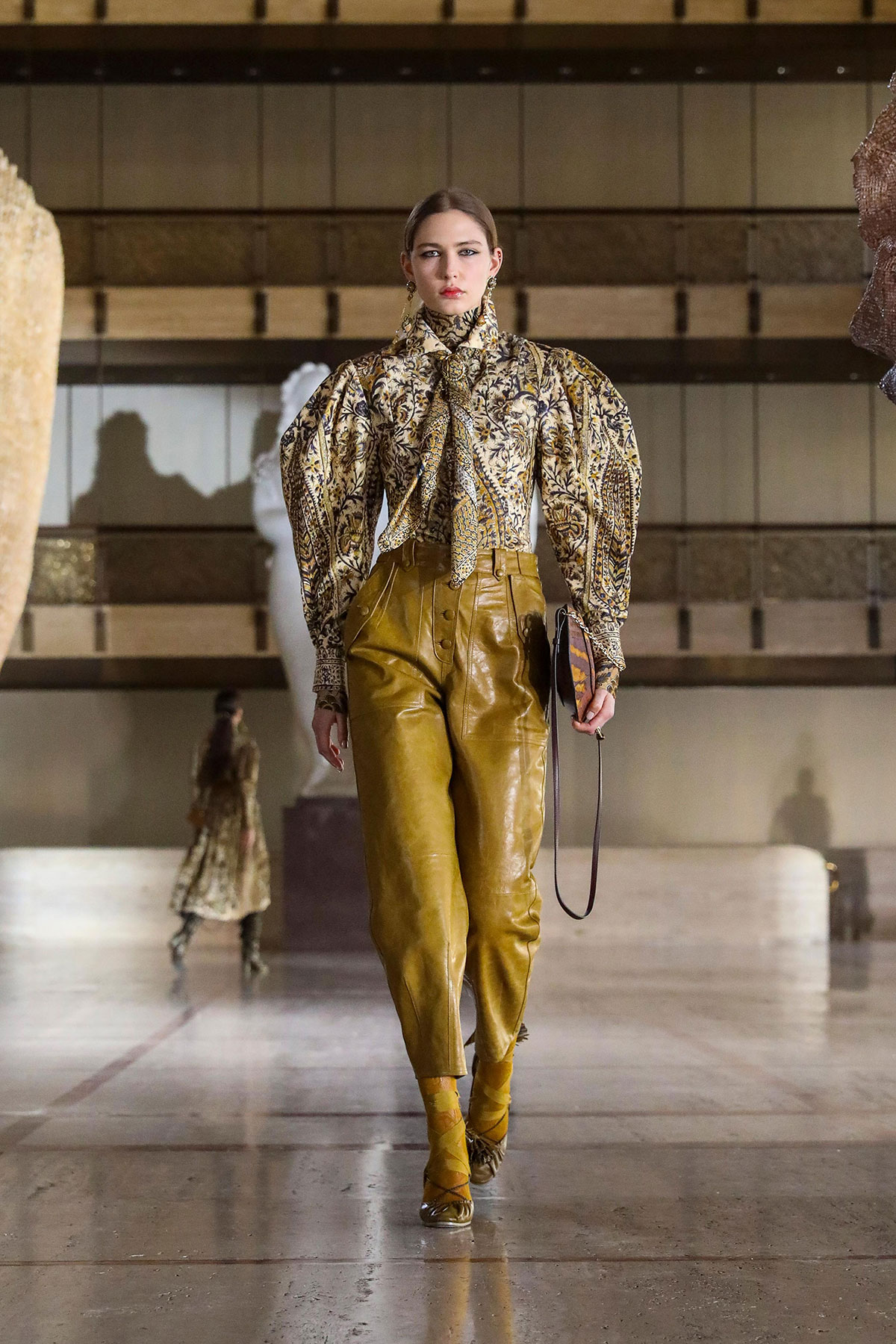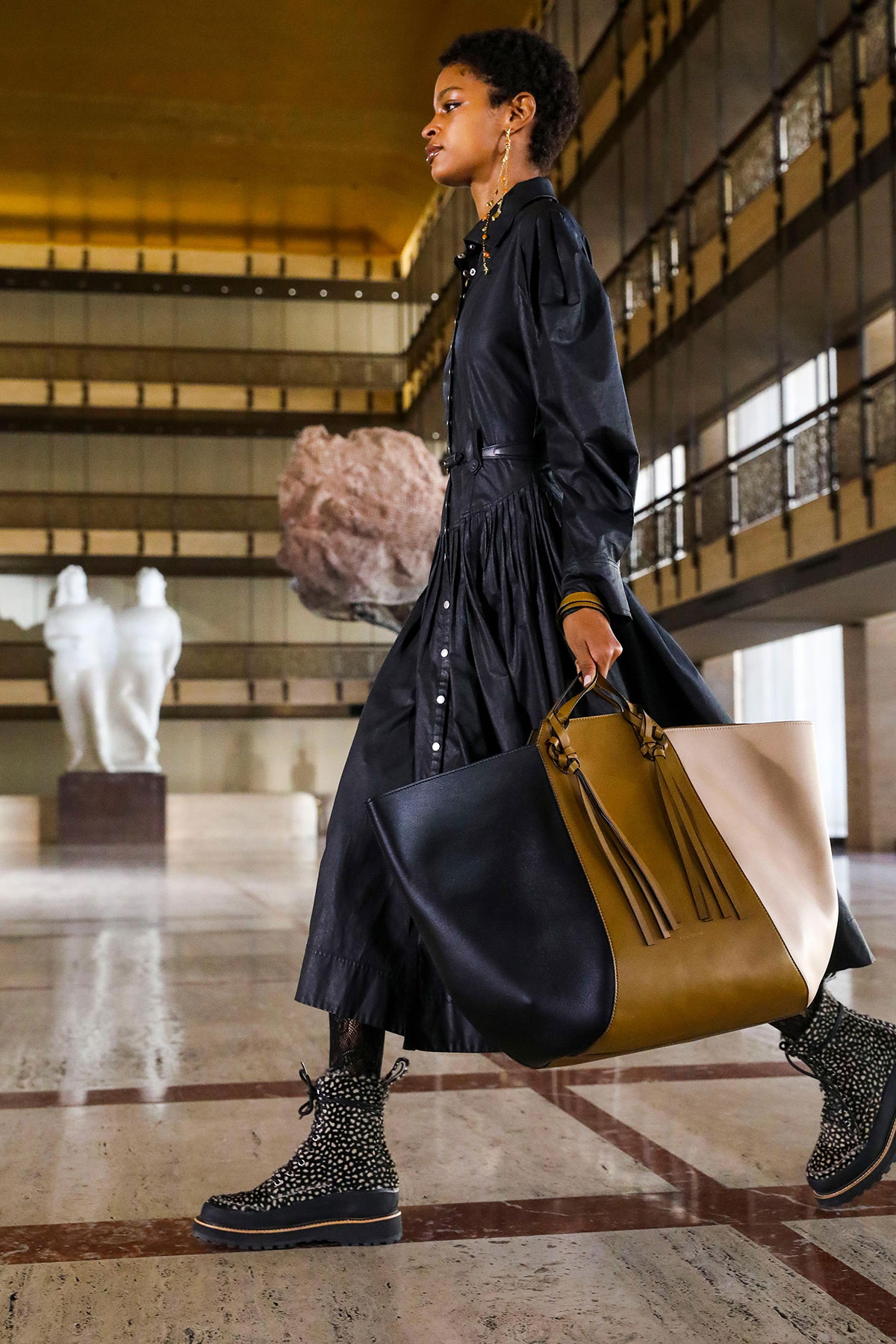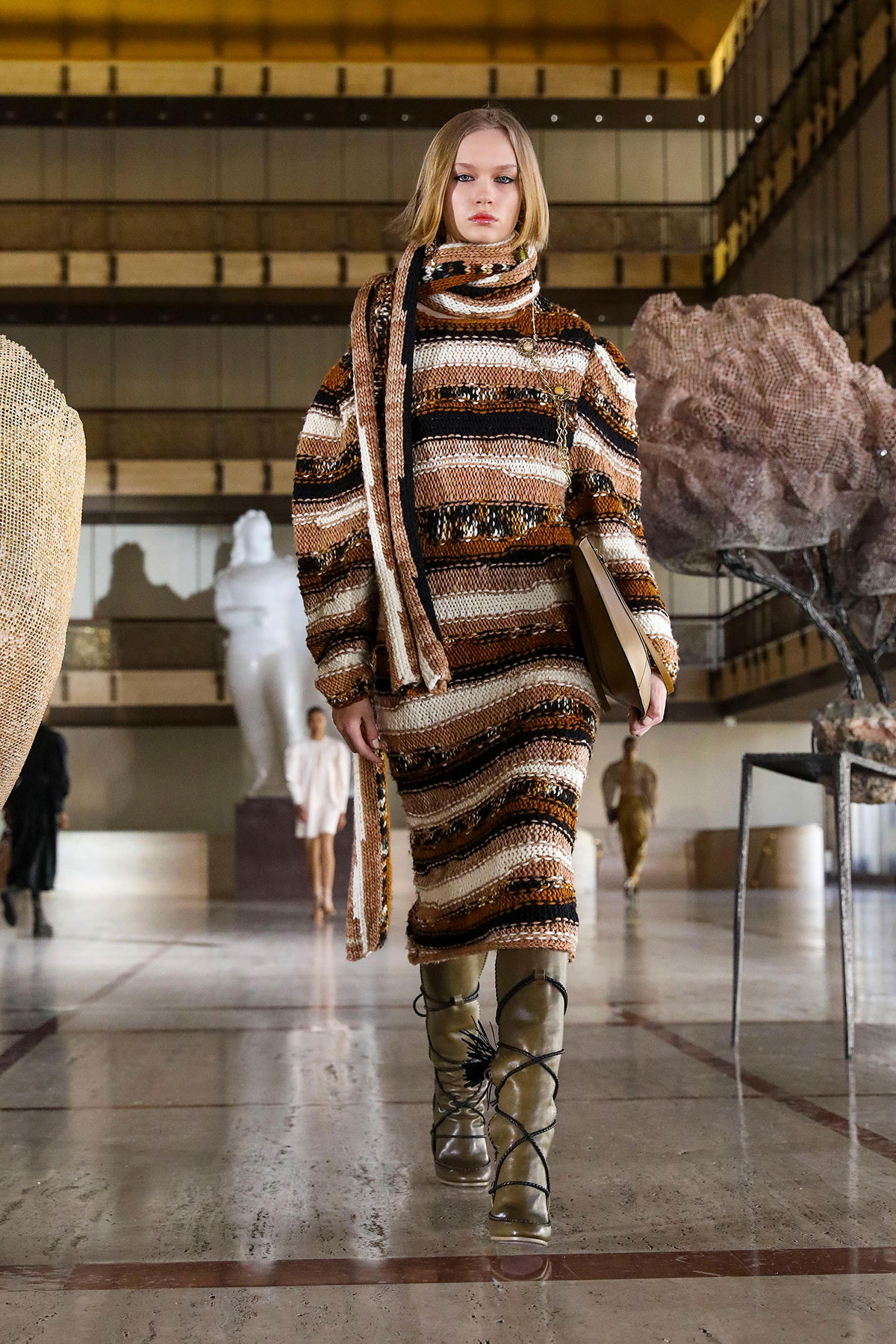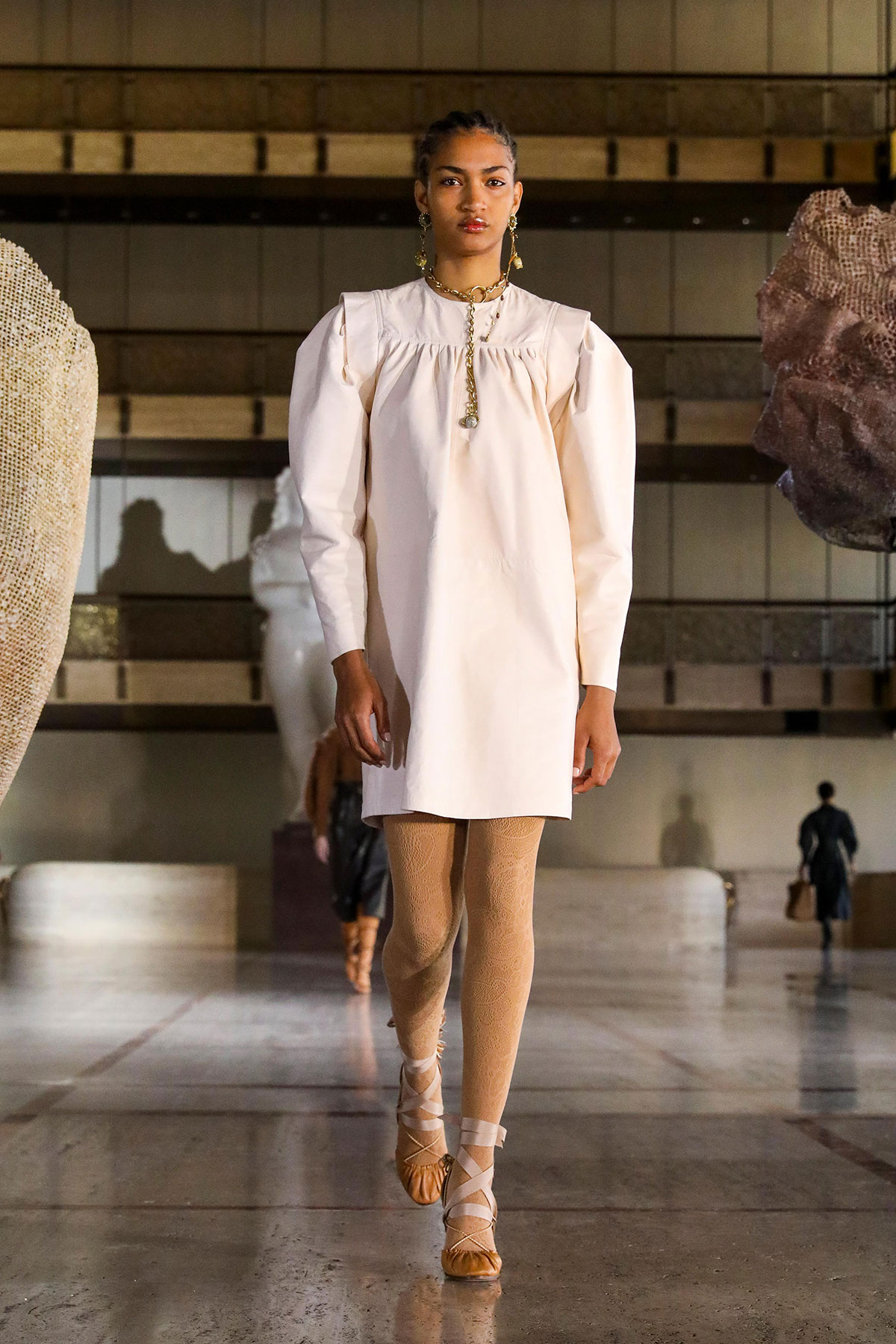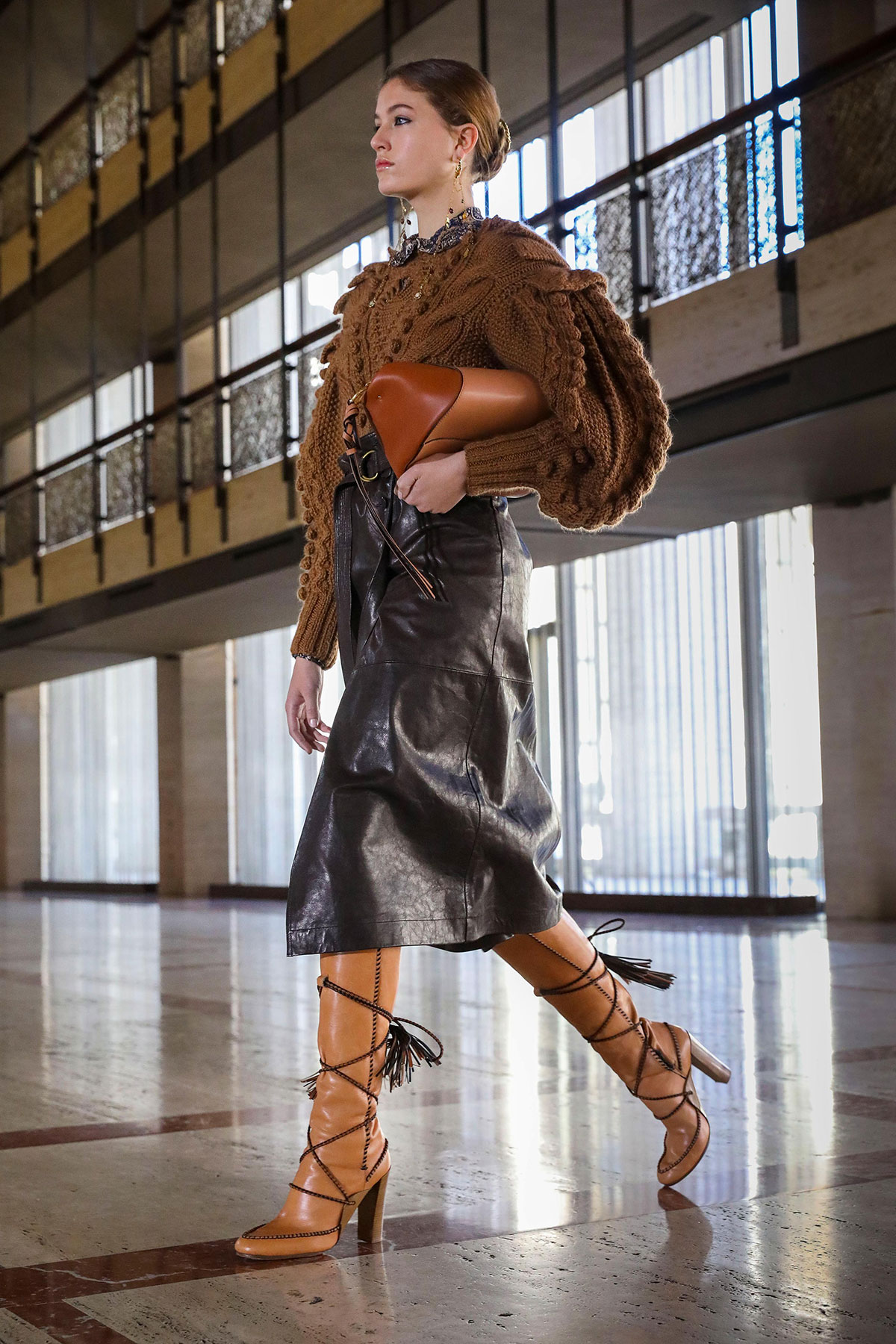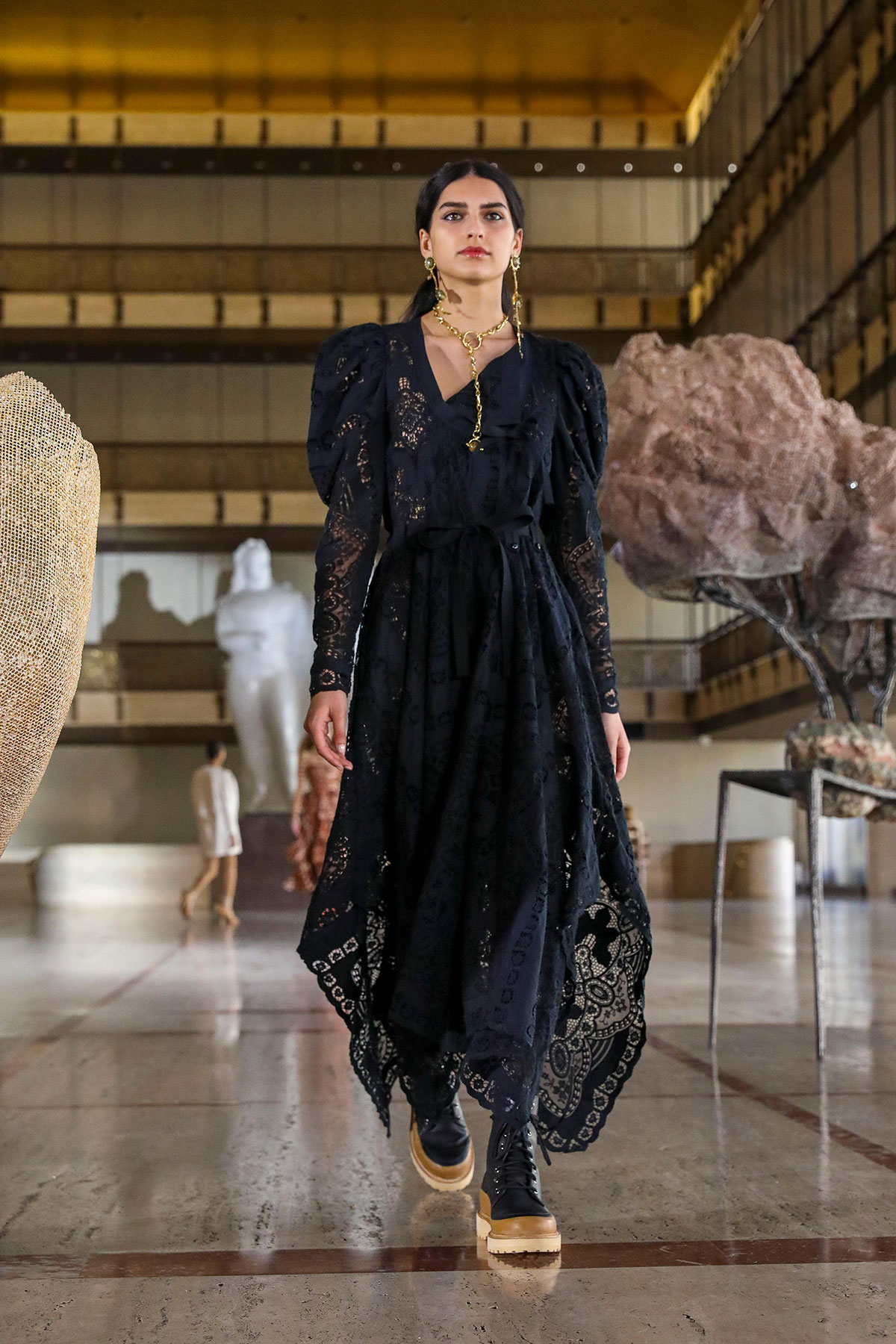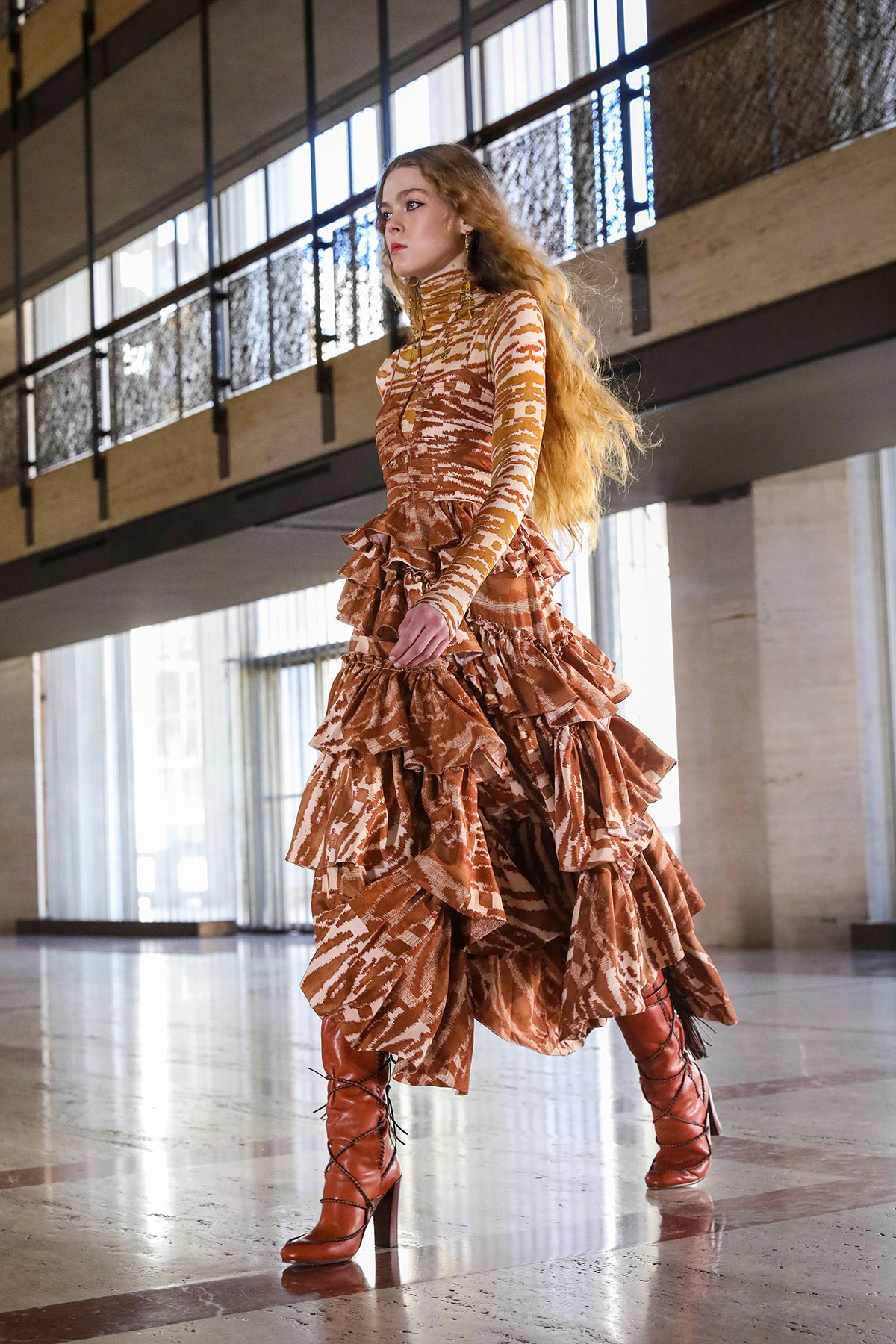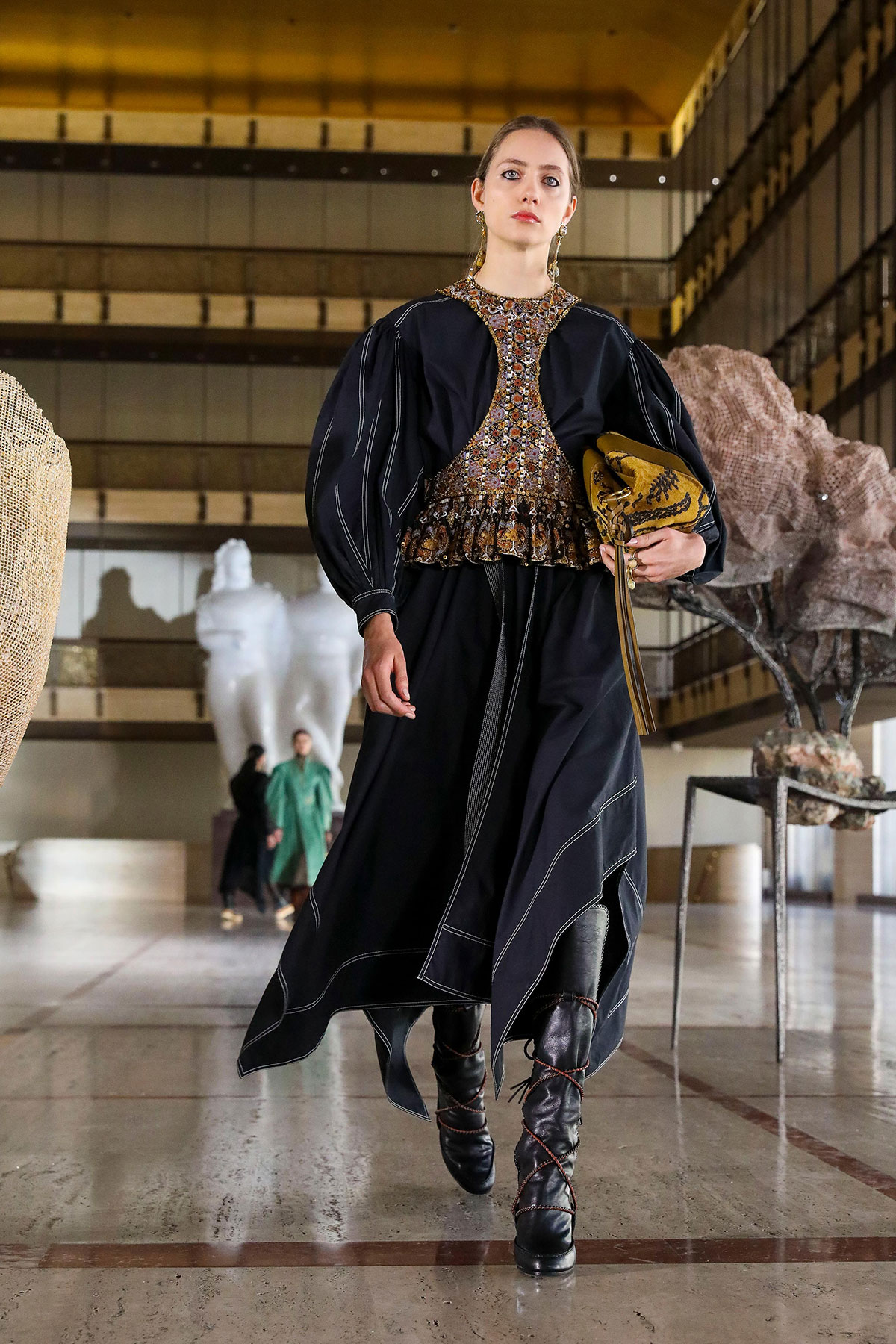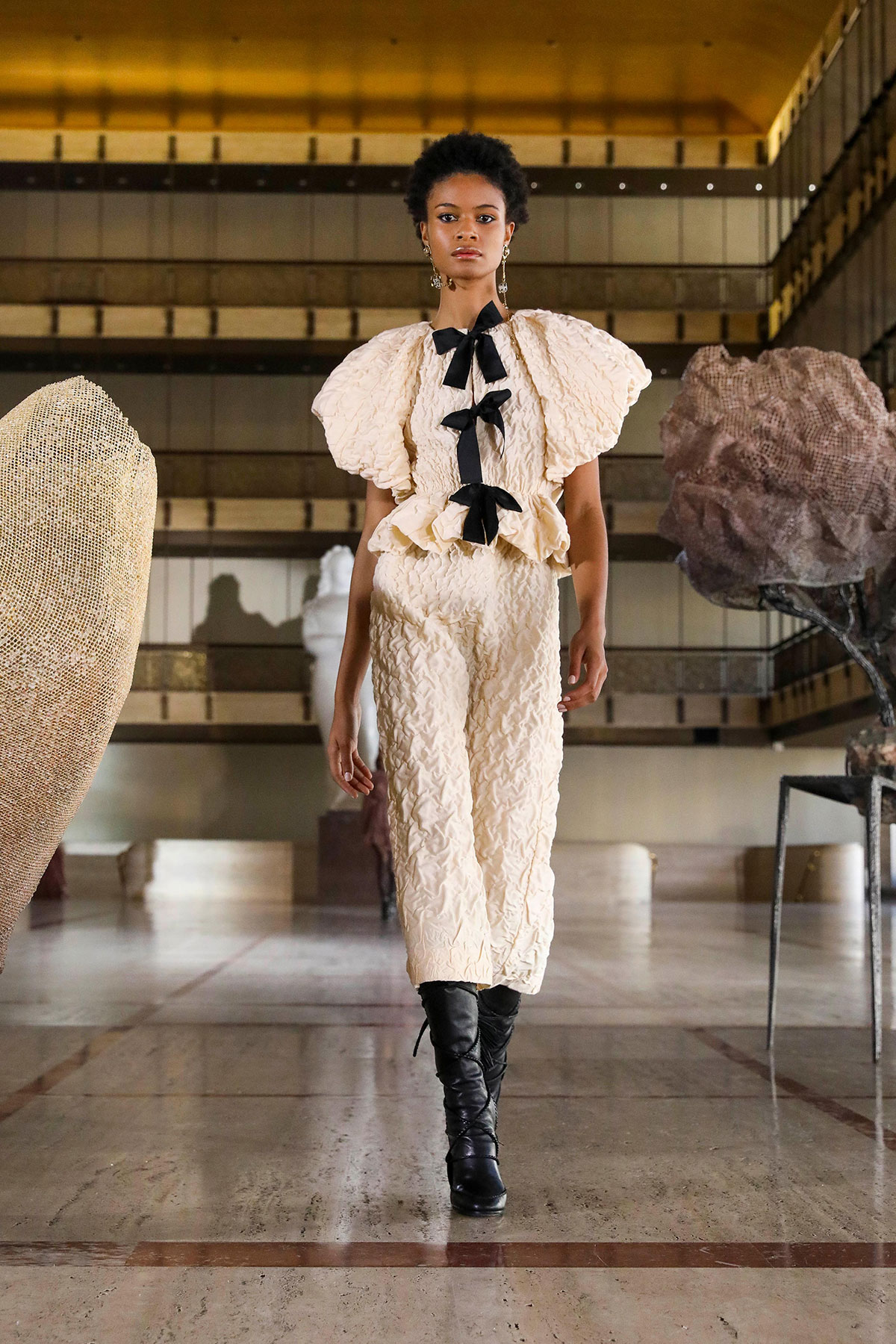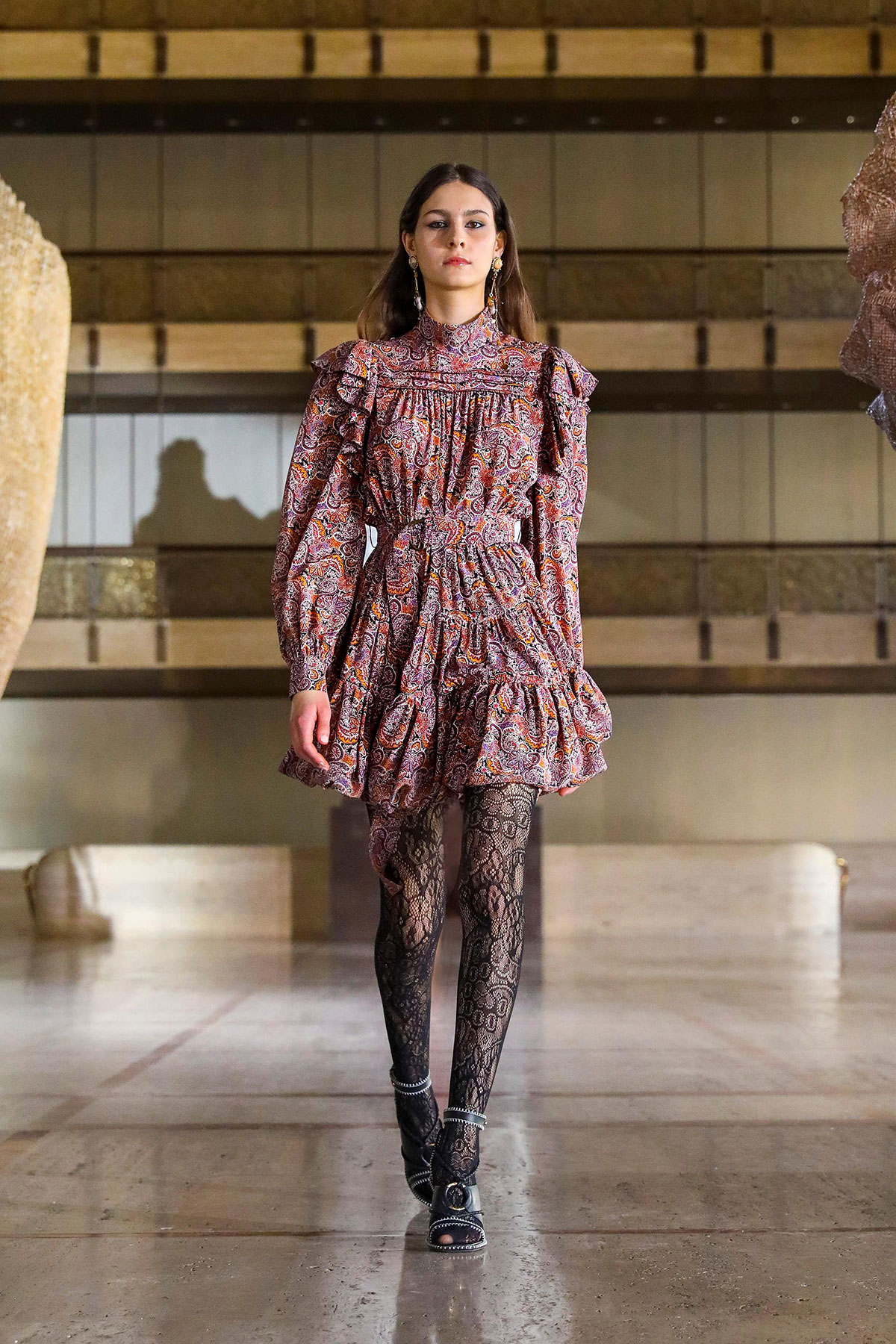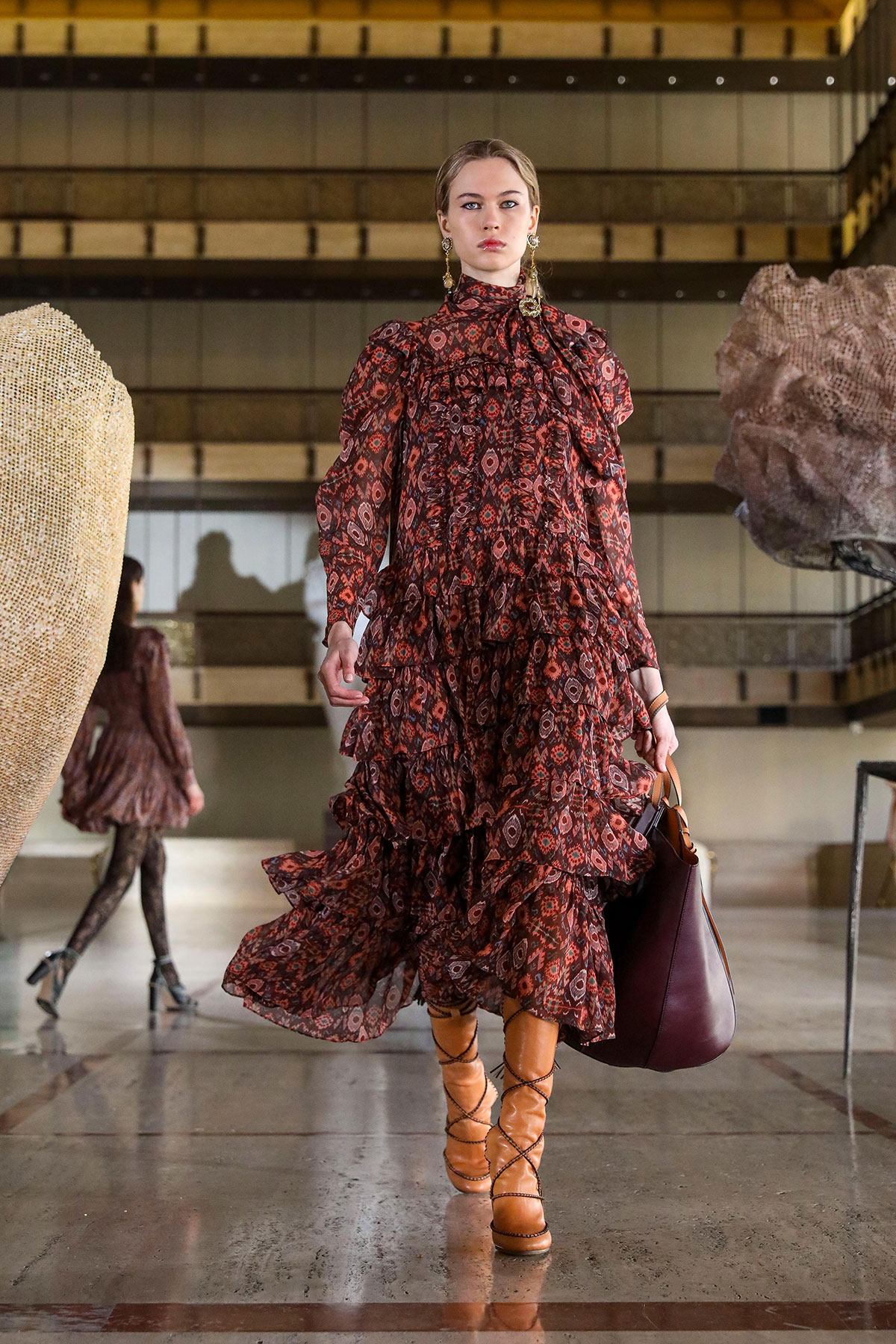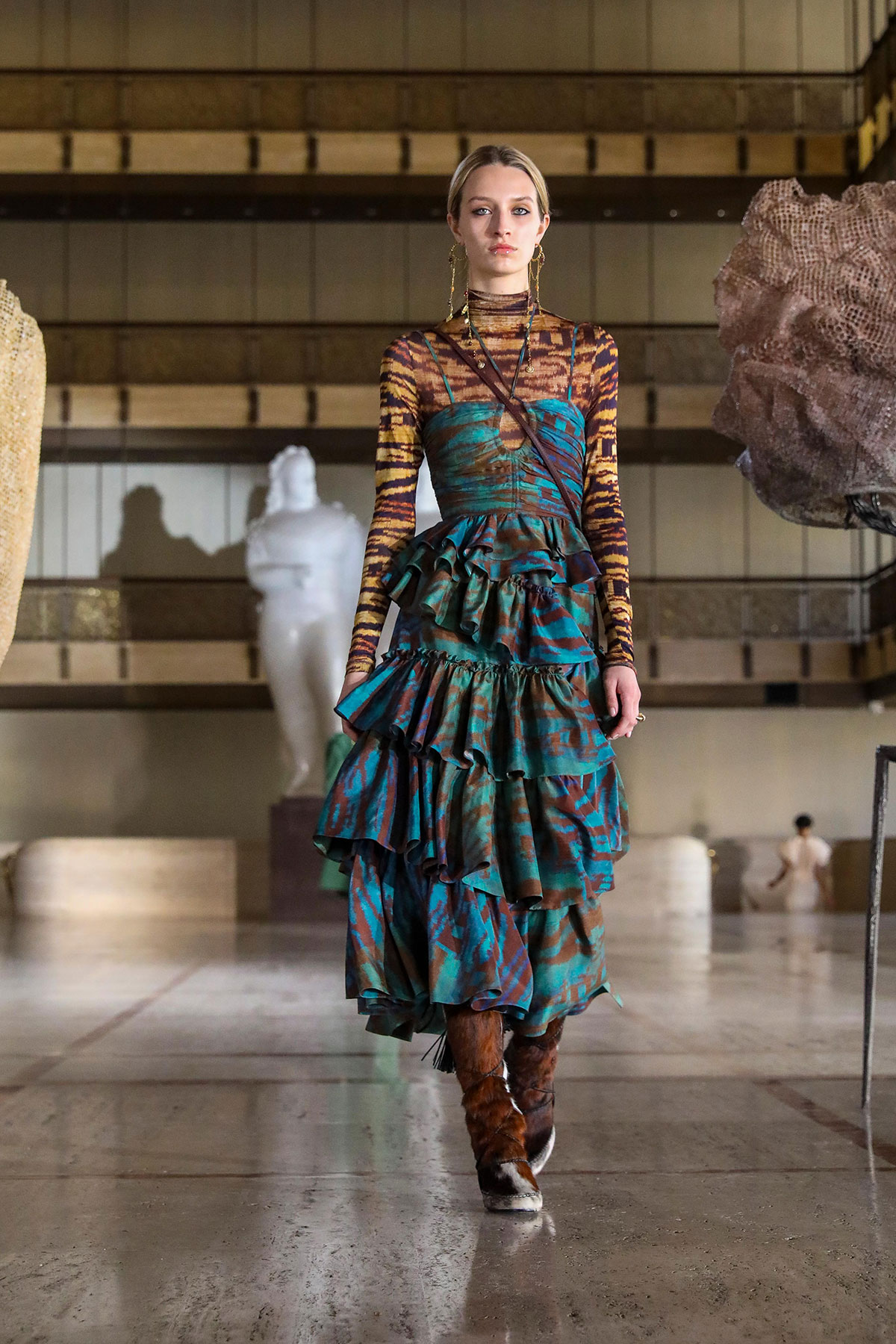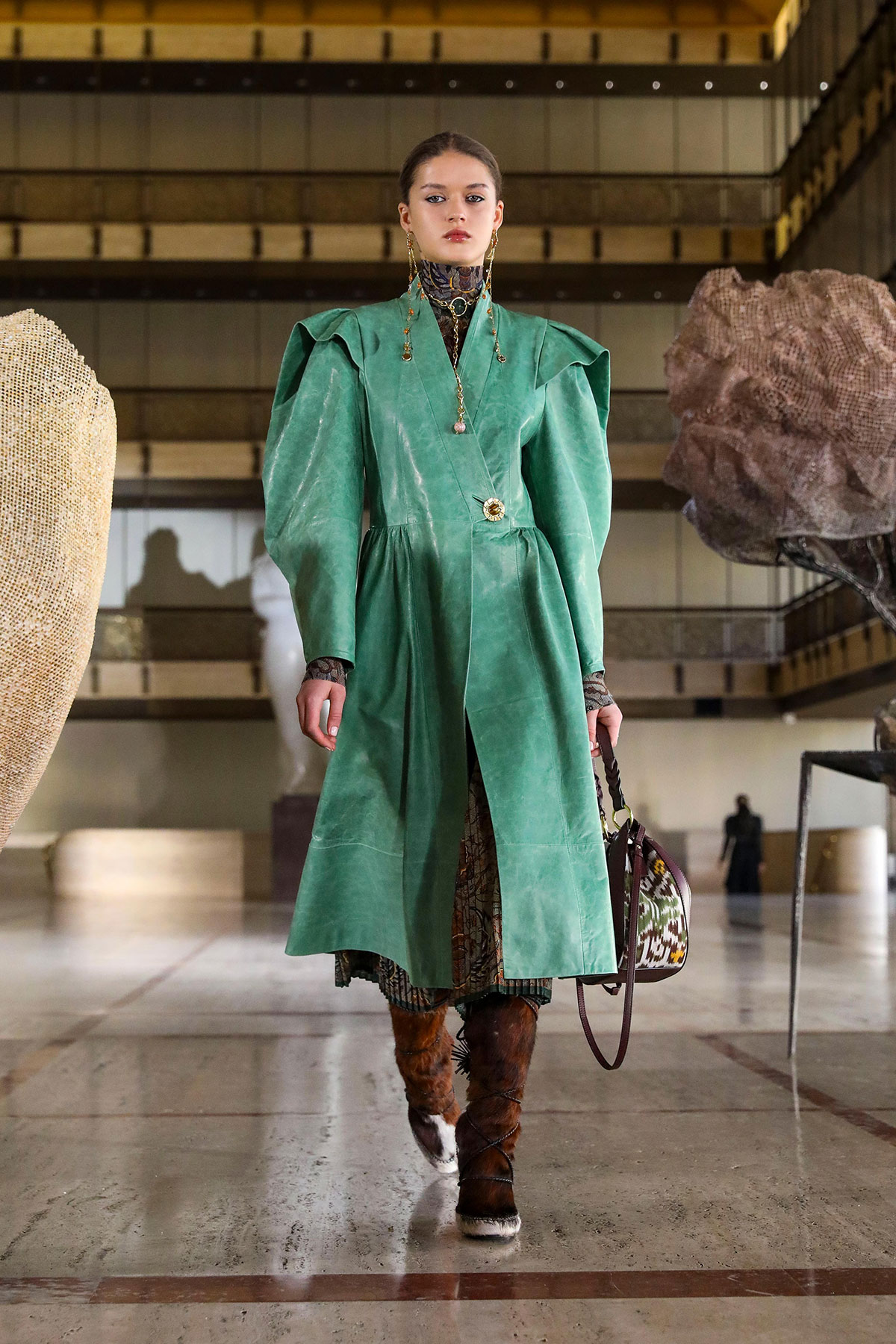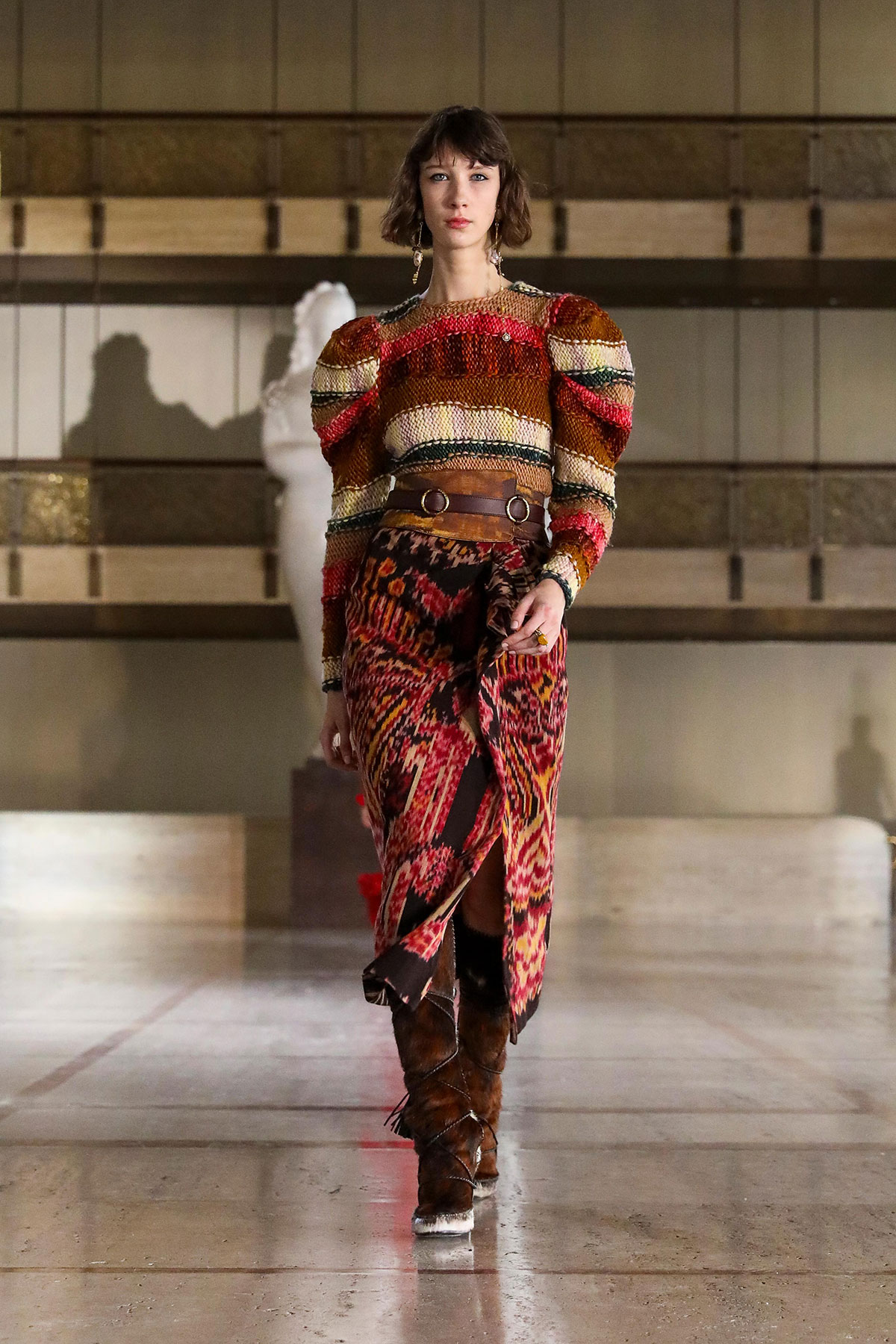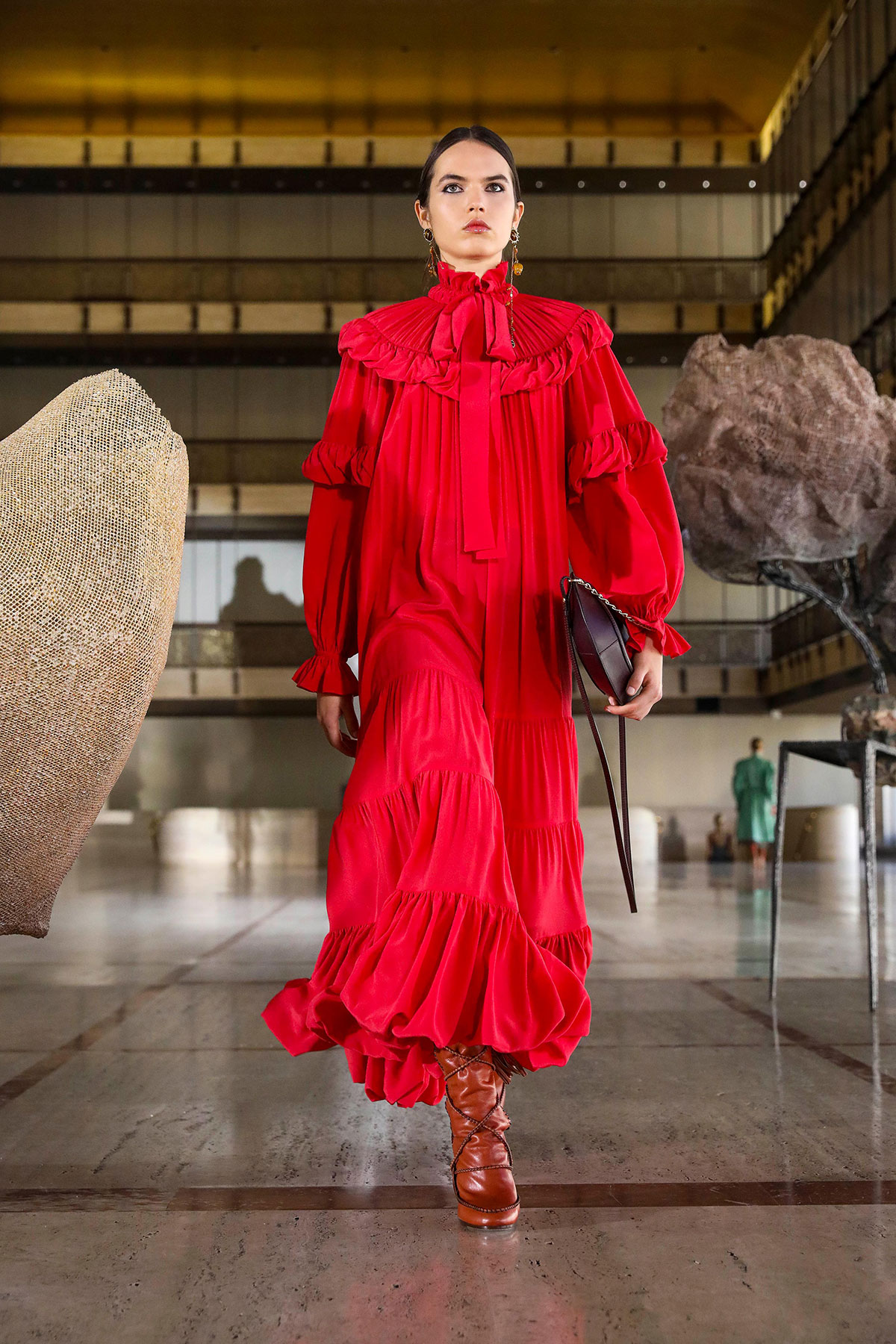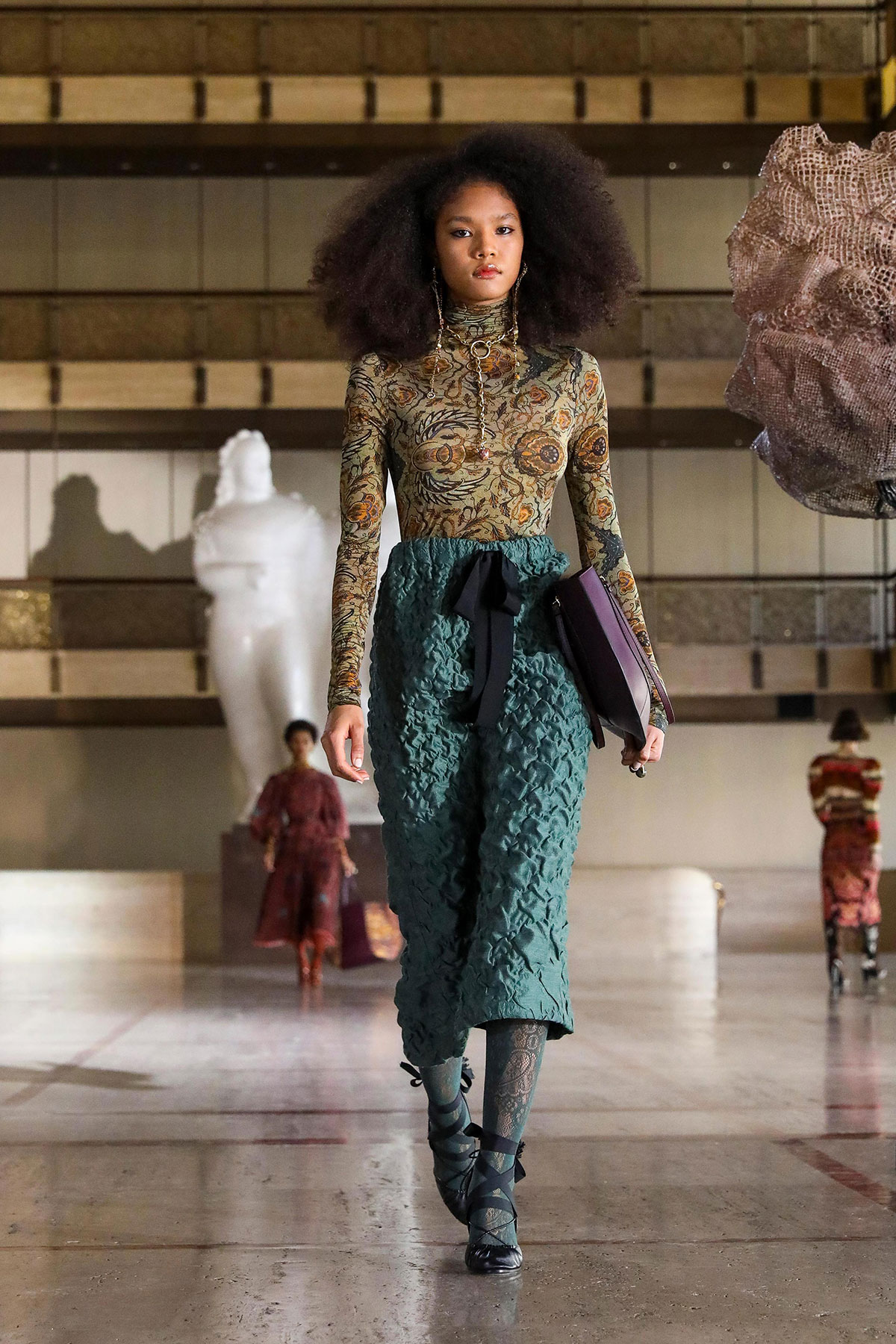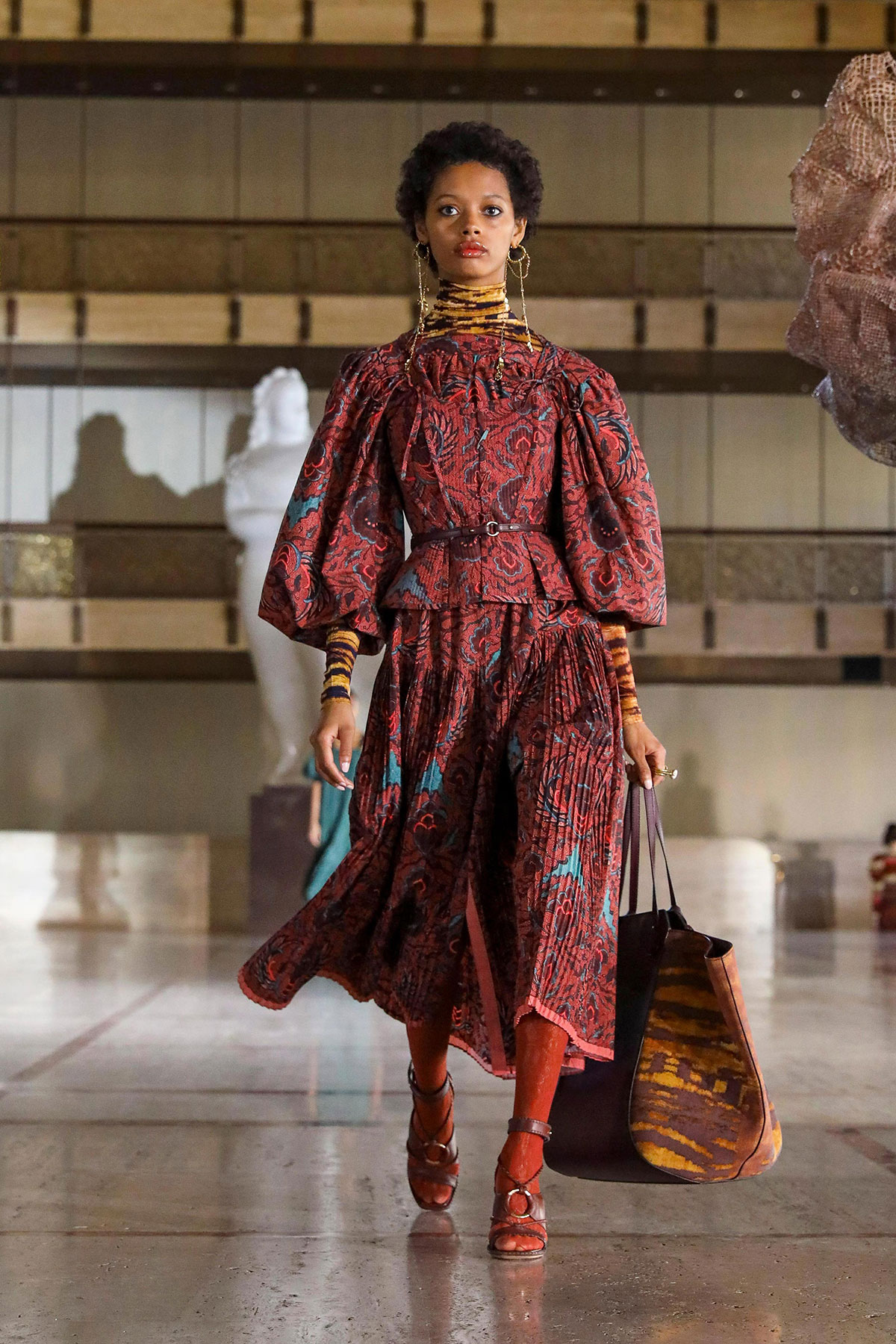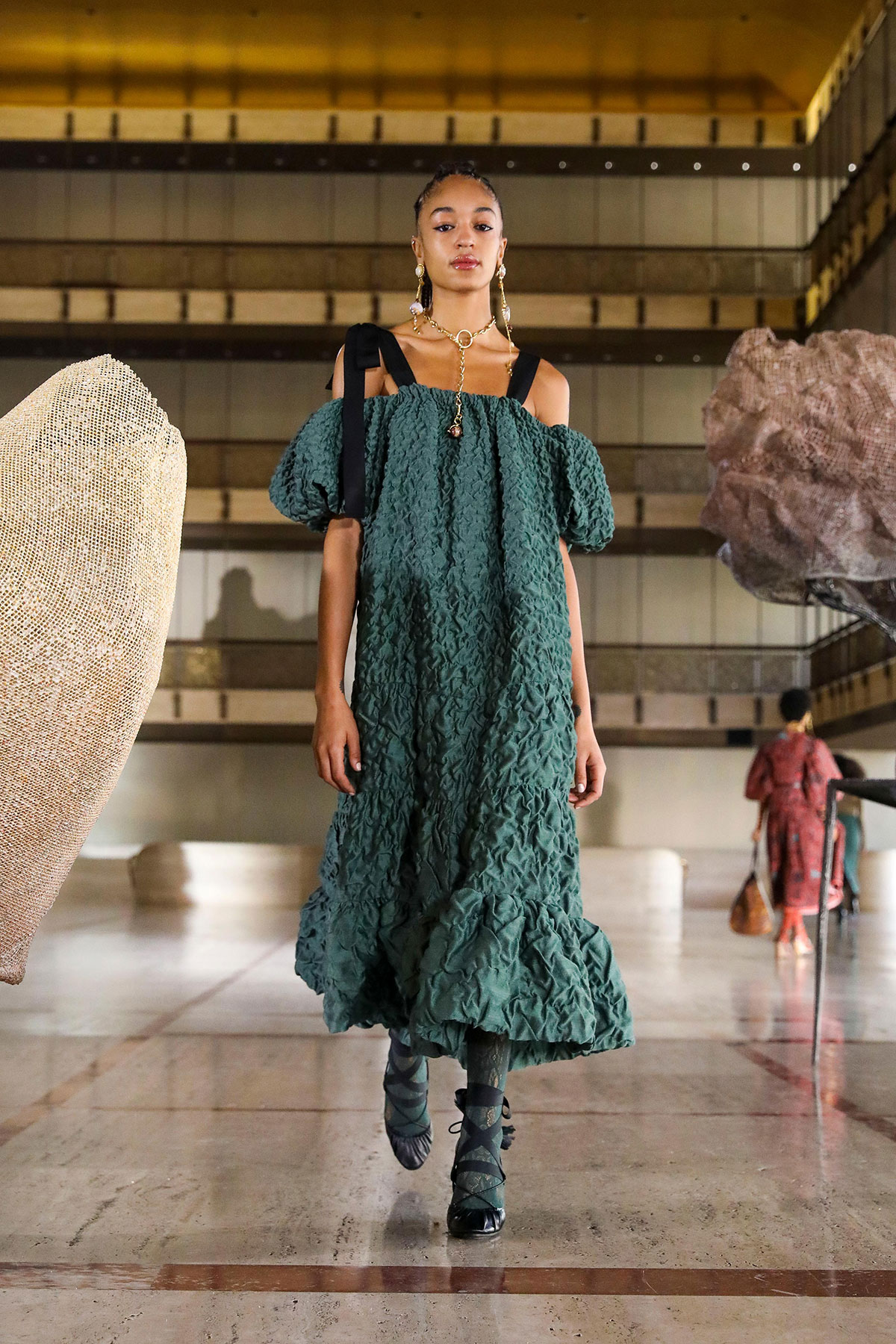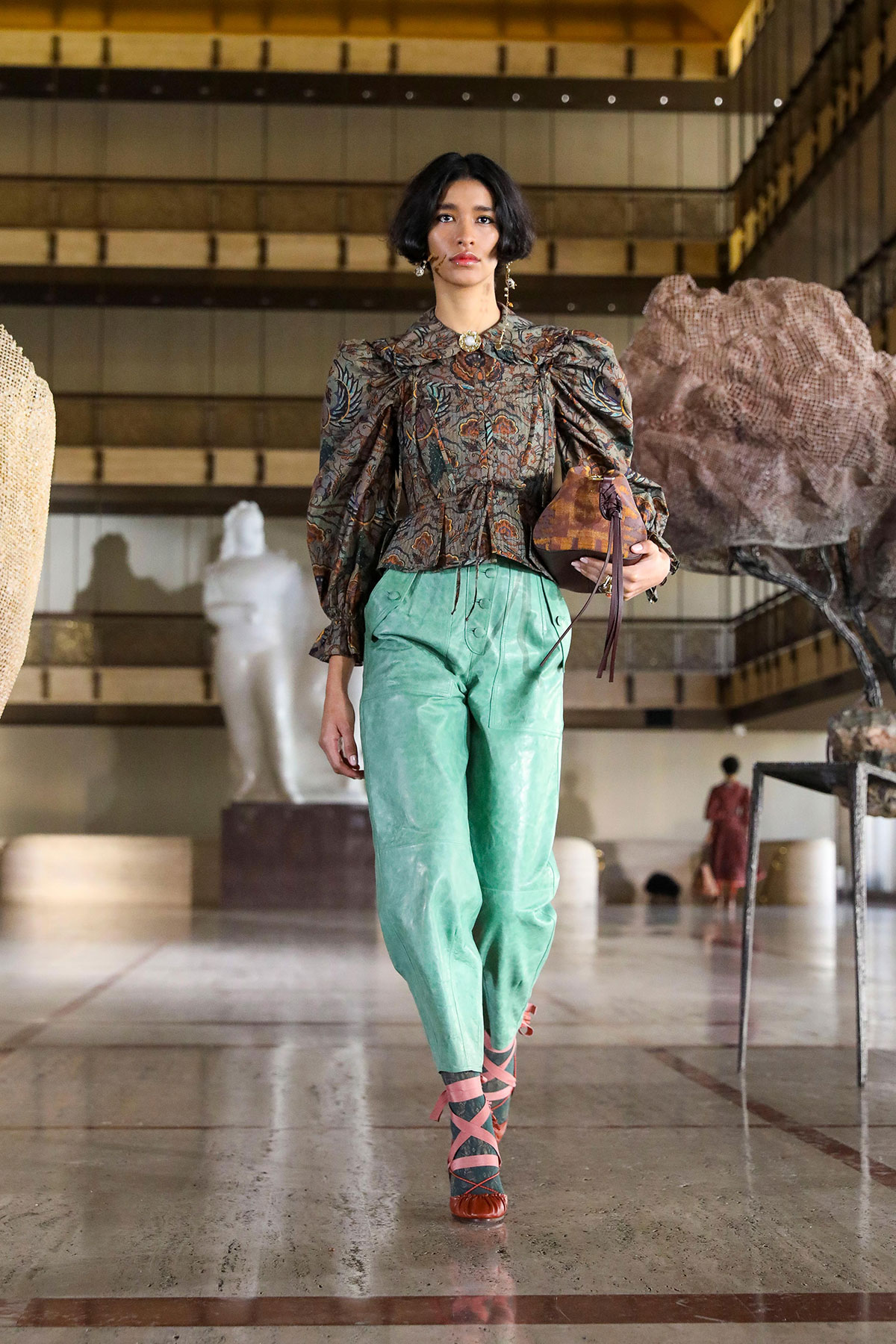 ---
Images courtesy of Ulla Johnson