Along with the fashion scene's expanding of its racial diversity comes some remarkable ethnic faces, one of these being the 17-year old Imaan Hammam. With a Moroccan mother and an Egyptian father, it was apparent that Hammam would inherit an appealing mixture of ethnicism that would transfer itself beautifully on a photograph.
Discovered at the humble age of fourteen in her hometown Amsterdam by the founder of Code Management, Marit Simons, within only three years Imaan has managed to cross off her list some notable jobs within the modeling industry such as her astonishing debut on the runway walking for no other than Jean Paul Gaultier, an exclusive appearance on the Givenchy catwalk and the privilege to open for Reed Krakoff' show in New York.
From then on, Imaan has gone on to appear in several editorials for Vogue. Two of them are snapped by the iconic Craig McDean and a personal presentation in the 'Model Cards' editorial by Steven Meisel, which oozes star quality.
Q: How would you describe yourself?
---
I'm a positive person, I always try to get the best out of every day. I like to be around people and I'm very stubborn when I want something.
Q: What's your passion in life?
---
I have a passion for food and cooking. I want to become that kind of home cook who can make a great dish out of anything in the fridge. 
Q: Best modeling experience so far
---
Going to Hawaii to shoot American Vogue with Liya Kebede, she's such a successful model and strong woman. I was able to learn a lot from her in those few days.

Q: Who or what influences you?
---
My mother is a big influence in my life. She always supports me and she motivates me to make my family proud of me. 
Q: What's your signature look?
---
I like to mix tomboy clothes with more feminine items. 
Q: Your favorite fashion designer
---
Riccardo Tisci is a big inspiration, I love how he use fabric and beautiful prints. I like what Olivier is doing for Balmain, it's really tough but feminine at the same time.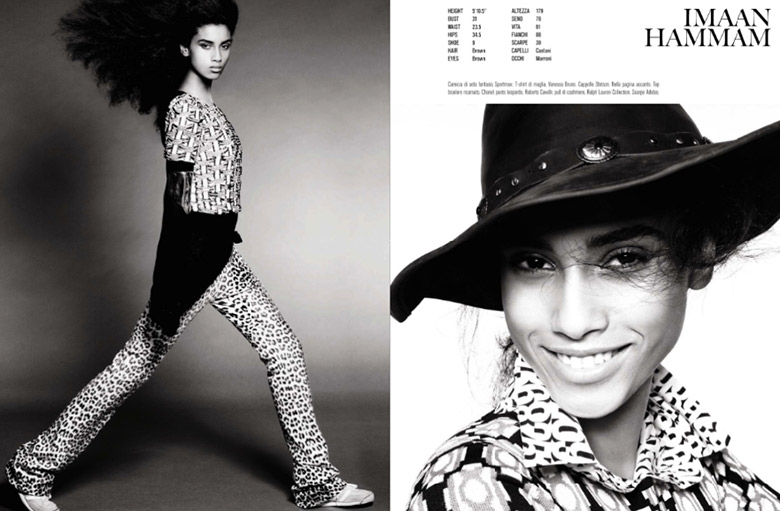 Q: You are obsessed with
---
Shoes. I love shoes, in my fantasy world I would buy a new pair every day.
Q: What do you hope to achieve in your modeling career?
---
I'm really determined to get the best out of it, mostly I'd like to have a long-lasting career and work with inspiring designers and photographers. 
Q: What is the craziest thing you've ever done?
---
I once jumped into a canal in my hometown Amsterdam because I dropped my blackberry in the water. 
Photo: Matteo Montanari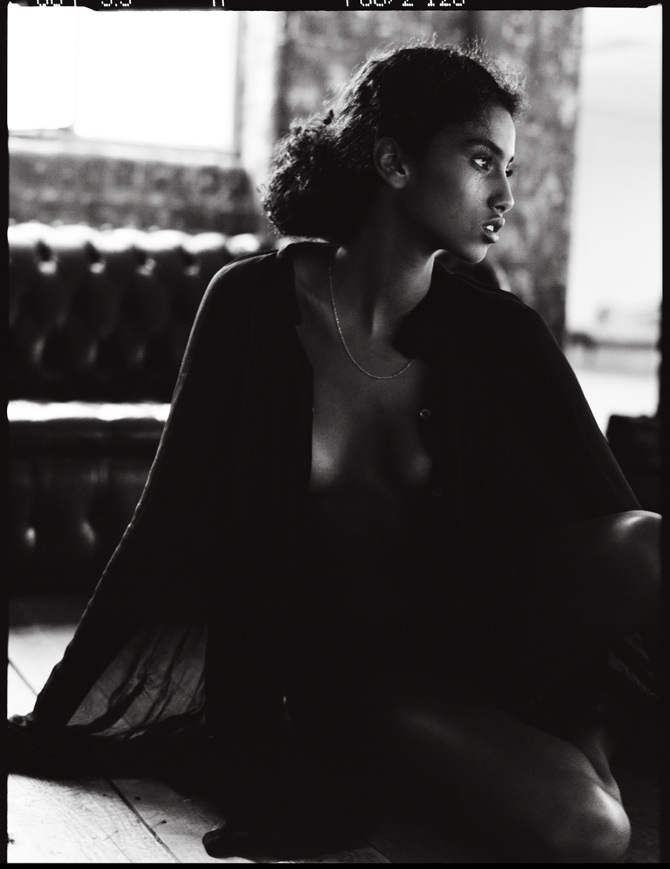 Q: People you would love to work with
---
I would love to work with Mario Testino and David Sims.
Q: Which models do you look up to? 
---
Naomi Campbell, Gisele Bundchen and Coco Rocha.
Q: Do you prefer working on shoots or at shows?
---
I really like doing both. I like the pace of shows, they're fast and there are a lot of people to hang out with and there is so much adrenalin right before you go out on the runway. Shoots are more of a creative process, every shoot is different because every team is different. It's really cool to be part of that dynamic process.
Q: What is your dream modeling job?
---
I would love to do a shoot in the desert. My grandmother grew up in the Sahara. The desert is a special place for me.
Q: 3 things you can't live without
---
My 3 F's: food, fashion and family.
---
Interview by Alexei Key
Follow Imaan on Instagram
Represented by DNA in New York