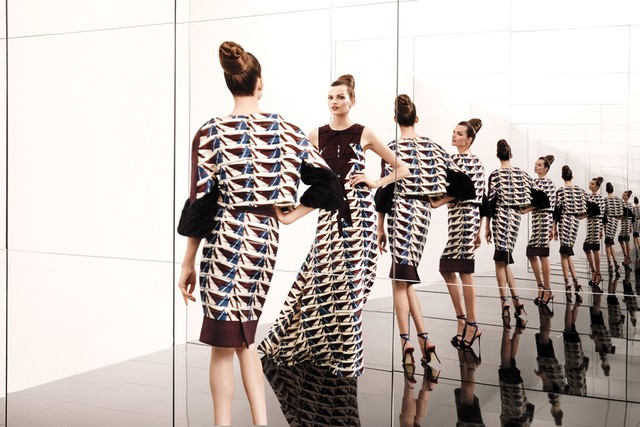 Bette Franke is captured by Greg Kadel for the Carolina Herrera Fall/Winter 2014/2015 campaign. Mirror mirror on the wall who's the most fashionable of us all? The Dutch sweetie, Miss Franke and noted photographer Kadel are both fairly new to the brand. After a successful spring/summer 2014 ad framed by Greg featuring the looker, the Carolina Herrera team has decided to take them both on for their recent campaign.
SEE MORE: A bejeweled Bette Franke for S Moda April 2014
Posing in front of a mirrored wall dressed in a two-piece graced with graphic triangle prints, the main print of the brand's fall/winter 2014/2015 collection, Franke sees not one, but three different reflections of herself wearing the same print but in different models along with a sexy high heel. The pieces have a brown basis with elements of the white, brown and blue print that creates a playful mixture between retro colors and modern shapes. Franke has truly embodied the Carolina Herrera's lady-like chicness and proves therefore to be the perfect representation for the luxurious brand.