Unveiled inside the former Palais de Justice in Dakar, on December 6th, 2022, the CHANEL – Dakar 2022/23 Métiers d'art collection by Virginie Viard is a vibrant new interpretation of the pop-soul-funk- disco-punk decade of the 1970s. Documented by the Swedish photographer Mikael Jansson, the season's campaign celebrates the explosion of energy and freedom of the era with a resolutely contemporary allure, captured against breathtaking scenery in the shifting light of the Senegalese capital from the break of day until after dark.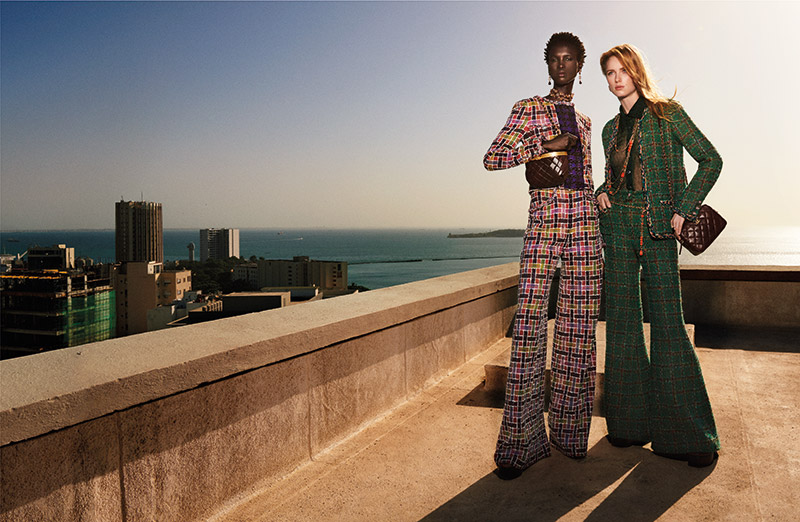 "Being in Dakar at the time of the show was an extraordinary experience on so many levels," recalls Mikael Jansson, continuing his collaboration with the House that began in 2020. "We scouted all over Dakar including the Palais de Justice where the show took place. The creative energy was palpable. Dakar is a vibrant city with modern and historic contrasts and the approach was very much in a spirit of cultural exchange and partnership with local artistic groups of various disciplines."
Roaming from the sandy beaches of Les Almadies along the city's tranquil waterfront to its light– soaked rooftop terraces and the airy volumes of the former Palais de Justice, the campaign immortalises the Ethiopian model Amar Akway and Dutch model Rianne Van Rompaey in a series of cinematic images that celebrate the collection's innate eclecticism against the built and naturalenvirons of Dakar. Creating exquisite dialogues of saturated colour and texture, the codes of CHANEL are amplified within the elemental beauty of the surroundings.
Embellished with the exceptional craftsmanship executed in the ateliers of the Maisons d'art in Paris, silhouettes from the collection are feats of incredible lightness and sumptuous decoration. From the airy swing of flared suits in burnt orange and forest green fantasy tweeds, to the relaxed nonchalance of patterned knitwear, the geometries of nature are present throughout. Dense floral embroideries, wooden beadwork and metallic chainmail bring forth layers of craft and CHANEL symbolism, as do new interpretations of lion's head jewelry, strands of pearls, and double C cuffs in enamel and resin.
"I was conscious of trying to evoke some of the spirit of Dakar as well as showcasing the extraordinary craftsmanship and artistic techniques of the Métiers d'art collection," Mikael Jansson adds. "Working with Virginie over these years has been amazing and inspiring. Creation is always at the forefront of each project and Virginie is very generous in allowing artistic freedom and creativity."
In a visual journey across the city, each image is a freeze frame of CHANEL in movement, and a timeless souvenir of the enduring artistic dialogues created by the House between Paris and Dakar.