Gucci Lifestyle 2021: From September 5th to 17th, in conjunction with Milano Design Week, Gucci will open a very special temporary store in Milan, in Via Manzoni 19: a space where fairy tale becomes reality. The store is Gucci's take on the traditional Italian stationery store, enriched with unexpected surprises, suspended in an atmosphere of wonder. In keeping with the "cabinet of curiosities" inspiration that underlies the entire Gucci Lifestyle collection, Creative Director Alessandro Michele conceived the Gucci Cartoleria as both a traditional store and an enchanted hideaway: around every corner is a spell awaiting discovery, transforming it into a place to be explored and examined. Visitors might come across flying notebooks, chess sets that play themselves, haunted items, endless bookcases, micro-apartments for mice with Gucci furnishings. It's lifestyle, of course, but not what one typically imagines it to be.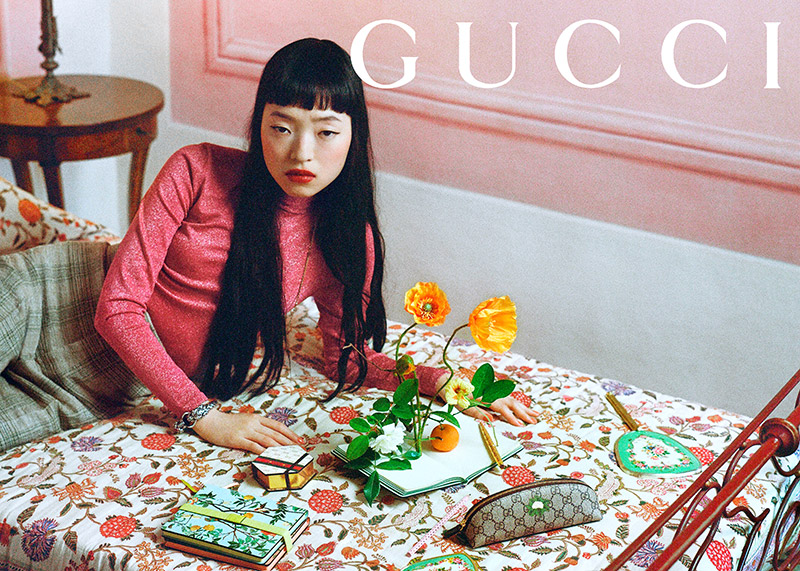 "When I was a child, going to the stationery store and finding pencils, pens, notebooks, games, meant bringing a dream into my daily routine. They were fine, well-made objects that spoke of craftsmanship and that, though part of my everyday life, were able to give off a magical, mysterious and wonderful aura. For this reason, presenting the Gucci Lifestyle collection in Milan through the Gucci Cartoleria is a sort of consecration, a tribute that was right for me to pay. So, I imagined a small cabinet of curiosities, a Wunderkammer, like the cave of Ali Baba, that could accommodate these everyday objects and return them to a fairy-tale dimension. I could have included them in the collections long ago, but they were not strictly related to clothing and accessories. That's why I wanted to build a whimsical space where they could be laid out, to restore to everyday life that sense of wonder that makes them so dear to me." — Alessandro Michele.
Perfectly in tune with the spirit of the collection, the campaign to mark its launch unfolds in dream-like imagery where wonders and enchantments reign supreme. The photos and video were shot by Max Siedentopf in Tuscany at Castello Sonnino, a 16th-century fortress built by the Medici family. As if by magic, everything is transported into a fluid universe, where nothing is as it seems and unpredictable antics lie in wait around every corner. Notebooks flutter like birds, pencils blossom like flowers, pencil cases become volcanoes and erupt clouds of smoke in vibrant colours; reflections and visual distortions call into question whether what you see is real or not. Pastimes materialize in a dreamlike world as houses of cards become larger than life, and games of backgammon are interrupted by a society of snails. Everything is turned upside down and inside out as in Alice in Wonderland: the bedtime ritual is held outdoors on green lawns with pyjamas, pillows, face masks and slippers printed in Gucci's beloved patterns. In this bewitching, lyrical atmosphere, spectators cross the threshold into another dimension.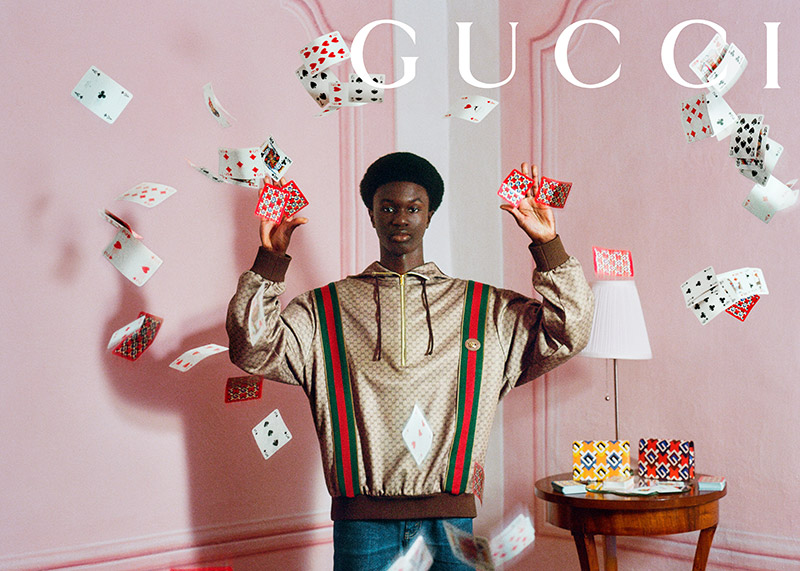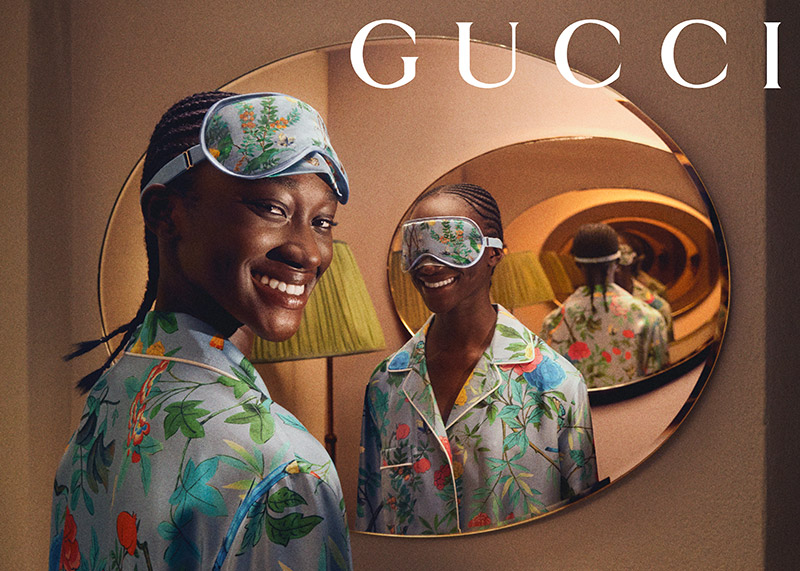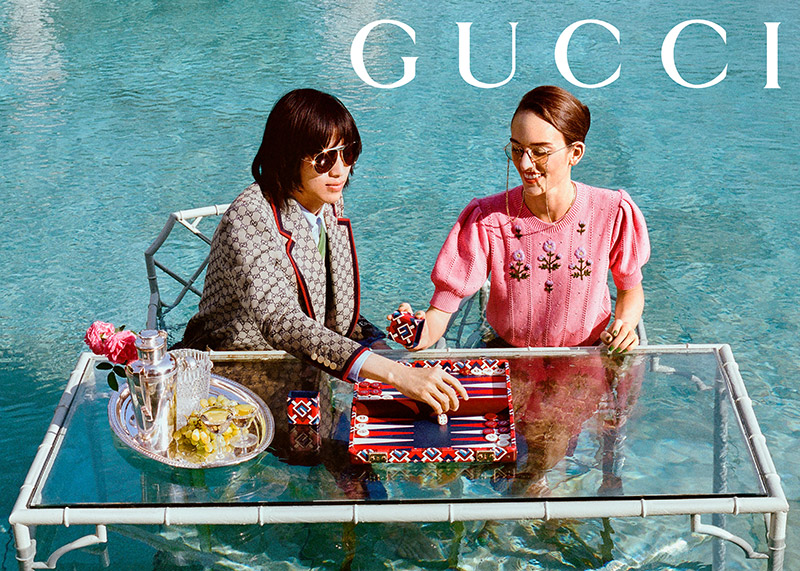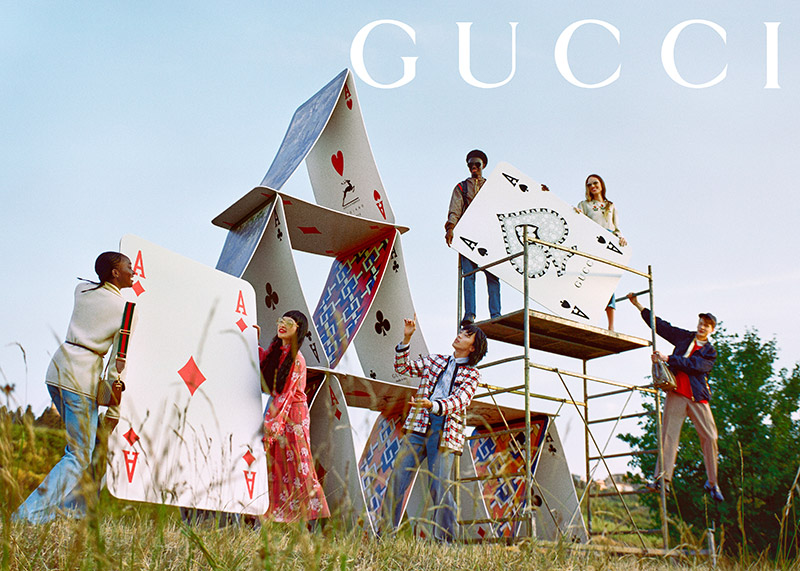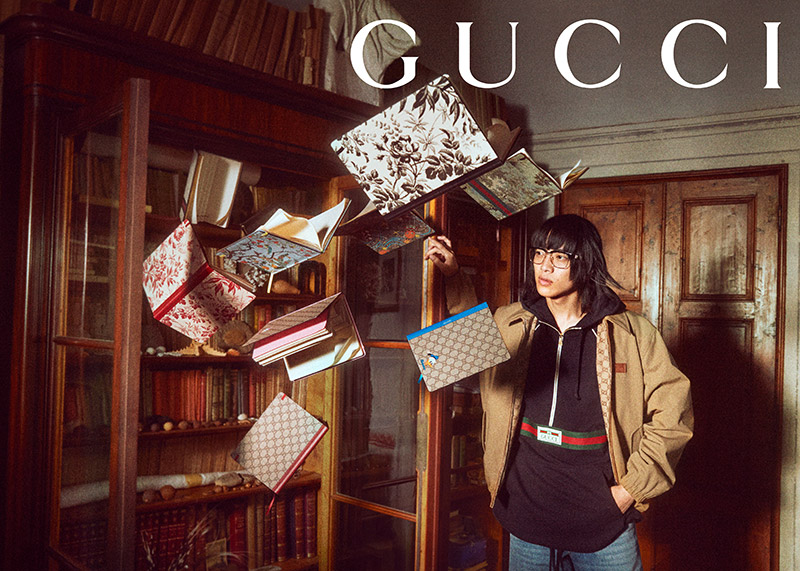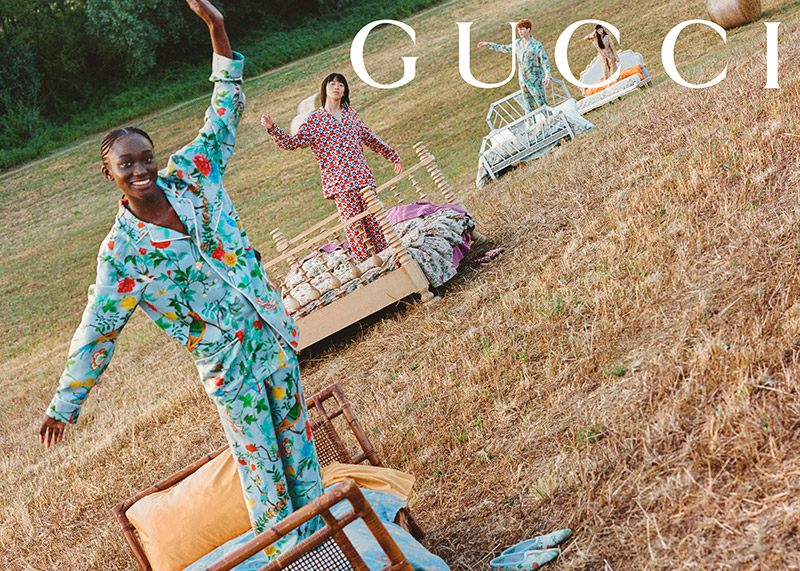 Art Director, Photographer: Max Siedentopf.